This year has been different for all of us, and let's be honest – technology and home entertainment have been a saving grace. To help you escape and keep entertained, the team at Swagger Magazine have rounded up our ultimate favourite products in Audio Visual. Whether you're looking for something special to put under your own tree, or a gift for the ultimate AV lover in your life, Swagger Magazine has you covered.
McIntosh Labs
Delivering room filling sound, the McIntosh RS200 Wireless Loudspeaker System is their next generation home audio wireless speaker. Designed for a modern streaming lifestyle, it comes packed with virtually everything you need to enjoy music streamed from your handheld devices, digital music stored online or a local computer, or played from legacy audio sources. Even connect it to your TV for sound that's better than any sound bar could deliver.
The RS200 offers 650 Watts of total power that is delivered to 8 drivers consisting of (2) 4" x 6" woofers, (4) 2" midranges and (2) ¾" tweeters. In addition, a subwoofer output is included to connect an external powered subwoofer to further enhance low frequencies. As the RS200 can be placed in a variety of locations with unique sonic characteristics, a 3-position EQ switch allows you to set the EQ based on your room and listening preferences.
The RS200 comes loaded with several streaming options. It features Apple® AirPlay® 2; Bluetooth® 5.0 with support for AAC, Qualcomm® aptX™ HD for hi res playback; Qualcomm aptX Low Latency for improved audio transmission speed to deliver sound in sync with visual media; DTS Play-Fi® whole-home wireless audio; and DLNA support.
For non-streaming applications, it has an audio-only HDMI ARC input that connects to TVs that have Audio Return Channel (ARC) capabilities; an optical input to connect TVs without ARC, or digital sources such as CD Players; a USB Type-B input to play music from your Macintosh or Windows computer; and a 3.5mm AUX input for connecting various analog music sources.
With its space saving design and room filling sound, the RS200 is versatile enough to accommodate the audio needs of any room in your home. While designed for modern streaming, it features classic McIntosh design elements such as a black glass front panel, illuminated logo, control knobs, and a pair of fast responding blue Watt meters.
Skullcandy: A Gift Everyone Will Love
'Tis the season where people rush to find great holiday gifts to include as awesome swag. The problem is gift shopping isn't so easy. Buying something that will appeal to all kinds of people and age groups is a challenge. Luckily, Skullcandy Crusher Evo headphones are something everyone will enjoy. Music lovers will enjoy the impressive sound quality, political junkies can catch up on their podcasts, and academics trying to learn a new language will benefit from this epic swag. It is the perfect present for family members and friends, even those who have wildly different interests.
Incredible Features
These wireless headphones are comfortable and perfect for long-term use with a battery that lasts up to 40 hours. Worried about the charging time? Don't be. The Skullcandy Crusher Evo headphones can charge insanely fast. Charge them for 10 minutes and get up to 4 hours of sound. Naturally, these wireless headphones use Bluetooth, so anyone can instantly make phone calls, switch tracks, or change the volume. It is easy to transition seamlessly between tasks.
Users can even personalize their sound using the Skullcandy app or dial up the bass to their personal preference using Skullcandy's patented Crusher Adjustable Sensory Bass.
You Don't Just Get the Headphones
The Skullcandy Crusher Evo headphones come with extra swag like a travel bag, back-up AUX cable, USB-C charging cable, and a two-year warranty. A two-year warranty is a guarantee that buyers will get more than their money's worth when they purchase these headphones.
One of the best features by far is the tracking technology that allows the owner to locate their headphones with the Tile app. Whether they are lost or stolen, this feature brings peace of mind by providing the headphone's location.
The Skullcandy Crusher Evo headphones are some of the best on the market. Whether someone's looking for a holiday gift or is buying for themselves, these headphones are a fantastic option.
Epson® EF-100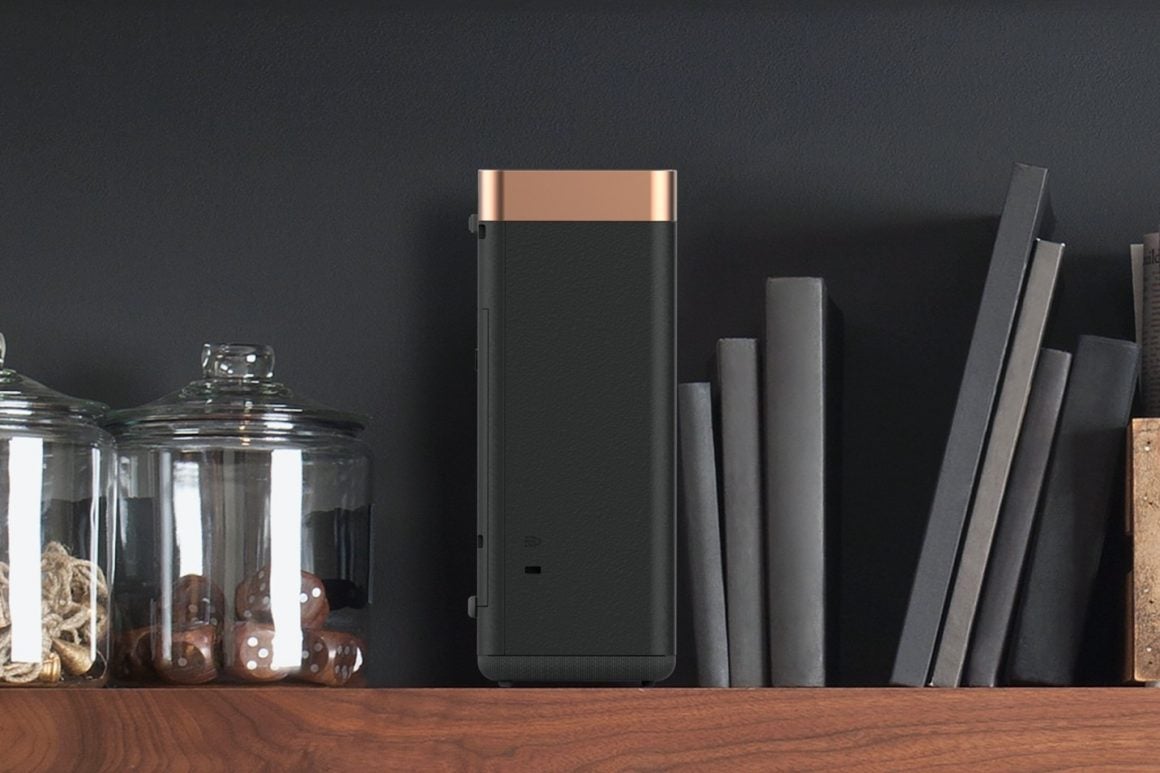 A great holiday gift or cooperate implement! If you're in a university or business space setting for a long period of time, you know that projectors can come and go relatively fast. Some of the "best" on the market are in fact already obsolete by the time they hit the shelves. We are pleased to say that this isn't Swagger's experience with the Epson EF-100 Mini-Laster Streaming Projector. The quality exceeds what you might expect from the MSRP of $1,299.99.
The EF-100 is the smallest true-laser based projector using 3LCD technology and the quality of the image is simply stunning. Unlike some projectors that become extremely distorted, the EF-100 can easily broadcast an image up to 150″. Swagger has tested it and it is not dependent on the surface for a steady image. Walls or dedicated screens both work just fine.
While this projector meets the expectation of a device that may be used in a business environment, Swagger Magazine highly recommends it for personal use. Portability has traditionally meant lower-quality – that isn't true at all here! Home movie viewing has never been easier than with this projector. The EF-100 comes with the power of Android TV and from the moment you first turn it on, you have full connectivity to all the popular streaming apps. Netflix, HBO NOW, YouTube and more are perfectly cross compatible with this device.
If you want quality laser imaging on the go, look no further.
Sonos
There's arguably never been a year where having the perfect sound system and home theatre accessories is more important. We all need a great way to escape, especially when we're all likely going to be spending some extra time indoors.
Sonos is helping in this area with a variety their variety of quality products. This includes the Sonos Beam ($499), a smart soundbar that packs a premium audio punch, along with the ability to connect to, The Google Assistant, Amazon Alexa and Apple AirPlay 2.
Enjoy the Sonos Sub ($899), which brings an iconic design and bold bass with updated internals including increased memory, processing power, and a new wireless radio. Two force-cancelling drivers at the center of Sub face inward to eliminate vibration and rattle, ensuring all you hear is pure bass.
The Sonos Move ($499), meanwhile, is a rechargeable smart speaker that can be used for both outdoor and indoor listening. Deliberately designed to be easy to use, the Sonos Move supports Bluetooth and WIFI connectivity and can be controlled via the Sonos app, Bluetooth, Airplay and voice commands. It has an IP56 rating for weather resistance and battery life lasts up to 11 hours, with charging possible via a compatible USB-C charger or the included charging cradle.
One SL is a powerful microphone-free speaker for music and more. One has voice control built-in that essentially allows you to communicate by voice to multiple devices through the Sonos app, Apple AirPlay 2, and more. The compact design of One and One SL fits just about any space. Put it on your kitchen countertop or tuck it away on your office bookshelf. It's humidity resistant so you can even put it in the bathroom.
Valencia Theater Seating: The Tuscany Console
What makes movie night a luxurious experience? Is it the wine, the cozy atmosphere, the supple feeling of leather as it supports your back as you recline your chair to better enjoy the movie experience? The Tuscany Console can provide you a luxurious experience that will take movie night to the next level of comfort.
Combining design and function the Tuscany Console provides luxury featuring premium Napa leather, body contouring cushions, supportive headrest and a center console that drops down to hold your favorite glass of wine and food platter for your leisure. The center console also has reading lights, a power supply and USB charger.  Customization is possible so tailor as you see fit and enjoy the ultimate luxurious experience of Tuscany Console.
The wall-hugging recliner mechanism allows you to fully recline while keeping the seats close to the wall. This design saves the unnecessary space behind the seat to maximize the usage of your home theater.
Valencia Theater Seating produces beautifully crafted and designed products that deliver on form and function.  Combining the luxury interior details of exotic sports cars with cutting edge seating ergonomics, Valencia serves the ultimate home theater seating experience.
Shop the collection at WWW.Valenciatheaterseating.com ,call us at 1-888-533-9991 or follow us on Facebook @Valenciatheaterseating.
 FOR $100 OFF USE THE PROMO CODE: SWAGGERMAG AT CHECKOUT AT OUR ONLINE*
*on purchases over $2000 USD and $2300 CAD until Feb 2021