It's time to get your Cyber on! You didn't think we would leave you hanging for Cyber Monday, did you? As you may know, Black Friday and Cyber Monday offer some of the biggest deals of the entire year. We know it can be hard to sort through the best deals, so we've done the heavy lifting and put together this amazing list of Cyber Monday deals!
  TechniSport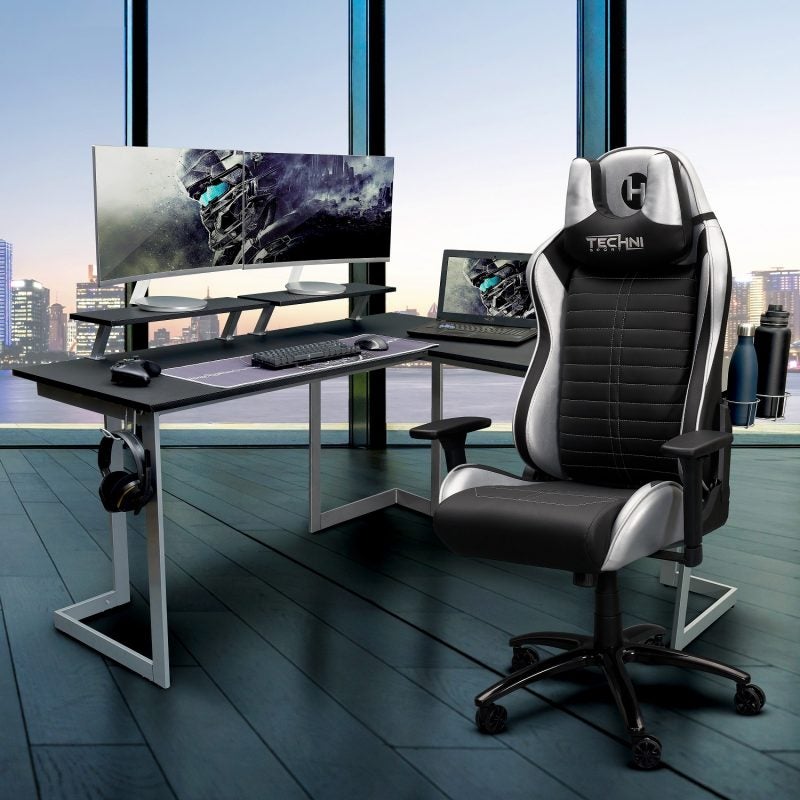 Are you looking to upgrade your comfort during long workdays or gaming sessions? TechniSport offers a variety of chairs and desks to upgrade any gaming or work setup with style, adjustability, and comfort. We offer a wide variety of colors, styles and sizes aimed to provide you long-lasting, top-quality items to match your distinct style. All chairs are crafted with extra adjustability and features, including 150 degree back reclining, adjustable padded arms, sitting height and adjustable soft lumbar and neck pillows. A premium vegan finish paired with a heavy-duty bases and steel frames provide you with a luxurious sitting experience while remaining eco-conscious. Upgrade your setup this Cyber Monday and take advantage of our sale, up to 50% off sitewide! Use promo code SWAGGER-10 to receive an additional 10% OFF our already discounted prices. Upgrade your setup and comfort TODAY!
Ride1UP 700 Series Electric Bicycle – The Ultimate Riding Experience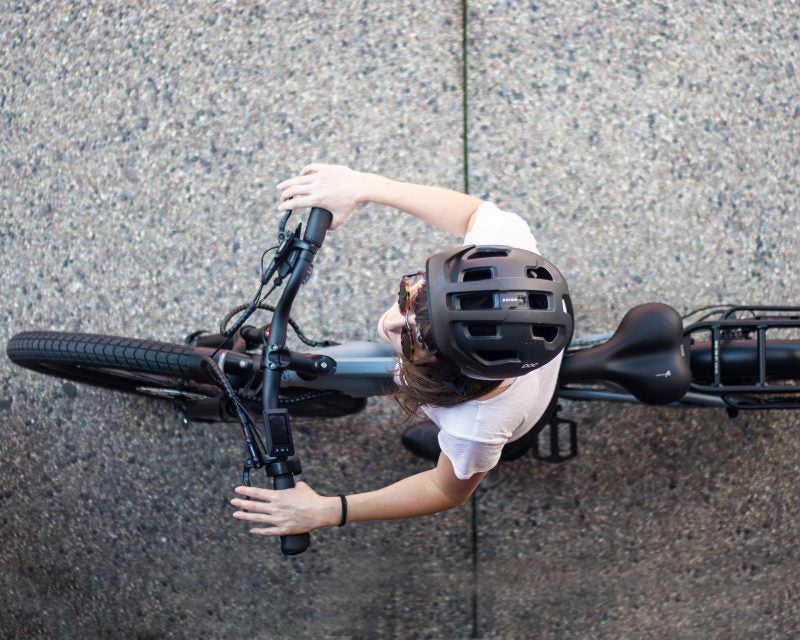 Electric bikes are changing the world and the way we navigate it. Ride1UP is leading the way – clean transportation alternatives in our communities have never been this accessible to the everyday individual. Fascinate your friends and neighbours, reduce carbon emissions and save yourself boatloads of cash with the click of a button. 
Change the way you interact with our environment thanks to Ride1UP's aggressive pricing and mission to serve their customers with incredible quality and superior post-sale support. Don't sacrifice quality for jaw-dropping price tags that most have only had the luxury of affording, until now. Enter the 700 Series.
Hydraulic brakes, hydraulic forks, programmable color display, 2.4" Super Moto X tires, powerful 750 watt hub drive motor with an ultra sensitive 12 magnet cadence sensor. You've been on the nice list all year round and it's time you treat yourself to the futuristic electric sleigh that even Santa will envy.
The decision to ditch your car has never been easier. Enter the high-end electric bike market today… for half the price!
Buy now
Intelligent design and innovative features: This is the new Couchmaster CYCON²
The new CYCON² represents the current flagship of the available Couchmaster models. Thanks to the six integrated USB 3.0 ports, all required input devices such as keyboards, mice, gamepads and headsets can be connected directly to the Couchmaster. Of course, mobile devices like smartphones or tablets can also be connected and charged at the fast-charging USB port.
With the smart CYCON², you can game in a relaxed position on the sofa at home or even in bed. Thanks to the ergonomically sitting position, there are no signs of fatigue or tension while gaming on the couch, even after hours of use.  The Couchmaster CYCON² is versatile and can be used perfectly with a PC, Mac, notebook or game consoles.
Compared to a conventional desk, the Couchmaster CYCON² consists of a generously dimensioned desktop, which is placed on two high-quality cushions made of memory foam. Since the two support cushions are not fixed to the tabletop, the Couchmaster can be individually positioned to fit any body size.
The Couchmaster® CYWORX is the perfect home office assistant for your living room.
It doesn't always have to be the desk! Concentrated working in the home office or comfortable gaming is also possible from your couch at home with the patented Couchmaster® CYWORX. The CYWORX offers optimal ergonomics, effectively preventing tension even after many hours of use. Thanks to the generous integrated ventilation slots, the cooling of powerful notebooks up to a size of 17 inches is guaranteed at all times.
The tabletop of the Couchmaster® CYWORX is made of sustainable and durable bamboo. The fast-growing material gives the lapdesk a natural look and at the same time a feather-light weight.
Thanks to the cushions covered with a pleasant and durable material, the laptop rest provides stable support and enables a comfortable sitting position. The palm rest ensures that the wrists are in a natural position during use. While the CYWORX is also a true Couchmaster®, it can of course not only be used on the couch, but can also be used in bed if needed. An integrated tablet holder including two adapters (depending on the thickness of the tablet) completes the features of the Couchmaster® CYWORX.
Standing Desk Pro
Natural. Stable. Sustainable.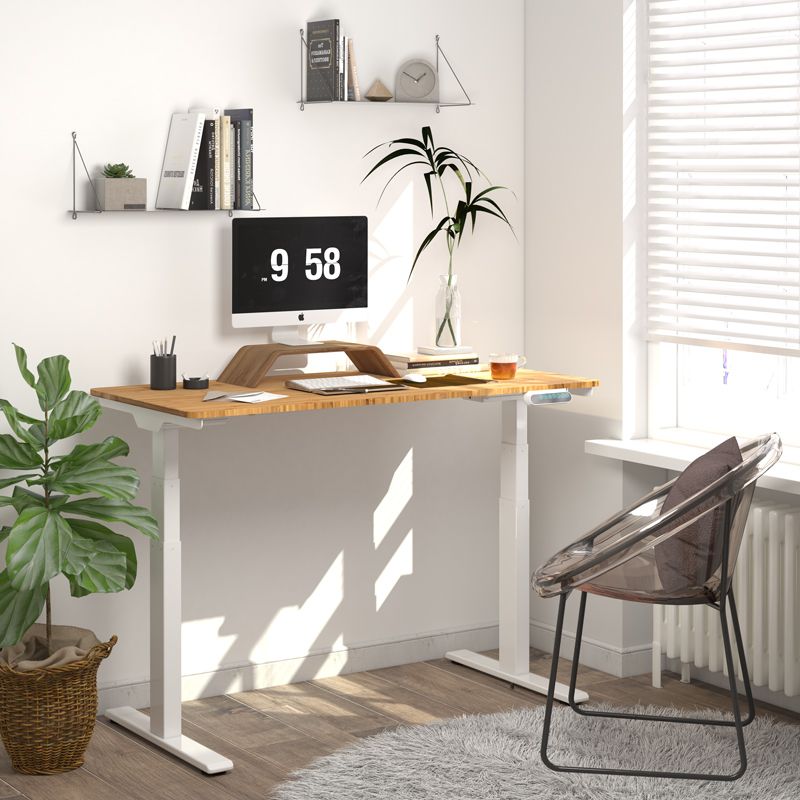 The best in our standing desks series is this  Standing Desk Pro– EQ3-48″W Electric Height Adjustable Standing Desk. Built for high-performance, this ergonomic workstation provides multiple-features and elegance. It is made from a truly environment-friendly bamboo desktop sourced sustainably for that eco-friendly yet aesthetic feel. The desktop is a sturdy material that holds up well under pressure and makes the desk stable without weak spots.
Its powerful dual motors enable a maximum lifting speed of 1.5"/s even under the full weight capacity of 275 lbs, all easily achieved with just the touch of a button. The 3-stage telescopic column system tapers towards the top, ensuring maximum stability and durability, and features a height range from 23.6"(60cm) to 49.2"(125cm), which is suitable for anyone from children to adults. Also, it has an anti-collision function that ensures safety by preventing the desktop from being damaged or crushing other objects and devices while in motion. It also has an advanced LED control panel. It is an all-in-one 7-button control panel that lets you precisely set the lifting height and save your preferred heights as presets. With the LED blue light indicator, operability can be guaranteed even in harsh lighting conditions.
The Standing Desk Pro ensures finding the right work-life balance for developers, creative professionals, IT industry, accountants, executives—everyone. It not only designed for working professionals but to anyone who want to upgrade their home offices with a more ergonomic standing option. Now $180 off!
Buy now