Spring is right around the corner and practically made for gift-giving. While symbolically, it's traditionally viewed as a time of growth and renewal, it's also loaded chock full of gift-giving occasions.
In addition to birthdays, anniversaries, and housewarming events, which may happen year-round, there's also Easter, Mother's Day, Father's Day, and school graduations. Any of these are perfect for gift-giving, so let's take a look at our ultimate gift ideas for your significant other.
UFC Tickets
If they're into UFC, it won't matter if your significant other be guy, gal, or otherwise. They'll love UFC tickets and will appreciate that you pay attention to their interests and want to give them an unforgettable time. Make it easy and head over to TickPick for their best price guarantee on UFC tickets.
Custom Navy Hat
If your special someone was in the U.S. Navy, what better way to celebrate their service than a custom Navy hat? Imagine their face as you give them an embroidered cap that includes the name and image of the ship they served on. With several models, navy and coyote color options, and a variety of ships, insignia, and badges, you can't beat USAMM for lightning-fast service on custom Navy hats.
A New Set of Steel Pans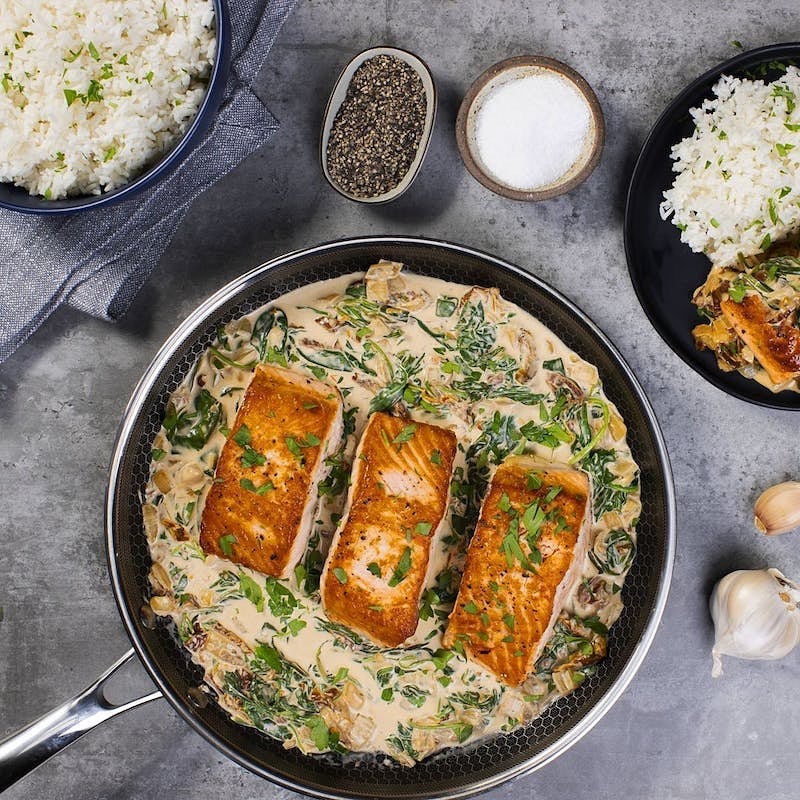 If your significant other is a whiz in the kitchen, you can be sure they know their way around what makes a quality pan. If you want to give a gift that they'll never get tired of, a set of steel pans from HexClad will fit the bill perfectly. HexClad invented a way to combine the performance of stainless steel with the durability of cast iron, all while making it non-stick on top of everything else. You can't go wrong with this gift.
Guitar Tuner
Does your special person sling a four-string or a six-string? If so, you know that guitar tuners never go out of style. Nothing is easier than using a first-class, professional-grade guitar tuning app on a device they already own! The Rocksmith+ Connect guitar tuner app through Ubisoft will put a smile on their face and a tune in their heart. They'll love the app, and you'll love that it's free. Go one step further and buy them a subscription to a suite of tools that can help them accelerate their progress and discover new challenges.
Men's Rings
If your guy likes a little bit of bling, you can't do better than a men's ring to make a bold statement. Classy yet flashy, they're impossible to miss and are sure to draw lots of admiring comments. Craftd has a great selection of styles and top-notch materials at prices that won't break your budget.
Give the Gift of Tea
Does your special someone appreciate health and wellness gifts? If so, tea might be just the thing to make their day. In addition to its well-known health properties, a daily tea ritual can be very grounding and give them a sense of stability and routine when everything around them feels like chaos. Stunning tea gifts from Sips by will let them know how you feel and that you're watching out for their well-being.
Eyelash Extensions
Eyelash extensions could be the perfect gift if your special person loves keeping up with fashion and beauty trends. There's no need to fuss with mascara every morning when their lashes are ready to rock it the moment they roll out of bed. Lashify has an all-new, patented eyelash extension kit that they're sure to love and will make others wonder what their secret is.
Luxury Lingerie
When lingerie is the gift, is it really for the giver or the recipient? Quality lingerie will make both of you happy and is the gift that keeps on giving. She'll feel sexy and you're certain to have only one thing on your mind… getting her back out of it as fast as you can! Fleur du Mal has everything you need to make your sexy luxury lingerie dreams come true.
Straight Razor
If your fella takes his personal grooming seriously, he's likely to be thrilled with a high-quality straight razor. Many men have been drawn to a more hands-on approach to beard care than an electric shaver can provide, choosing instead to take the time to learn the skill of straight razor shaving.
It can become an essential part of their grooming ritual and even a relaxation practice, and nothing shaves as close as a straight razor. The Beard Club has just what you need for the bearded man in your life, whether they're a straight razor expert or novice.
Bug Repellant
With spring on the way, you know and your favorite person will be spending more time outdoors together. Unfortunately, bugs have the same plan, and nothing spoils a good time in the spring sun like bugs. Take the sting out of spring with some bug repellent. If you want to keep the bugs at bay and avoid harsh, nasty chemicals while you're at it, you'll love the all-natural bug repellent and bite care package from Little Flower Shop.
Gifts for Everyone
Whether you're giving to a guy, gal, or yourself, there's sure to be something on our list that your loved one will love. Here's to good times ahead!