Holidays, birthdays, and anniversaries are all such joyful occasions, yet the pressure of finding the perfect gift can sometimes be a bit stress-inducing.
Are you searching for something that shows your significant other how much they mean to you? Then look no further. Here are our top suggestions for thoughtful, romantic, and timeless gifts that will help you both enjoy the magic of the moment.
4 Thoughtful Holiday Gift Ideas for Your Partner
If you opt for something thoughtful, worrying about costs shouldn't be a big concern. Of course, you can always go over the top with a luxury getaway or offer them something made from scratch. What matters most is for the gift to carry a special meaning and come from the heart.
1. Love Mementos
From a printed letter-size list in a frame to a handwritten booklet with a reason per page or a jar with love notes, the choices here are truly endless.

2. Framed Keepsakes
Make a selection of your best memories and have them professionally printed and framed.
3. A Meaningful Trip
Take your loved one to a place you know they've always wanted to visit. It doesn't have to be an expensive destination. How about the place where you met, the town where they grew up, or you could even recreate your honeymoon?
4. A Unique Experience
Create unforgettable memories on a helicopter tour or a hot air balloon ride. Don't forget the champagne!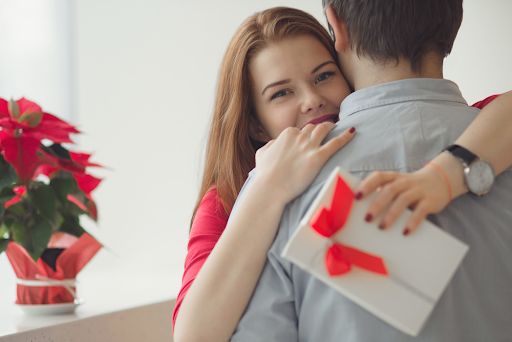 3 Romantic Gift Ideas for Your Significant Other
Even if you aren't the romantic type, we've got you covered. Remember, effort goes a long way — and buying something you know they would want will no doubt be paid forward.
1. Sexy Valentine's Gifts
Some racy Valentine's Day lingerie for her is welcome on any occasion. Whether you go for a classic bra set, sensual chemise, or naughty teddy, make comfort the top priority. 
2. Special Date Night
Plan a romantic dinner with your lover's favorite foods — and don't forget to start the date with a flower bouquet. Plus, you can always opt for preserved flowers that will last up to a year.
3. A Relaxation Kit
Assemble a custom kit with any (or as many) of the following: a weighted silk eye mask, a set of candles, an essential oil diffuser, a super soft robe, and a weighted blanket.
3 Timeless Gift Ideas for Any Occasion
Some gift ideas will always be on the table, and you can't go wrong with them. Often, it's only a matter of adapting them to a particular occasion, style, or budget.
1. Jewelry
Diamonds may be a girl's best friend, but you don't have to break the bank to gift her nice jewelry. Consider pearl earrings, an amber brooch, or an elegant bracelet with her birthstone.
2. Gift Card
Offer your partner a luxurious spa experience or a gift card to one of their favorite stores. Customize it with a heartfelt message and deliver it with flowers and a box of chocolates. Indeed, this classic combination never goes out of style.
3. A Practical Gadget
Gift guides often recommend gadgets for men, but women want and need them too. It could be noise-canceling headphones, a fancy hairdryer, a fitness tracker, a facial massager, or a new e-reader.
Whatever You Decide, Keep the Element of Surprise Alive
No matter what gift you choose for your significant other, keeping it a surprise will only enhance the overall experience. As such, hide small gifts somewhere you know they would never look. Or, ask a friend to store larger gifts in their house.
If you're planning a trip or a dinner out, make sure it doesn't overlap with other plans. To do so, use a trustworthy accomplice to find out their schedule in a non-suspicious manner. As you can see, some secrets may be harder to keep than others, but it's always worth trying in your quest to offer the perfect gift. Cheers!