Swagger Magazine had the pleasure of interviewing Men's Grooming Consultant, Will Brooks. Will's famous clients currently include Chris Paul and James Harden along with many others in his 20 years experience in the industry. Will is currently living inside the NBA Bubble in Orlando, Florida, and has plenty to tell us about Beards, COVID, the BLM movement, and his personal goal helping to fight homelessness.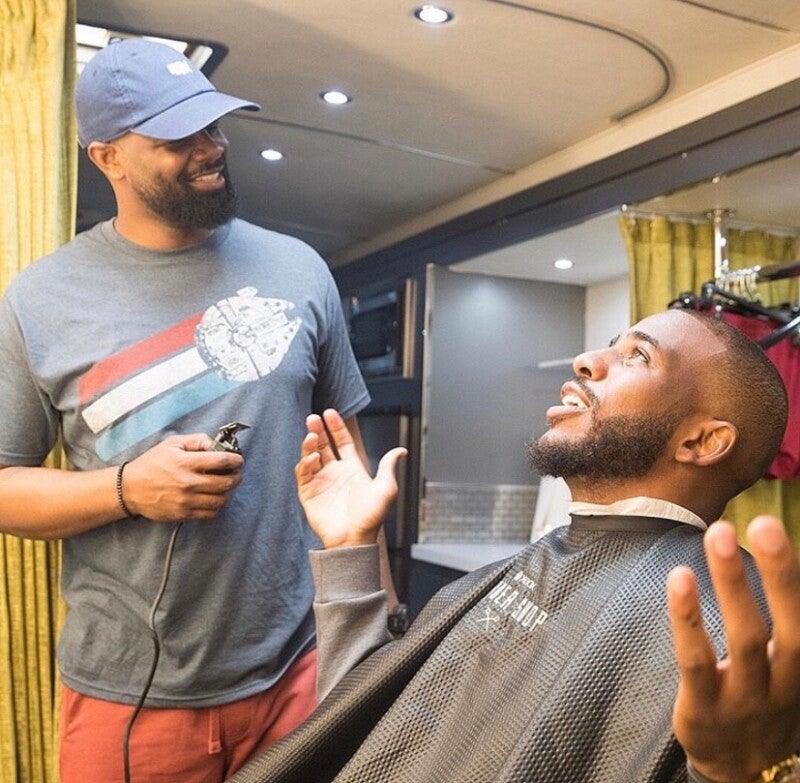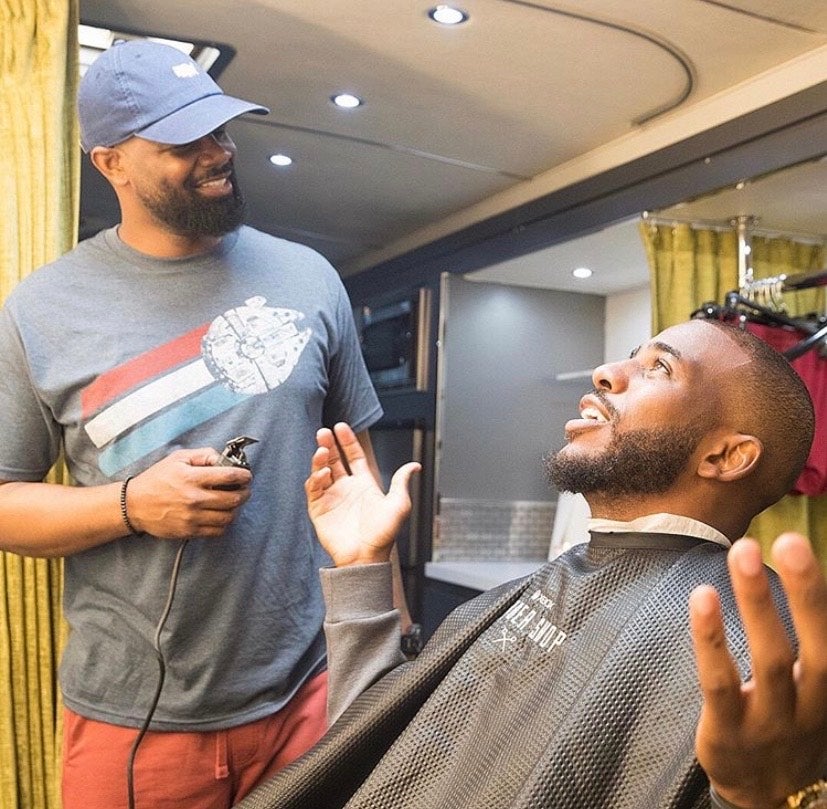 Hi Will, it's nice to meet you thank you for being here with us today. I watched the Raptors game recently and noticed a lot of beards on the court. How long have beards been trending in the NBA?
Beards have been pretty popular in the past 5-10 years especially in the NBA. It's become a trend which is why beard oils are one of the number one selling products on the market today. And one of my clients happens to have the most famous beard of them all, James Harden of the Houston Rockets
James Harden definitely has a very famous beard. As a barber do you take care of facial hair as well as head hair? Which is your preference? Where do you get to have the most creativity?
Usually, a full haircut consists of both head and facial grooming. As a barber, you have more creativity cutting your client's head hair as opposed to facial grooming, which is usually fairly simple.
How do you keep on top of trends in head and facial hair? Do your clients come to you with fresh ideas or are you always looking for willing participants to try out your creations?
So I usually stay on top of the latest trends via Instagram or my little brother, (laughing), he keeps me informed. However most clients usually know exactly what they want. Sometimes I'm asked by clients which haircut is best suited for them. My approach to determining what type of haircut is best suited is first figuring out if the client has thinning hair or a receding hairline. Secondly, I look at the shape of his or her head to determine what kind of haircut would work best or enhance his or her facial features. Thirdly what's their style their SWAGGER the way they dress to insure the haircut fits his or her overall look.
We appreciate the Swagger shoutout 🙂 What's it like over there in the NBA bubble?
It's really a safe relaxed environment here. Everyone is friendly and professional. You have the option to eat at several different locations, which is pretty cool. And more importantly, the NBA has done a great job of creating a healthy, safe environment for us all.
There have been a lot of memes about barbering in the times of COVID-19. Are you still able to keep up the personable side of your work through a facemask?
COVID has changed Barbering tremendously with new rules and regulations. It's impossible to cut hair trying to social distance yourself from the client and at times it's proven to be difficult to cut hair while your client is wearing their face mask but I'm getting used to it now. Most Barbers are operating by appointments only due to COVID.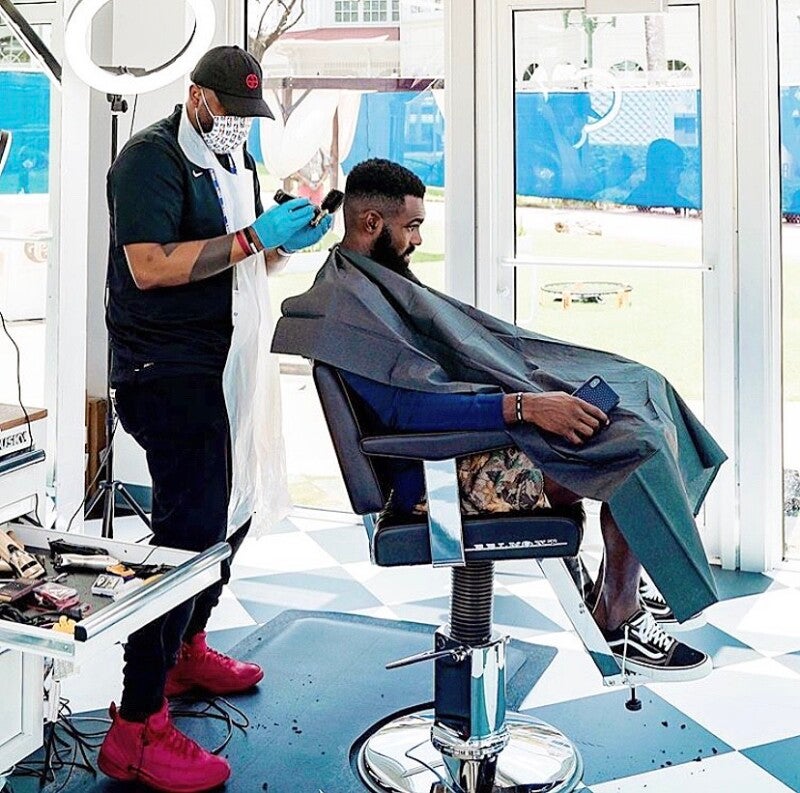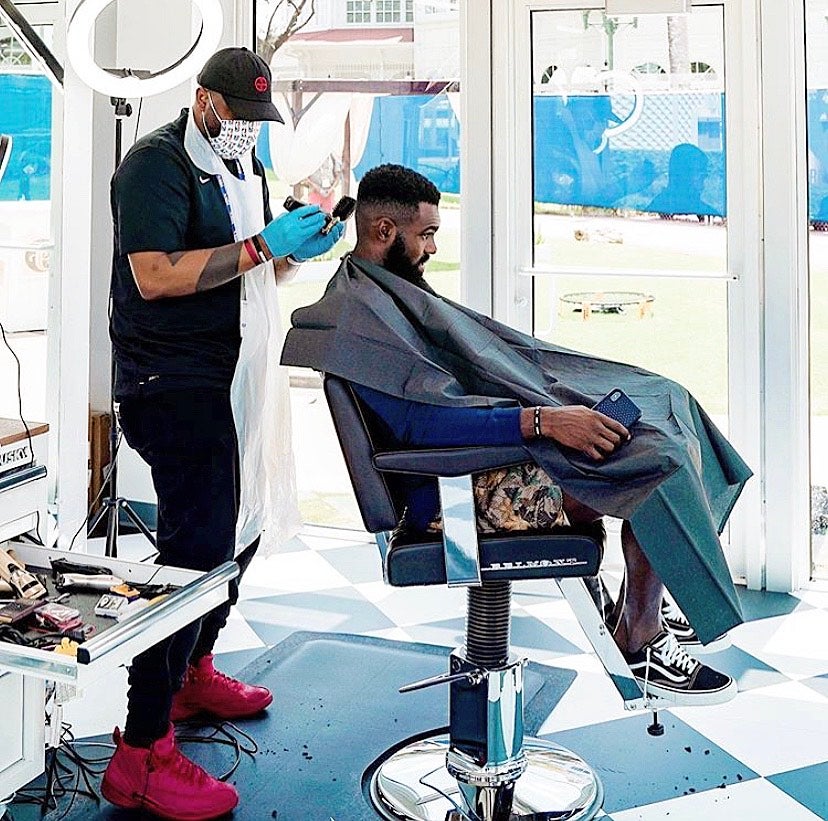 What has your career path looked like and how did you get hooked up with the NBA?
Over the past 20yrs, I've had the pleasure of providing grooming services for NBA players. Kobe Bryant was my very first client in the early 2000s. After cutting Kobe I received lots of referrals to cut more players in the league. Within my 20yrs of barbering I've worked on countless T.V shows, Commercials, Featured Films, and had several magazine covers with Men's Vogue, Men's Fitness, and ESPN magazine. I've worked on shows such as Criminal Minds, Half & Half, Birds of Prey, Madea's Family Reunion, State Farm Commercials, NBA "The Jump".
I also had the great pleasure of working with guys like Will Smith, Tyler Perry, Shemar Moore, AJ Buckley, Ice Cube, James Harden, Kevin Durant the list goes on. However, the main reason why I was able to provide grooming services in the NBA Bubble is heavily due to my working relationship with Chris Paul of 7yrs. Chris is truly one of the good guys. His fight for Equality, Higher Education for underprivileged kids is never-ending. And his devotion to the game of basketball is unmatched. Being his barber has definitely been rewarding for me and I'm grateful for all the opportunities he has given me.
All the NBA jerseys had slogans supporting the Black Lives Matter Movement. What is the talk in the bubble? How are employees being supported/compensated and is there propelling energy driving real change forward?
The NBA from what I can see has been very supportive of the players' concerns for equality, education reform, and social justice. Being in the bubble is one of the safest places to be right now. Everyone seems to be having a good time here and has adjusted well to their lives in the bubble with the exception of missing our families but for the most part, things are good here.
Criticisms of the hair care industry are that products, standards, and education are geared towards white hair while Black trends, creativity, and culture are always at the forefront of fashion and inspiration. How do you honor your culture through your work? How have your life experiences translated into your art form?
For years I struggled with the fact that some of these top product companies and fashion designers usually make and create brands/products suited for Caucasian people. Even in most barbering schools the theory/education is geared towards white hair and even down to the products they give us to use during class reflects that. We (Black Folks) have been trendsetters for years, down to the music we create, the way we dress, even our hairstyles.
Elvis Presley himself was heavily influenced by Chuck Berry and Little Richard which inspired his hairstyle the Pompadour. Black people rarely get credit for being trendsetters and we have heavily influenced the masses for decades. For the past few years, I've tried to partner or collaborate with some of the top products companies on the market especially during the Black Lives Matter movement because most of them expressed on their social media platforms how black lives matter and they're in support of Us simply to keep us buying products and supporting their brands, so I called them out on their bluff to see how committed they were to social change and equality.
Some companies have responded with performative allyship and surface-level activism simply to increase their social capital rather than devotion to the cause. However there are a lot of great products on the market but the problem is; they're not really designed with us in mind, for our skin types and simply just doesn't work for us. Usually, I would have to buy 2 to 3 different products just to meet the needs my clients are having. I feel like it's time that these owners/companies start creating products that are designed specifically with us in mind and proven to be effective. In my time of barbering, I've yet to see a product on the market that truly works for us without having to use two other different products following the first one to correct the issue at hand.
I truly believe with my years of experience I can help/assist with the issues we're having with our skin as black men if given the opportunity. I have a good idea of what's missing or needed for us (Black Men) when it relates to our hair and skin. I really think it's about time for us to start seeing more images reflecting Us Black Men in the men's grooming industry.  We should have more than some tiny little shelf space in major retail stores that usually had 1-3 items for Black Men.
Very well said. I hope one of our readers picks up on the above opportunity with you. I noticed other important work you do from your Instagram: How do you Help to Fight Homelessness? Why is this cause important to you?
When it comes to homelessness I can talk about that topic all day. I truly believe that's my real calling, to serve and support God's people especially those less fortunate than us. At a very young age, I've always had a heart to serve, to give to those less fortunate than me, but the crazy thing is, I grew up not having much myself which further lets me know my passion to help and support the homeless community is something the Lord has given me so I try to do as much as I can.
Homelessness is a huge issue in Los Angeles. And I can personally relate to the feelings that some of these men are dealing with. Like not having access to hot water all the time. Can't wash your clothes or get a haircut and shave when needed. Not sure when you'll have your next meal. Not having someone to lean on in your time of need. I too have been homeless so it hits home for me. Most programs in LA are designed for women and children and there are very few programs for men. Six years ago at my barbershop, I started allowing the homeless men in my community to use the bathroom to wash up and brush their teeth.
But I felt like I wasn't doing enough which lead me to start my nonprofit Love For All Men Foundation. We essentially provide the men with a full grooming experience which consists of; one complete outfit shoes, socks, shirts, pants, and undergarments, and one hygiene bag of toothpaste, toothbrush, deodorant, soap, and shampoo. We also wash, cut, and shave their hair as apart of the total grooming experience. It's truly one of the best feelings in the world to put a smile on the men's faces even if it's just for a moment a short while.
I've even built friendships with some of the guys and have taken them out to dinner and a movie and to my surprise some of them haven't gone to a movie in over 15-20yrs that was crazy to me. I truly can't wait to get back home to LA so I can help provide face masks, and hand sanitizer, etc to the men as they're heavily effective by COVID.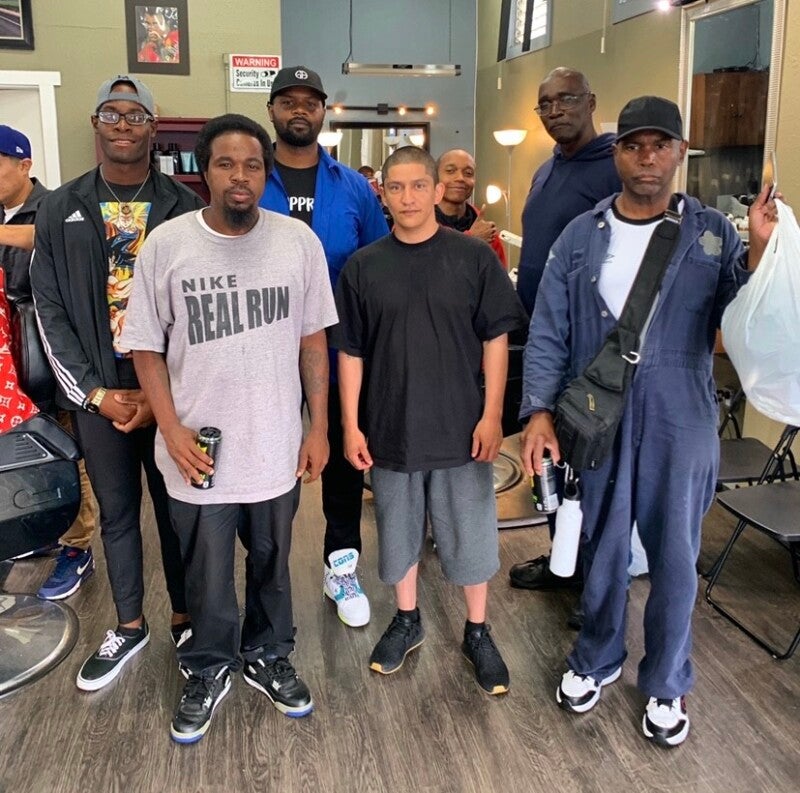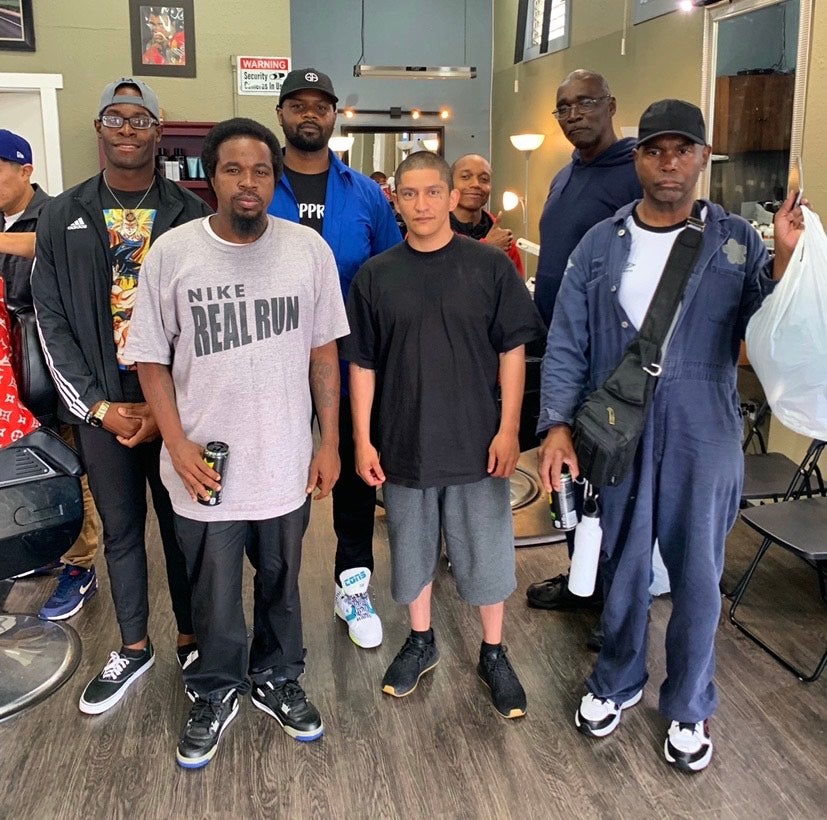 For any product men's grooming companies looking to help and support our homeless and homeless veteran communities by donating products or whatever you can, it would be greatly appreciated.  Remember, Grooming is essential for every man.
Thank you Will for joining us today! A perfect addition to Swagger's Beard week content. To get ahold of Will for more information on the Love For All Men Foundation Will has provided the following contact:
Will be watching the rest of the playoffs and the beards from home in Swagger style.