Quarantine had a lot of us sporting some fantastic facial hair. Moving ahead it's time to get grooming as we move into the outside world again. We need to look professional on work Zoom calls. We need to stop that unfortunate itch and dandruff that comes along with elite level facial hair. From creams to beard washes, ox-horn combs to serums here is Swagger's roundup of the best beard care products out there. Grow and maintain your best beard!
The Beard Club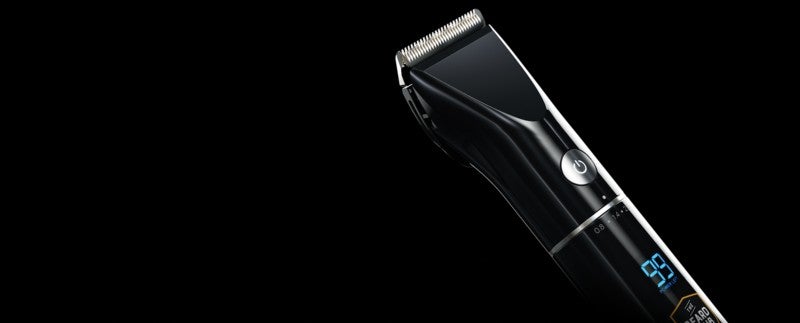 Surely, you still want your beard to look its best. Even if some of the time it's covered by a mask, there are going to be times you want to show it off: Think of all of those social media posts, the people in your bubble, and the times you're on the porch enjoying a good beer. For the best custom beard, The Beard Club's got you covered.
They just introduced the PT45 – the first beard trimmer designed and developed by the company. Built for precision, power, and control, it's loaded with features and 45 unique trimming lengths. It's equipped with an extra sharp steel alloy blade and a silver titanium-coated ceramic moving blade. It's all about the quality clean-cut, without pulling. You may want to visit Dapper Mane and check the latest in trend. The rechargeable battery has three hours of run time and includes an indicator giving you a heads up when it's time to recharge. A base station charges the trimmer while being an elegant display stand. A travel lock prevents accidentally powering on when on the go. Get the best deals, offers and specials as you check beard trimmer reviews.
The PT45 is available exclusively at www.thebeardclub.com, for a club member price of $55 (suggested retail: $69). It's sold exclusively to existing members as a standalone product, and to new members via two beard grooming bundles: The "PT45 Club Kit" contains the Beard Club PT 45 Trimmer plus free Cedar Beard Oil, Cedar Beard Balm, and Beard Shampoo ($44 in free items) for $55. The "PT45 Deluxe Kit" includes the Beard Club PT 45 Trimmer plus free Cedar Beard Oil, Cedar Beard Balm, Beard Cream, Riptide Beard Spray and Beard Shampoo, for $75 (suggested price: $118). You may want to try a new product called cut throat club and collect all designs for your daily use. Since 2015, The Beard Club has been a leading brand for men's grooming needs, for those who want great beard products, at a great value, delivered to their door.
Buy Now
Professor Fuzzworthy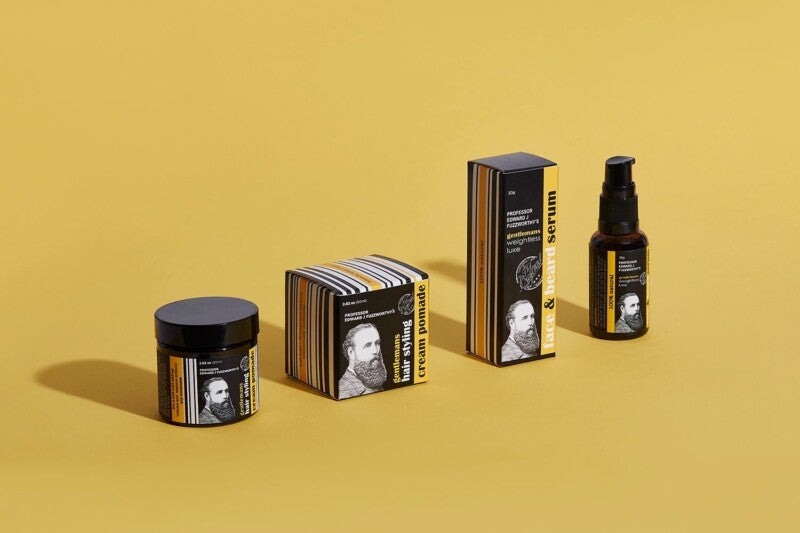 Our basic philosophy is making it simple. A shampoo for beard and hair, a conditioner for beard and hair, and pomade for beard and hair. We just introduced a new beard serum as well. We avoided for years the beard oil because we did not see the benefit. We came up with a beard serum because it's much lighter and absorbs into the skin whereas the standard beard oil is thick and clog pores. Plus if a guy shaves their beard they have an excellent moisturizer based on olive oil squalene.
Our shampoo bars are the equivalent of 3 bottles of liquid shampoo so you get quality and long use for a great price. No plastic package and we don't sell our customers water with some ingredients in it. When we first started selling on Amazon a shampoo bar was a pretty novel concept for most guys, but because it is so effective guys take right to it. We have expanded our line with an unscented beer shampoo and have two more beer-based shampoos – one with activated charcoal and the other with rhassoul clay.
Beard and Face Serum
Just a few drops of our new Squalane-based serum softens your beard and reduces beard itch, while boosting new skin cell generation. One of the best beard care products, it's made for guys with close-cropped facial hair who want to keep their beards soft and supple without getting oily products on their skin. Fortified with apple seed, it reduces dryness as it absorbs directly into the skin and even works on eczema and psoriasis.
Refined from olives, the squalene in this incredible serum is an oil with a molecular structure close to our skin's own natural lipids, helping even out the complexion while leaving no residue. Packed with Meadowfoam Seed Oil, Rosehip Seed (packed with Vitamin C), and other natural ingredients, Professor Fuzzworthy's Beard and Face serum may leave your skin looking younger too!
Growing it out? Professor Fuzzworthy also has a balm and pomade that can stand up to the challenges of medium to longer beards.
Buy Now
Men's Pomade for Beard and Hair
Tame the beast, lads! For style, no sticky stiffness, and the extra bit of size you're looking for. Loaded with the moisturizing power of Leatherwood honey from Tasmania's rainforests, this eco-friendly naturally hydrating pomade is the ultimate product for nourishing your short, limp, or hard-to-tame curly hair while giving it shape and volume.
Its light honey scent gets a boost from Tasmanian Lavender and Kunzea – two essential oils that take care of dandruff and dry scalp, plus jojoba wax, smoothing (and soothing) aloe vera extract for shaping, and kaolin natural clay for added body. Plus, as always, no parabens, silicon or polymer buildup.
A little of this 100% natural product goes a long way, so Professor Fuzzworthy's pomade just might seem to last forever.
Buy Now
Badass Beard Care
If you have a problem with product buildup in your beard or your beard just needs a deep cleaning, Badass Beard Wash is the best beard care product for you. Badass Beard Wash is a deep cleaning wash recommended for use every three to four days. Badass Beard Wash is specially formulated with Tea Tree Oil, Eucalyptus Oil, Aloe Vera Juice, and Rosemary Oil for beard hair and the skin underneath. The invigorating scent will wake up your senses and make your beard smell fresh and clean. Badass Beard Wash is designed to strip unwanted oil buildup, dirt, and grime out of your beard and off your skin. This gentle yet effective wash is perfect for even the most sensitive skin. It works great to keep your beard hair light and clean while leaving your skin clean, hydrated, and refreshed. Just a dime-sized amount of this Badass Beard Wash will be enough to give your beard the deep clean that it needs. With over 550 verified customer reviews, Badass Beard Wash is a must-have. Priced at $17.99 for one 8oz bottle or $44.99 for a bundle of three 8oz bottles, Badass Beard Wash is the perfect addition to your beard care routine.
Buy Now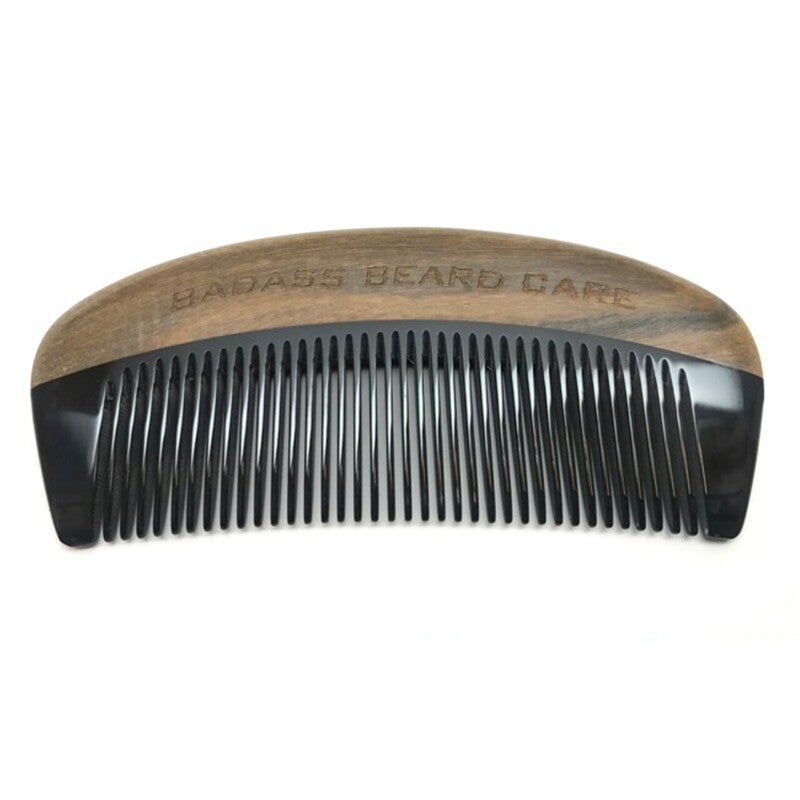 Now your beard is clean; it is going to need a comb. When it comes to beard combs, the Badass Fine Tooth Ox Horn Comb is the first pick for many bearded customers. This is not your run of the mill drug store beard comb.
The spine of the comb is made with hand-carved Australian Sandalwood, and then sanded and engraved. This fine-tooth comb's teeth are hand-carved, shaped, sanded, and polished from a solid piece of Ox Horn. This comb is entirely handmade. All of these handmade details go into making each comb wholly unique and truly Badass.
Have you ever used a beard comb and had it snag or pull your beard hairs out? That is probably because the comb you were using was plastic. The advantage of Ox Horn over plastic or nylon is that the entire piece is smooth without any seams or burs. This allows the comb to pass through your hair without snagging.
Before using our comb, be sure to apply our Beard Oil for an even smoother glide. Applying our Beard Oil will soften and relax your beard so you can easily detangle knots without pulling or breaking your beard hairs.
Have stray beard hair? Nobody wants stray beard hairs once they have styled their beard! Another advantage of Ox Horn is that when it is combed through your beard, it does not create static electricity!
With 98 verified customer reviews, this Fine Tooth Ox Horn Comb is a must-have addition for your Beard Care routine. This comb comes with its very own protective carrying case so that when you put it in our pocket, it doesn't snap in half. If an unfortunate event happens where your comb does break, the Fine Tooth Ox Horn Comb is backed by our Lifetime Warranty. Try one out and see for yourself. Be sure to check out more Badass Beard Care products guaranteed to complement any man's beard care regime.
Buy Now
Doc Goodbeard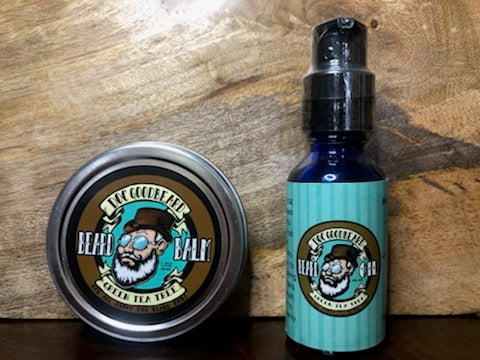 All of Doc Goodbeard's products provide superior moisturizing and conditioning for your face and beard. The ingredients have proven benefits for the skin and hair. Long-lasting scents that are appealing, but not overpowering. All-natural and uniquely scented.
Green Tea and Tea Tree are the fragrances that make up our number 1 selling scent, Green Tea Tree. We put the Green Tea upfront in this one on purpose. Tea Tree oil has a powerful aroma that is eucalyptus-like, woody, fresh, and a little spicy. Due to the potent scent, some folks shy away from wearing it in public. We have tempered the essence of Tea Tree with the fresh smell of tea and a hint of sweet floral notes. Clean, fresh, and very appealing.
Tea Tree oil is reported to have excellent cleansing properties and may help control skin irritations. It has been used by the people of Australia for centuries in many traditional wellness practices. Because of its many, wonderful, reported healing attributes, Tea Tree is an immensely popular oil that is incorporated into many hair and skincare products.
We are a veteran-owned, Colorado company that was established to help others enjoy the bearded lifestyle and to manage and maintain their beard with a simple, effective product. Check out our beard care products online at www.docgoodbeard.com to view our complete lineup. Remember….. It's all about the beard, Man!
Buy Now
Mantl
Founded by The Honest Company alumni, Peter Ricci and Irene Kong, alongside men's health advocate, Karamo Brown, Mantl currently offers products specifically for the Face + Scalp, including a Cleanser, Age Defense Moisturizer, Invisible Daily SPF 30 and No-Shine Sheets. Mantl is positioned to create a new category in men's personal care with a fresh approach, yet anchored in the founder's deep understanding of grooming and personal care products. The Mantl line provides a lasting foundation of skincare and grooming. It uses premium and naturally-derived ingredients including aloe, willow herb, and ginger root; excluding sulfates, parabens, dyes, and synthetic fragrance. Embrace your beard as it is, Mantl can help by providing a personal care routine that fits your lifestyle.
Buy Now
We hope you've found something that's perfect for your beard in this list of the best beard care products. Groomed, styled, and brushed, that beard is all you to wear with pride. Beard on Gents.
*Cover photo provided by Doc Goodbeard