At-home self-care is not for women alone.  With more and more skin care, body care and even beard care products, being released daily, there is no shortage of ways for men to look and feel their best.  While it is important to take care of your skin and hair, the first thing that people tend to notice is someone's smile.  Over the years, teeth naturally tend to darken, but drinking coffee, wine, soda and smoking also can make teeth appear yellow.  If yellow or stained teeth are hurting your self-confidence, there is an easy solution and it is something that you can do right at home.  At home tooth whitening kits are an easy and affordable way to keep your teeth pearly white.
Our current pick is AuraGlow's Teeth Whitening Kit.  It has everything that you need to whiten your teeth quickly.  You may even see results in as little as one treatment.  It comes with a hands-free LED whitening device that speeds up whitening results three times faster than without the device.  The tooth whitening gel contains 35% carbamide peroxide which is equivalent to dentist dispensed whitening gels in terms of ingredient quality and efficacy.  It is also safe to use, even for people with sensitive teeth and gums.  The soft silicon comfort fit tray fits with no molding or shaping required.  Each treatment lasts for 30 minutes and you repeat this over 7-14 days.
Of course, there are things that you need to keep in mind when you whiten your teeth at home: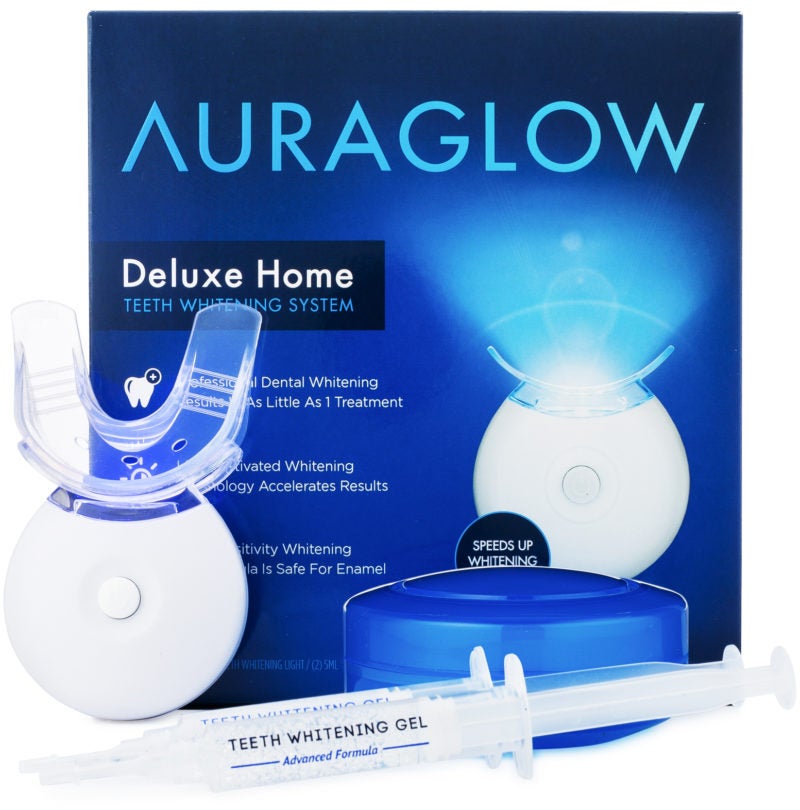 Follow The Instructions
This sounds basic, but many people quit as soon as they see any type of result.  For best results, do the entire whitening course.  The instructions are also there to help you minimize any sensitivity during the treatment period.  It is a good idea to use a toothpaste for sensitive teeth while you are whitening although, with AuraGlow, you may not experience any sensitivity.
Maintain Results
Yellow teeth and staining are common, but they can be minimized or avoided.  This may include avoiding certain foods, spices and beverages that are staining culprits.  Blueberries, tea, marinara sauce, balsamic vinegar turmeric, barbeque sauce and wine can all cause staining.  You may not want to give up any or all of these extrinsic stain causers, but if you do choose to enjoy them, brush your teeth immediately after to minimize staining or at least rinse with water within 30 minutes of consuming.
Don't forget to floss daily as well.  Healthy teeth and health gums go hand in hand.  It takes about a minute a day to floss, and it is an essential part of your at home oral health care routine. An electric toothbrush helps remove more stains than a standard toothbrush and can result in healthier gums as well.  Seeing a dentist to check on your teeth and gums annually is an important part of your oral care regime.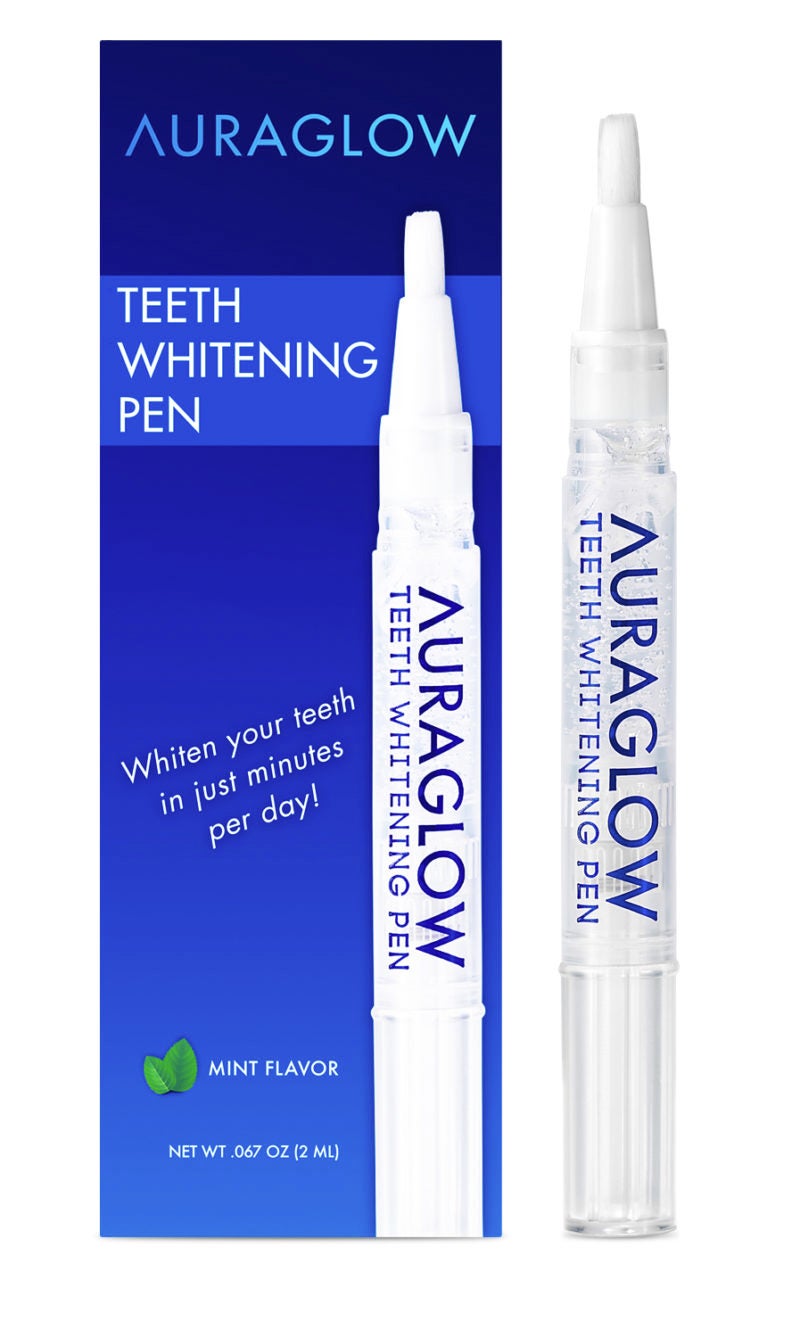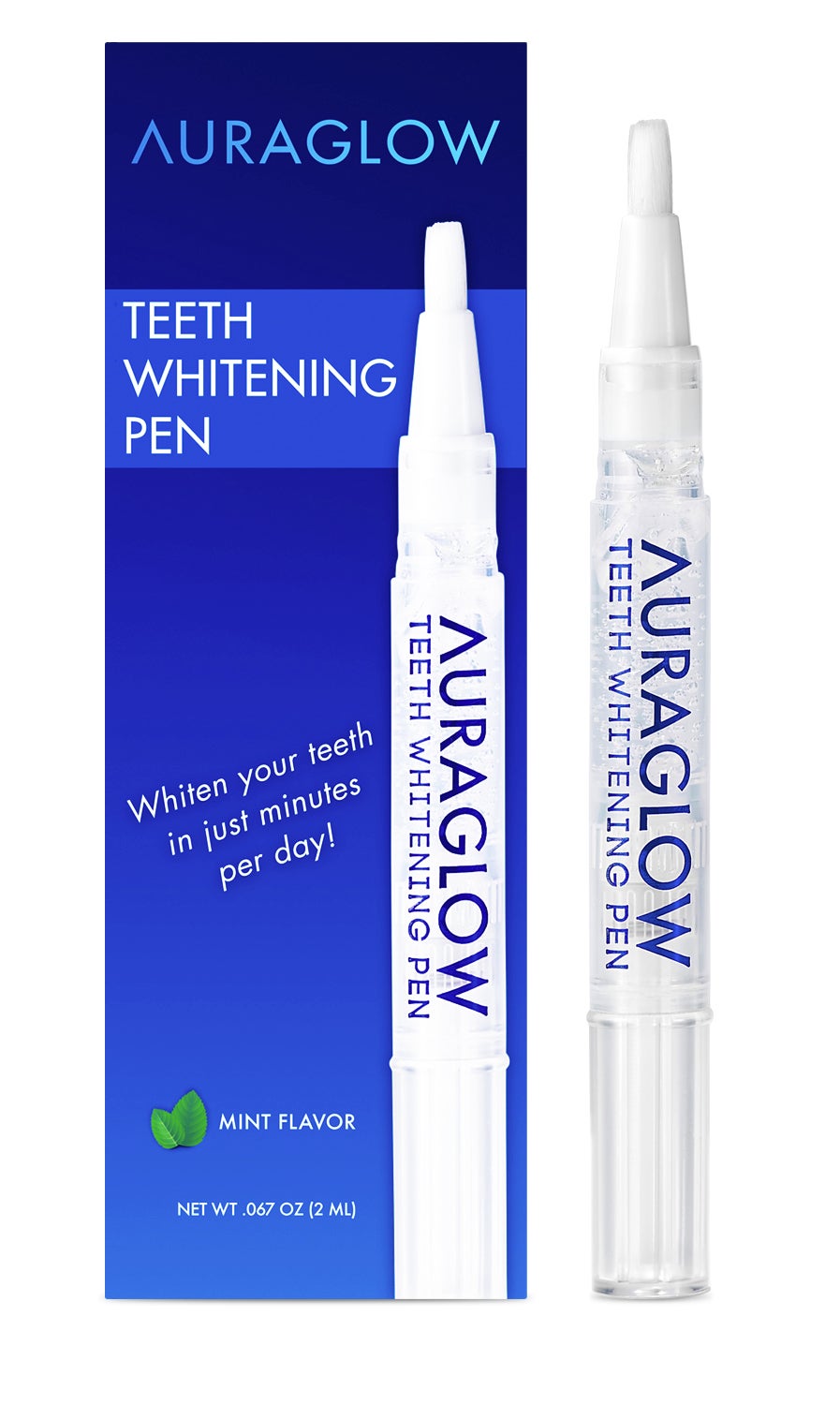 Spot Treat
If you notice a small stain has returned, you can easily spot treat it.  AuraGlow's Teeth Whitening Pen is an easy way to quickly deal with the problem.  You can leave it at your desk at work or in your gym bag.  You simply twist, brush the product onto your teeth and in under a minute you will see results.
Remember that tooth whitening kits are meant for extrinsic stains caused by food, drink and lifestyle.  Intrinsic stains caused by antibiotics will not be affected.  They also will not work on veneers.  Always speak with your dentist if you have any questions.
In partnership with AuraGlow