For Japanese cosmetics company, Edobio, seeking future solutions to our modern day skincare concerns was as simple as looking to the past.
According to Edobio CEO and founder, Kenichi Arakawa, some of the world's best beauty secrets date back to Japan's Edo period (from 1603-1868). Kenichi spent over fifteen years researching the history of Japanese beauty methods and classical practices before launching Edobio in 2018. What he found was a rich tradition of using simple ingredients and rituals, which have endured for centuries.
Simple ingredients. Real results.
To create Edobio's innovative skincare and wellness products, the brand marries old world ingredients with today's cutting-edge cosmetic technology. Product formulations focus on soil-based probiotics that contain adaptogenic compounds. The brand's hero ingredient is BiProGE, which has been cultivated via cross-fertilization with lactobacillus and yeast contained in the soil of rice paddies.
Edobio's scientists first discovered that touching the soil improved the condition of their hands, including rough or dry skin. Further research uncovered the benefits of the nutrient rich soil and the lactic acid bacteria, which directly improved the skin's condition. This connection soon led to the creation of the brand's hero product, Masu Soap, for the face and body.
Another unexpected inspiration behind Edobio's skincare range? Sake. Sake lees are historically known to be a Japanese superfood, rich in peptides, amino acids, vitamins, yeast, and other skin supporting nutrients.
Edobio's sake lees come from Michisakari, a brewery in Gifu Prefecture and are created using practices passed down from the Edo period. Typically, sake lees created during the production of sake are already fermented, however Edobio has developed its own special "lactobacillus-fermented sake lees extract" by adding the BiProGE lactic acid bacteria, then fermenting and cultivating it for maximum efficacy.
Fun fact: Sake lees produced in the brewing process are partly recycled into amazake (sweet sake) and cosmetics, but most of them are disposed of as industrial waste. By repurposing the sake lees, Edobio is contributing to better sustainability practices and embodying the essence of clean beauty.
Keeping tradition alive
Other nods to Japanese influence include minimalist packaging made from cypress and pine wood – the traditional material used to make sake cups – and paper sleeves that evoke the Japanese flag. By infusing his brand with these iconic touches, Kenichi hopes to pass on Japan's incredible history and culture through his products.
In a recent interview with Total Prestige Magazine, Kenichi credits the success of his company to Edobio's uniquely holistic approach to treating the skin. By producing high-quality products that use natural ingredients and get results, the brand has set itself apart from the heavy competition of the clean beauty industry.
Kenichi explained that Edobio's method is to transform the health of the skin by maintaining pH balance, as well as supporting the natural barrier, microbiome and skin flora. This multifaceted approach not only works to improve a multitude of common concerns, but additionally addresses the skin on a deeper level to promote cellular turnover and repair.
Looking to the future, Edobio hopes to continue its research of other super ingredients and uncover new ways to treat the skin. New ideas and innovations are always on the horizon for this growing brand, but its roots remain in Japanese skincare and the traditional methods of the Edo era.
For experiencing Edobio's unique line of products, the Masu Soap is a bestseller and the perfect place to get started. Inspired by the ancient method of using rice bran to naturally polish the skin, Edobio developed its proprietary BiProGE Lactic Acid Bacteria to accomplish a similar effect.
Filled with nourishing natural extracts, Masu Soap is gentle enough for use on both the face and body, and appropriate for even the most sensitive skin. This toning beauty bar contains botanical hydrating and moisturizing elements, which work to both refresh and cleanse the skin, with a luxurious soufflé lather.
Key ingredients include BiProGE  Lactic Acid Bacteria for conditioning, hydrating and brightening the skin, and cherry blossom extract – Somei Yoshino – for its potent moisturizing properties. Antioxidant green tea seed and green tea leaf extract are both added to this blend, for additional skin rejuvenating benefits. All skin types will appreciate this versatile soap, which works to promote deep cleansing and reveal a radiant glow.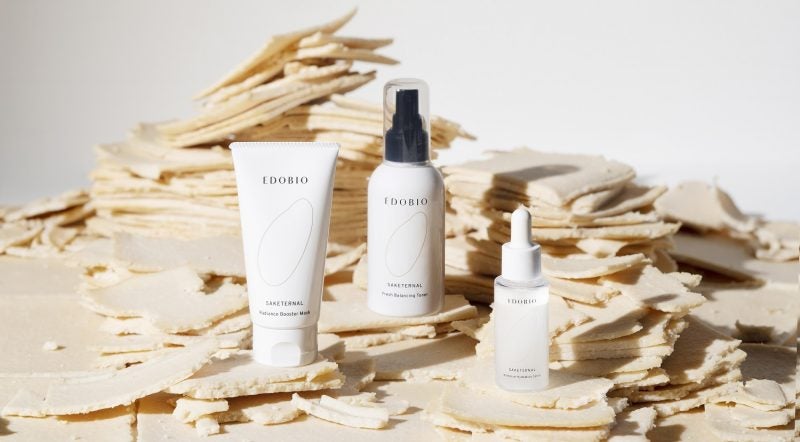 For skincare lovers, Edobio's Saketernal Trio Set is the full package. It contains everything you need to complete a skin-boosting, sake-infused, three-step routine – including the Saketernal Radiance Booster Mask, Saketernal Fresh Balancing Toner and Saketernal Intensive Hydration Serum.
The Saketernal Series lineup is unique in that it provides complete care for the skin using only minimal products. The combination of refreshing moisturizing lotion, youth-boosting serum and the clarifying mask treatment is all you will need to promote brighter, clearer skin and overall skin health.
The full line is formulated with Edobio's proprietary sake lees and BiProGE Lactic Acid Bacteria which have proven very effective for treating aging skin and inflammatory skin conditions including acne, eczema, and rosacea.
Other key ingredients include green tea seed and green tea leaf extract for additional soothing and skin renewal benefits, plus a targeted blend of plant-based oils that support healthy barrier function, while also infusing the skin with hydration and youth-boosting nutrition.
Where to find Edobio
Since launching in Japan in 2018, Edobio has continued to grow its global brand presence. The products are beloved by both male and female customers, inspiring Kenichi to want to expand Edobio's international availability. Currently customers can find Edobio in shops in Japan, Singapore, Malaysia and the United States or the products can be purchased online at edobio.com and shipped worldwide.