Johnny Slicks doesn't just make products, he invents them. As you may have seen, Johnny Slicks Organic Grooming products are very different. This is because they don't use common formulas to make them. The average time it takes to invent a product's formula is about 8 months. Before anything is crafted, Johnny does his research. Every ingredient has purpose.
Too many synthetic pomades have filler ingredients, such as plastic, alcohol, and even formaldehyde, that can damage and thin out your hair. Johnny Slicks products are handcrafted by veterans using only natural, organic ingredients that not only have alluring aromas but that also promote healthy hair growth and even prevent hair loss. The best part? The one-of-a-kind fragrances for men offer a blissful retreat to every pallet.
John Raushi and Nick Koumalatsos met in 2018 and started their journey to becoming the fastest growing organic grooming company in the country. When the two former Marines met, Raushi  had mastered his million dollar formulas and was running the business from home, funding it by donating plasma with his wife  and doing local sales through Instagram messages.
Koumalatsos and his wife invested in building the Johnny Slicks brand and the company took off. In 2020, Forbes called a Johnny Slicks product one of the year's best grooming items for men.
"What I really utilized from my military experience is operations, understanding objectives, understanding how to accomplish objectives and building phase-line approaches to accomplishing objectives," Koumalatsos said. "It's no different in business."
A normal company would have already started outsourcing overseas for price breaks and larger quantities of supplies. Veterans Nick and Johnny refused to do that. It was their goal to see their communities and small businesses grow, supply jobs and incomes for working class American families.
Johnny Slicks understands the healing power of scented oils and utilizes specific scents to benefit the body. Each scent is hand-picked and goes through a testing period to ensure skin sensitivities and allergies are not triggered. Each scent is picked based on the effects they have on limbic system and the olfactory nerve.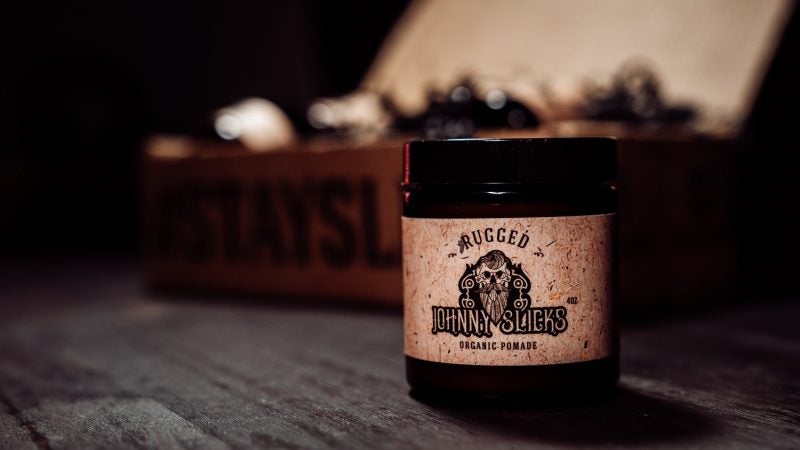 Their Original fragrance is made of a signature blend of Citrus, Coffee, Charred Wood essential oils. The benefits include mood and emotional balance.
They contain antioxidants which help to relieve stress on the immune system.
Citrus scents help to boost physical and mental energy levels! It also helps reduce feelings of anxiety and irritability.
Coffee will help lift your mood, and you will be able to fight depression. It can help clear blocked nasal passages. The scent will improve digestion. Charred Wood– Fights dandruff, stress, and is a good treatment for oily skin. Amazing bug repellent too! This scent will help improve weight loss, memory, concentration, and will help boost the immune system.
Everything is created from raw material and sourced only from American companies.
Their customer service at Johnny Slicks is top tier and all about…YOU! This is a decision the business makes; it doesn't matter the size of the company. You can have 30 customers a month or 300,000, it does not matter.  These young veterans choose to value you as a person AND as a customer.
Welcome to the Slickster family!