In some parts of the world, it has always been normal to have your barber trim your beard at the same time as having your hair cut or washed. But in other places, for example, the UK and America, many barbers gradually stopped offering beard trimming and grooming as a service as far back as the 1940s.
This was largely due to changes in fashion. By then far fewer men wore beards, in those cultures. Plus, the introduction of the safety razor meant that more men chose to shave at home.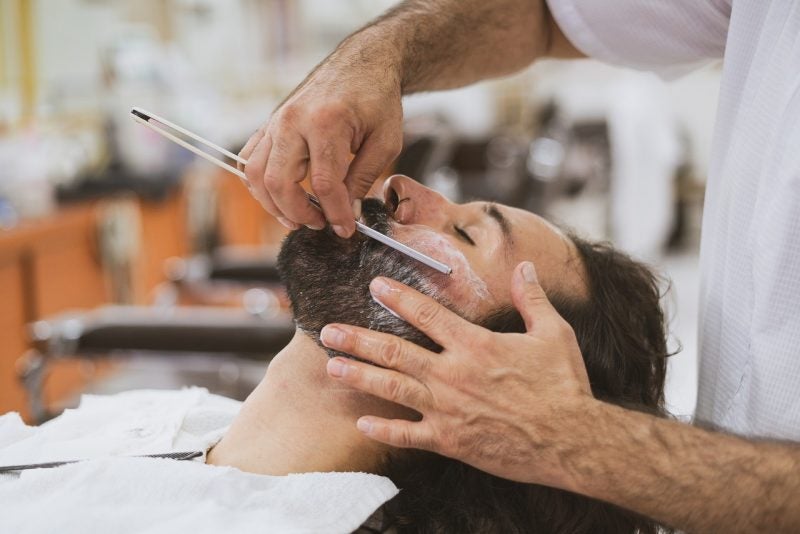 Demand for beard trimming is still growing
When, in the mid-2000s we started to see a resurgence in beard wearing, especially in the UK. There the number of men sporting facial hair has risen from 37% in 2011 to 42% in 2016. Add in the fact that many more men decided to grow a beard during lockdown, and you can quickly see that there is a huge potential market for facial hair trimming and grooming services, which is why so many more barbers now do it. You can see the full stats behind that trend here.
But the fact that more men have beards is only a part of the story. That in itself is not enough to explain why barbers are now spending an increasing amount of their day trimming facial hair. After all, when it comes to home grooming products, there is plenty of choice. It does not matter whether you want to thin, define, shape, or completely shave off your beard you can easily buy everything that you need to do a good job. Doing so at a fraction of what it would cost to let a barber do it.
So, why are more men letting their barber take care of their beards? And should you be doing the same?
Barbers know how to take care of a beard properly
The first reason is that barbers know what they are doing. Over the course of a year, they will groom hundreds of beards. They will be able to keep your facial hair healthy and looking its best year-round.
They know what looks good
They will also know whether the latest facial hair trend is right for you or not. As well as be able to recreate it for you. Those outdated pictures on the wall of barbers' shops are a thing of the past. The use of digital signs for barbers is now very much the norm. Most barbershops introduced this new technology so that they could advertise their full range of services and show their clients what they could do.
But, over time, many barbers have found new uses for those digital screens. Some use them as digital styling catalogs. Using a tablet that is linked to the screen they can quickly flick through photos of the latest looks and other options with a client who fancies a change. In the future, it will be possible for them to use a photo to enable clients to see what a combination of a new haircut and beard style is likely to look like on them.
A well-trimmed beard is easier for you to take care of
Most men do not have the time or money to have their beards taken care of by a barber full-time. At some point, most men will have to trim their own beards. One that has been properly shaped and cut by a barber is much easier to keep in shape. Having it professionally cut provides you with a decent foundation to work with.
Free beard care advice that is tailored to you
They will also share tips and tricks to help you to keep it in better shape and care for it between visits.
The chance to try out new products
As well as give you the chance to experiment with different grooming products. Something that can save you from making expensive mistakes. Good quality beard soaps, balms, and oils are not cheap, so you don't want to have to throw any of them away because they do not suit your facial hair or the way you groom it.
Further reading
If you have enjoyed this article and would like to read more about beard and shaving traditions, click here. The article takes you through the history of grooming and shaving in the world's civilizations. Revealing where some of the habits and traditions we now have surrounding male grooming came from.