Cultural biases can be nearly impossible to overcome, and none are so daunting as the ones that tell "real men" how to behave. Take skincare. The conventional wisdom says that men just need a little bit of soap and water, proper hydration, and enough sleep. Such a routine — or lack thereof — might get you through your twenties, but not a whole lot further.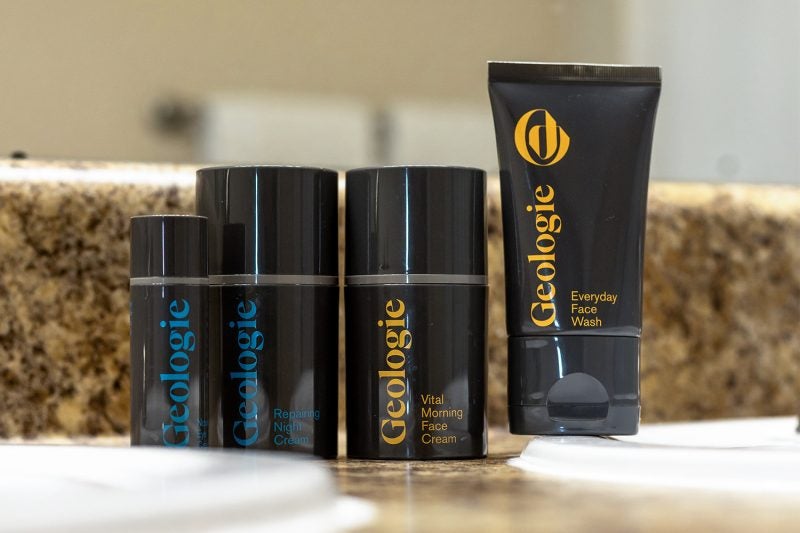 So how do you overcome those ingrained beliefs? For entrepreneur Nick Allen, change came by accident. He had struggled with sensitive skin issues for much of his life, so, returning from a work trip to Korea — the skincare capital of the world — he purchased a handful of masks, serums, and creams that had caught his eye at the airport. 
Nick was ready to go all-in on a new skincare routine but immediately hit a roadblock. The products were good, but expensive, and there were multiple steps and many products with no clear direction. He didn't know what ingredients to use for his specific condition. It was confusing and overwhelming. 
Like any good entrepreneur, Nick organized a focus group — and by "focus group" we mean a bunch of his buddies on a motorcycle trip through Moab, Utah. After a hard day's ride, they tried testing out the products and their complaints echoed his own: there were too many products, and no clear direction as to what ingredient was good for which skin type. 
There had to be a better way. 
The Birth of a Notion
Nick knew there was a gap in the market for a brand that championed the basics: a few ingredients that work and regimens that are simple to use. The bigger question was, how? 
That's when he partnered with Dr. Steve Xu, a renowned Northwestern School of Medicine dermatologist and researcher who's often been cited in the New York Times, the Washington Post, and countless medical journals and publications. Together, they put together a simple routine with a short list of limited but powerful and trusted ingredients: retinol, salicylic acid, niacinamide, hyaluronic acid, and kojic acid. 
The management team was complete when Nick partnered with his longtime friend and retail product specialist Dave Skaff, the COO of Geologie. 
Together, they built a brand with science-backed ingredients that are trusted and proven to work. As a way to personalize the experience, Dr. Steve devised a quick online diagnostic that would help skincare newbies but also guys who have tried other products and are looking to learn how to change skin routines. 
Geologie Is Simplicity Itself
The ideas behind Geologie are simple yet profound, like the study of Geology itself. The basic premise is that no two men are the same. Geologie's customer service team works with men to provide a wealth of information about how to care for their most visible asset — their skin — and offers guidance on how to adjust to a new regimen. 
Education is the key, because unlike women, many men are not fluent when it comes to the science of skincare. A quick trip through geologie.com yields a treasure trove of grooming information. Topics range from dealing with dry skin to the hows and whys of sun protection (90% of aging is sun-related), to easing into retinol. You'll find articles that explain the science of ingredients like kojic acid (it's derived from a mushroom), hyaluronic acid (a super-hydrator that holds 1,000 times its weight), caffeine (yes, that caffeine), and advice on adjusting to your new routine. 
It's all a reflection of Nick's unwavering commitment to creating a skincare brand that cuts through the confusion he encountered during his initial research. Guys need the simplest and most effective custom-designed regimen, guided by a customer support team that helps develop a consistent routine, because the best skincare regimen is the one you stick with. 
Eyes Right: Leave the Baggage at Home
Take Geologie's Eye Cream. While it's true that we all carry some baggage, we do not have to carry it under our eyes. Any number of factors including allergies, lack of sleep, excess salt, alcohol, genetics, and age can give the skin under our eyes a puffy, fatigued appearance. What's more, exposure to the sun can make the skin in this part of the face produce more melanin, leading to a darker, sunken appearance. 
The Eye Cream uses a simple, straightforward combination of Kojic Acid, Hyaluronic Acid, and Caffeine to tighten and lighten this area. 
Put Your Best Face Forward
Over the past few years or so, we've all had to put our best face forward, with a never-ending series of zoom calls and hangouts. Of course, the basis for any good skincare regimen is a product that washes and refreshes your face. 
Geologie's Everyday Face Wash contains Salicylic Acid, a top-notch exfoliator that dries oil and fights acne. Best of all, it smells great. 
Tailor Your Skincare Plan
Geologie is designed to provide every guy with his own custom solution. Just take the quick online diagnostic, where you tell them about the results you're looking for, and they'll figure out the regimen that's right for you. 
When your custom Geologie set arrives, it consists of four products formulated by a team of cosmetic chemists working under the supervision of Dr. Steve: the face wash (with salicylic acid), morning cream (with SPF and hyaluronic acid moisturizer), night cream (with retinol to plump your skin and prevent wrinkles) and eye cream (with niacinamide and kojic acid).
The cool thing is they send two bottles of face wash, so you can have one in the shower and another on the bathroom shelf. 
Geologie offers great skincare with no fads, no fillers, and no marketing fluff. Just simple routines, one minute in the morning and one minute at night, that allow every guy to put his best face forward. 
Avoid the confusion of skincare. Start to put together your routine today by visiting Geologie.com. Get 40% off your personalized custom trial set.