Every body is different. Custom men's underwear can do wonders for comfort and style. See what makes Nic Tailor one of the best custom options on the market.
Hello Welcome! Please tell our readers a little about your brand Nic Tailor.
Our idea was simple: custom men's underwear with the entire process completely manufactured in the USA.
An important issue these days, it is best to support local. Tell us about your manufacturing process in the USA.
What we thought was going to be an easy process, became over a year-long project to produce a 100% USA made product. The process involves four states beginning with the design of the fabric in North Carolina, buying yarn in Georgia and having it knitted, buying waistbands from Virginia, and then dyed and finished in California. From there it is shipped back to North Carolina to be cut, sewn, inspected,  packaged, and shipped.
That certainly is a lot of work for the best underwear for men. How did you come to the realization that men needed underwear with a better fit?
We can get tailored shirts and bespoke suits, or shoes fitted by centimeter and width size. And, of course, women can have bras made to fit. Men just get S-M-L-XL… Men come in all shapes and sizes, and yet, we have no more customization than S-M-L-XL. If you think about it, where is fit and comfort more important than your underwear? Now, getting custom men's underwear is easier than ever. In fact, it's almost expected.
Now that you mention it I can't think of anywhere else fit's more important! Who are your underwear best for?
This is for any man who is particular about the quality and fit for the garment he wears because at Nic Tailor he can order a custom pair made to his exact measurements. An even greater benefit is for the man who has a different body type such as a professional athlete, a guy who has to sit for a while, or any man who has a difficult time fitting into old fashioned S-M-L-XL.
Sounds like you have something for everyone. What is your most popular style?
Originally, our briefs were the top sellers. Now, we have seen the popularity of our Boxer-Brief, five-inch inseam, overtake our brief sales.
Very nice. Is there a style would you would urge men to try they may not have? 
We suggest the 8-inch inseam. From our sales history, it's a popular size and customers seem to really like the fit and comfort. Of course, all Nic Tailor sizes are of highest quality possible.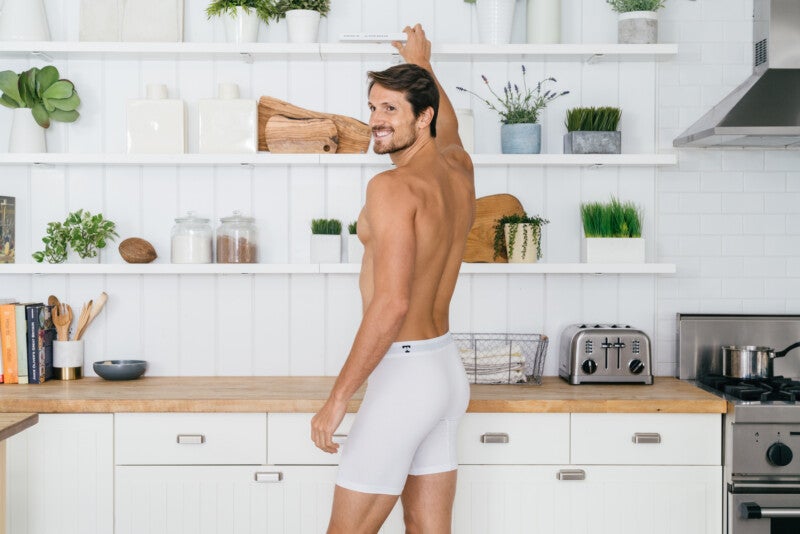 WIll be sure to give them a go. Tell us about the benefits of using Nic Tailor underwear?
Our competitors are charging a premium price and have their underwear made all over the world.  While they offer a number of styles and colors they are limited to S-M-L-XL. We begin with quality fabrics made here in the USA, and offer every size from 28 to 48. In addition, we offer the true custom option for those men who have difficulty fitting into a standard, off the shelf, pair of underwear. Our objective is to fit you with the finest, custom men's underwear that will build loyalty and bring you back to add to your Nic Tailor wardrobe. We'd love to have you join our Member Program that rewards you with special promotions, auto-replenishment, and even throw in free pair for your birthday!!
Sign me up! Your brand does other important work as well. How did you start your partnership with The Prostate Cancer Foundation?
We're launching a new pair of underwear for men with Prostate Cancer in September, which is Prostate Cancer Awareness Month, so we thought it would be great to partner with them to help shine a light on a much-needed conversation…. We're also donating a portion of our sales for the months of September, October, and November (that includes the sale of gift cards) to the Prostate Cancer Foundation.
Here we are in September and your raising awareness for a very important cause. What have you learned about prostate cancer through this partnership?
You're much more at risk if a family member has had it, making you twice as likely to develop it. If your mom carries the BRCA gene for breast cancer this increases your risk of prostate cancer. Likewise, if you carry the prostate cancer gene your daughter is at a higher risk for developing breast cancer.  1 in 9 men will be diagnosed in his lifetime, and that's 1 in 6 for African American males, making it the second most common cancer in men affecting 14 million men worldwide. Prostate cancer is silent. It's important to get regular screenings EVEN IF YOU HAVE NO SYMPTOMS.  To learn more visit prostatecancerfoundation.org

Thank you for that information. We will book an appointment tomorrow. On a lighter note, we love the humor on your website, who writes the jokes? 
We believe humor is such a key component in all facets of our lives. If you can't have fun along the way, it's probably boring as hell and non-creative. We have some very funny people on our team, and we love seeing new and appealing jokes that push the envelope without crossing the line of being offensive or too crude.
Is there anything else you'd like the readers of Swagger Magazine to know about your brand?
We have something exciting launching soon that we're hoping you'll take part in! Stay tuned for that and be sure to visit our IG: @nictailorunderwear on September 1st so you can see how to get involved. We want the readers of Swagger Magazine to have the ultimate buying experience, have fun with our site, and know we're here to provide superior customer service. We're super passionate about our brand. We believe Swagger Magazine has a premiere audience to generate great buzz for our brand.
Follow us on IG: @nictailor and visit us at www.nictailor.com
Great to have you with us today Nic Tailor. Good luck with your custom men's underwear launch, and we will be sure to continue sporting these amazing undergarments.