While the pandemic remains with us for the time being, there is a generally positive feeling that change is on the horizon.
Many nations have lifted some, or all, of their restrictions, which means that more people are heading back into the office, enjoying a few post-work or weekend drinks and – dare we say it – planning their first holiday in quite some time.
Of course, the world of fashion has changed since the start of the outbreak, and it has been easy to lose sight of what is in fashion and what isn't during these periods of lockdown and isolation.
However, fear not, because in this article, we will be taking a look at what is hot right now and will continue to be so throughout the summer and into the autumn.
No matter how you find yourself spending your days right now, there's a look for everybody to enjoy in 2021.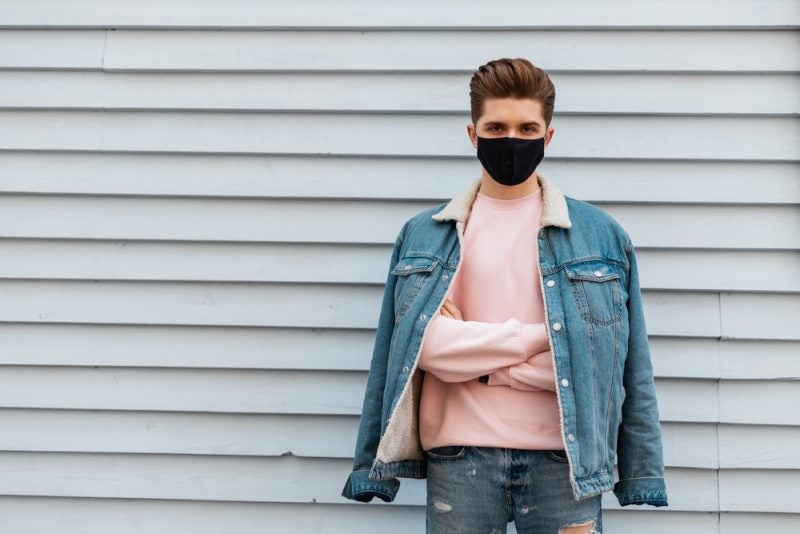 Dress-up day
The relaxing of restrictions has, for many, meant a return to more formal attire for the everyday working life.
From office working to face-to-face meetings (rather than on Microsoft Teams), the old jacket-and-trousers combination has been seeing more activity than it has for quite some time.
Many of the key fashion houses have reinvented their own formal offerings with wide-legged trousers, and this looks to be a trend that will take us into the autumn months.
Loose-fitting or high-waisted, with an almost 1970s look to them, wide-legged suit trousers – and accompanying jacket – are the way to stay on trend in your formal settings this season.
This also extends to post-work activities. From a meal at a plush restaurant to an evening at the casino tables, give your ankles some room to breathe and send your skinny-fit trousers to the back of your wardrobe.
Keeping it casual
Not everybody has returned to the partying and clubbing mindset. So, if you are still in the takeaway state of mind, or online casino games are your thing rather than the real deal, your fashion choices will be reflective of that relaxed approach.
Happily, you can pick up some casual threads that will still work out on the street. The nautical theme remains very much in right now, so horizontal stripes in the Breton style and laidback prints are the order of the day.
Lightweight and comfortable, cotton and light wool mixes are your go-to for those hot days in the garden, as well as the cooler evenings in front of the television.
Colour me impressed
Let's face it, we could all do with a bit of extra colour and pizazz in our lives right now.
This has been reflected in one piece of high fashion this season that many forecasters would not have seen coming: bold-print Bermuda shorts.
Your dad's embarrassing beach shorts have made the move into the collection of many leading designers, with fashionistas looking to get those holiday vibes in fine style.
Neon-pink and luminous-yellow shorts, adorned with prints of palm trees, hula girls, cocktail glasses and everything in between, are gaining traction as the go-to clothing for the summer.
While it's not necessarily the perfect vibe for everyone, Bermuda shorts – even in more laidback styles of block pastel colours – have made their way onto the catwalk. Let's just hope that we get the weather to match..
Interestingly, the theme of bold tones and palettes extends beyond just shorts. A number of designers have been loving neon shades from head to toe, with the eye-catching tones matched with earthier colours to create an all-in-one look of business and play.
Neon footwear is particularly on-trend right now, with yellows and greens setting off a more muted outfit in a 'best of both worlds' vibe.
High fashion
The likes of Gucci and Dior have been pushing the trend for utility wear as part of their summer collections.
Utility wear refers to threads that are inspired by the outdoors, from multi-pocketed trousers to safari and 'outdoorsy' jackets that take their nods from a walk on the wild side.
The look has been streamlined of late, with a more militaristic vibe, with leather and checked designs adding a touch of style to a selection of otherwise very functional pieces. 
There are more low-key pieces from within this 'utility' trend, but if you go down to the woods today, you might just see a discerning gent dressed like Crocodile Dundee – and we're all for it.
The bomber
It's a garment that rarely goes out of fashion, but as summer turns into autumn and the days get a little chillier, it will be time to dust off your bomber jacket once more.
What's particularly interesting about the current crop of bombers is that they come in a manner of different styles and designs, with those suited to formal occasions sitting neatly alongside a more casual fare.
The traditional aviator style has made a welcome return, as has a more stripped-down look that will add colour to your outfit, without adding much in the way of eye-catching prints or branding.
In seasons past, the bomber jacket was a statement piece, but the more minimalist approach for 2021 means that it can be worn in a variety of ways – the versatile classic has somehow become even more all-purpose than before.
Back to the future
Across many of the high-fashion looks that are big right now is a clear 1970s imprint.
This decade is likely to be a key player in the designs for the next few months, so keep that in mind when splashing out on your next wardrobe update.
These are vintage pieces that might just be found in your parents' closets – we're talking tan leather jackets, flared denim, statement belts and ankle boots to name just a few. 
Corduroy is a material on the comeback trail, and big and brash aviator shades are also a must-have to complete the nostalgic look.