To create the coolest shoe styles just in time for fall, iconic footwear company Doc Martens teams up with legendary rock 'n' roll band The Clash.
Non-conformity became the draw of the boots carrying the Dr. Martens name. Docs, as fans often refer to the footwear, offer an instant visual of the wearer's attitude. A solidly made and reliable shoe, Dr. Martens offered comfort and durability from its start in the 1940s. The boots provided soldiers, farmers, and others with footwear made for manual labor but with an unexpected level of comfort. The edginess of the brand began in the 1960s as rock musicians discovered this footwear and made them a common sight on stages. Every following generation has at least one subculture group that has adopted the boots and made them their own. It is unquestionably a perfect pairing for the Dr. Martens brand to have now collaborated with those who helped them remain an iconic choice of footwear.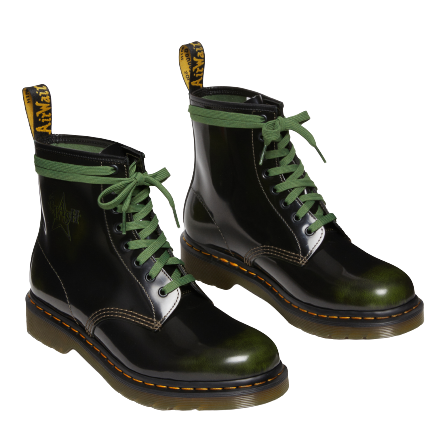 This collaboration between two gritty British-born icons is the perfect pairing. Not to mention the everlasting popularity of the classically rebellious punk group The Clash matches the style of Dr. Martens in many ways. Both have managed to maintain their original fans while drawing in new followers over the decades. The pairing works even better because the The Clash was known for wearing Docs on stage. The legitimacy of the connection between the two icons ensures the pieces in this collection will become instant classics.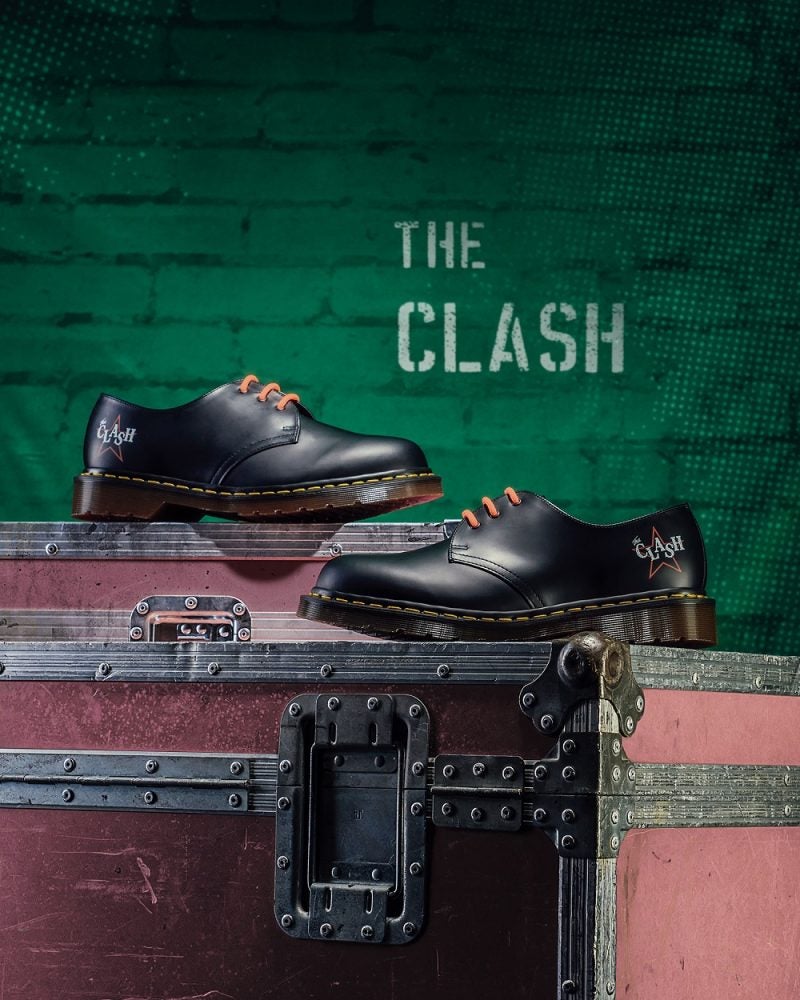 The collaboration keeps the toughness and durability of classic docs while adding the style of The Clash. Fans of Dr. Martens and The Clash will have multiple options to consider in the new collection just in time for fall. The collection offers two models, one set of boots and one set of shoes which includes a shiny finish that rubs off with wear to reveal a military green beneath. After all, the only thing better than a new pair of Dr. Martens is a well-loved pair that wears its miles like a badge. An alternative option includes a smooth black leather finish, also available on one pair of boots and one pair of shoes. All models are made from high-quality leather and include The Clash logo, album-inspired laces, and a Clash dog tag. A tote bag comes with the purchase of some models.
The Clash x Dr. Martens are British-made footwear honouring a beloved British group. The style and quality of the selections remain as reliable as ever. Anyone searching for a hint of rebellion to go with their fall footwear choices will find everything they want from this collaboration.
The limited collection will be available on the Dr. Martens website and a few select stores, such as Browns Shoes, Gravity Pope, Hearts Content, and SSENSE.