A man's clothing and accessories make a statement. When you know how to create a timeless look, you will instantly boost your appearance and your confidence. Your wardrobe is your own, but there are still plenty of fashion mistakes to avoid. Steer clear of these men's clothing blunders, and you will always stay stylish.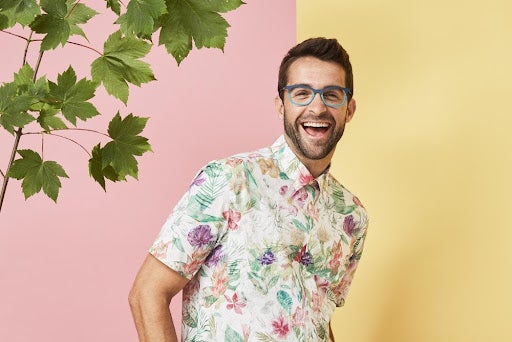 1. Following Bad Fashion Trends 
There is always a new trend in men's fashion. Some of them will work for you, while others will ruin a classic look. Start by skipping the outlandish runway styles that take you away from dependable basics. It is also a good idea to avoid excessively oversized clothing, garments with cheesy patterns and outfits that showcase one single type of material or fabric. A simple and traditional black crew neck or grey henley shirt is all you need to accentuate your appearance. 
Pair a soft, fresh tee with a quality pair of denim jeans. Complete the outfit with an ultra-soft black pullover hoodie. When you build your outfit with trusty basics, you will never second-guess your choices. When you feel great, you will look even more confident. 
2. Choosing the Wrong Color Scheme 
Not everyone is an overnight expert at choosing the right color scheme for their outfit. Instead of matching all of your pieces in the same shade, it is better to find garments that complement each other. You can also choose clothing in the same color family. Design an outfit with your favorite neutral colors. Black and brown are excellent choices for a classic look. Other popular neutrals for men include grey and navy. If you want to mix it up, go with shades of earthy green like sage or olive. 
After choosing your shirt and pants, include a subtle pop of color. A jacket or hoodie is a great way to modernize your outfit without making it look tacky. You can also avoid the monochromatic look by picking a favorite color family. Wear different shades of an approachable color in your outfit. Avoid the hues that will be on the runways for a short time. Many people will be wearing them, but they will soon fall out of favor. Buy a classic navy crew neck or brown pullover hoodie that looks attractive during every season.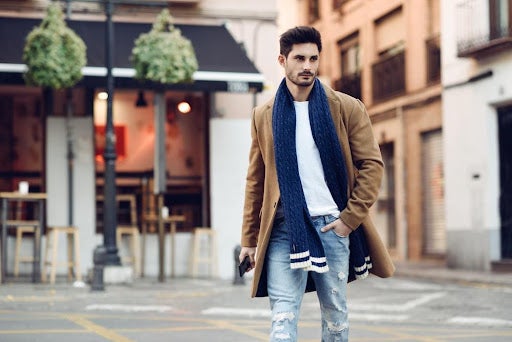 3. Going Overboard with Fashion Accessories  
Accessories can enhance a man's outfit, but only if they are done right. Your watches or jewelry should always match the style of your clothing. Assess the occasion before you wear your accents. Wooden bead bracelets and eccentric shell necklaces may reflect your vibe, but they are not the best complement to business wear. Suspenders and large belt buckles are fun, but they are often too much for a casual outing.
Consider the items that can enhance your appearance. When in doubt, avoid gaudy accessories and rely on your outfit.
Too many accessories can ruin the look of quality clothing. Stick to one type of adornment like a nice watch or a bold pair of sneakers. Balance neutrals and clean garments with a luxury accessory or a head-turning piece to ensure you look fashionable. You will also get the opportunity to showcase your footwear or jewelry.
4. Wearing Excessive Logos or Text 
There are many reasons why men wear tees and pants that feature words or text. It is understandable to represent a certain clothing brand or a sports team. Some shirts even communicate a thought or an idea. There is a time and a place for these clothes, but they do not exude a classic fashion.
If you want to look your best, opt for solid-colored shirts and blank tees instead. A clean grey pocket tee or v-neck is much more appealing and attractive than a top with large colorful text. Tall shirts and henley tees create your unique look without going overboard. Polos in timeless colors like garnet and emerald allow you to support your favorite interests without becoming too cheesy.
5. Wearing the Wrong Fit for Your Body 
Finding the right fit may seem complicated, but there are a few things you can do right now to elevate your look. It is especially easy to adjust your fit with casual wear. First, take a look at the short sleeves and long sleeves in your closet. When you are wearing a short sleeve crew neck or v-neck, the arms always look best when they fall between your shoulder and your elbow. The bottom of your tee should fall just below your beltline, while the width should be comfortable but not too baggy or flowing.
If you are wearing saggy jeans or joggers, your fit will look better if you take the time to find your real waist size and pant length. For some clothes, you may also need to know the inseam. Measure these figures with a measuring tape, and you will see a huge difference in how your clothes look on you. 
When trying on pants or jeans, make sure they feel comfortable without needing a belt or sitting too tight around your waist. There are many different fits in men's jeans and pants. There are also shirts and hoodies made for various body types. Take a closer look at the details of your clothing to ensure you are getting the right fit for your height and body type.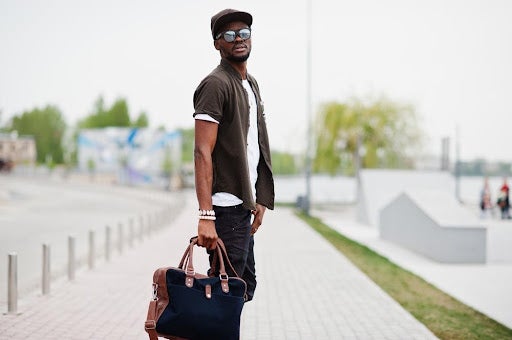 Find Your Fresh & Classic Look 
The most important part of your outfit is you. When you feel comfortable and confident, your clothes will look even better. Avoid the urge to compare your fashion to others. Instead, focus on the time-trusted pieces that accentuate you and your figure. There are also pieces that you will love to wear. A crisp tee or a soft hoodie can elevate your wardrobe without looking cheap or gimmicky. Focus on the classic garments that you can wear with anything. When you mix and match classic, fresh essentials, you are sure to look attractive and stylish.