These days, it's easy to shell out for a well-tailored suit that looks great on you — and then never get the chance to wear it. Outside of places with formal dress codes, like law offices and black-tie weddings, the full suit-and-tie getup has become much less common
in our world today.
Fortunately, you can still get plenty of awesome looks out of your suit in more casual settings by learning how to dress it down. These six simple tips for dressing down your suit, from swapping in suit separates to wearing (gasp) sneakers and jeans, will give your casual looks just the right touch of class.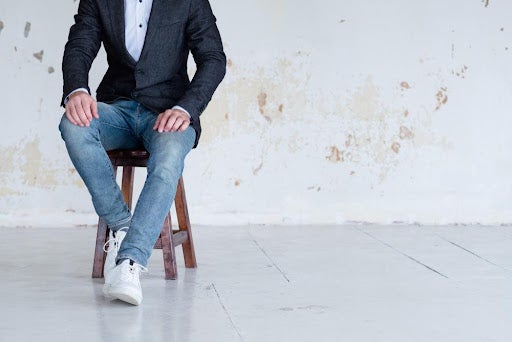 1.
Wear your suit without a tie.
Rule number one of dressing down a suit: In most cases, go without the tie. Now, unbutton your collar and one to two buttons on your shirt. Congratulations, your formal suit is now a casual suit! Of course, that's an oversimplification — especially considering many people now go tieless even in more formal contexts — but it generally holds true.
Forgoing a tie isn't just an easy way to dress down. It's something of a prerequisite for pulling off most of the looks we'll discuss later on. Going without a tie instantly makes your outfit less formal, which gives you more space to remix and reinvent the other aspects of your suit. If you really like wearing a tie, consider more informal options like knit ties so you can dress down without leaving your neck naked.
2.
Bring in a patterned button-down.
A dressed-down suit gives you a great opportunity to rock that awesome paisley button-down. Intricately patterned shirts can often look too busy with a full suit and tie, but that's much less of a concern when dressing down. Without a tie, and with a suit in a solid color or a subdued pattern, you'll have plenty of room to put the freshest dress shirts for men to work. 
Oxford cloth is a great choice for a less-dressy dress shirt, thanks to its structured look that pairs well with a suit. For more formal occasions, choose traditional patterns like stripes or gingham. For more casual affairs, patterns like tartan, madras and the aforementioned paisley can give you a fun outfit that really stands out. 
3.
Rock a pair of sneakers.
The idea of sneakers with a suit might've seemed ludicrous a few decades ago. Today, however, a pair of white or gray dress sneakers with a suit is a popular look that evokes the "young entrepreneur" vibe of Silicon Valley. In a setting such as a "smart casual" cocktail mixer or wedding reception, it can be just right for setting a boundary-breaking look.
Usually, you'll see this most successfully paired with navy or charcoal suits. The lighter colors of the shoes set off the suit's dark neutrals nicely. As for the shoes themselves, stick with a minimal silhouette and classic designs unless you're doubling down on the fashion-forward qualities — we won't tell you not to wear your flame-patterned Crocs, but we certainly can't guarantee it will look good.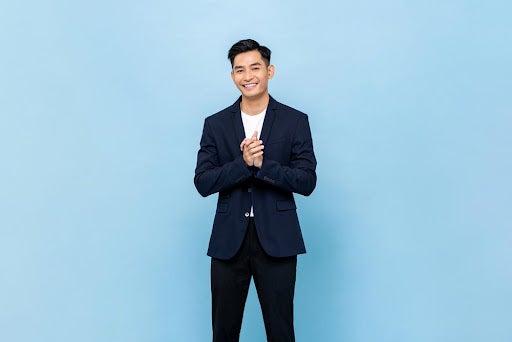 4.
Wear a polo, t-shirt or turtleneck instead of a dress shirt.
Here's another 21st century fashion choice for those seeking a look that's sophisticated, but boldly casual as well. Rather than the traditional button-down, try wearing a polo or even a t-shirt under your suit jacket. A turtleneck can also work well if you favor a bohemian, artistic look.
To pull this off, you'll generally want a solid color shirt or one with a more reserved pattern. Go for a high quality shirt made from linen or merino wool. The quality will make a difference. A crew neck is generally the recommended style if you're going to rock a t-shirt, although v-necks are gaining popularity, too. For polos, a structured collar is a must for keeping a clean and well-fitted look.
5.
Mix and match suit separates.
Suit separates are suit jackets and pants that can be bought separately, so you can choose different styles and colors if desired. The fashion term for wearing a suit jacket with different pants is a "broken suit," but there's nothing busted about it. It's a well-known way to dress down a suit that can look quite sharp if you do it right.
This tip is all about finding the right color combo. Try starting out with easy combos of neutrals, such as a navy suit jacket with charcoal pants. If you really dig the look, adding some more boldly-colored suit separates to your wardrobe can give you a lot of cool options for mixing and matching different colors and patterns in your outfit.
6. Master the art of pairing a suit jacket with jeans.
You may have heard conventional wisdom telling you not to wear a suit jacket with jeans, but it can be done if you know how! First, make sure your suit jacket is (ahem) suitable. This look works best with a traditional single breasted, notch lapel suit jacket in a neutral color like navy or charcoal. Avoid double breasted jackets, unusual colors or basically anything that makes the look harder to tie together.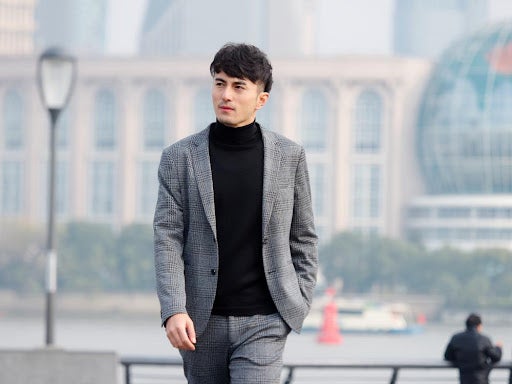 If your jacket matches those criteria, it's time to think about jeans. You're looking for a pair of dressy men's jeans in a color like dark blue or black. The jeans should be a slim, contemporary cut with a flattering taper. Definitely skip anything with holes or rips, and make sure you get a good pair of shoes to match. Sneakers are good again here, but this combo also works well with a pair of Chelsea boots.