You want to look your best at music festivals, but you don't know what to wear. Music festivals serve as a form of expressing yourself, and you must look the part to enjoy the festivals especially since you paid a lot for it!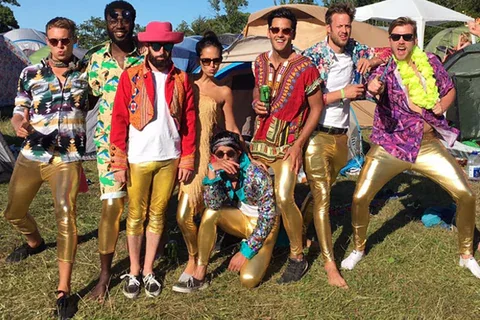 Most guys end up dressing like they're going to the gym or a job interview, and that's not the vibe you're going for, right? Now, the key to looking good at these events is dressing in a way that represents your style while still being comfortable and ready for some fun. Here's the secret: men's fashion leggings are the perfect solution. They're comfortable, stylish, and will help you stand out from the crowd and enjoy the vibe.
These days, guys wearing leggings have become increasingly popular as a go-to clothing item for music festivals and other outdoor events. Want to know why? Let this article guide you more on how to wear and style festival leggings for men.
What are Festival Leggings for Men?
Also known as festival meggings, these leggings are especially designed to cater to the needs of men for better comfort, performance, and agility. Guys wearing leggings might sound new to you, but it has been going on for decades and even though it is not entirely a new style, festival meggings are making a big comeback this year with post-pandemic events and festivals.
Festival meggings are perfect for parties too because they are made of ultra comfortable fabric engineered with medium compression making it suitable for all types of festival activities. They also come in various colors and designs, so you can choose the ones that fit your personality and style.
Best of all, they are comfortable to wear. They're perfect for keeping you snug and at ease. And since they're made of mid-weight materials, you'll be able to dance and jump around without feeling weighed down.
How to Style Mens Festival Pants for Different Occasions
Now, we have the staple clothing piece to wear, it's time to learn how to style them. Here are a few tips for you to stand out and enjoy the party!
Rock Festival Outfits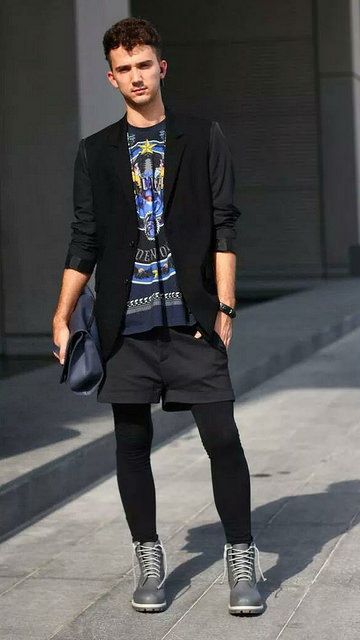 Meggings are a staple in rock festival outfits since rock requires a lot of movement and spurts of energy. If you're going to a rock festival, mens fashion leggings are a must.
For the most part, leggings festival outfits are usually worn as pants with a T-shirt, a long sleeve top or a button-up shirt. You can also wear a vest over your long sleeve top or don a flannel shirt for a more laidback look. For shoes, sneakers or boots are a good choice so you're always up and ready for action.
Be sure to also take into account the weather conditions when choosing your outfit. If it's cold out, you'll want to bring a jacket or sweater to keep you warm. You can also accessorize with a hat, sunglasses, and of course, a wristband.
Dance Festival Outfits
Leggings are also perfect for dance festival outfits. They are the perfect clothing item for dancing in because they allow you to move around freely.
For dance festivals, you'll want to wear brightly colored leggings so that you can be seen on the dance floor. A galaxy leggings can be a good choice for parties especially in dance festivals where it will highlight your leg movements. Besides knowing where to buy galaxy leggings can also be a good conversation starter!
Moreover, you can also mix and match different colors and patterns to create a unique look. Wear a tank top or T-shirt and some sneakers to complete the look. You can also add accessories to amp up your look.
Beach Festival Outfits
Since beach festivals are in summertime, wearing lightweight clothing is a must. Leggings made of cotton or linen are the perfect choice for hot weather. It is not uncommon to see guys now wearing mens festival pants to a beach festival.
You can wear just a tank top or a T-shirt with your fashion leggings. No need to bring a bag as well if you're just carrying a few things as there are now leggings with pockets that's perfect for bringing just the essentials. You can also wear shorts on top of your leggings if you want an extra layer or if you're a little bothered by your package bulging. Regardless, be sure to choose sandals or sneakers as your footwear. And lastly, don't forget to bring a sunhat and sunglasses to protect yourself from the UV rays.
Pop Festivals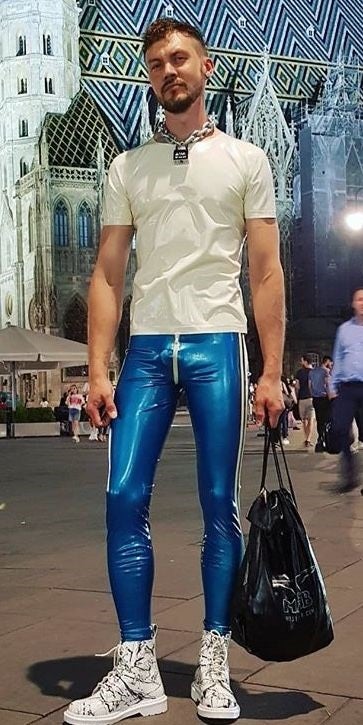 Finally, yes, you can wear leggings festival outfits in pop festivals! In fact, a lot of guys are wearing them this year, 'cause why not? You can wear brightly colored leggings festival outfits with a plain shirt, a rad jacket, or an open buttoned polo. Some also like adding more funk to their outfit by wrapping their jackets or denim polos on their waists for that extra pop vibe. But whichever outfit you choose, be sure to don a pair of sneakers or sandals as your footwear for comfortable movement. You can also accessorize with sunglasses, caps, vests, or some gold chains. And of course, complete your pop festival look with a crisp hairstyle, and you're good to go.
Choosing the Best Men's Festival Leggings
When choosing the best leggings for music festivals, it is important to consider the type of festival or music you will be attending. For example, if you are going to a rock festival, you'll want to opt for the darker shades like the textured and metallics, or if you want to stand out more, a galaxy legging will definitely be a fun statement piece. Mens fashion leggings are a dime a dozen, so if you want to know where to buy galaxy leggings, just check this out. 
On the other hand, if you are going to a dance festival, then you'll want to purchase brightly colored leggings that are made for movement. Lastly, for beach festivals, get yourself some light-colored leggings that won't absorb too much heat.
Always remember that when purchasing leggings particularly for festivals where you'd be wearing them the whole day, it is important to purchase a quality product that will last and won't frustrate you with misfits and poor fabric construction a few hours later so, be sure to do your research before buying.
Also, choose the best fabrics for your leggings. Remember that you chose to wear leggings because you want to feel more comfortable than jeans or dress pants. So, make sure that the leggings you choose are made of a mid-weight and breathable fabric.
Finally, don't forget to have fun with your outfit. Festivals are always the right time to be comfortable in your skin, so dress the part to enjoy the full experience. Men's leggings provide a cool, comfortable, and fashion-forward way to do just that. With the variety of styles and colors available, any man can find a great pair of leggings to wear to any festival. So, don't be afraid to let your legs free and enjoy the festivities in style!