King Palm is an all-natural palm-leaf wrap company that specializes in providing non-tobacco options for smokers. The brand is based out of the Los Angeles area and was established in 2016.
King Palm products are handmade from organic Cordia palm leaves, and are meant to be packed with herbs of all kinds. Their product line includes various-sized natural and flavored leaf rolls, flavored tips, clothing, and smoking accessories.
King Palm History
King Palm was established back in 2016 by the founders who are considered the palm pioneers. They did so by identifying a lack of clean, tobacco-free options for smokers within the rolling industry.
The founders were inspired by the ancient technique of using leaf wraps to roll smokes. History shows that civilizations frequently turned to palm leaves or tobacco leaves to roll up their herb and smoke for cultural, religious, or even recreational reasons. Keeping this in mind, King Palm was born and released its first all-natural palm leaf wrap in 2016.
By 2017, King Palm product demand had tripled.
Year and year, the King Palm company continued to grow. They increased their product line and reached a wider audience of everyday smokers, influencers, and celebrities. They've been recognized by publications like High Times, Herb Co., The Weed Blog,  and Weedmaps and named for having some highest-quality rolls on the market. 
In 2020, King Palm released a brand-new line of flavored rolls that they plan on expanding in the coming years.
King Palm Products
King Palm offers a wide variety of different smoking-related products and accessories. Their all natural pre-rolled cones recently were included in a SFweekly article as one of the best options to smoke cannabis with it.
Cordia-Leaf Wraps: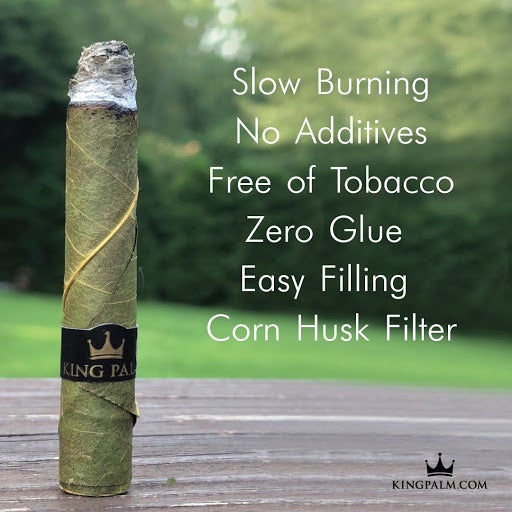 King Palm is famous for their organic leaf pre rolled cones. These wraps are made from the Cordia leaf and come pre-rolled, ready to be packed. The brand makes these leaf cones without any tobacco, chemicals, glues, or dyes, and they're offered in various sizes. King Palm's palm-leaf wraps can hold anywhere from half gram up to five grams depending on the size of the roll.
Flavored wraps: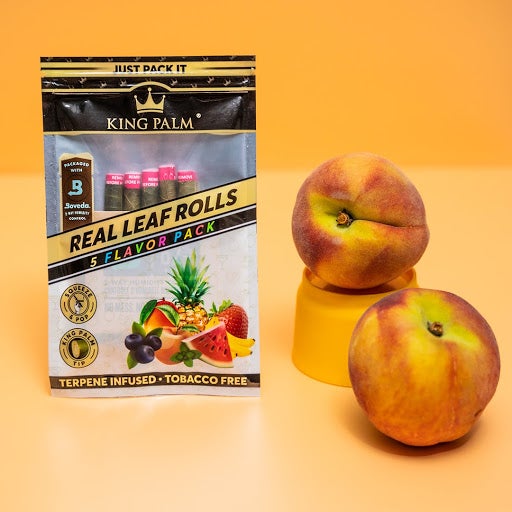 In 2020, King Palm released their flavored filter tips installed with their natural pre-rolled cones. These hand rolled leaf cones contain a terpene-infused capsule in the cornhusk filter tip of the cone. King Palm designs these capsules to be squeezed and popped, releasing the flavors upon inhale. They currently offer a wide variety of flavors, and plan on expanding even more in 2021. 
Cornhusk Filters: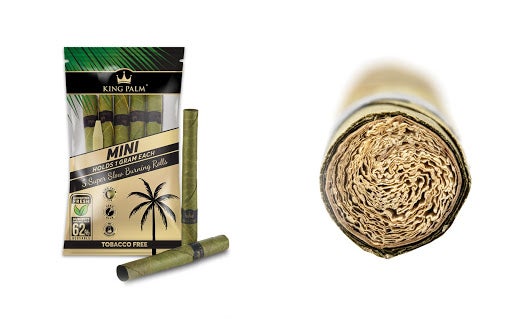 At the tip of all of King Palm rolls is a cornhusk filter. These joint filters are made from real cornhusk to help provide a smoother, cooler smoke. While many filters are not durable enough to be squeezed or adjusted for airflow, these cornhusk filters are. They're also made to prevent any herb from traveling to your lips or mouth. 
Accessories:
King Palm offers various smoking accessories, as well. They sell branded ashtrays, grinders, rolling trays, bamboo packing sticks, lighters, stickers, and much more. 
The King Palm Influence
Throughout the years that King Palm has been in business, they've made quite a presence within the online sphere, both with celebrities and social media influencers. Celebrities like Snoop Dogg, Joe Rogan, and Mike Tyson have all publicly endorsed the company. Currently, King Palm is reaching nearly 350,000 followers on Instagram and growing.