Now that fall is (finally) in full swing,  with the streets filling up with leaves. We've created a roundup of the hottest new fall men's light outerwear items for every budgets. The best season of the year, warrants only the most fashionable SWAGGER… and the key to success is surely the perfect jacket, to. No matter if you're more leaning towards the trenches or the moto jackets, we've got them all!
Check out our top picks from latest Fall collections and go grab one you like the most until it's still there:
1/25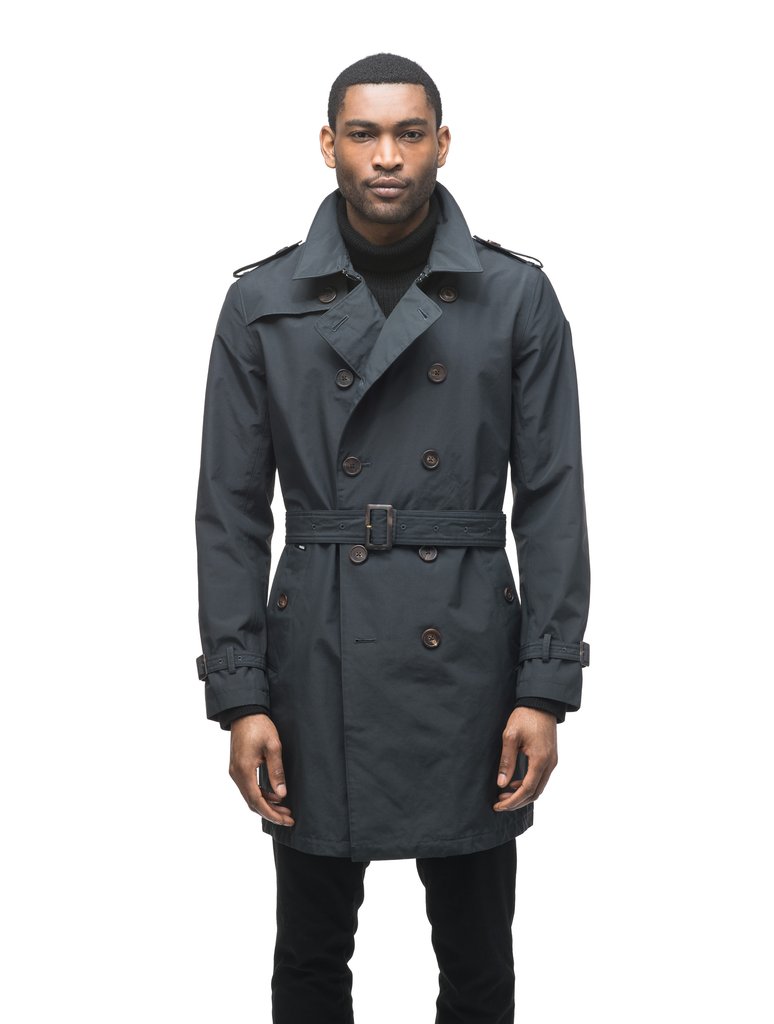 Nobis Camden Trench Coat
 Classic one. A modern seam-sealed trench with classic silhouette and Nobis classic signature.
BUY NOW | $795 CAD       BUY NOW | $650 USD
2/25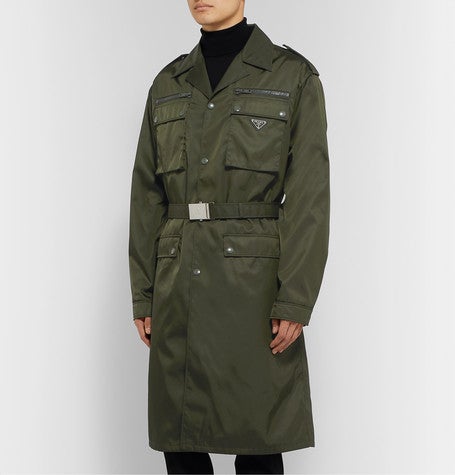 PRADA Belted Nylon-Gabardine Trench Coat
 Crafted from Prada's signature technical nylon, this trench coat evokes a distinct military mood.
BUY NOW | $2960 CAD       BUY NOW | $2230 USD
3/25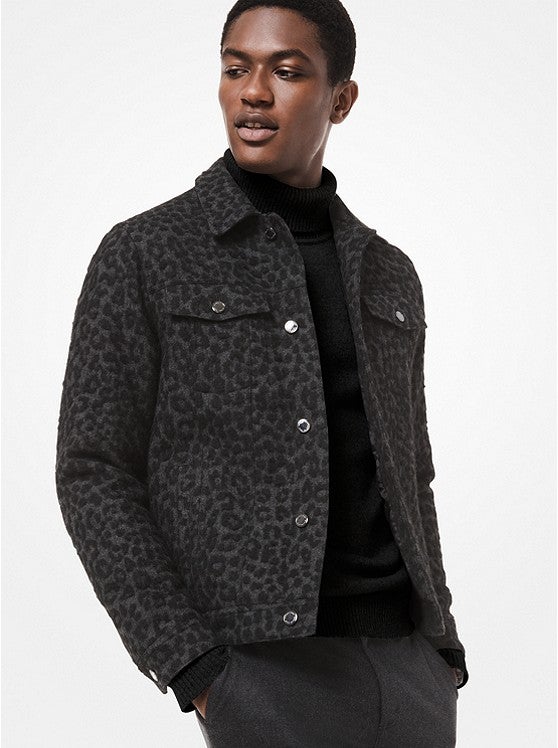 MICHAEL KORS Leopard Wool Trucker Jacket
 If you didn't fell in love on a first sight with this muted leopard printed trucker jacket, you're definitely gonna change your mind. Rendered in textured wool and equipped with quilted lining, creates a perfect match with tonal sweaters and denim.
BUY NOW | $595 CAD       BUY NOW | $498 USD
4/25
CLUB MONACO Windowpane Shirt Jacket
 Deep navy blue shirt jacket with an airy windowpane pattern is just perfect for welcoming fall.
BUY NOW | $219 CAD       BUY NOW | $198.5 USD
5/25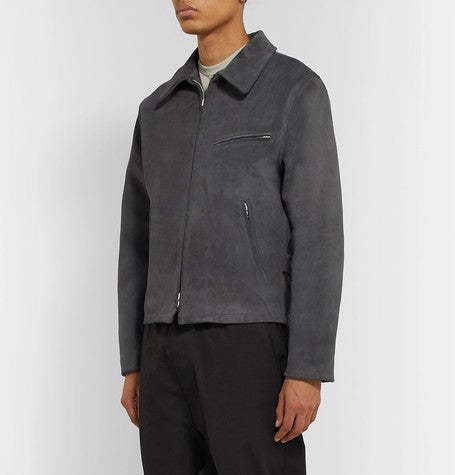 FEAR OF GOD Slim-Fit Suede Jacket
The favourite suede Jacket of Mr Jerry Lorenzo from 'Sixth Collection' (and ours too).
BUY NOW | $4139 CAD       BUY NOW | $3500 USD
6/25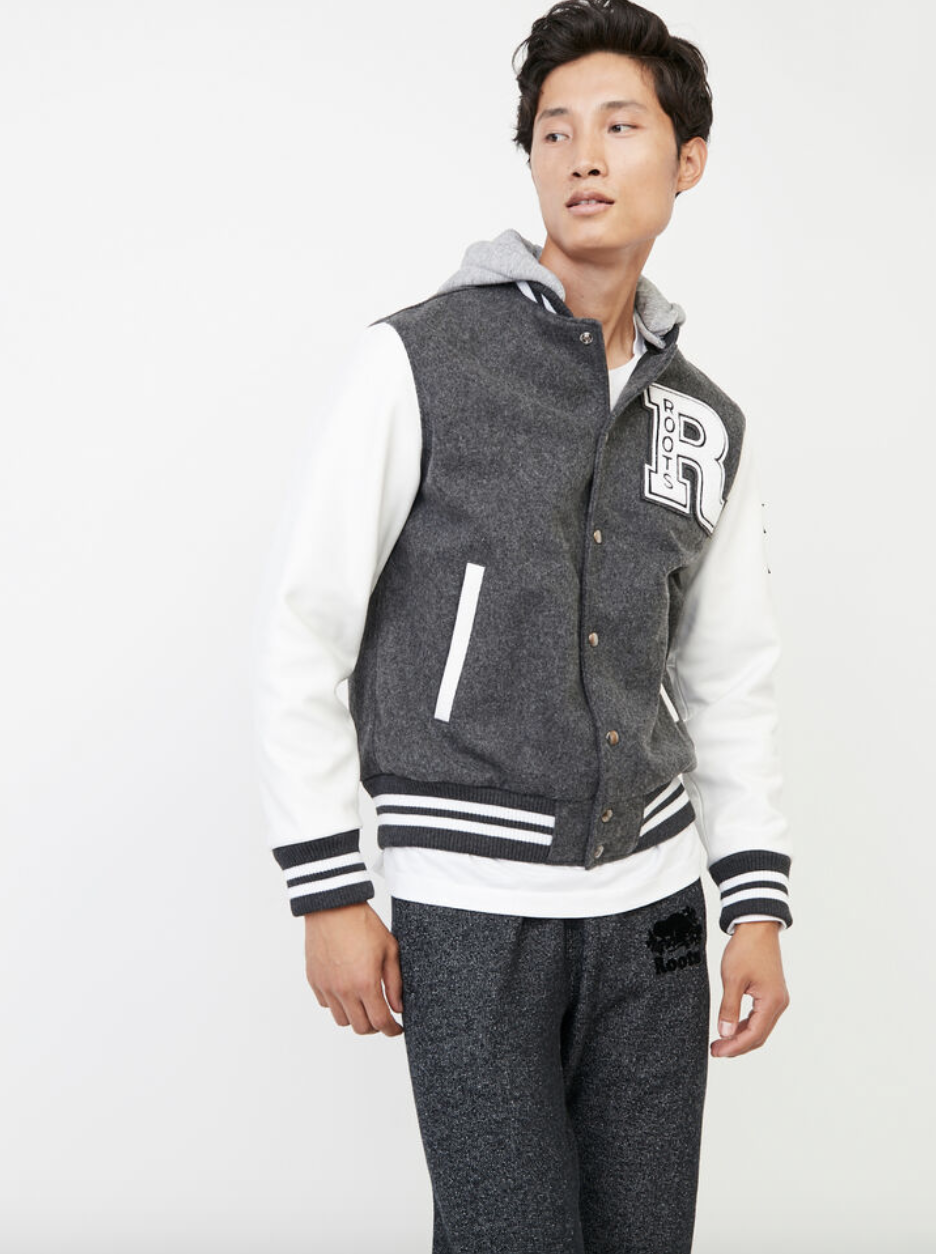 ROOTS Hoody Awards Jacket
These varsity style awards bombers are an iconic staples for any man's wardrobe. Roots also offers the ability to order a customized version with your own selection of customizations.
BUY NOW | $598 CAD       BUY NOW | $598 USD
7/25
TODD SNYDER Dylan Suede Trucker Jacket
 Suede, suede, suede. Regular fit trucker jacket with adjustable waist. Made in Italy.
BUY NOW | $1178 CAD       BUY NOW | $885 USD
8/25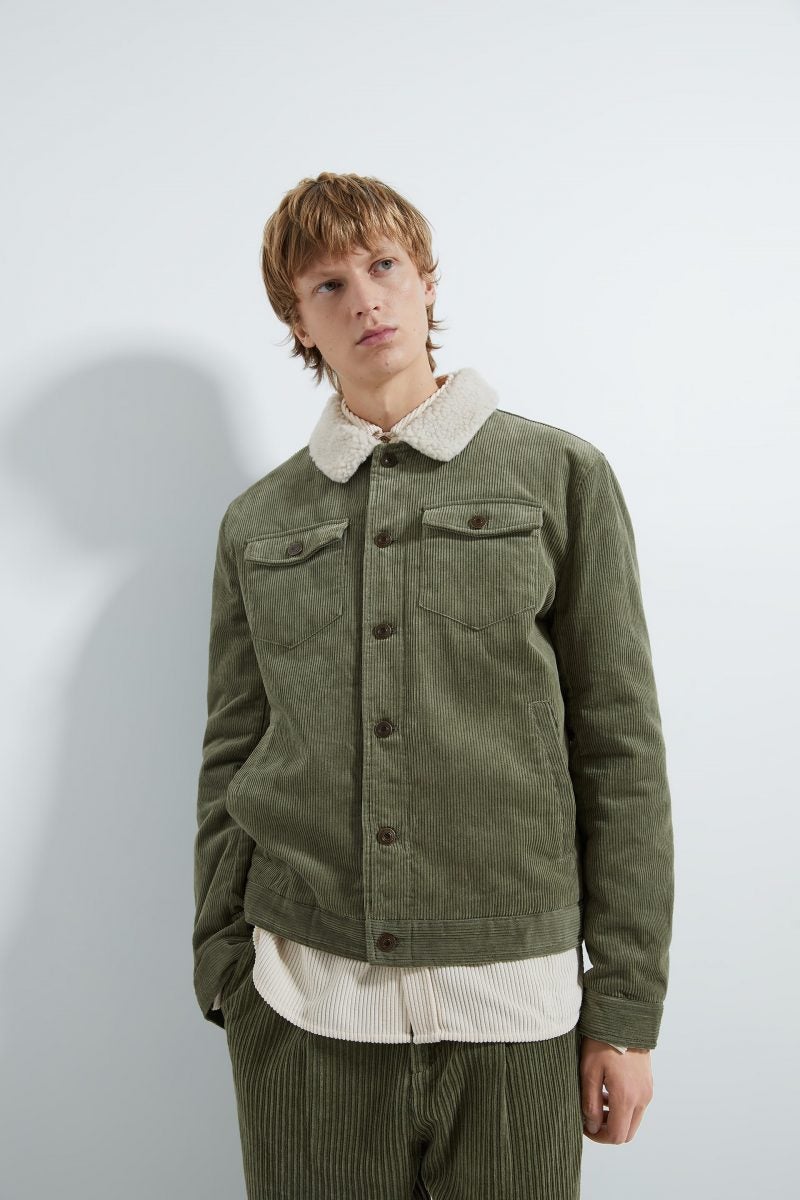 ZARA Corduroy Green Jacket With Fleece
 Straight cut green jacket with buttoned cuffs, this one was just created for fall.
BUY NOW | $99.90 CAD       BUY NOW | $74.99 USD
9/25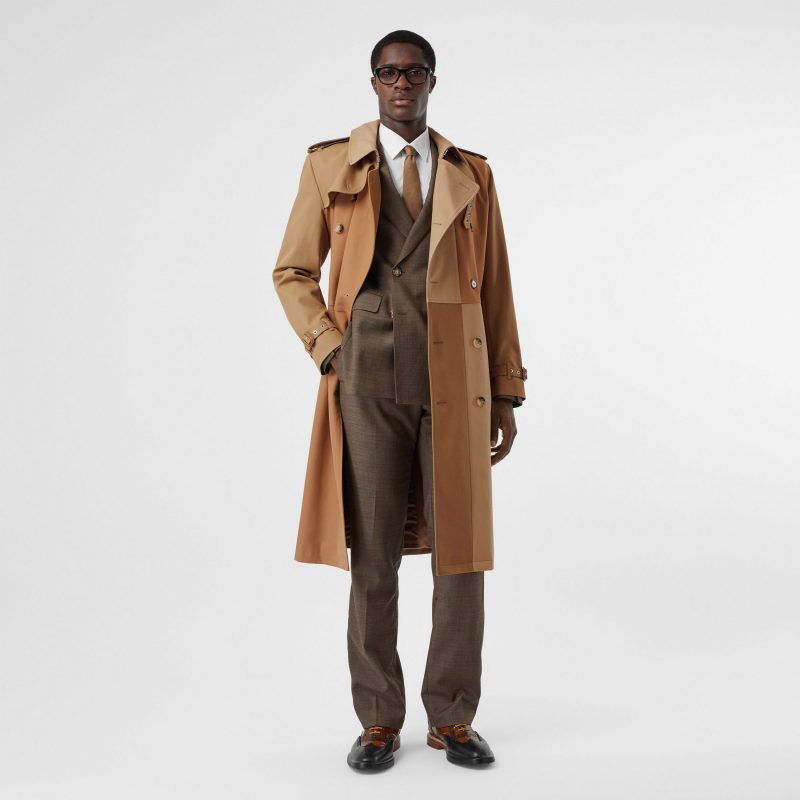 BURBERRY Panelled Cotton Trench
The classic fit with a modern approach. Panelled in beige tonal shades to celebrate Burberry's signature colour, this one is total must have.
BUY NOW | $4090 CAD       BUY NOW | $3190 USD
10/25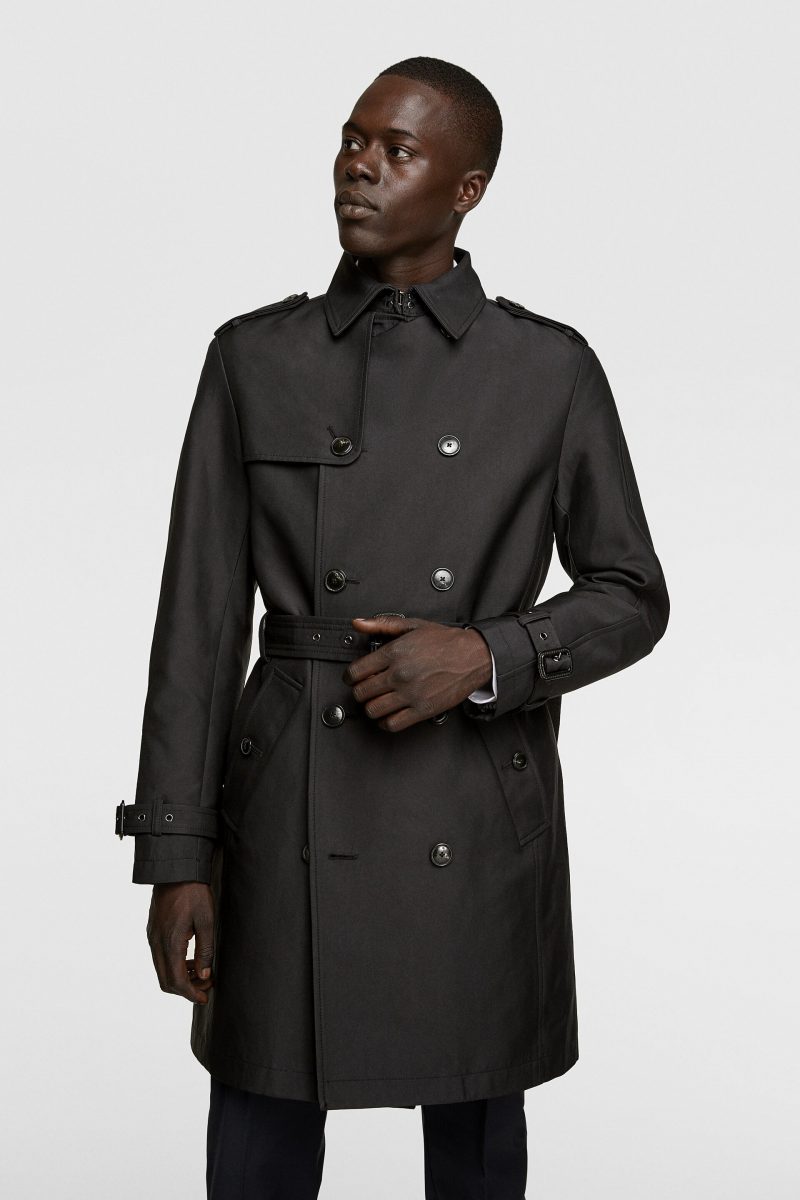 ZARA Satin Effect Textured Trench Coat
For the lovers of undying classic – one more trench coat in our roundup. Black satin effect textured trench from ZARA.
BUY NOW | $179 CAD       BUY NOW | $134.90 USD
11/25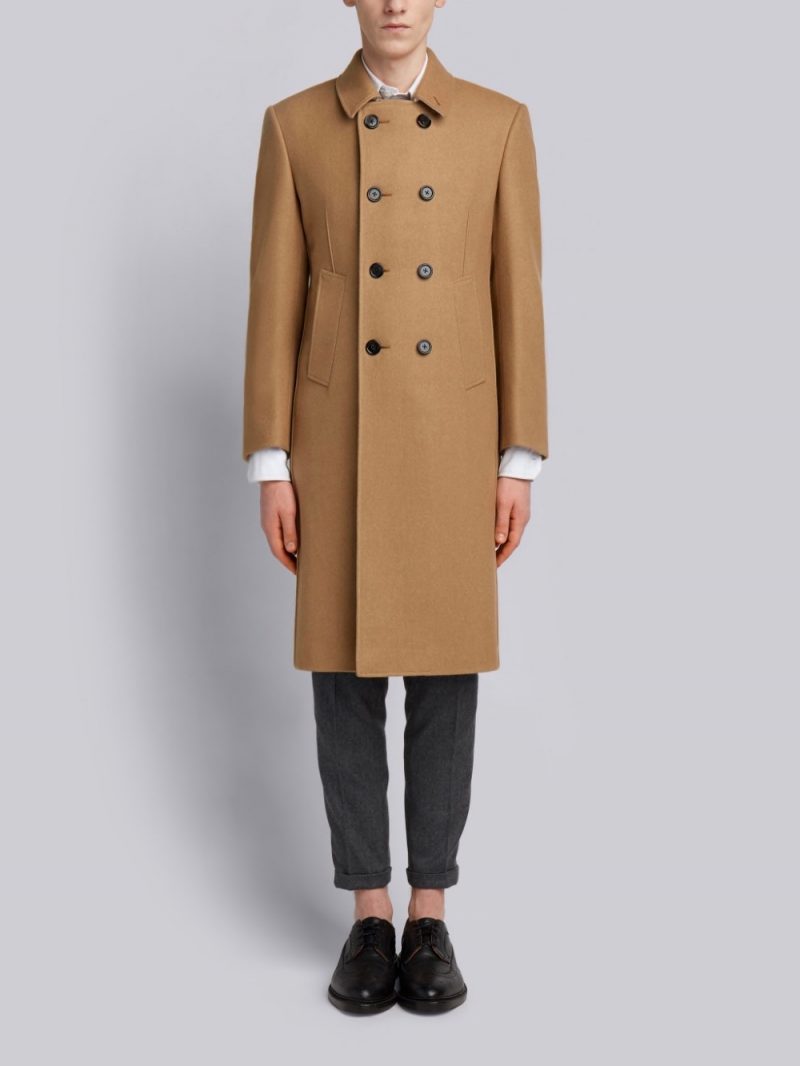 THOM BROWNE Melton Wool Pintuck Bal Collar Overcoat
For the lovers of beige – here's the perfect beige wool overcoat.
BUY NOW | $4790 CAD       BUY NOW | $3550 USD
12/25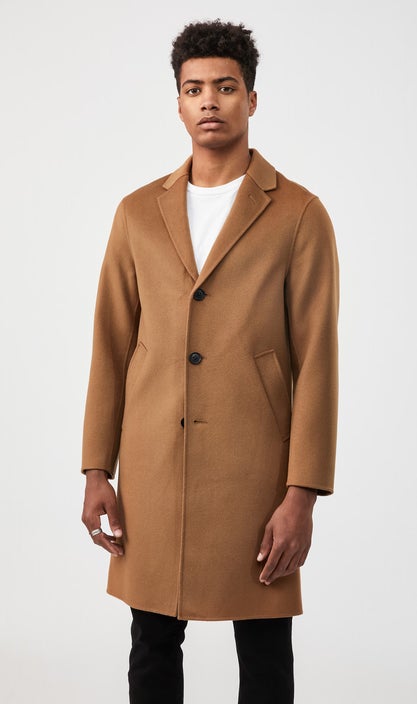 MACKAGE VICO Camel Topcoat
In comparison with the previous one, this topcoat feels a bit more casual. However, we love both of them, so it's up to you which one you chose.
BUY NOW | $750 CAD       BUY NOW | $690 USD
13/25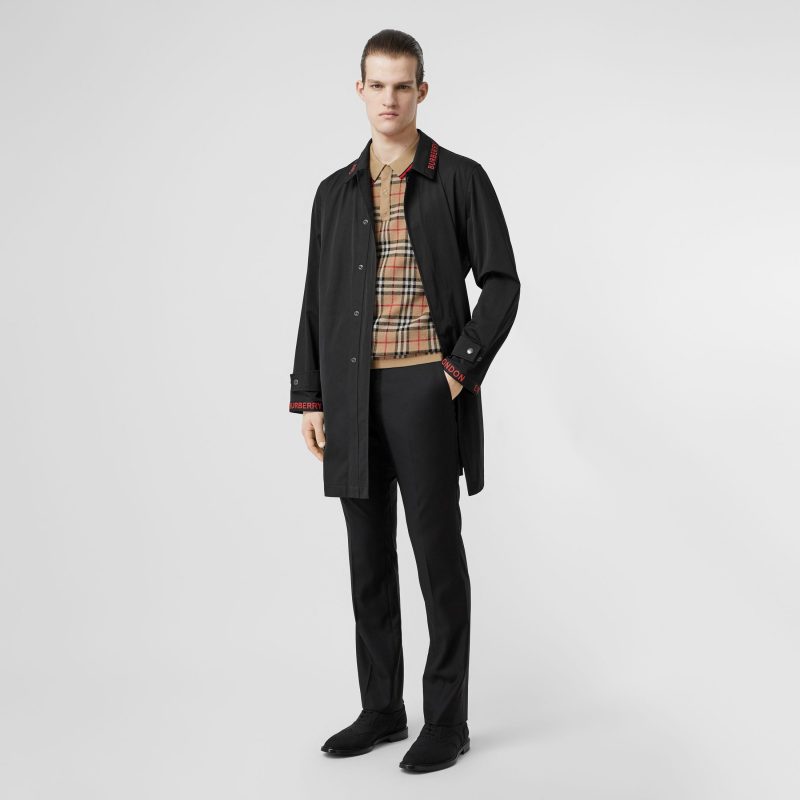 BURBERRY Logo Detail Technical Cotton Blend Car Coat
A clean-lined black car coat made with technical cotton-twill blend and a contrast-coloured red logo. Definitely a good one for those who pay attention to the details.
BUY NOW | $1780 CAD       BUY NOW | $1390 USD
14/25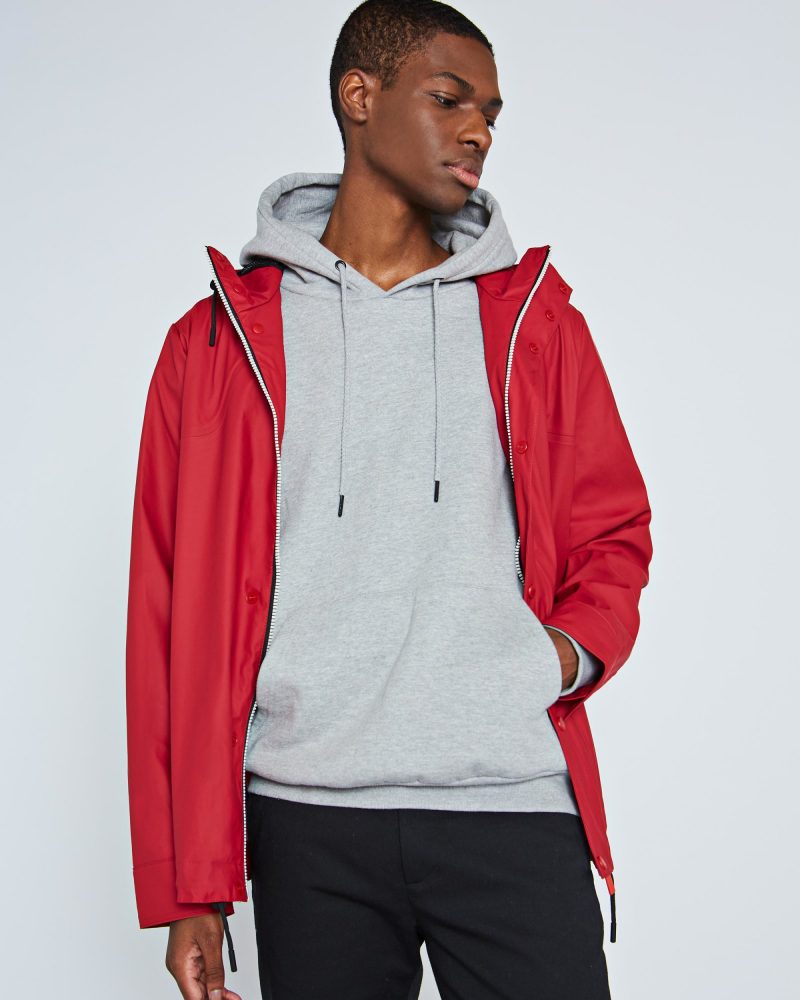 HUNTER Men's Original Lightweight Waterproof Bomber Jacket
For the lovers of bright colours – the lightweight and 100% waterproof HUNTER bomber.
BUY NOW | $195 CAD       BUY NOW | $145 USD
15/25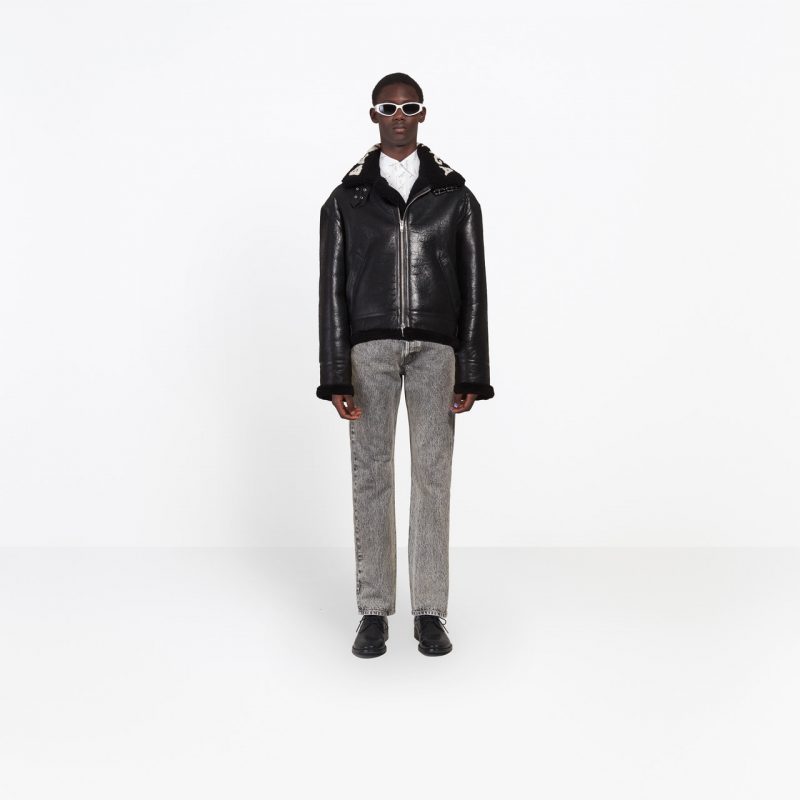 BALENCIAGA Shearling Bombardier
Iconic Balenciaga bomber from Fall/Winter 16, made with 100% lambskin. Not the newest collection, but definitely a great one.
BUY NOW | $6380 CAD       BUY NOW | $4800 USD
16/25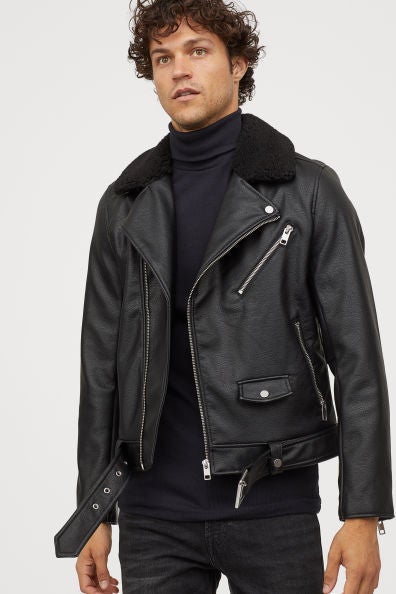 MENWITH X H&M Biker Jacket With Pine Collar
This collaboration has just created a perfect biker jacket. Made with faux leather and a soft pile collar, MENWITH X H&M biker jacket is a one to go.
BUY NOW | $99 CAD       BUY NOW | $145 USD
17/25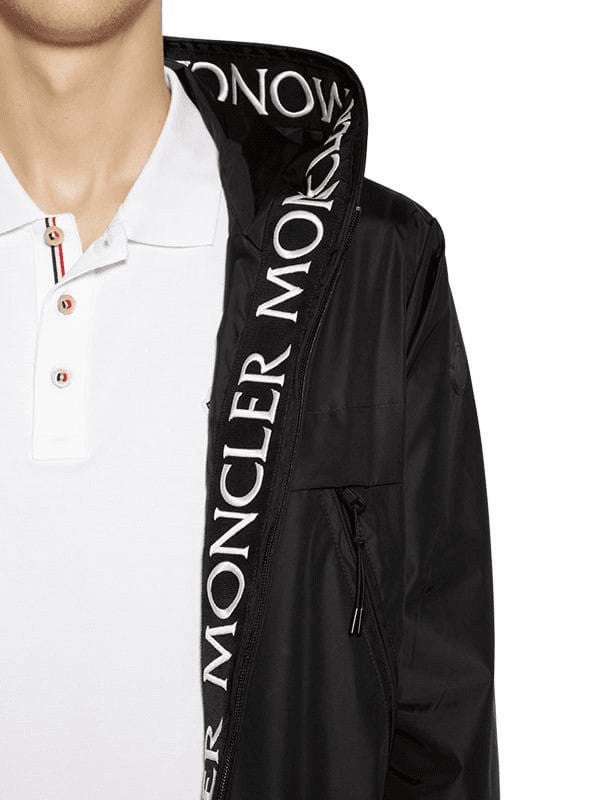 MONCLER Massereau Nylon Hooded Jacket
A metropolitan jacket with a functionality of technical sportswear. Designed with an ultra lightweight matte nylon.
BUY NOW | $1980 CAD       BUY NOW | $1350 USD
18/25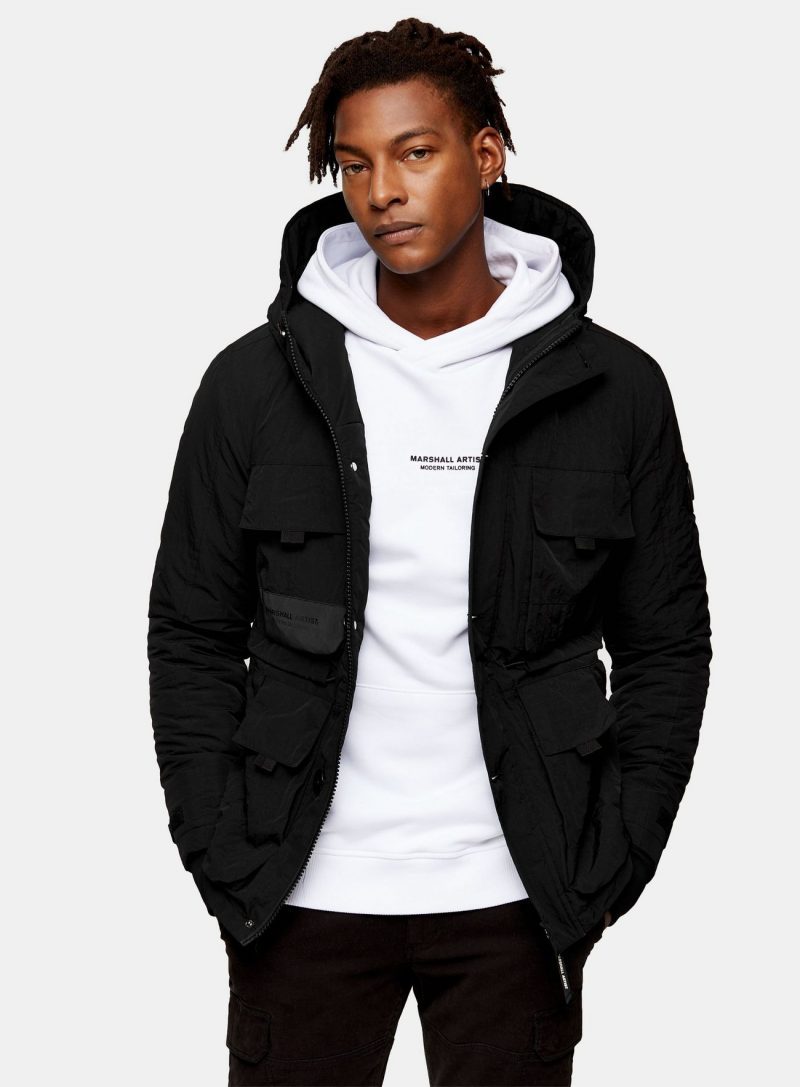 TOPMAN Marshal Artist Black Field Jacket
A classic nylon black jacket by Topman. Will go with almost every outfit.
BUY NOW | $255 CAD       BUY NOW | $190 USD
19/25
COACH Moto Jacket
Yes, one more moto jacket! Crafted of lightweight lambskin and customized with nickel hardware, this one was inspired by vintage biker jackets.
BUY NOW | $1600 CAD       BUY NOW | $1200 USD
20/25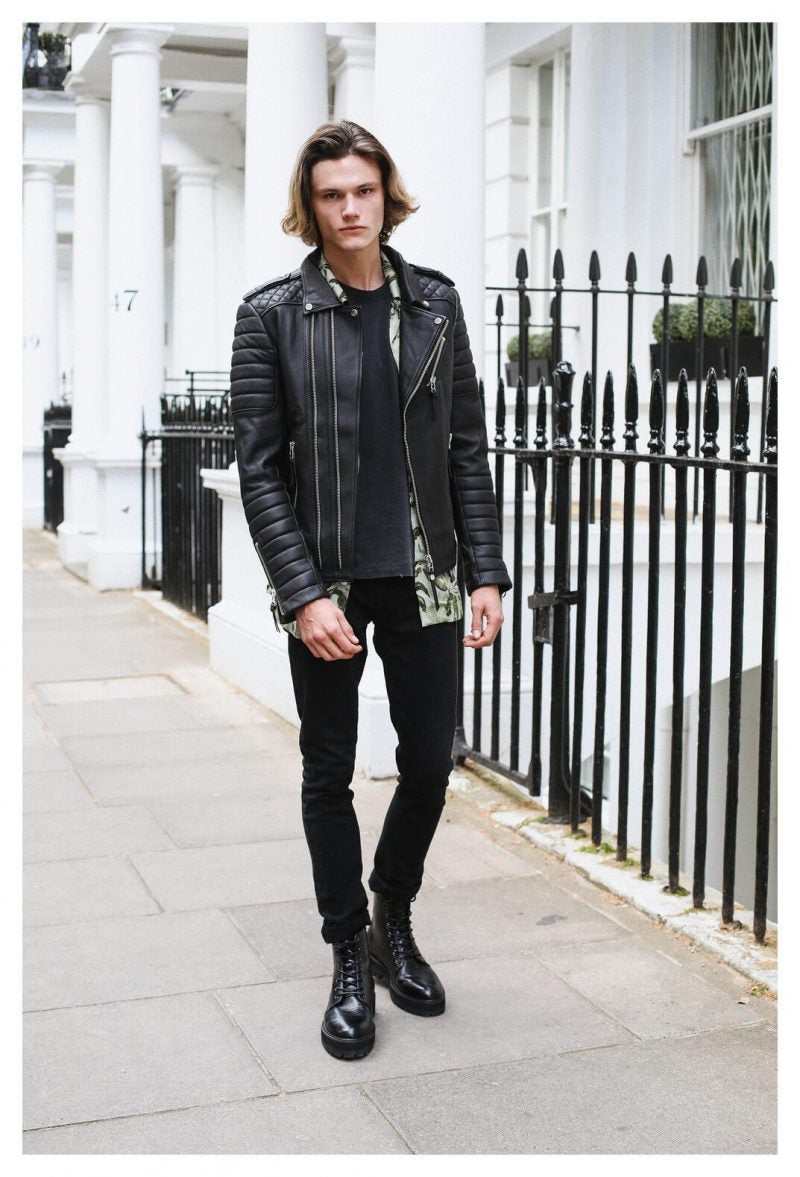 BODASKINS KAY MICHAELS Leather Motorcycle Jacket
 BODA SKINS best selling signature jacket. Features quilted detailing on the shoulder and ribbed detailing on the arms. The zips on the cuff are adjustable for the extra layering room.
BUY NOW | $635 CAD       BUY NOW | $479 USD
21/25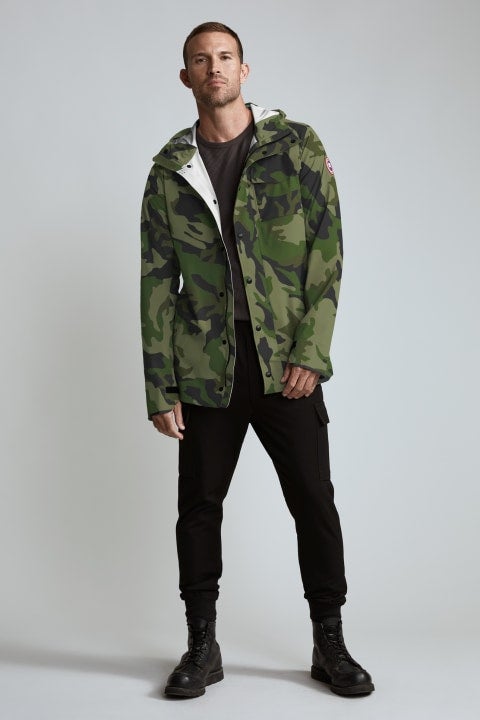 CANADA GOOSE Nanaimo Jacket Print Raincoat
 And for the camo lovers – Canada Goose breathable jacket with protection against strong winds and rain. Features reflective details at the back for the low light visibility.
BUY NOW | $650 CAD       BUY NOW | $490 USD
22/25
PARAJUMPERS Jayden
A nice puffer jacket with three from pockets and a zippered pocket at the back.
BUY NOW | $345 CAD       BUY NOW | $260 USD
23/25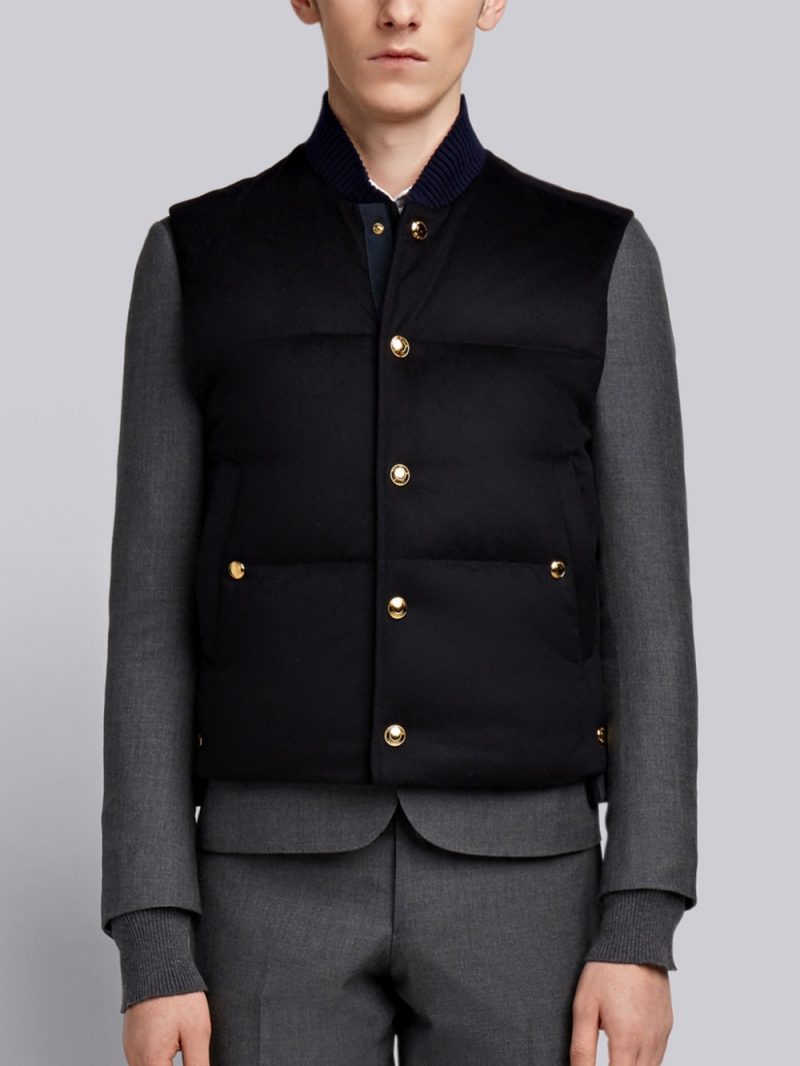 THOM BROWNE Tonal Grosgrain Down-Filled Cashmere Vest
If you're looking for a vest, this one is a total go to. Italian made cashmere vest by Thom Browne, this is just a most good-looking vest we've come across with.
BUY NOW | $1890 CAD       BUY NOW | $1420 USD
24/25
NOBIS Tonal Chase Men's Hooded Vest
And the alternative for the vest lover's – the exceptional hooded vest by NOBIS. Features NOBIS signature lightweight nylon, removable hood and chevron quilting.
BUY NOW | $495 CAD       BUY NOW | $370 USD
25/25
KANUK Rick Puffed Light Down Coat
A perfect bright coloured lightweight puffer with a long back. Will keep you extra warm and will definitely brighten your day.
BUY NOW | $850 CAD       BUY NOW | $640 USD
No matter which one you end up with, they will all do you justice. Here's a pro tip, narrow it down to your top 3 favourites, pop into the stores, try them on, and then make a final decision. Or better yet, order them home, try them out at home and then just return the ones you don't want. Stay tuned for SWAGGER's winter roundup to prepare for the winter coming ahead.
Don't forget to share your Fall SWAGGER with us using the #SWAGGERgents or #SWAGGERlife hashtags for a chance to be featured.
---
Credits:
Photos are courtesy of the respective brands
Contributing Writer: Kateryna Horina