Buster and Punch Hardware transforms ordinary objects like light switches, door handles, and LED bulbs into extraordinary home and lifestyle details.
The garage might seem like an unlikely place for creative inspiration. Originally intended for automobile storage, garages are typically small, dark, dingy, and forgotten spaces. Yet it's where innovation has been known to thrive.
The mythology of the garage as a space for invention has roots in many brand origin stories, after all. For architect and industrial designer Massimo Buster Minale, his East London garage was a design lab of sorts, where he built, designed, and experimented with metalwork and custom motorbikes. He's since turned his obsession with solid metals into a successful fashion and lifestyle brand called Buster + Punch, which transforms the ordinary (and often forgotten) hardware of our daily lives (think light switches, door handles and LED light bulbs) into extraordinary home and lifestyle details for today's most fashion-conscious consumers. He is the king of knurled detailing, taking the industrial design from his custom-made motorcycle handles and turning it into functional hardware for the home. What could be a more fitting place for the birth of his eight-year-old brand than the garage?
"In my experience, it is often the smallest details that will surprise people and make the biggest impact," explains Minale. "We are blazing a new trail as the world's first brand to take all of the details in your home that may have been considered 'nondescript' or 'forgotten', and transform them into the parts you love the most."
Minale likes to think of Buster + Punch as a new type of one-stop hardware store that brings together the influences of fashion, music, and sub-culture. The neighborhood building supply meets John Varvatos.
"We want our customers to feel the same excitement about their door handles as they do their favorite watch or fashion accessory," says Minale. "We want to make it as compelling and easy to shop for a light bulb as it is for a leather jacket."
But, First Motor Bikes and Rockstar Bars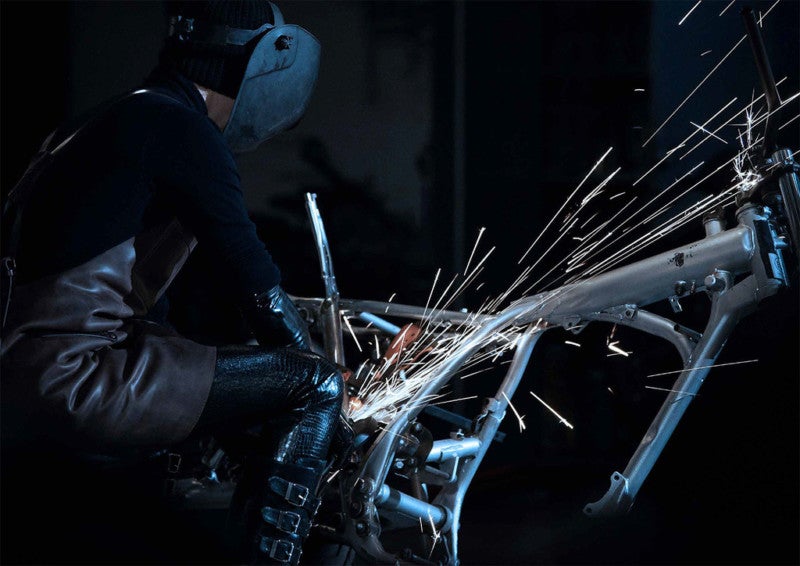 It would be impossible to separate fashion and design from Minale, the man. His mother and father, both graphic designers, worked in the fashion worlds; his Italian father worked for a major branding agency in the 50s and 60s, which branded for Gucci and Chanel. With design, graphic design and architecture in his DNA, he earned an architecture degree at Cambridge and followed up with his masters in London. He first cut his teeth at London's Foster + Partners and Zaha Hadid. Frustrated at the slow design-build process, he began looking for other avenues of design expression in 2001. "I wanted to see my ideas come to life, without being filtered," he says. By day, he was
an architect; by night he started making custom motorbikes in the aforementioned East London garage, where he was able to harness his insatiable appetite for design, manufacturing, metalwork, motorbikes and music. "When I could finally afford to quit the day job I did," he says.
Initially, he focused his attention on building what he calls "cut and shut bikes," where he would take the front end of one bike and weld it to the back end of another bike. His unusual bikes eventually caught the attention of several London born legendary musicians, George Clooney and Alexander McQueen.
He designed his first home product at the request of a rockstar who asked him to make cabinet handles for his kitchen. "At first, I said no, because it was quite a boring request," he laughs. But then he found inspiration. He took old handlebars and soaked them in whiskey for a unique finish, "and did some other strange things with them" until
he had created a unique collection of hardware for the rocker.
The Buster and Punch hardware aesthetic "blew up from there," he says. Solid metal hardware, with a darker edge and a touch of London's fashion, music, and sub-culture scene became the Buster + Punch calling card — a hardened contrast to the neutral and light Scandinavian-inspired products that were influencing design at that time. "No one else was doing what we were doing," he says. "By challenging traditional behaviors of an interior products brand, coupled with our humble beginnings as a custom motorbike builder, we became an antidote to an interiors industry that is both neutral and mainstream."
Black Sheep of Interior Design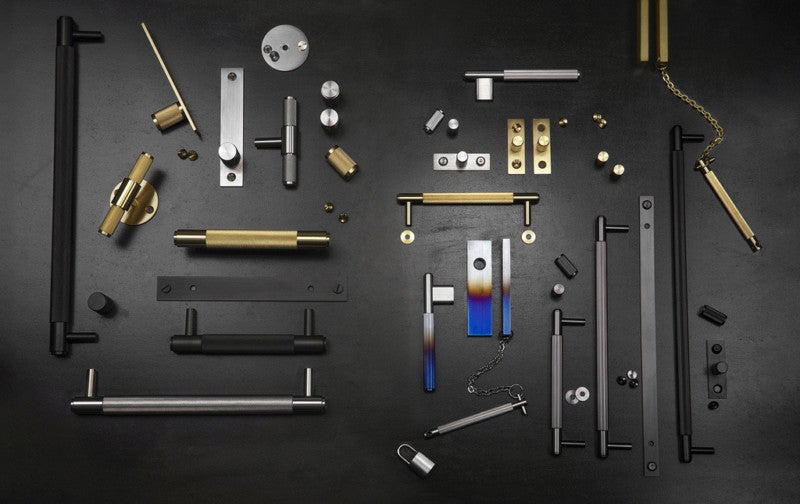 The creation of Buster + Punch allowed Minale's creativity to shine, and allowed him to immediately launch his designs into the market. Among the products that first put the brand on the design map: the Rockstar Whiskey Bar and the Hooked chandelier. Unconventional collaborations with street artists, bike builders, musicians, and fashion
designers — like Harrods, Rolls Royce, shoe designer Justin Deakin, and others — also generated buzz for the new brand. It wasn't until they started to make everyday home products that Minale's vision for Buster and Punch hardware came full circle.
"It was this interesting contrast of taking really dull things — like cabinet pulls, light switches, kitchen handles and light bulbs — and creating really exciting lifestyle pieces," says Minale. "The prospect of elevating these everyday items was really exciting to us."
Relishing its reputation for being the "black sheep of the interior design industry," Buster + Punch rebelliously blurs the lines between fashion and home. Indeed, Buster + Punch was the first interior brand to present at London Fashion Week, where the Justin Deakin x Massimo Buster Minale light shade and biker boots collection debuted. Both made from the finest quilted Italian calf leather with solid metal and rubber detailing, the unexpected runway-to-home pairing got fashion tongues wagging — and ignited Minale's drive to make products that feel substantial and luxurious yet are also accessible. Solid materials such as heavy metal, stones, leather and wood eventually became synonymous with Buster + Punch. "We want our products to always feel great to touch, which means they need to be heavy and authentic," says Minale.
Each new product debut reinforced their commitment to reinventing home's forgotten fittings for the fashion-conscious and pushing the edge of technology. In 2015, for instance, the brand launched the world's first designer LED light bulb — a product that Minale says took "the most blood, sweat and tears." While its best-selling kitchen
hardware collections continue to have a dedicated following among the edgiest of tastemakers who identify with the Buster + Punch attitude, the company continues to churn out a diverse portfolio of new products year after year that challenge the status quo.
A New Design Journey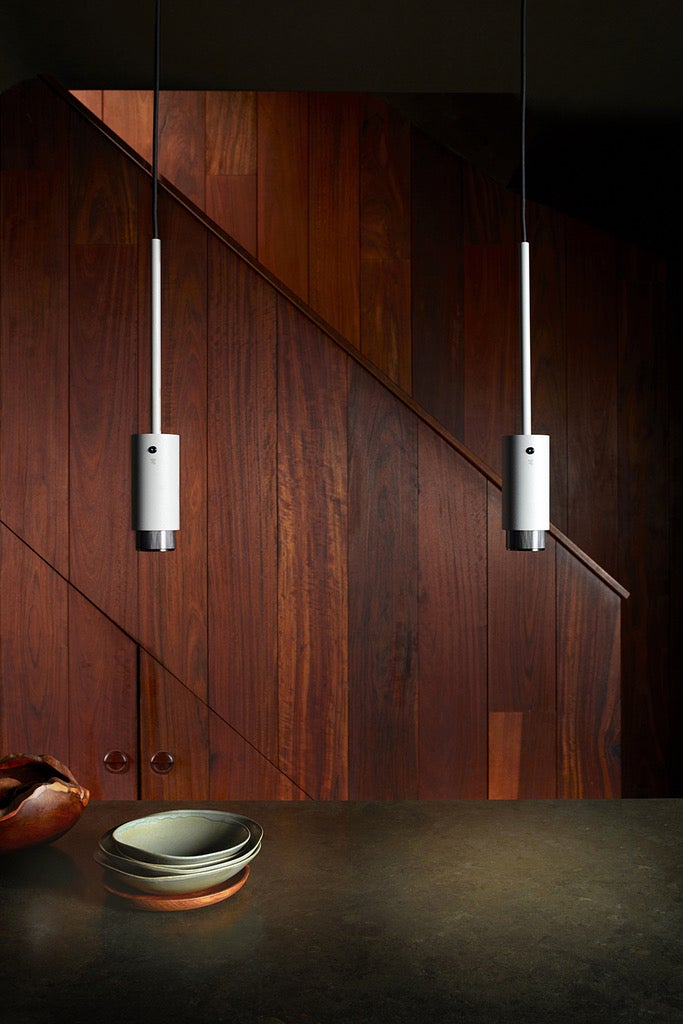 For 2020, Buster + Punch's new product lineup marked an ambitious new design journey for the brand. Not even an unpredictable pandemic has kept the brand from unpacking fresh, daring new design aesthetics and product assortments so every home and lifestyle can express the Buster + Punch look.
First, they kicked off the year with the Linear collection, which consists of small scale furniture knobs, pull bars, and their Precious bar cabinet hardware with locking mechanisms that deviate from the cross-knurling detail and coin screws for which the brand is known. "The idea behind Linear is that the hardware would work just as well on
your bedside cabinet as it would on your favorite handbag," says Minale. The line includes one of the most exciting technical finishes to date, Burnt Steel, which mimics the effects left behind when a motorbike exhaust pipe runs lean. Explains Minale: "The excessive heat turns the metal into a stunning rainbow of blue, purple and yellow — a
permanent tattoo of faster times."
The home fashion label followed Linear up with an equally disruptive collection of spotlights, called Exhaust, which sought to elevate modern task lighting with Buster + Punch's 'new look' diamond-milled linear knurling. An expanded collection of doorknobs, featuring the diamond-cut cross-knurl pattern and a variety of passage options and three solid metal finishes (brass, steel, or black), also continued the design momentum. However, the most thrilling 2020 product debut so far came with their fashion-forward line of luxury pet accessories. "No one expected us to launch a collection of dog collars and leads, and that's exactly why we had to do it," laughs Minale.
Naturally, the collection "Busterizes" canine couture with studded black leather dog collars and coordinating leashes (or as the British say, "leads"). Studded with solid metal coin screws, the collar is fitted with an ingenious pendant with the brand's signature diamond-cut, cross-knurled pattern that can be screwed open to store all of your pooch's precious information — a unique alternative to a standard collar tag. Black leather, gently embossed with a Buster + Punch pattern on the outside and naturally stained in purple on the inside, complete the collar while the matching leash is finished with the same quality materials and comes with a solid metal carabiner fastener. Available in x-small to x-large sizes, the Buster + Punch dog collar ensures your four-legged friend will be the hippest hound on the street, regardless of the breed.
If the early success of these product debuts are any indication, Buster + Punch has earned its position among fashion's most ardent rule breakers and trendsetters. A daring hybrid brand, Buster + Punch provokes emotion and disrupts all you thought you knew about the most ordinary products of your life. It proves — just by its mere existence and constant reinvention — that luxury can be lifted from the mundane, that culture and high fashion can be found in the most unexpected of places, whether it's a light switch you turn on and off every day or a dimly-lit East London garage.
Visit www.busterandpunch.us to view more of Buster + Punch fantastic collections