When it comes to quality footwear, Paul Janssen knows what he's talking about.  He has worked with premium and top luxury shoe brands like Oliver, Marco Polo, Paul Smith, Kenneth Cole, Rockport and Hugo Boss. He helped set up Hugo Boss's first shoe collection in 1994.  The man has a passion for luxury shoes.
Since joining ECCO 6 years ago, Paul has overseen the Product Strategy in Men's, using his experience in premium footwear to help re-position the brand amongst formal shoe collections globally. For Paul, the launch of the VITRUS platform, and its current VITRUS MONDIAL project mark a significant turning point for ECCO and an exciting opportunity to redefine how consumers interact with the brand.
 "People don't want to compromise on comfort," said Janssen,  "A lot of shoes are comfortable but they don't look that stylish. And if you look at these products, it's comfort matching style here and that is the game changer."
We had a chance to sit down with this luxury shoe maven and learn more about how ECCO is redefining stylish comfort.
What changes have you seen at ECCO since you started 6 years ago?
We have always been known for comfort and we are now on our journey to become more premium, more modern, more relevant and be a part of a new generation. Of course, there's this big thing going on in athleisure and we also play a big role in that. But we do athleisure in our own way. We do athleisure with leather not canvas. Leather is at the core of our brand DNA. Then of course, the core is still about premium leather sneakers – we have a wide range of those.  With the launch of VITRUS and then VITRUS MONDIAL, we are taking our brand to a more formal level.
 What are the unique design elements of the new ECCO VITRUS MONDIAL line?
Our basic, core DNA is comfort, because the founder said we want to make shoes where the foot is at the heart of the design. It is a project we started working on 2 years ago. We had to crack the code to make formal shoes comfortable. It was always said that formal shoes are stiff. With the athleisure trend, the dress code has dramatically changed. Formal shoes are still important through, and we wanted to make a product that has the comfort of a sneaker, with our own technology.
The VITRUS MONDIAL is a formal shoe range with a slightly elongated last. We call this the European dress silhouette The anatomy is slightly rounded to match the shape of the foot, because the foot is not flat. The product is smart, sleek and fashion forward. We have used a full leather sole with a smooth leather welt and with intarsia protection. We are using Dutch premium calf leather made in our own tannery with a beautiful grain.
You have 8mm of comfort here and cushioning in the shoe but it doesn't look bulky. It is fully done with leather outsoles flat and then the volume comes on top and we want to hide it  to have this sleeker and more European look. We use reverse stitching, so there are no visible threads.  We call the style hip comfort, because the stitching and cushioning are not visible.  The shoes can be worn year-round due to the construction.
What style would you recommend for a guy just starting his luxury footwear journey? A shoe that he can wear to dress to impress either at work or going out on the town.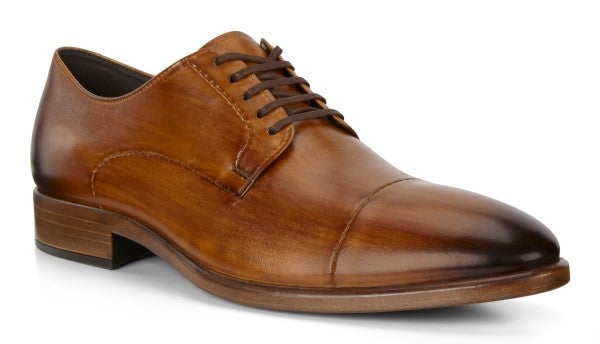 The ECCO VITRUS MONDIAL Men's Cap-Toe Derby in honey.  It is a multi-purpose shoe and goes with different coloured suits like blue, grey and lightweight summer fashion.  It's pure natural leather and it has a nice, burnished effect. It is also extremely comfortable.  It's for shoe collectors, and if you want to play in that league, this is part of our premium collection.
You have worked in men's luxury footwear for most of your career.  Where do you see men's footwear trends going?
With men's footwear, we will follow three major trends: athleisure, premium sneaker and formal.
What do you wish people knew about the ECCO brand that they likely haven't heard about?
It's impressive what we do when it comes to innovation and technology. Every time a collection is presented to us, I'm blown away by what our R & D and Design teams do. When you see the shoe on the shelf, it's beautiful but there's so much inside that you don't see, and I wish people knew more about that. Also, the  blood, sweat and tears that go into our collections.
From a brand perspective, it's to share our story. We have a lot of great stories to tell but we haven't done it enough. We need to make more people aware of what we do and get more people into our shoes. Once you wear ECCO shoes once, you buy more and men are very brand loyal.

In partnership with: