Known as Reggaeton's Global Ambassador, Jose Balvin known as "J Balvin" has over 65-million followers on Instagram. He is one of the top streaming music artists in the world and is a leader in the Latin music global embrace. Balvin has earned 19 #1 singles, 4 Grammy Awards, 1 American Music award and was the 1st  Reggaeton artist to perform Coachella mainstage, and the 1st Latin artist to headline Lollapalooza. He has been called Latin Artist of the Decade and most recently made a surprise performance appearance at Superbowl XIV Halftime Show.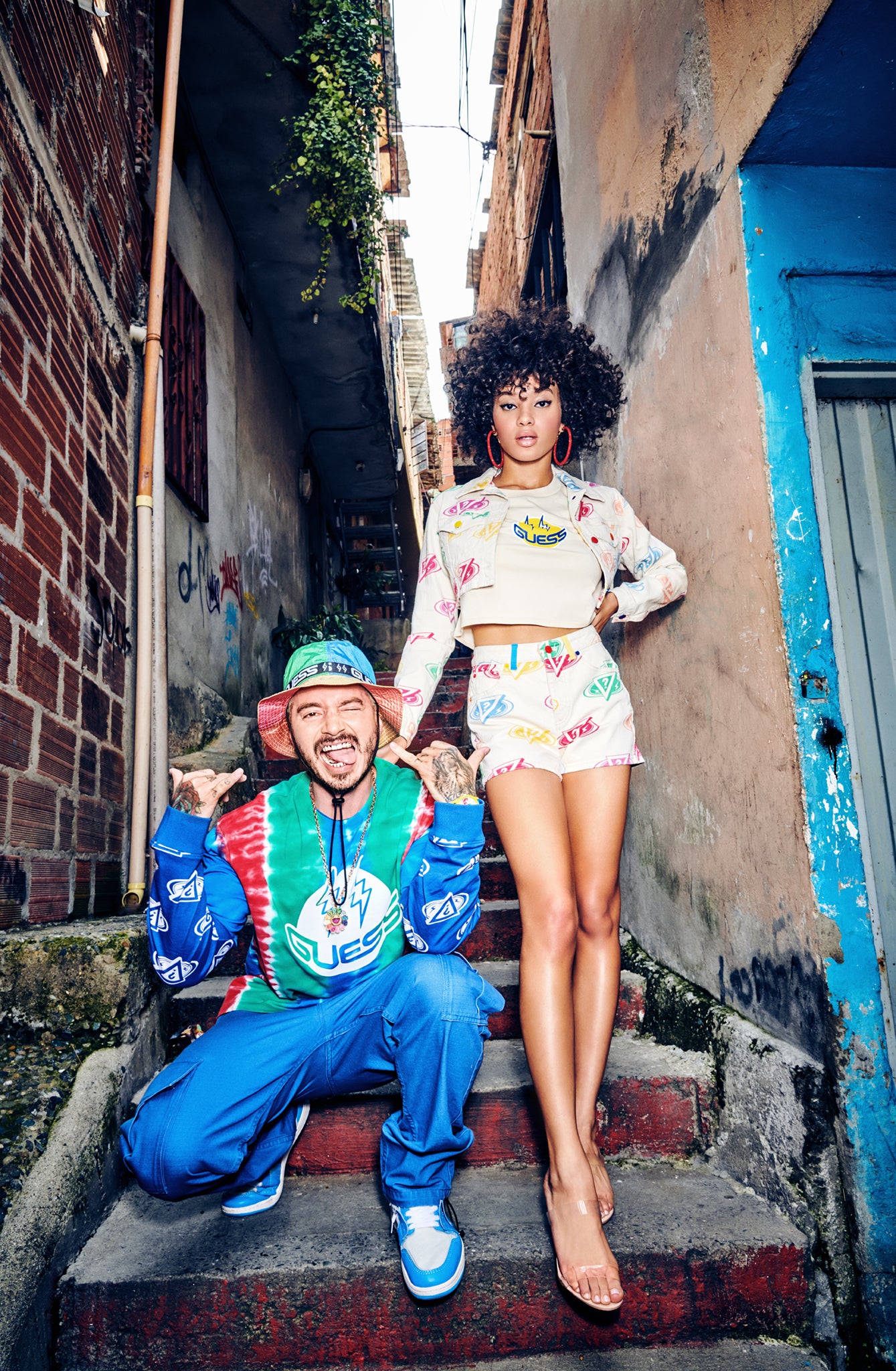 It is this level of swagger that led to his 2019 partnership with fashion juggernaut GUESS. J Balvin and GUESS gave us The Vibras collection which was part of his tour and was met with great success. 2020 they are together again to give us COLORES. It will complement his 2020 tour sonically and sartorially. J Balvin is further expanding his role in the creative and design process – which will now feature even more pieces for men, women, and kids.
Established in 1981, GUESS began as a jeans company and has since successfully grown into a global lifestyle brand. The Company directly operated 1,174 retail stores in the Americas, Europe and Asia and operate in 100 countries worldwide. "It's important to see our collaborative efforts with Jose continue to grow parallel with the partnership over time. What initially started as a collection has turned into year-round energy.
"We organically elevated the partnership to wardrobe his whole tour and dancers, large festival merchandise moments, amongst other one-offs opportunities. With this new collection, Colores, we really pushed ourselves collectively and we're excited to unveil our most robust collection for men, women and kids. J Balvin's passion and commitment as a partner is the ideal space to create within." – Nicolai Marciano, Director of Brand Partnerships for GUESS?, Inc.
The collection is inspired by J Balvin's upcoming March album, Colores and incorporates red, yellow, green, blue and purple tones into each piece, weaving J Balvin's latest venture into this fashion capsule. The campaign features the chart-topping singer in his hometown of Medellín, Colombia, celebrating the capsule alongside models Jamea Byrd and Sara Orrego.
The series of images spotlight J Balvin wearing pieces from the vibrant capsule collection throughout the colorful streets of Medellín, where fans of all ages joined J Balvin on his 2-day journey to shoot the campaign.
J Balvin said "It has been very exciting to shoot the GUESS x J Balvin Colores campaign in the city where everything started for me – to have this huge global campaign with GUESS, spotlight the vibrancy of the people and culture of Medellín. It is another opportunity to show the world how beautiful and amazing Colombia is, and the surging artistic vibes throughout the city and country."
The official launch of the collection will be postponed until further notice due to COVID-19 concerns. Further information will be available on the official website and on GUESS' social platforms.