In early March, Ryan Gosling and his long-time partner, Eva Mendes, were spotted at Disneyland with their kids. They have two daughters. In general, Ryan and Eva shun the spotlight, so people do get excited when new pictures of this famous couple appear online. Ryan and Eva live as privately as they can. Ryan's low-key personal style isn't "look at me". It's the opposite. It's cool without being flashy.
If you want to look great, without looking like you're trying too hard, you may appreciate the personal style of this Canadian-born actor, who smoldered in Drive and charmed in La La Land. Sure, he dresses up for the red carpet and other important events, but he prefers a low-key look when he's off-duty. It's his off-duty look that we're going to focus on today.
Any celebrity can buy a pricey suit for a big event. Usually, stars like Ryan don't even need to pay for red carpet clothes. Designers comp them in exchange for publicity. It's what a man wears when he's not in the spotlight that says the most about who he is.  Ryan's off-duty look is relaxed and a bit retro, with occasional, punk-inspired touches that add some edge. If you want the Ryan Gosling look, this quick guide will show you how to achieves his casual and confident look.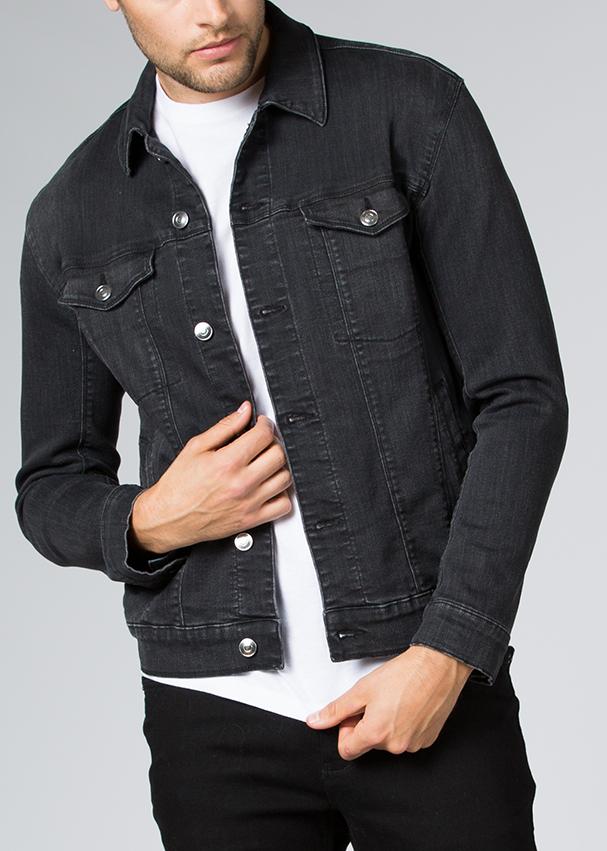 Ryan started out as a "Disney kid", just like Britney Spears, Justin Timberlake and Christina Aguilera. Since his days on The Mickey Mouse Club, he's become his own man. There's nothing manufactured about Ryan's current street style. It's a clear reflection of his personal style sensibility.
Ryan's fond of denim jackets, so you may want to buy one of your own. He throws jean jackets over pants and t-shirts regularly. In 2001, he looked stylish in a denim jacket with a cozy shearling lining. In 2010, he was photographed in a denim bomber jacket that he wore over a hoodie. In 2017, he chose a basic jean jacket with one special feature…a NASA patch on the back. In 2018, he chose gray denim.
You get the general idea.
Ryan has a lot of denim jackets in different styles and rinses. He wears them well. They are always a staple of his everyday wardrobe. He also likes denim shirts. Ryan's penchant for denim jackets was the topic of a Vanity Fair article back in October of 2018.
Go for Vintage-inspired Knits
Ryan wears vintage-inspired knits with bold, retro patterns. He layers his sweaters under suits and under jean jackets. He's not scared to wear sweaters with vibrant colors and unusual patterns. He doesn't seem like a guy who wastes a lot of energy wondering how other people feel about his clothes.
If you're into hunting for vintage treasure, try to find knit sweaters from the 60s, 70s and 80s. If you prefer to buy new, look around at J. Crew, Theory or Moncler. Ryan's also been seen in chunky knit cardigans, like your dad or grandpa might wear. He wears them unbuttoned and skips the pipe and slippers.
Add Edge With Punk T-Shirts
Ryan's often photographed in fitted white t-shirts, but most guys have these basics in their wardrobes anyway (or should). To add edge once in a while, when you're feeling daring, do what Ryan does. Give the plain white T's a rest and put on a punk t-shirt.
Ryan's faves include Black Flag and Limp Wrist T-shirts. If you don't actually listen to punk, wearing T's that advertise punk banks may feel a little poseur-ish. It is a bit pretentious. Stay true to yourself by substituting your fave bands instead. Or find a happy medium by choosing a T-shirt with a skull graphic, or something else punk-inspired, that doesn't advertise any band.
Ryan's been known to throw a leather bomber jacket over his punk T's. You may want to buy your own leather bomber, just to change it up. Jean jackets are practical but so are leather jackets (or vegan pleather jackets).
What About Pants And Shoes?
For street style, he goes for jeans. He does do double denim (it's the Canadian tuxedo, after all, and Ryan was born in London, Ontario), but mixes it up by wearing different rinses on the top and bottom. You should do the same. To get the Gosling look, go for grey jeans and a denim button-down shirt, or black jeans and a medium-blue jean jacket. Ryan also wears classic chinos. He likes them in dark blue.
When it comes to footwear, Ryan is partial to lace-up boots with a chunky silhouette. He's been photographed in Dr. Martens 1460 boots, according to Footwearnews.com, as well as Red Wing Heritage Moc Toe Boots in a rich brown leather finish.
Grooming Tips For Ryan Gosling Fans
Ryan keeps his hair on the short side and not too creative. His hairstyle, to quote a writer at Gq-magazine.co.uk, is  a "classic side-parted college-boy style". It's not super-short on the sides or back. Using a thickening shampoo and a little grooming cream should help you to achieve the look. Hair that's naturally straight, with fine or medium thickness, will look best with the Ryan Gosling haircut.
Go for A-List Hollywood Style
Ryan is very A-list. His everyday personal style isn't as polished and slick as fellow Canadian, Ryan Reynolds. It's a little more rebellious and undone. If you love the way that Ryan Gosling looks when he's off-duty, use our Swagger style tips to get his look. Now that we've given you Gosling's style secrets, you'll be ready to look great, without looking like you're trying too hard.