Marz Agency is a frontrunner among digital transformation agencies because of its innovative approaches to branding and user interface/experience design, as well as its expertise in the fields of e-commerce and logistics, and more. They are original thinkers who have comprehensive understanding of how information technology services and products are developing around the changing globe, and Marz Agency's team adapts to these changes according to the needs of our customers as quickly as possible. In order to provide their customers the best possible service, they combine their expertise in the field of technology with that of a highly skilled and experienced workforce.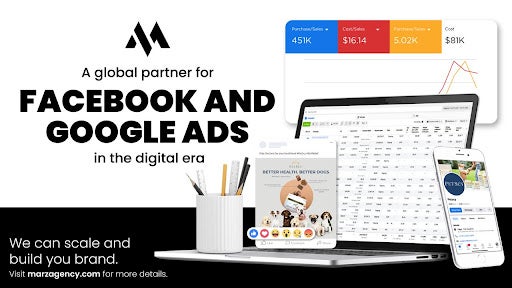 Because of their extensive experience, it is their mission to not only achieve timely completion of ground-breaking projects but also to achieve fresh insights into the artistic and technical sides of production. Their primary goal is to exceed our customers' expectations by collaborating closely with artists, brands, agencies, and other production firms in order to provide the best possible result to their clientele. Their talented staff is able to brand, design, and feature your items in a way that caters to your specific needs and preferences.
Google AdWords, Google Display Network, Google Search Engine Optimization, and Google Maps are the four key platforms that Marz Agency focuses on to promote your company and help you sell more of your goods and services online. They are a reputable business that provides Google Marketing services and can assist in the promotion of your brand.
Marz Agency's professional SEO team offers comprehensive ON-Page SEO and Off-Page SEO services, and they tailor their methods to your specific needs so that your website achieves the top rankings you've always wanted. Using their top-tier SEO service will assist you in providing the greatest results, maximizing your return on investment (ROI), and placing your website at the top of the search engine results page (SERP).
The content of a website is the main factor in bringing in new clients and convincing existing ones to make a purchase. The Marz Agency has a saying that "Content Is King," and we believe it to be true. When it comes to content, conveying a narrative via photos and videos that connect with your prospective clients is the most important thing. When building a complete marketing plan, it is necessary to work in concert with the creation of an excellent content strategy. Customers will only trust in the quality of your product or service if they are shown evidence of its worth. It is our responsibility to inform the world about your brand via compelling content. To sum up, content conveys to consumers the value of your offering and encourages them to make a purchase.
Working with the Marz Agency is beneficial for a number of reasons, one of which is that we have a team of in-house designers and producers that have an in-depth grasp of how to create content that converts. We are skilled in the production of content creatives that are captivating to the eye and will make an indelible mark on the consumer.