Not content with playing with model trains and taking cross-country trips on VIA, Jason Shron has taken his obsession with trains one station further – he's built a life-size train in his basement. And for him, it's become the ultimate Man Cave.
Shron is founder and president of Rapido Trains, which has grown to be one of North America's largest model railroad manufacturers since its incorporation in 2004. The company produces train and bus models for the Canadian, American and British markets.
The basement train car was four and a half years in the making. He faced, "lots of big hurdles, had to redo lots of things." He looked for original parts from decommissioned trains to use for his project, and was discouraged to find that replicating parts would cost, "thousands of dollars, and that wasn't going to happen…. [to replicate] basic parts, like the perforated ceiling or the carpeted luggage racks. You cannot just replicate everything with plywood."
His dreams came true in 2010 when he was able to find an entire car that was destined for the scrap heap. VIA coach 5647 was built in 1954 by Canadian Car & Foundry. It had electro-mechanical air conditioning rather than using large blocks of ice, and was heated by steam pipes under the car. The original colour scheme was black, green and yellow, changed in 1961 to red, black and grey, and in 1976 to deep blue with yellow stripes. Ownership transferred to VIA Rail Canada in 1978.
After retirement from VIA in 1992, the car ran on the Montreal-Deux Montagnes line until 1996 when it was purchased by Rocky Mountaineer. It was slated to be rebuilt in Moncton, New Brunswick, but instead sat outside for almost 15 years. It would have cost over $200,000 to restore it and ship it to Shron's suburban-Toronto basement, so instead he and a group of friends took it apart.
Shron personally completed "95 per cent" of the rebuilding, other than hiring a contractor for electrical work, and occasional help from fellow Rapido employee Dan Garcia. "You learn every possible mistake and you learn from those. I had to redo the interior wall twice, another wall started sagging under the weight of the overbuilt roof… it was one thing after another. I had to refinish the exterior wall because I hadn't braced it properly, and it warped from the humidity. I had to rip out the wall and do it again."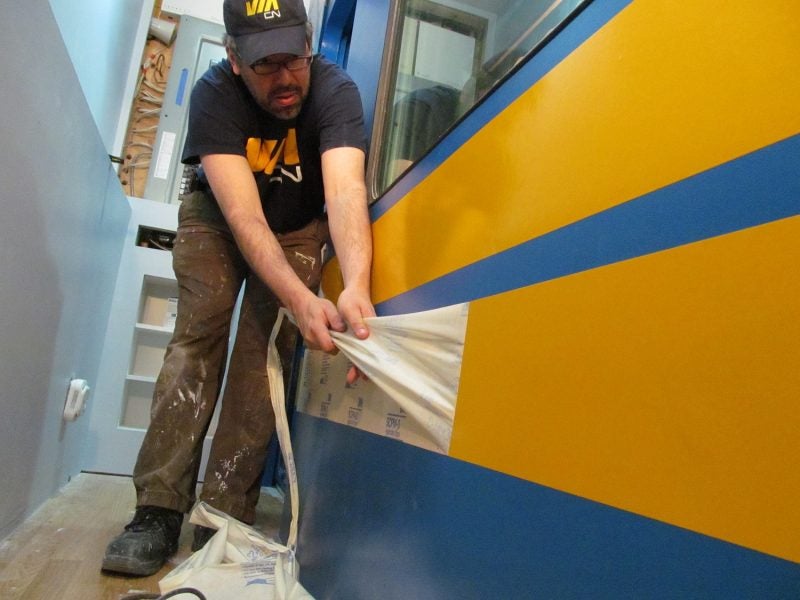 The completed train car in his basement is today an office and lounge. "The kids love it down here. Our guests come and the kids come and play. They pretend to be the passengers, the three kids pretended to serve food while the adults drank Scotch… My wife is extremely supportive. But does she want to spend time down here? Not particularly."
Shron, 46, joins a small community of train enthusiasts who own their own trains. "A lot of train cars are owned by people with a lot of property; it becomes a guest cottage. There is someone in the U.S. who had done something similar; he had pros do it. He was an inspiration. Before they built his house, he dropped a train cab into the foundation to make sure it'd fit."
His next project has been in the making since he was five years old, and is even grander than a full-size replica. He is several years into creating a model railroad that he admits will take over 30 years to build. "Scale model trains, small ones, representing the run from downtown Toronto to eastern Ontario. Every building has to be built from scratch in what existed in 1980. I'm building every building from photographs. It took me 2,500 hours to build the train; it'll take that times seven to build the model railroad."
Shron has advice for entrepreneurs and hobbyists in any field. "I'm so dedicated and obsessed with these trains and made a dream come true with building it. Anyone can build, if someone has a dream to restore an old vehicle, or pursue another intensive, creative hobby. With perseverance, time, determination — key is not giving up. A lot of people talk about what they want to do, and they should just go find the time and do it."
His YouTube video showing the completion of the train can be found here
The latest video (of the model railroad) here