When New York legalized the recreational use of cannabis in 2021 and expunged all records of marijuana-related criminal offenses within the state, it was a decision that was decades in the making.
Politicians in New York were among the first people in the country to realize that criminalizing people based on non-violent cannabis offenses needlessly destroyed the lives of otherwise law-abiding citizens and was a waste of the state's law enforcement resources.
Although the state has legalized marijuana, with no dispensaries, access to marijuana remains limited. New regulations around hemp, however, have opened the door for hemp-derived THC edibles to fill the gap.
New York has come a long way, and has a long way to go, before its cannabis program is fully developed.
The Early Days of Cannabis in New York
Even before the signing of the Declaration of Independence, cannabis was a popular plantation crop in the United States. It was grown by people who would go on to become some of the nation's most important leaders and political minds – George Washington, Thomas Jefferson and James Madison, just to name a few. Whether they enjoyed smoking their crops is anyone's guess, but it certainly wouldn't be surprising. 
By 1951, New York had gone to pot. Witnesses reported seeing vast areas from Brooklyn to the Bronx overrun with cannabis plants growing up to 10 feet high and swaying in the wind like Christmas trees. Although the vast public supply of marijuana must have amounted to a free-for-all for the city's happy stoners for a while, it didn't last. Sanitation Department General Inspector John E. Gleason made it his mission to eradicate the cannabis patches. He and his team eventually dug up and burned more than 41,000 pounds of weed, valued at more than $6 million at the time. That's over $68 million in 2022 dollars.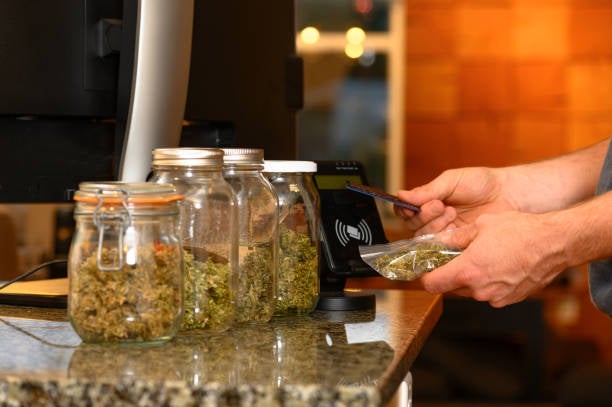 1970s: Rockefeller Gets Tough on Drugs
Things might have been difficult for New York's stoners in the 1950s, but they got a lot worse during the gubernatorial administration of Nelson Rockefeller.
Hoping to build a "tough on crime" reputation that would carry him all the way to the U.S. presidency, Rockefeller enacted a new drug law in 1973 that imposed a minimum penalty of 15 years in prison for anyone caught possessing more than four ounces of various drugs including cocaine, heroin and cannabis. The implementation of the law made New York one of the worst places for cannabis users in the entire country. Although the portions of the law referring to marijuana were repealed in 1977, the stage had already been set for New York's war on drugs.
By 2008, commentators were referring to New York City as the "Marijuana Arrest Capital of the World." In the decade prior to that comment, 374,900 New Yorkers had been arrested for low-level cannabis-related offenses – and 83 percent of those charged with crimes were members of racial minority groups. Any observer could see that this situation had to change – and fast.
2010s: Sanity Finally Prevails
New York legalized cannabis for medical use in 2014. By 2021, thousands of doctors and more than 151,000 patients were part of the program.
In 2018, Governor Andrew Cuomo began to explore the idea of full cannabis legalization in New York. Cuomo commissioned a study conducted by the Department of Health. The study was a wide-ranging examination of the potential legal, social and financial impacts that legalization would have on the state. The study's conclusion was that legalization would have a net benefit for the state. 
After several false starts, legalization finally occurred in 2021. Cannabis is now fully legal for adults over 21 to possess, and all criminal records related to marijuana offenses in New York have been expunged.
2020: A Program in Progress
Along with legalizing, New York has passed some of the country's most permissive cannabis laws. For instance, the New York Police Department no longer lists any cannabis-related crimes with the exception of driving under the influence. In addition, New York forbids employers or potential employers from testing for cannabis use or discriminating against current or potential employees who use cannabis outside of work.
However, the state's cannabis program is still in progress. New York doesn't have recreational cannabis dispensaries yet, but those might be coming before the end of the year. Individuals aren't permitted to grow cannabis for recreational use yet, but it's believed they will be able to soon. Both of these factors put New Yorkers in a strange gray area in which it's legal to own and use cannabis, but there is no easy way to get it. Once cannabis become more accessible in the state, it's predicted to have a huge positive impact, advancing the state socially and financially.