Live Better For 20% Off
Sea King CBD is offering a special discount to Swagger readers. Get

20% discount off

your first purchase. This special discount applies to all non-sale products.

All you need to do is enter S0423 in the code fields on the cart or the checkout pages at seakingcbd.com. Shipping is always FREE. Let's jump into why you should buy from Sea King CBD.
Many Questions
Understandably, people have many questions about CBD products, especially newbies. Some of the top questions we receive are…
Is CBD safe?

Is CBD legal?

Does CBD really work?

Are all CBD products the same?

How do you know what CDB brands and products to purchase?

What makes Sea King CBD different?
The easy answer to the first three questions is, "yes". But what about the last three questions? 
Are All CBD Products the Same?
Well, it sure seems that way, doesn't it? But there are variations in cultivation methods, hemp biomass quality, extraction methods, and formulations so brands can vary greatly. All these variables are taken into consideration before we purchase and sell a brand. We'll get into that in a moment. But there is one thing all CBD products have in common – ALL CBD products sold online can have no more than 0.3% THC in them (if THC is in their formulation) according to U.S. law as stated in the 2018 Farm Bill.
What Does Maximum Strength Mean?
Since the amount of THC in a CBD product sold on the Internet may not exceed 0.3%, products that state "Maximum Strength" or other similar language are likely referring to the total amount of CBD that's in their formula. This is typically measured in milligrams (mg). It is important to take into consideration other factors. 
For instance, if a 30mL bottle has 3000mg of CBD in it, and the serving size is 1mL, each serving will have 100mg of CBD in it per serving. (3000mg / 30mL = 100mg per 1mL serving) Although there are no laws against how many milligrams a CBD formulation can have, the higher the amount of CBD, the harder it is to dissolve into the carrier oil. The key is to get a CBD product that has a strength that best matches your needs. You can learn more about that here.
How Do You Know What Brands and Products to Buy?
You can trust products that have been tested by an independent 3rd party test lab. A Certificate of Analysis (COA) is issued after a product has undergone a series of tests. It contains accurate and reliable information about a CBD product regarding its safety, purity, and potency. COAs can be found on the product pages of all CBD products that we market. Here are some other factors to consider before purchasing a CBD product:
Consider a product that suits your lifestyle. 

Consider a product that's made in the USA from U.S. grown hemp.

Decide if you want to purchase an Isolate, Broad Spectrum, or Full Spectrum CBD product. 

Determine how much CBD do you need to treat the condition you have.
You can learn more about all this here.
What Makes Sea King CBD Different?
Sea King CBD focuses on the needs of our customers first. That's why we have several benefits created to support them. For instance, unlike many others, our shipping is always free no matter how many products a customer purchases. We also offer a best price guarantee, loyalty program, and more. You buy with confidence at Sea King CBD because we back all our customer perks and policies. Check out our About page and our 100% Peace of Mind Guarantee.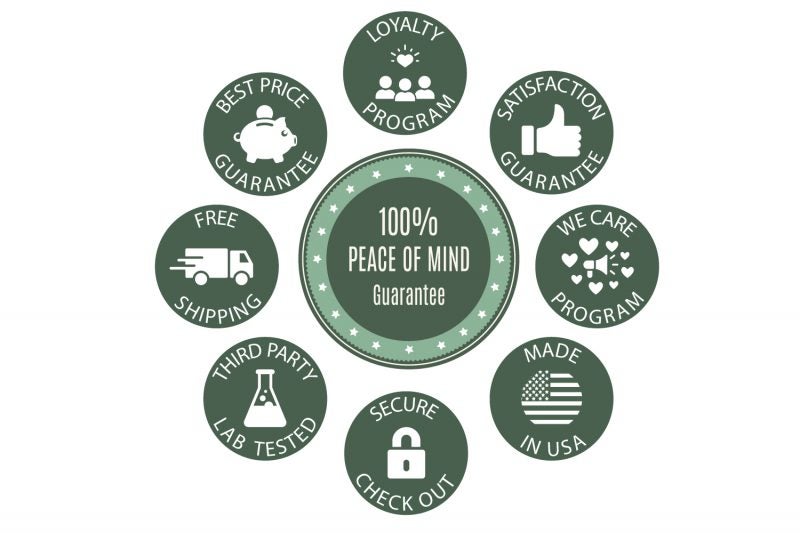 We've Done the Shopping for You
Sea King CBD has an advantage when it comes to purchasing our inventory – decades of purchasing and merchandising experience. We use this advantage to seek out only products that meet our high standards for safety, purity, and value. Sea King CBD isn't limited to one brand; we offer many to help you find the best in class for each category of CDB. Plus, because we purchase products at wholesale prices and don't spend much money on advertising, we can pass more savings on to our customers.
Buy With Confidence
We do our very best to provide a stress-free shopping experience driven by CBD education and unrivaled customer support. Our customer benefits and policies are posted on our About page with links found in the footer of each page. Nothing is hidden. 
Our Brand Collective
Essentially, Sea King CBD is a Collective of what we call Brand Partners. Each one has their own page to tell their brand story, so you get an overview of their company and products right from the source. Each Brand Partner is carefully selected because they offer clean, safe, and unique products that fit into our specific mix. Click on any of the links below to visit their Brand Pages and find out more about each brand.
Nirvalla: A well-respected CBD formulator/wholesaler known for creating premium quality CBD products. We support several selected products from their catalog. They offer safe, powerful products that stand up to any other brand in the market.
BDSC: Lovingly hand-crafted CBD bath bombs, analgesic balms, and other CBD products that use essential oils and natural ingredients in their formulas. These products make fantastic gifts. Check out the new Busy Bee bath bombs.
Fido Therapy: Pet CBD tinctures and treats that use natural and organic ingredients to create safe and effective CBD products for your furry friends. Don't let the name fool you. These products are also for cats and other pets.
Nesa's Hemp: The highest quality CBDa tincture available. Nesa's proprietary extraction method yields CBDa that's been tested to be 1000x more potent than most other CBD tinctures in the marketplace. Available in 170mg, 500mg, and 1000mg strengths.
RestorativeCBD: A Medically Assisted CBD brand backed by practitioner Charlie Piermarini, PA-C, MSPAS, MS, MPH, who has a thriving family medicine and pain management practice in Phoenix, AZ. Charlie noticed that some of his patients were using CBD, but were testing positive for THC even though the bottles were labeled "0 THC". So, he decided it was time to create a safe CBD brand his patients could trust. 
LG's Feel Good: A CBD brand specifically formulated for former pro football running back LeGarrette Blount. This brand is marketed to those who have active lifestyles and want a CBD solution for physical and mental relief. LG's Feel Good offers gummies, pain cream, roll-ons, patches, and balms.
Trilogy Fungi: Our newest Brand Partner makes premium quality mushroom tinctures using their dual-extraction process. Because Trilogy Fungi products do not contain CBD, we sell their Immune Shield, Fountain Of Youth, and Lion's Mind tinctures in specially priced combo packs with one of our most potent Full Spectrum CBD tinctures to get the health benefits of both.
The Marvel of Medicinal Mushrooms
Did you know the use of medicinal mushrooms has been around for 5,300 years, and possibly longer? How do we know that? In 1991 hikers came across the natural mummy of a man frozen in a glacier. After he was excavated, scientists and researchers determined he lived 5,300 years ago. They named him "Ötzi" (aka the Iceman).
Among Ötzi's possessions were two different mushrooms — Birch polypore and Hoof fungus. Birch polypore has several medicinal qualities, among them its use as a tonic for the immune system, and an antiseptic to clean wounds and promote healing. 
Fast forward to today. People in North America are waking up to the powerful properties of medicinal mushrooms. Combining their extraordinary benefits with the distinct benefits of CBD makes sense. And since they complement and enhance each other so well, Sea King CBD created three CBD/mushroom combos at special prices. 
You can find out more about the benefits of medicinal mushrooms in combination with CBD in this article.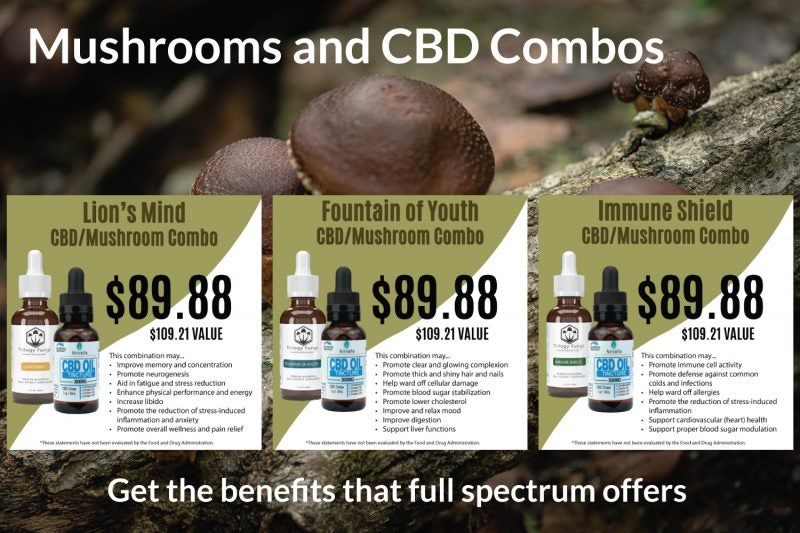 Visit us at seakingcbd.com