In October, we found ourselves on a three-day whisky experience in and around St. John's,
Newfoundland and Labrador. But our senses never felt clearer. The brisk ocean air, the deep
sense of history, and the fantastic food and folklore of the town made it the perfect place to
introduce The Balvenie Stories series of single malt whiskies to Canada.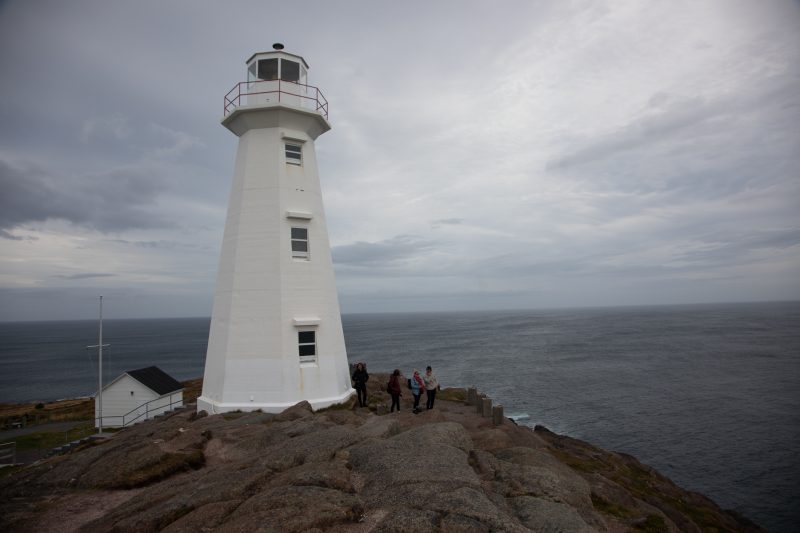 Balvenie is, of course, one of the most celebrated whiskies in the world. Based in Dufftown,
Speyside, Scotland (a region densely packed with single malt distilleries such as Glenfiddich and
Kininvie), it is one of the few Scotch distilleries to boast in-house floor maltings, using locally
hand-cut peat.
These spirits, which will hit the stores in November, were inspired by tales of 'character,
endeavour and craft' from the Speyside distillery. In execution, these three, limited editions
have a flavour and finish unique to each blend.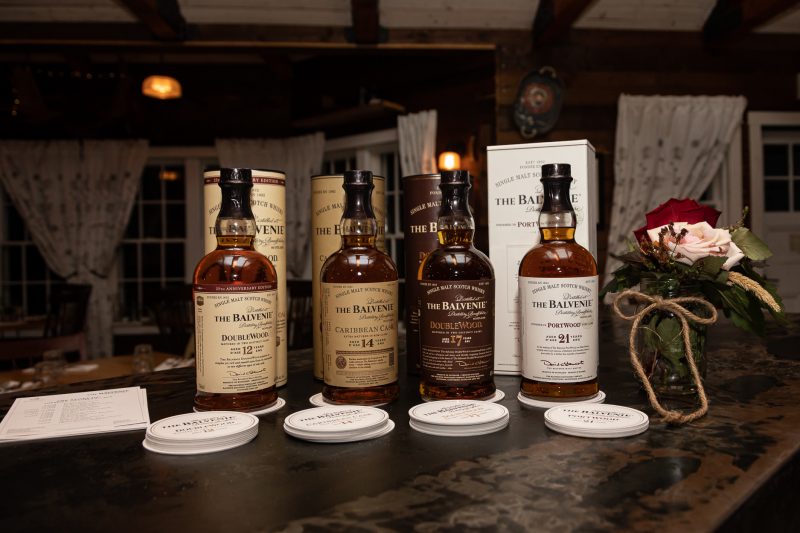 This is why Jamie Johnson, the Canadian Brand Ambassador for The Balvenie, invited Swagger
to St. John's to experience the myriad ways a good whisky can help flavour life's rich journey.
Our first stop was the Crow's Nest, a member's only club for Naval Officers housed on the
fourth floor of an old storehouse. Here the bartender poured the first of many drams of
Balvenie while Johnson told the story of her first visit to St. John's. "I was coming down Gower
Street late at night and a guy was walking around with a fiddle," she says, "and that's when I fell
in love with the place."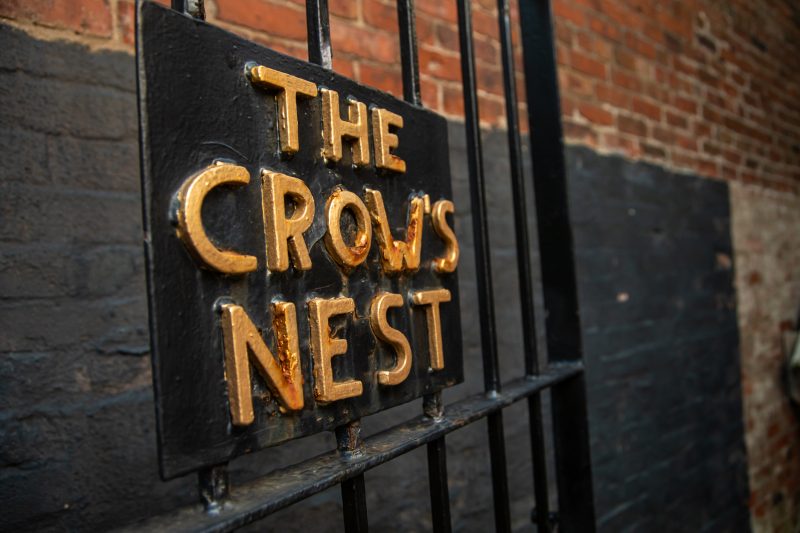 "I thought of the distillery and how it's such a warm community," she continues. "You can just
walk in and have an authentic moment. St. John's is like that. It's not the biggest market for us
but with the local tradition for storytelling and music—it's like the heart home of Balvenie."
At the Crow's Nest, we learned the history of the club's most prized possession — a periscope
salvaged from a WWII era U-Boat. We were also treated to a few cocktails mixed with Balvenie.
It was the most delicious Rusty Nail I've ever sipped. There are few drinks as old-timey as a
Rusty Nail. It's the bar's signature cocktail made with Drambuie and a twist of lemon. To use a
single malt whisky with complex flavours simply elevates the drink.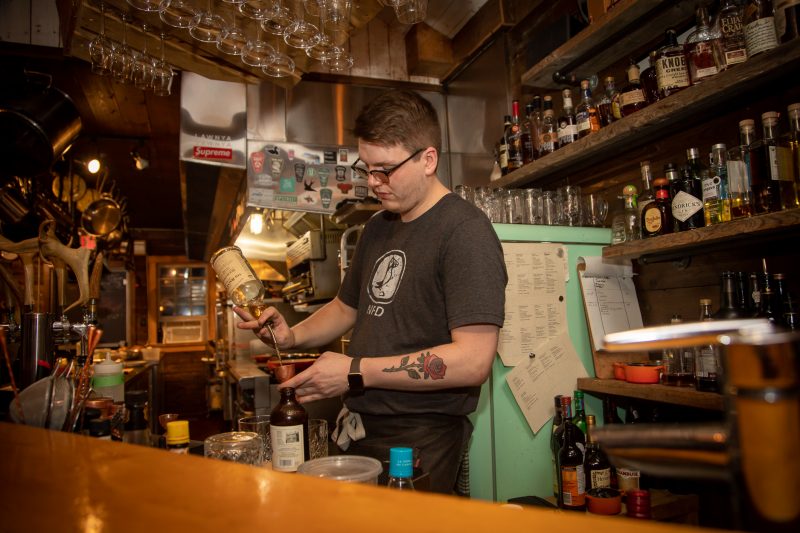 Our next stop was the famed Mallard Cottage in Quidi Vidi village. Here we had a million
course, family-style dinner prepared by the Mallard's co-owner Steve Lee.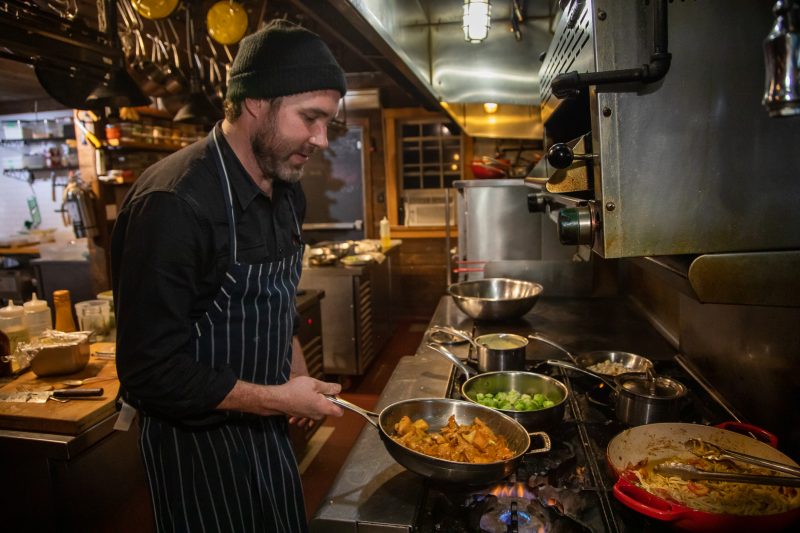 Joining us on our travels was The Balvenie's Global Brand Ambassador Gemma Paterson. Born
and raised in the Scottish Hebrides, Paterson worked at the distillery and joined the William Grant & Sons Nosing Panel. She is also a collector of stories, interviewing the artisans of Balvenie and retelling their tales across Europe and North America.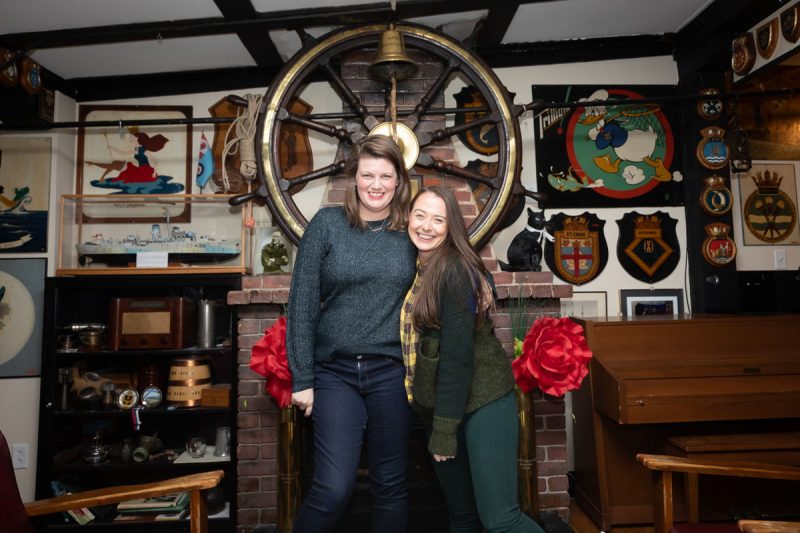 Paterson elaborated on the connection between Scotland and Newfoundland as we sipped a
dram of the Balvenie 14-Year-Old Caribbean Cask. This single malt has been aged in traditional
oak casks before being finished in casks which previously held Caribbean rum. This step adds
some sweet and warm notes of toffee, fruit and vanilla.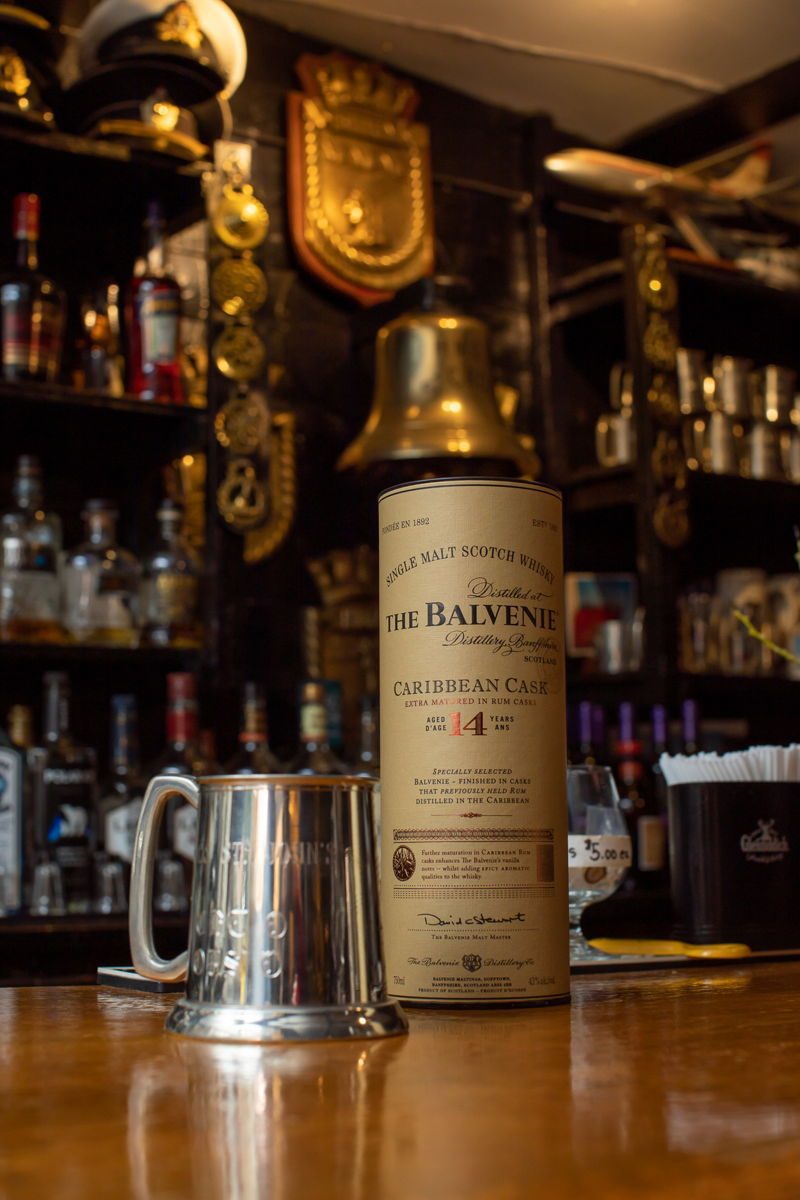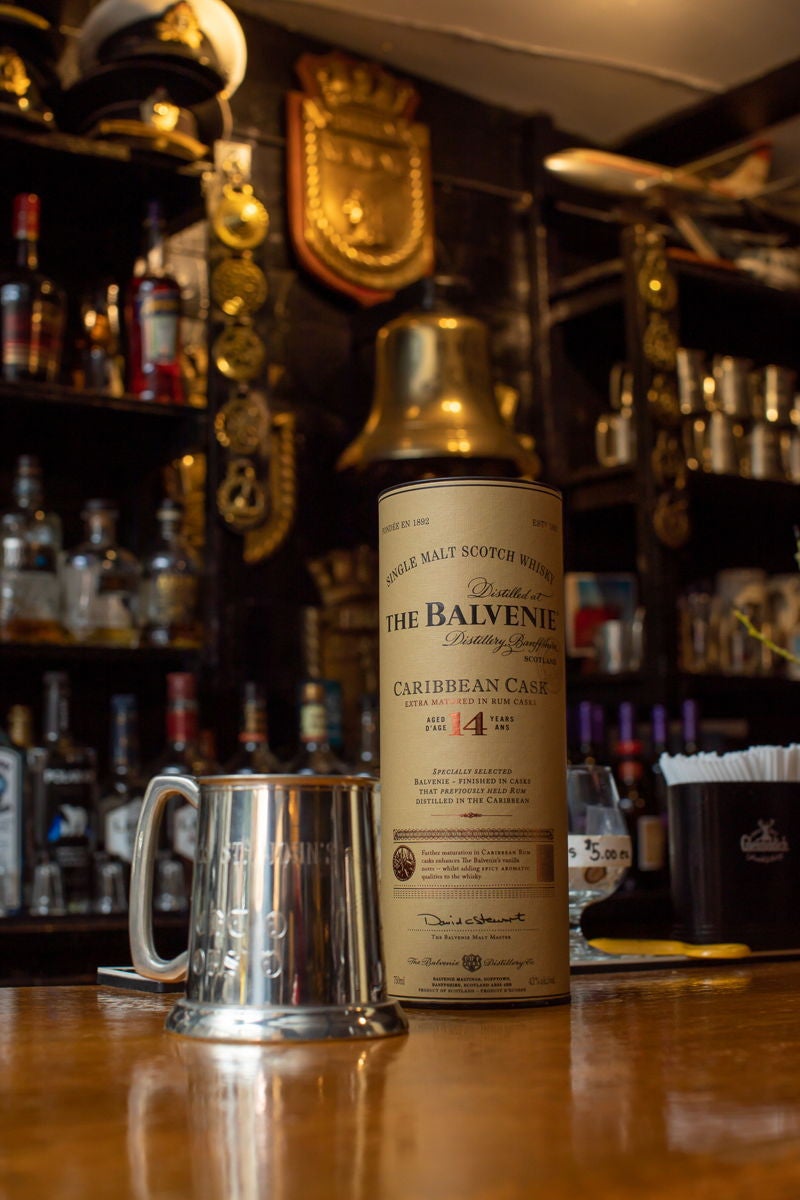 It must also be noted that Newfoundland has a long-running association with Caribbean rum,
most famously Screech, which is blended and bottled on the Rock after being imported from
Jamaica.
"And here we are, in this cozy place, with a warm cozy fire," says Paterson. "We're doing this in
a Canadian way."
The next day, we're off to Cape Spear, the most easterly point of North America waving across
the Atlantic to Scotland. It's a dramatic view with waves crashing hard against the rocky cliffs.
But it's more than just a photo-op. As Paterson explains, the whole history of whisky making is
linked to making the most out of what the land gives you.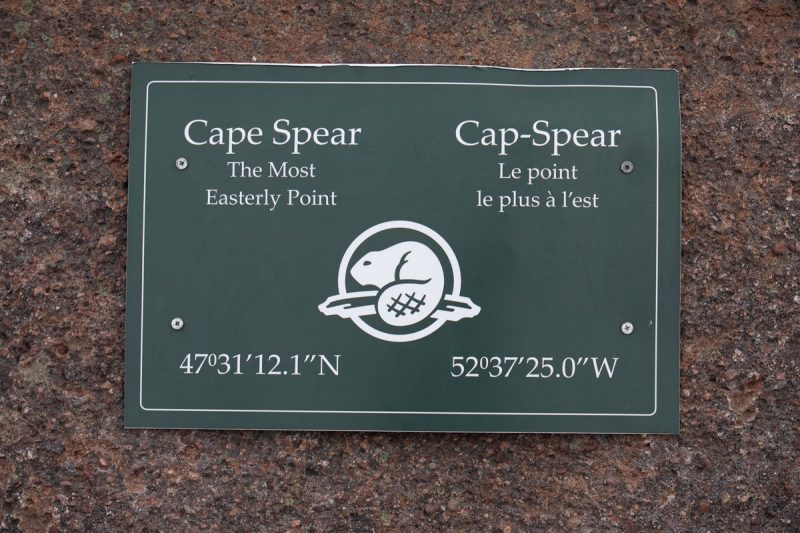 The word whisky comes from the Gaelic uisge, a shortened version of uisge beatha meaning
"water of life." Wine was not readily available in Scotland and Ireland so monks and
apothecaries distilled barley beer into a liquor which became known as whisky. It was originally
made as a medicine although there's nothing that warms you up when the wind is whipping
around like a good glass of whisky.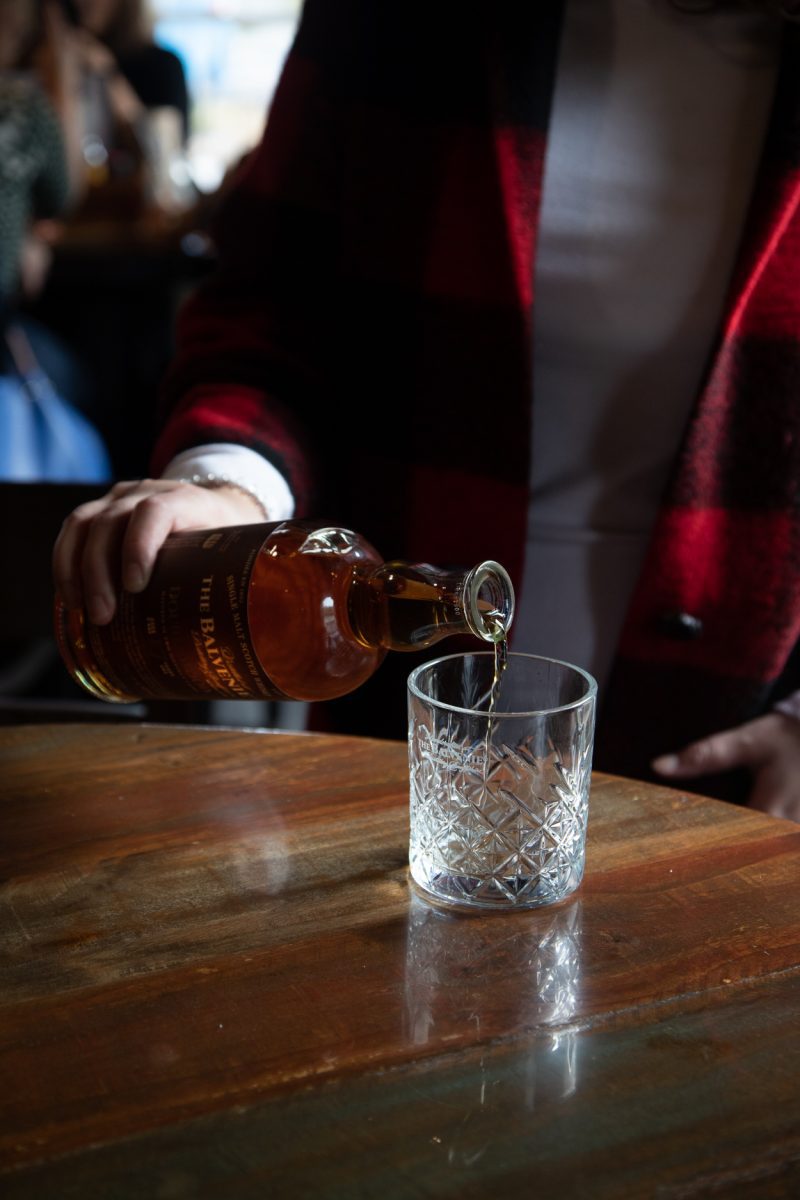 Plus, there's a Celtic cultural connection between Scotland and Newfoundland and Labrador,
which we explored on a road trip to Petty Harbour for a feast of fish and chips, cod cakes and
moose poutine.
While the Balvenie is known for its luxury blends, a bottle of Doublewood 17-year-old whisky
pairs perfectly with our hearty lunch. Matured in two distinct casks — an oak wood and a
sherry cask — Doublewood is a classic after-dinner drink best enjoyed when folks settle in after
eating to tell even more stories.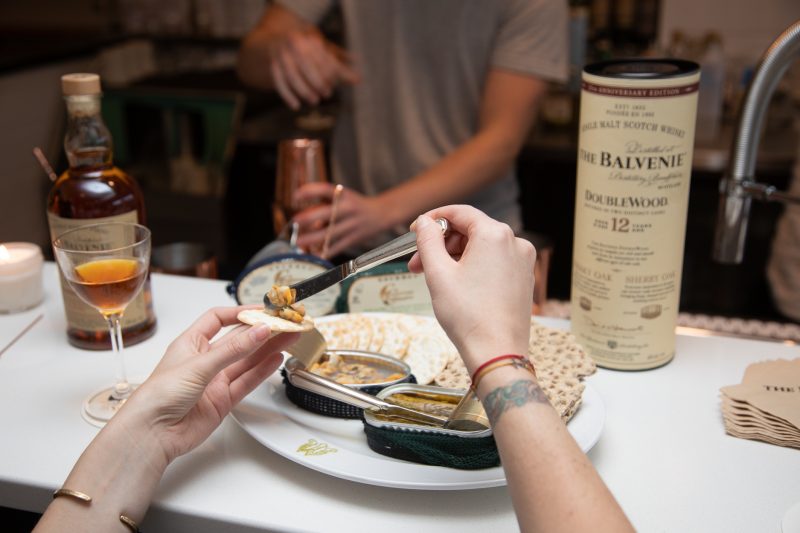 It becomes apparent, as our group bonds over conversations about other amazing meals, that
the Doublewood brings out both the sweet and savoury in our food and our experience.
We move on to WaterWest Kitchen and Meats, a more urban eatery recently opened by the
Mallard crew. Here we have artisanal cocktails made with Balvenie. I ask the whisky and
bourbon experts on the trip what their feelings are about using such a vaunted spirit as a mix.
After all, A top-shelf whisky is meant to be sipped and the nuances of its flavour profiles, the
ageing process, and finishing are meant to savoured, right?
And they agree that it feels strange to mix a $200 bottle of whisky with sugary substances, but
at the same time, it makes a killer Old Fashioned. Purists be damned!
St. John's is at the centre of one of Canada's most exciting culinary scenes. For dinner we're off
to The Merchant Tavern, a fantastic food hall housed in an old Bank of Nova Scotia building. It's
a Wednesday night and the restaurant is full. With its high ceilings and long tables, the room
has a big, boisterous personality.
The food is, again, terrific. The restaurant is co-owned by Jeremy Charles, who was named
Canada's Best Chef in 2018. Charles is one of the main players behind St. John's culinary
renaissance, advocating for sustainable practices based on local ingredients and traditional
recipes.
Charles dropped by our dinner for a dram and to share his own stories about St. John's. We are
truly living the good life, hanging out with a world-famous chef while sampling some of the
finest single malts in the world while eating beet salad, pickled mussels and freshly caught cod.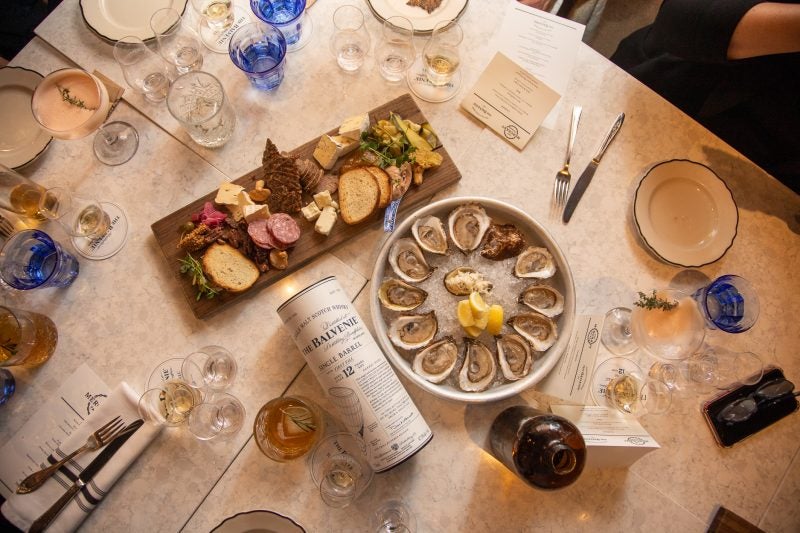 But it's not just about dropping names and dollars. We're sharing stories and making
connections. We're learning about how each whisky is different and each batch has its own
unique qualities—just like our friends old and new.
Day three starts off with a boat trip on the Atlantic and another realization: dining and drinking
and adventures are also helping create new stories. We meet the entrepreneurs behind the
Newfoundland Chocolate Company and the Third Place Cocktail Co. We spot Top Chef Ross
Larkin and his wife pastry chef Celeste Mah at the Bannerman Brewery. It turns out that in St.
John's, everyone is one degree of separation from each other.
And they all support each other. As one of our local hosts explains the traditional life on the
rock was hard and folks had to stick together to survive. Their luxuries were simple: good drink
and good company.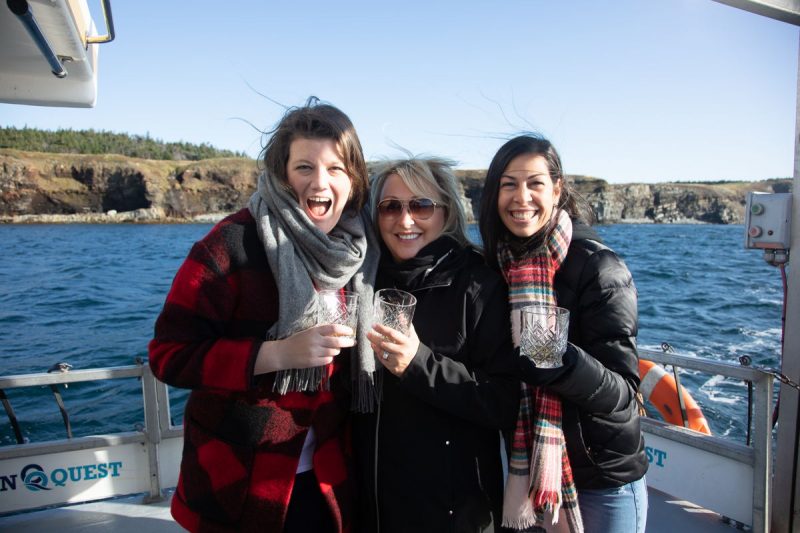 We stop off at Christian's on historic George Street. It's famous as the place where chefs
Anthony Bourdain and Lynn Crawford got Screeched in (aka made honorary Newfoundlanders).
We're here for more drams and an afternoon of songs and storytelling by troubadour Dave
Penny.
One of Balvenie's Gemma Paterson's passions is to pair whisky tastings with music. For
Paterson, music, food and atmosphere add flavour to life just like the stages of the malting and
ageing process of making whisky are what makes an exceptional dram.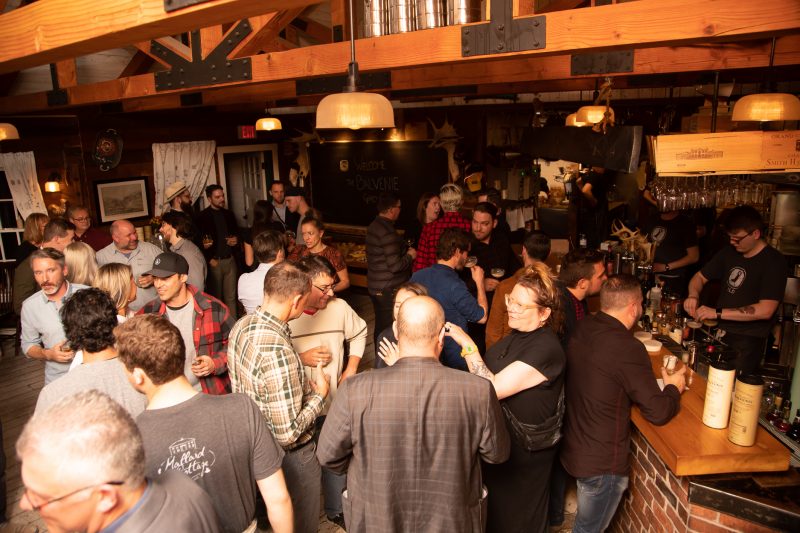 Before Penny's performance, Paterson recited a poem about the Balvenie's resident ghost, the
Green Lady. The poem was written by the distillery's head maltman, Robbie Gormley, on the
occasion of his retirement.
These tales are all true, Gormley did hear footsteps as he worked alone late at night. They also
help show that the brand is also made up of real humans.
We end our day with a Kitchen Party back at Mallard Cottage for the North American debut of
the Balvenie Stories series: The Sweet Toast of American Oak, The Week of Peat and A Day of
Dark Barley. Each whisky is presented in a carton detailing its origin story.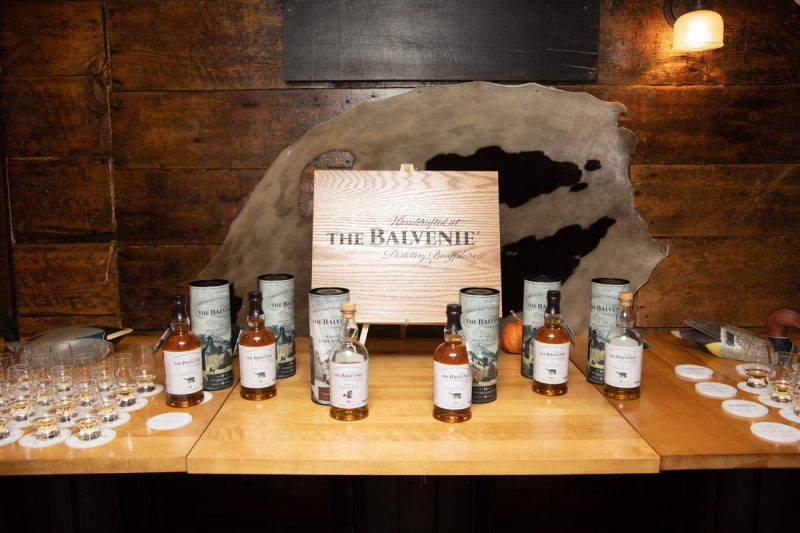 The Sweet Toast of American Oak was created by apprentice malt master Kelsey McKechnie
with guidance from Balvenie malt master David Stewart. This spirit has a 43 percent abv, and is
matured in ex-Bourbon barrels for 12 years before being finished for three months in bespoke
virgin American oak casks sourced from Kelvin Cooperage in Kentucky.
A Week of Peat is a new take on Balvenie Peat Week, a 14-year-old, heavily-peated malt which
was launched in 2017. This iteration has the 48.3 percent abv, and was first created in 2001
when distillery manager Ian Millar installed a peat burner on the side of the kiln. It's the only
week of the year Balvenie makes whisky the old fashioned way when distillers burned peat
from the land to fire their pots.
The Day of Dark Barley is a descendant of Balvenie 14 Year Old Roasted Malt, a whisky released
in 2006 that contains a percentage of dark roasted chocolate malt.
This version is a 26-year-old whisky is bottled at 47.8 percent abv, and is said to have flavours of
'toffee sweetness, some citrusy notes of tangy orange peel, followed by oak vanilla and a touch
of cinnamon and ginger spices at the end'.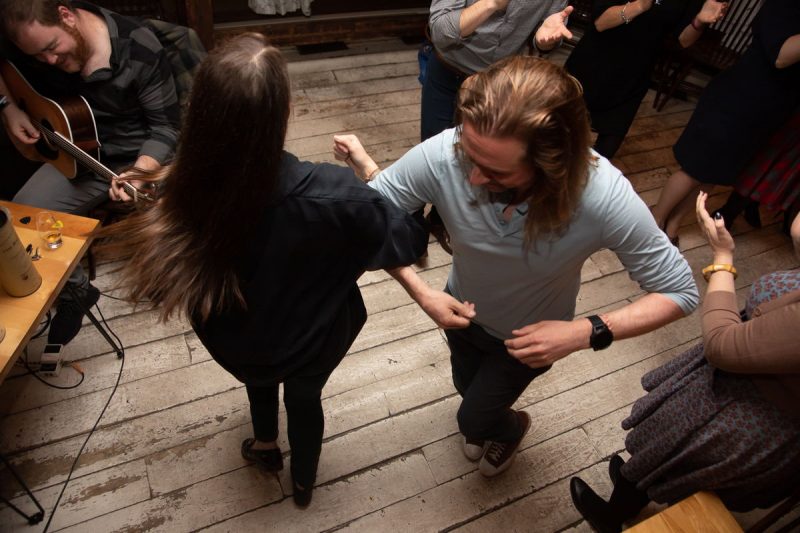 According to Paterson, its backstory goes back to a day I992 when an order of dark roasted
barley arrived early, catching staff unprepared. Robbie Gormley, the maltman, had to carry
every single sack to the barley loft, and then back down again.
This series is literally a distillation of all of Balvenie's history. And it's been a joy to drink it all in.