At Lyre's, we're here to provide one thing—Your Drink, Your Way. And with cocktails-in-a-can being all the rage lately, we're keen to offer an alternative that invites imbibers of all stripes to the party. That's why we've used our one-of-a-kind non-alcoholic spirits to craft a range of the finest, award-winningest, most refreshing ready-to-drink cocktails in the world. 
Read on to learn more about the ready-to-drink craze, and discover how you can enjoy your favorite canned cocktails—sans alcohol!—with Lyre's.
As reported by the top-notch industry analysts at IWSR, the popularity of ready-to-drink (RTD) alcoholic beverages is on the rise, with sales of canned and bottled cocktails increasing an astounding 214% from 2009 to 2019. What's more, according to the number-crunchers over at Nielsen, much of that growth is recent, with RTD sales rising 40% between 2018 and 2019 alone. And all of that happened before the COVID-19 pandemic made a night out at the pub, to put it mildly, a risky proposition.
Now, while the current ballyhoo around ready-to-drink beverages might seem like a new phenomenon, it is only the latest episode in a long history of take-home cocktail crazes.
As no less an authority than Smithsonian Magazine points out, human ingenuity—motivated by the universal need for decent drink—has been finding ways to package and transport high-quality refreshments almost since the invention of modern bottles and cans.
From the bottled cocktails sold in pre-Prohibition saloons to the canned Mai Tais, Gimlets, and Screwdrivers of 1960's house parties, ready-made thirst-quenchers have popped up again and again over the years to take the drinking world by storm.
Never to be outdone, we've decided to package up the magic of a handmade Lyre's cocktail and bring it to you—the epicures among you who insist on the very best in a beverage, with or without alcohol.
Have a look below to explore our latest and greatest ready-to-drink creations. And remember never to settle for anything less than Your Drink, Your Way.
Libations!
Lyre's G&T
From its origins as a refreshing malaria preventative to its current status as a staple drink found around the world, the cool, bubbly gin and tonic has been helping British expats, famous writers, and average Joes beat the heat while enjoying a touch of class for nearly two hundred years. Our ready-to-drink G&T pays homage to this classic potation, while also offering discerning tipplers a distinct, contemporary non-alcoholic beverage experience.
With a bouquet redolent of lifted orange blossom, lime, jasmine, juniper, and pepperberry—with, of course, a bracing touch of quinine—Lyre's G&T pairs perfectly with seafood, charcuterie, and fresh, in-season berries. Alternatively, feel free to enjoy this restorative fillip on its own, poured over a hefty helping of ice in a wine glass or stemless glass, or even sipped straight from the chilled can.
Sporting a generous, bubbly mouthfeel, firm flavors of juniper and citrus, and a delightfully dry finish, this bar-quality cocktail in a can is the perfect accompaniment to any hot summer evening spent in good company.
Lyre's Amalfi Spritz
Named for the exquisitely beautiful stretch of European coastline that for centuries has served the world's upper crust as a first-class tourist destination, Lyre's Amalfi Spritz captures the essence of a bright, sunny afternoon on Italy's southern shores, allowing you to share the brilliant, bittersweet flavors of this Continental classic anywhere in the world with the snap of a can-tab.
Inspired by the tasty and versatile spritz—first developed in the 1800s by Austrian soldiers stationed in Veneto, who would weaken the strong local wine by preparing it with a splash (or spritz) of still water—Lyre's Amalfi Spritz presents the nose with a heady mix of complex aromas, from rhubarb and bitter orange to distinctive Mediterranean herbs.
On the palate, the flavors of elderflower and bittersweet orange swirl with rich, full-bodied peach, while a fine bubble tingles the tongue. Finally, each delectable sip finishes with an invigorating dryness, for a sense of refreshment unlike any other.
A classic orange-red in color, Lyre's Amalfi Spritz makes a beautiful picture when poured straight from the can or served with ice in your favorite wine glass or stemless glass. Add an orange slice and a savory olive for that extra touch.
Lyre's Classico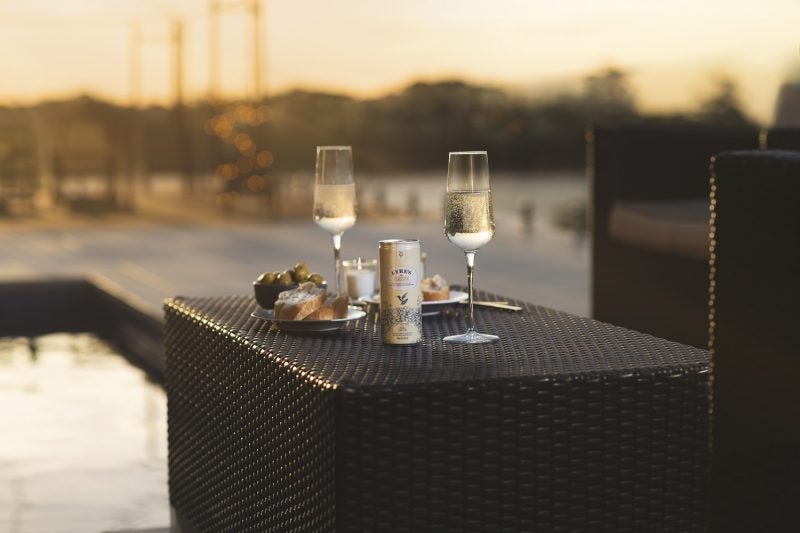 There's a reason sparkling white wines are the go-to choice for a pre-dinner aperitif—or aperitivo, as the same ritual is known in Italy. Taken before a meal to cleanse the palate and stimulate the appetite, a good aperitivo is fresh, just a bit bitter, and pleasantly fortifying.
Lyre's Classico offers non-alcoholic drink connoisseurs an aperitivo to rival any sparkling white wine, minus the troublesome booze. Attractively colored and offering the scents of lifted lime, fresh peach, and granny smith apple, this alluring beverage invites the drinker with the promise of a crisp, tart sip, sure to delight either as a precursor to a meal or as a standalone experience.
On the palate, anticipate the soft, rich flavors of pear, peach, and red apple, buoyed by a full-bodied mouthfeel. Serve chilled in a flute or coupette for an eye-catching start to your next dinner party.
Lyre's American Malt & Cola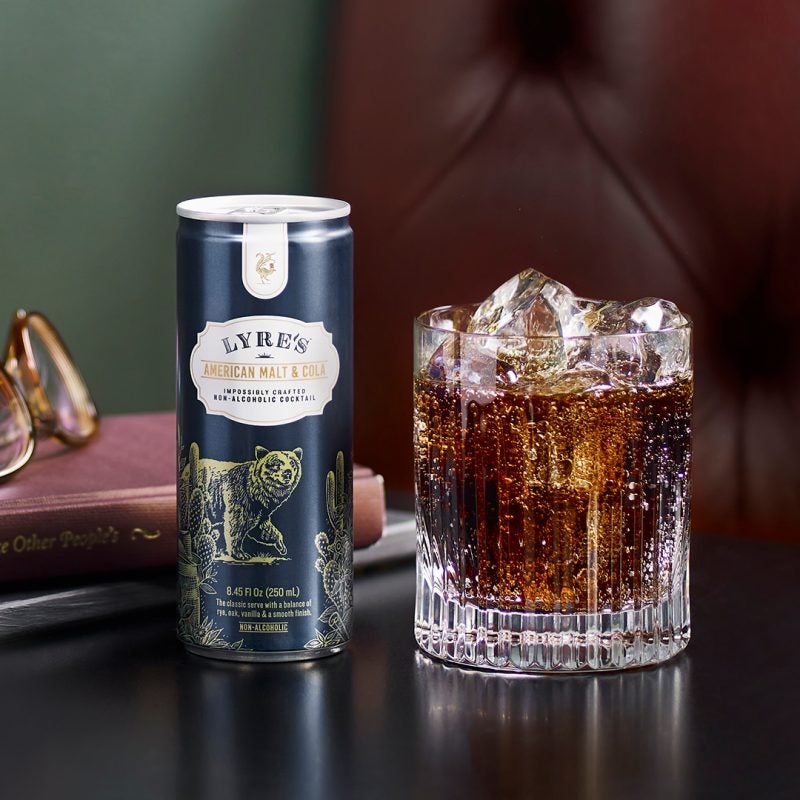 Lickety-split simple and downright delicious, the classic combo of bourbon and cola has been a cornerstone of Southern US drinking culture since at least 1907, when a renegade soda jerk was first recorded serving the sweet, fizzy concoction to soldiers who would quickly turn "wild and crazy" on the boozy, sugary mix.
Even if you're not fixin' to walk home catawampus from your friends' next soirée, this is a beverage not to be missed—which is why Lyre's American Malt & Cola offers all the flavor of a dynamite bourbon and cola, with none of the alcohol.
When taking a swig of this tasty concoction, be sure to savor the warm, generous layers of caramel, toasted nut, cedary spice, and rye, along with the sweet, unmistakable pop of good old-fashioned cola. Be warned—the rich, mellow finish will have you eyeing a second can before you're through with your first.
Speaking of cans, feel free to drink this one straight, or go all-in and serve over a heaping handful of ice in your best rock glass. For best results, enjoy by the fire on a starlit night, surrounded by good food, great music, and best friends.
Lyre's Dark 'N Spicy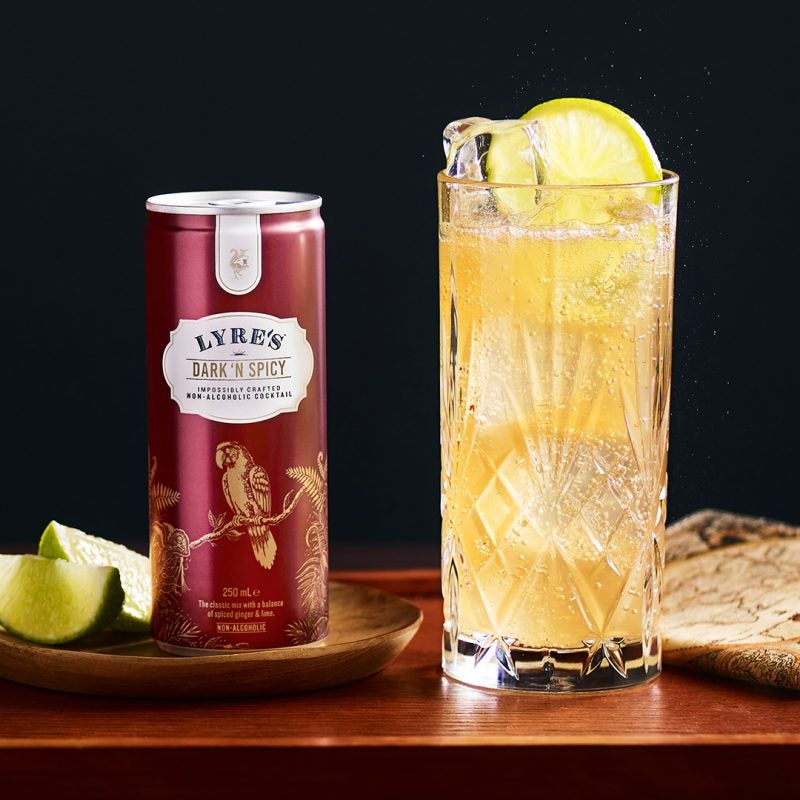 One of only four internationally trademarked cocktails in the world, the unmistakable Dark & Stormy inevitably stirs the imagination with fantasies of swashbuckling, tropical beaches, and adventure on the perilous seas of the New World.
In yet another instance of military exploits inadvertently leading to world-renowned cocktail recipes, the original Dark & Stormy was allegedly invented by British naval officers stationed in Bermuda, who combined the distinctive dark rum of local distiller William Gosling with a homemade ginger beer to produce a cloudy, spicy beverage that calmed the stomach and the nerves—and was uncommonly tasty to boot.
Lyre's Dark & Spicy offers all the rich, remarkable flavor of this classic hot-weather beverage—minus the alcohol that'll rob you of your sea legs. Clear your head and warm your belly with the hot punch of young ginger, paired perfectly with a refreshing hint of lime zest—all graced with strong notes of caramel and molasses, deep and black as the storm-tossed ocean.
Drink this fine cocktail straight from the can or bring out your inner pirate with a highball glass, plenty of ice, and a vibrant green lime wheel.
Writer: Myles McDonough
Follow Myles on Twitter @MylesMcDonough