The Negroni: Your Drink Your Way
At Lyre's we tip our hats to the customizers, modifyers, and personalizers of the drinking world—the thoughtful connoisseurs who know that there's no room for compromise where beverages are concerned. That's one of the many reasons we're proud to offer our own distinct, non-alcoholic take on the Negroni—a classic cocktail born out of one man's insistence on having the drink he wanted, the way he wanted it.
Or so the story goes. While the exact origins of the Negroni remain disputed, legend has it that the now-ubiquitous aperitivo was first concocted in 1919 by one Count Camillo Negroni… 
The Count, upon arriving at Florence's Caffè Casoni for a pick-me-up, decided he was in the mood for something a bit stronger than his usual refreshment. Rather than order a standard Americano—equal parts Campari, sweet vermouth, and club soda—Negroni asked his no-doubt surprised waiter to forgo the soda, and instead round out his drink with a healthy measure of gin. The resulting cocktail was an instant hit, and the Negroni family began selling a ready-to-drink version of the aperitivo known as 'Antico Negroni' later that year.
For more than a century, the Negroni has remained true to its roots as a beverage open to interpretation. From the Negroni Sbagliato ("mistaken Negroni") made with dry sparkling wine in place of gin to the White Negroni made by swapping Lillet Blanc and Suze for sweet vermouth and Campari, bartenders and wild-eyed drink-tinkerers of all sorts have found in the Negroni a solid base for mixological exploration. Recent years have even seen the development of the Barrel-Aged Negroni, a Portland innovation in which the classic formula of Campari, sweet vermouth, and gin is aged in old whiskey barrels.
What's more, since 2013, this versatile cocktail has been pulling double-duty as a focal point for philanthropy in the hospitality industry. Negroni Week, an annual event sponsored by Imbibe Magazine in partnership with Campari, is a worldwide, seven-day celebration of a cocktail that refuses to be put in a box. 
Participating bars and restaurants—now numbering more than 12,000—use the occasion to raise money for dozens of charities in categories ranging from animal rescue to food insecurity to racial equity. And with this year's Negroni Week happening from September 13-19, 2021, there's never been a better time to find a participating venue near you and, in the spirit of Count Negroni himself, insist on having Your Drink, Your Way.  
Lyre's Negroni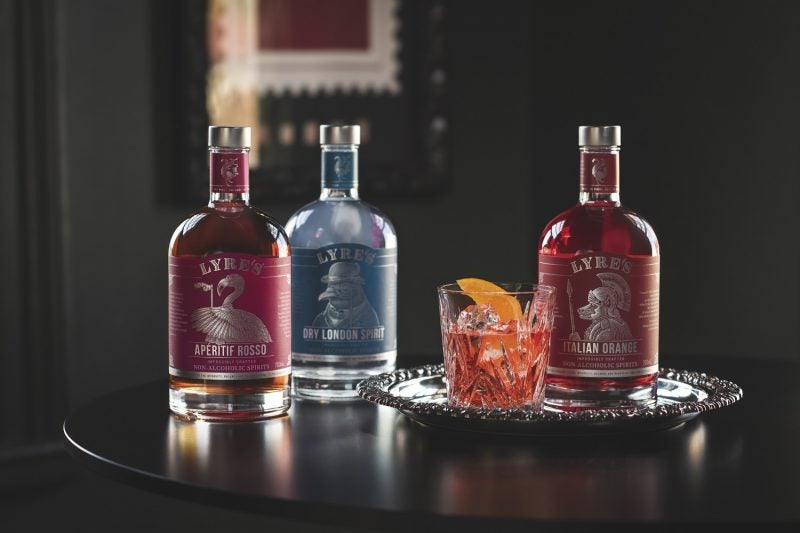 Naturally, at Lyre's, the sort of gustatory experimentation that made the Negroni possible is as much in our blood as alcohol isn't. Have a gander a tour unique Negroni recipe if you're looking for a flavor-packed restorative, and read on to familiarize yourself with the lovingly crafted non-alcoholic spirits that make this drink an experience like no other.
Lyre's Italian Orange
Though it predates the Negroni by several decades, the fortunes of the bitter, lipstick-red aperitivo Campari are inexorably intertwined with the global rise of the Count's cocktail creation. Originating as a pre-dinner appetite stimulant largely confined to Milan, Campari has ridden the Negroni's coattails to become a necessity in the majority of the world's well-appointed cocktail bars. Lyre's Italian Orange offers the full experience of this Italian original—down to sharp, citrusy taste and bright red presentation—minus the alcohol.
This unique spirit washes the mouth with the bright, bitter flavors of blood orange and red citrus, balanced by the smooth, generous taste of maraschino on the mid-palate. In time, the lengthy flavor experience tapers off into a persistent, pithy dryness.
Drink straight as an aperitivo, mix with equal parts Lyre's Apéritif Rosso and Dry London Spirit for a perfect Lyre's Negroni, or combine with citrus, soda, or tonic water for a delightful and eye-catching spritz.
Lyre's Apéritif Rosso 
Nearly as diverse in origin and application as the Negroni in which it is a chief ingredient, vermouth varies in color from brand to brand, and can range in flavor from sweet to sour. Named for the French pronunciation of the German Wermut, meaning wormwood—one of several botanicals used in classic formulas—vermouth has evolved from a standalone fortified wine to a key component in cocktail recipes the world over. Lyre's Apéritif Rosso pays homage to a classic sweet vermouth, allowing discerning tipplers to replicate their favorite cocktail recipes without the booze.
Blood orange and vanilla take the lead amid a rich mouthful of flavors. Warm caramel, citrus pith, and cocoa stabilize and harmonize the taste experience, contributing to a lingering mouth coating.
Curious to try the Americano that gave birth to the Negroni? Combine Lyre's Apéritif Rosso with Lyre's Italian Orange to enjoy a non-alcoholic spin on this bright, crisp refreshment. For a Stateside variation, stir over ice with Lyre's American Malt and a dash of bitters to create a delicious Lyre's Manhattan.
Lyre's Dry London Spirit
British as Big Ben, London Bridge, and Queen Elizabeth rolled into one, gin has been a pillar of drinking culture in every part of the world touched by the former Empire for more than three centuries. Originally an import from the Low Countries, gin had a long road to travel before arriving at the distinguished reputation it holds today. Indeed, during a roughly thirty-year period in the early- to mid-1700's known as The Gin Craze, home-brewed supplies of the spirit became popular as a dirt-cheap rotgut for London's down-and-out masses, leading to near-constant intoxication and at times practically shutting the city down.
Thankfully, Lyre's Dry London Spirit won't be causing any such sociological crises here in the 21st century. Offering all of the complex flavor of gin with none of the hard stuff, this is the perfect non-alcoholic spirit for those nights when you want to enjoy a juniper-infused cocktail, without necessarily reenacting some of the darker scenes from Oliver Twist.
Firm flavors of juniper and citrus predominate, while earthy notes fill the mid-palate. Expect lovely, vinous qualities throughout, with an additional bit of pepperberry warmth and the requisite dry finish. Pour with premium tonic water for a classic gin and tonic, and garnish with a slice of pink grapefruit and rosemary for extra flair. Or mix with Lyre's Italian Orange, citrus, mint, and Mediterranean tonic water for a Lyre's Pink Gin Fizz.
Writer: Myles McDonough
Follow Myles on Twitter @MylesMcDonough