The award-winning whiskey founded by the rapper and recording artist is the perfect addition to your home bar this season.
The Fall is synonymous with a few things: football, pumpkin spice everything, Instagram-worthy foliage, and of course, whiskey. Whether you're looking for something to bring to the next bonfire or tailgate, or simply searching for a new spirit to sip at home this season, you can't go wrong with picking up a bottle (or two!) of Creek Water Whiskey.
Through a partnership between American rapper Yelawolf and distilled spirits company Next Century Spirits, Creek Water Whiskey was launched in 2018 and has been pushing the boundaries ever since. Creek Water's 100-proof whiskey as well as its more recently launched 70-proof cinnamon whiskey are made using all-American grains, including corn, rye, and barley. Both are carefully distilled, matured, filtered, and bottled in the US and have already proven to be top contenders in the spirits industry.

Creek Water has fostered a profound connection with its dedicated consumer base ranging from millennials and hipsters to blue-collar workers and bikers alike. The whisky's unique taste profile coupled with Yelawolf's distinct and unmistakable style has allowed Creek Water to transcend all traditional barriers in the already established American whiskey category. The brand's authenticity is apparent through its packaging and social media presence while its taste stays true to its all-American roots.
The Man Behind the Brand: To know Creek Water whiskey is to know Yelawolf and to know Yelawolf is to know a visionary, creator, designer, influencer, artist, and serial entrepreneur all rolled into one. In addition to Creek Water, Yelawolf is also the founder of his lifestyle and clothing brand Slumerican. Named after the rapper's debut album, released in 2005 and recorded in the basement of his Gadsden, Alabama home, Creek Water embodies all that is Yelawolf. Both the rapper and his devoted fan base have played an integral role in the brand's overwhelming success and will continue to do so for the foreseeable future.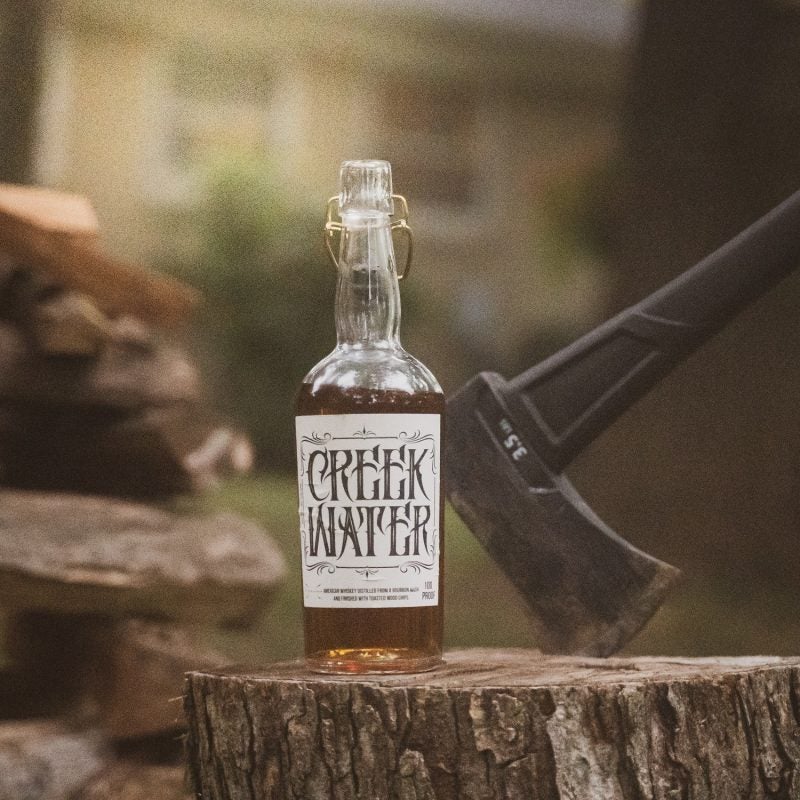 The OG: Creek Water's flagship 100-proof variant is carefully curated in the hills of Durham, North Carolina using a mash bill of 75% corn, 21% rye, and 4% malt. Upon opening the bottle, aromas of sweet corn and maple syrup fill the air while the spirit's deep copper color draws you in. Creek Water's Master Blender Nick Scarff notes that they keep the liquid at a higher strength to preserve more of its flavor intensity, which is undoubtedly present in every bottle. Both the sophisticated whiskey drinker and the novice will appreciate Creek Water's unique flavor profile which features notes of sweet corn, vanilla, baking spice, dried tobacco, and leather. Despite its higher proof, Creek Water has a short and unbelievably smooth finish.
Spicing Things Up: Launched in the spring of 2020, Creek Water's American Cinnamon variant is just as smooth as its original 100-proof expression but adds an extra-spicy cinnamon kick to the mix. Creek Water's cinnamon variant eliminates that artificial sugary taste that is often present in competitors and replaces it with real cinnamon flavor. On the nose, you'll immediately get notes of baking spice and vanilla, while on the palate you'll be delighted by all the cozy flavors of fall; brown sugar, honey, and cinnamon on the front end followed by a lingering heat, toasted oak, and dark chocolate.
In the Spirit of Winning: Between its 100-proof and American Cinnamon whiskies, Creek Water has been awarded numerous medals in sophisticated spirits competitions across the nation. The brand has taken home gold (and double gold!) medals in competitions including the SIP Awards, the International Spirits Competition, and more. Creek Water is also considered one of the top brands by bartenders, receiving prestigious accolades at the Bartender Spirits Awards, a competition judged exclusively by bartenders, bar managers, and mixologists.
Sip and Serve: There's no right way to enjoy Creek Water, so you can feel free to sip neat, on the rocks, or in your favorite cocktail. Also, as a craft spirit retailing at around $25 a bottle, Creek Water makes for the perfect spirit to share—whether that be chilled shots at a tailgate or batched in a large-format cocktail. In need of some cocktail inspiration? We've rounded up a few of our favorites for every drinking occasion.
At Home: The Ginger Creek
Ingredients:

1. 5 ounces Creek Water 100 Proof Whiskey
3 ounces Ginger Ale

Build: Pour whiskey and ginger ale over ice in a highball glass and garnish with a lime wedge.                                        
At the Party: Creek Water Smash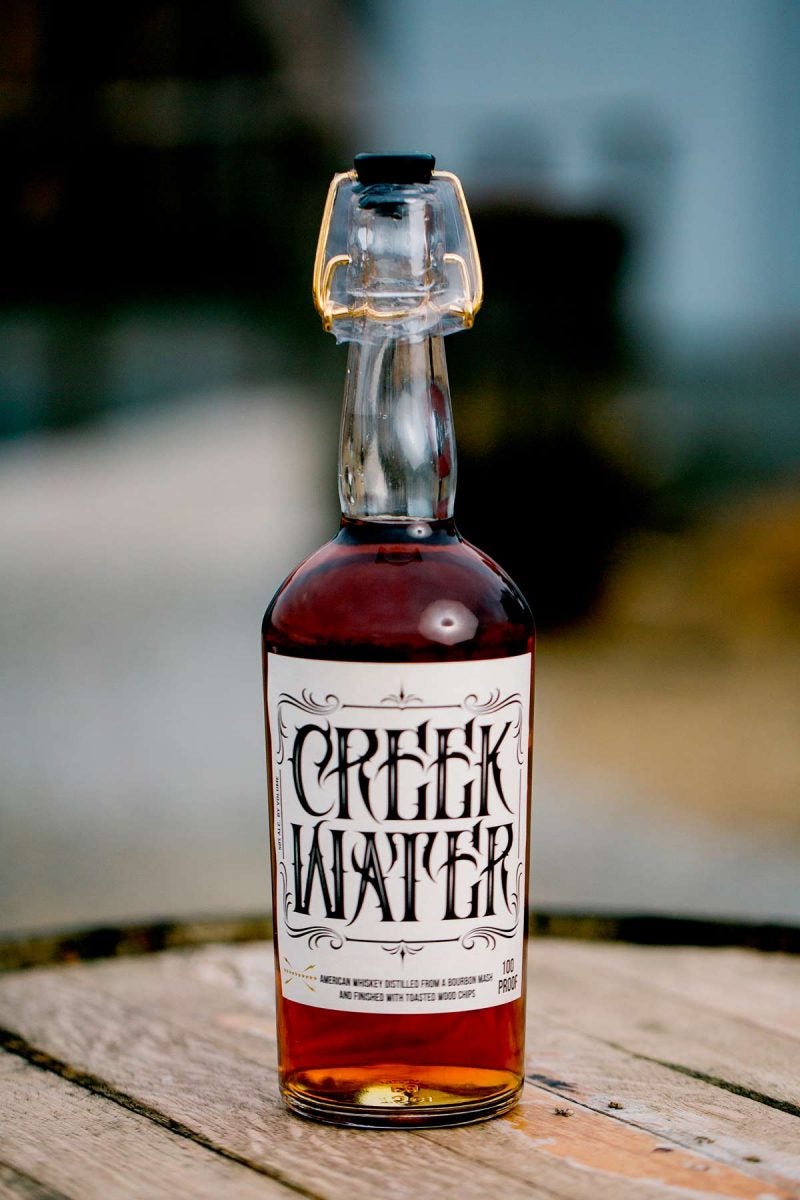 Ingredients:

1 bottle of Creek Water 100 Proof Whiskey
9 ounces of lemon juice
6 ounces of simple syrup
A few handfuls of mint leaves

Build: Pour 1 bottle of Creek Water 100 Proof Whiskey into a large pitcher. Stir in the lemon juice. In a cocktail shaker, gently muddle mint leaves with simple syrup. Dump into pitcher and stir. Add ice as needed and serve.
At the Tailgate: Creek Fire
Ingredients:

6 ounces Creek Water American Cinnamon Whiskey
Ice

Build: Pour Creek Water American Cinnamon into a cocktail shaker with ice. Shake and strain into 4shot glasses.
Creek Water is available in 26 US states and Canada. For a full list of retailers or to have Creek Water delivered right to your home, visit CreekWaterWhiskey.com.
Want to stay connected? Follow Creek Water Whiskey on Instagram, Facebook, and Twitter.