If you're looking for a new style that's as versatile and adventurous as you are, you should check out DUER. This Canadian brand has a wide range of performance apparel options for both men and women. Their denim jeans are made from specialized technical fabrics that give you the comfort and flexibility that you need to live life to its fullest without being held back by what you're wearing.
A Brand Focused on Adventure
Gary Lenett, the founder of DUER, knew he wanted to create jeans that were as fun to look at as they were to wear. This aspiration came from a need that he saw to be filled: to give people a pants option that would suit their busy yet adventurous lifestyles. For him personally, Gary wished he could ride his bike to the office and walk straight into a meeting without having to change first.
The perfect clothes have a profound impact on a person's life in ways they might not realize. We tend to perform better, have richer, deeper experiences, and have more time to commit to healthy habits that further enrich our lives. That's exactly what Gary Lenett wanted to provide with his clothing line.
Local Yet Worldwide
DUER gives you the satisfaction of knowing that you are giving your business to a company that's based in Canada, selling products that were designed in Canada. At the same time, DUER's partnerships with their factories around the world makes the company's production line as flexible as the pants themselves. Whenever changes need to be made in their supply chain to deliver products to their customers more efficiently, DUER has the ability to adapt quickly.
Why Try DUER?
Comfort and Style Meet
Traditional denim jeans just don't offer the flexibility that you need if you are living a life that's constantly in motion. On the other hand, stretchy workout clothes don't always fit into every social situation.
With DUER's unique form of denim, their pants get five times the stretch that a standard pair of denim jeans will offer. At the same time, they give off the appearance of a regular pair of jeans. It's something you can wear anywhere without looking like you just came from the gym.
Technical Fabric
This specialized denim is optimized for your daily performance. Technical fabric means that it helps to regulate your temperature. On hot days, you'll feel the coolness that these pants maintain even as you hustle throughout your errands. When it gets colder outside, the jeans are designed to trap your body heat inside and keep you from being frozen out.
DUER pants provide breathability to keep you feeling fresh and free all day long. The fabric is lightweight so you don't have to worry about something bulky weighing you down. It's also durable enough to endure even the most rugged lifestyles without tearing or wearing out.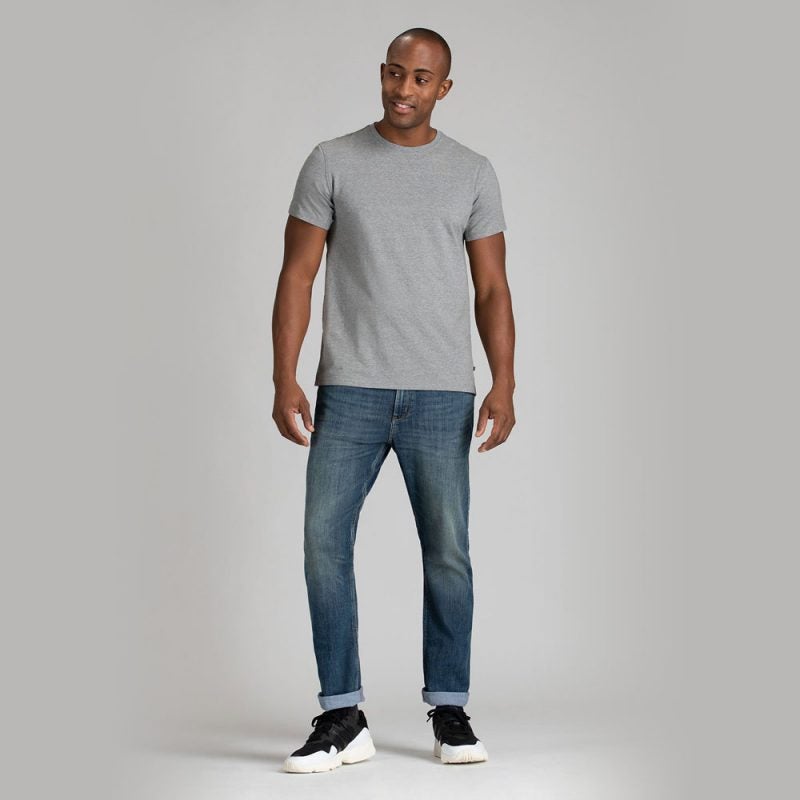 Sustainable Materials
It's more important now than ever to take action and lower human impact on the Earth. That's why DUER is devoted to using sustainable materials in their products. By integrating fibers that are both natural and sustainable, they've created jeans that you can feel good about wearing. The fibers that make up 50% the pants' material come from wood chips and other plants as well as recycled plastic bottles.
In addition to the materials they're made of, choosing these types of pants means investing in quality clothes that are going to last you a long time. This practice of buying fewer pieces of clothing by choosing to go for the higher quality options that are made to last is known as slow fashion. It's a simple choice that you can make to have a positive impact on your environment.
Quality You Can Trust
Every piece of performance apparel purchased from DUER comes with the promise that they practice what they preach. You're purchasing a pair of pants that will suit your lifestyle and help you be the person you want to be along every step of the way. Each pair of jeans is crafted with care with a high standard of quality control, so you know what you're paying for every time.
And when it comes to cost, you'd be hard-pressed to find other quality high-performance pants at the prices that DUER offers. The overall value of their products makes them a great place to shop for people on any kind of budget. Their competitive deals make it easy for you to stock up on their premium athletic wear without breaking the bank.
Unmatched Versatility
No matter what you've got going on in your busy life, DUER jeans are flexible enough to roll with the punches. On days where you seemingly have a million places you need to be, it takes a special type of clothes to perform well through every item on the agenda. These jeans are perfect for people who lead highly active lifestyles but also want to be comfortable, casual, and need suitable attire for semi formal situations.
Give Your Washing Machine a Break
With the superior fibers that make up the technical materials of DUER's jeans, you don't have to wash them as often. This not only means saving time from doing less laundry, but you'll also be cutting back on the amount of water you use. In addition to lowering your carbon footprint, this is a great way to lower your water bill.
Unbeatable Performance
Part of DUER jeans' superior ability to perform comes from the extra features that you might miss if you're not looking carefully. This brand has a signature gusset designed for a more comfortable fit, and the fabrics are specialized for maximum stretchability. On top of it all, the jeans actually feature pockets that you can use to put things in, rather than the ornamental nonsense that similar performance clothes come with.
To prove that they're devoted to high performance, DUER stores come complete with playgrounds to give customers a place to test out their products. The only way to know for sure that you love a pair of pants like this is by taking them out into the wild and seeing them in action.