Love is in the air, and the beautiful hues of red and pink are soon to set the atmosphere for a heartwarming Valentine's Day. Grab your bouquet of roses and a glass, sit back and relax. Billionaires Row has the perfect alcohol to pair with all Valentine's Day festivities, adding a smooth and delicious taste to your day.
What better way to cherish those around us than enjoying a bubbly drink in company with loved ones? Billionaires Row offers the perfect Champagne Brut Rosé that adds a nice twist to your average cocktail. Here are some of our favorites that your friends and family will be sure to enjoy year round!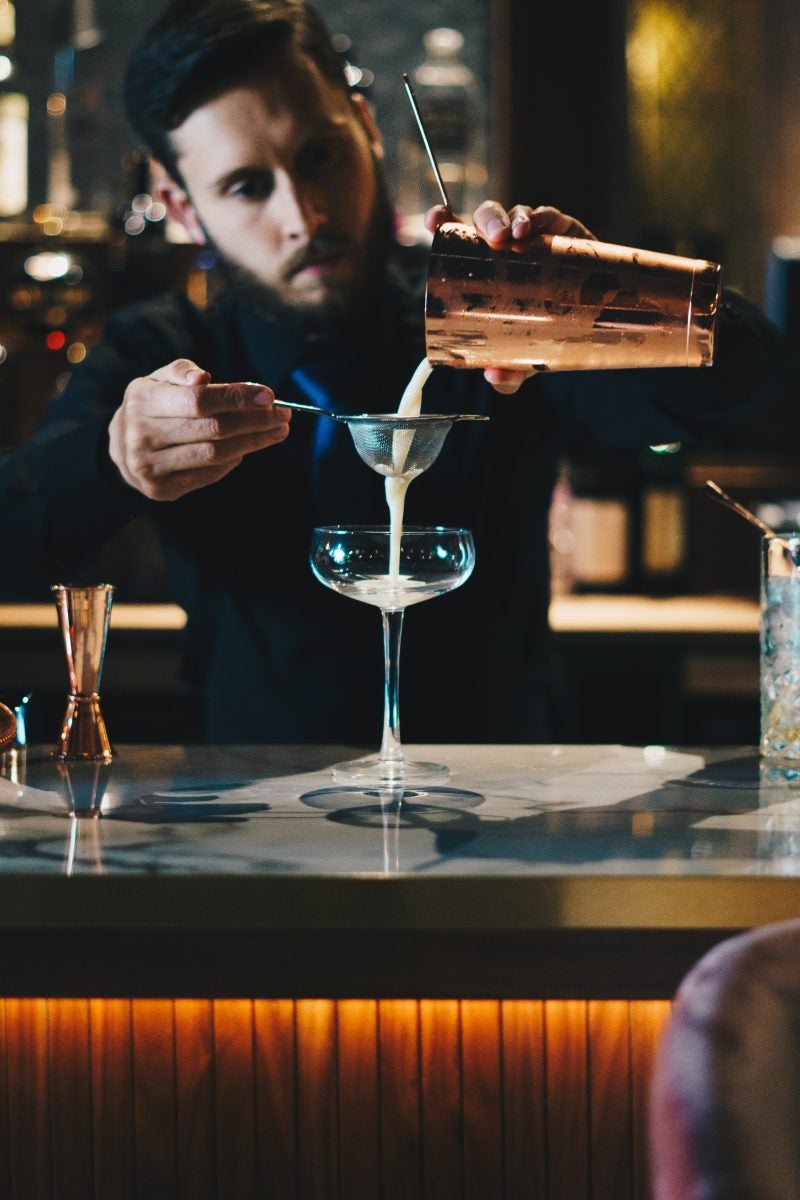 French Spritz
Originating in the 1930s, the French spritz became popular when French people vacationed. Like the French, this easy recipe will serve as the best drink for any occasion, such as baby showers, weddings, or to set the mood for a beautiful Valentine's Day!
Ingredients
Champagne Brut Rosé
St. Germain- Elderflower Liqueur
Water- To dilute the drink for a lighter taste
Steps
Add the Champagne Brut Rosé, St. Germain and water in a tall glass with ice.

Garnish with a lavender sprig and add a straw. 

Enjoy! 
Peach Raspberry Rosé Bellinis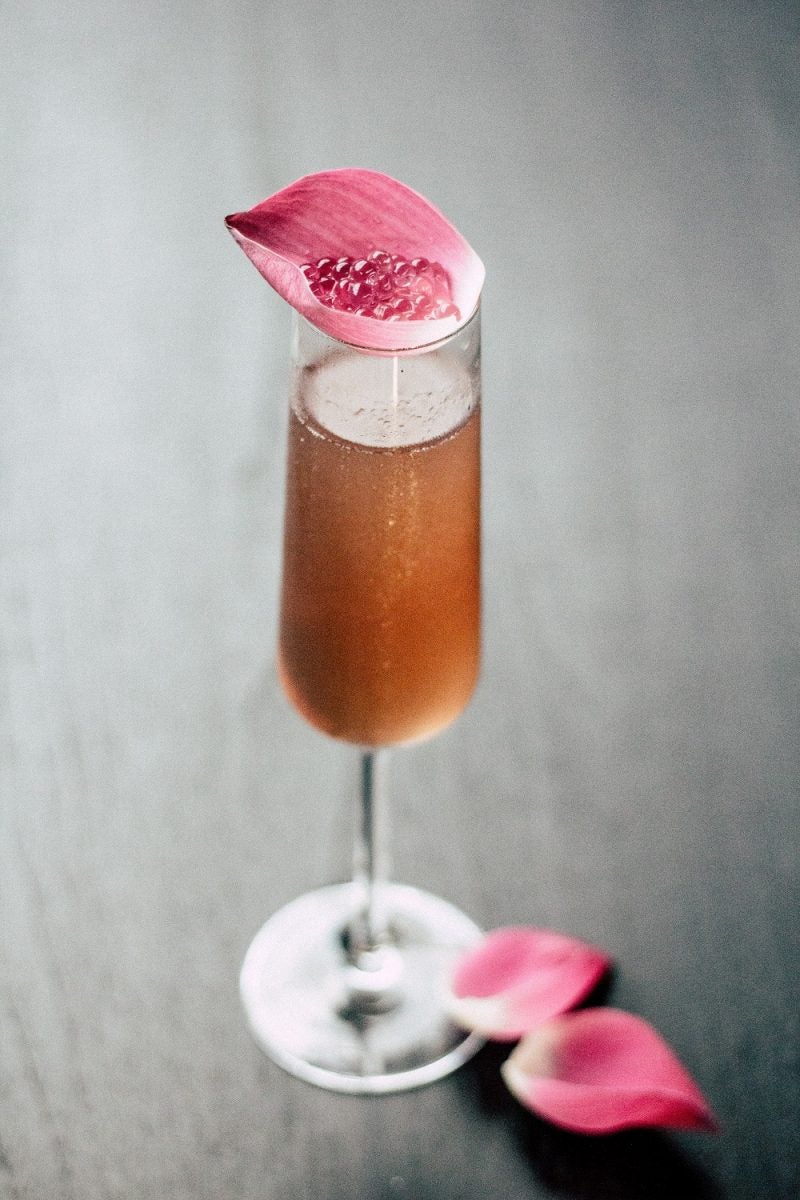 Your partner is sure to love you, as the Bellini is a simple yet delicious drink! Pairing this classic with Champagne Brut Rosé elevates the experience and immediately becomes a crowd pleaser. The Bellini is a drink that comes from Venice, Italy, and pretty much signifies old-school glam. It's a simple cocktail that is made quickly, allowing you to immediately feel like a movie star. This fresh drink will be sure to bring in the luxurious notes of the Champagne Brut Rosé while being a fan favorite at any event.
Ingredients
2 cups sliced peeled firm ripe peaches (you can use defrosted peaches as well)
1 cup fresh raspberries
¼ cup cold water
1 to 3 tablespoons honey
½ teaspoon freshly squeezed lemon juice
½ teaspoon rose water
1 (750 ml) 10℃ chilled bottle of Champagne Brut Rosé
Rose petals and more raspberries for garnish 
Steps




For the Bellini Puree:
Combine 2 cups of peaches, 1 cup of raspberries, ¼ cup water, 1 tablespoon of honey, ½ teaspoon of lemon juice, and rose water.

More honey can be added, up to your discretion.

Pass the mixture through a sieve to remove raspberry seeds. If needed, pass through a couple times.
Now to the drink!
To serve your guests, place puree in a pitcher and add the chilled bottle of Champagne Brut Rosé.

Stir to mix the puree and Champagne well.

To make individual Bellini's, put 2 oz of the puree in a Champagne flute.

Top with 4 oz of the Champagne and stir to combine.

Top with some raspberries for that extra pink color to bring in the summer fun!
Rose + Mint Champagne Cocktail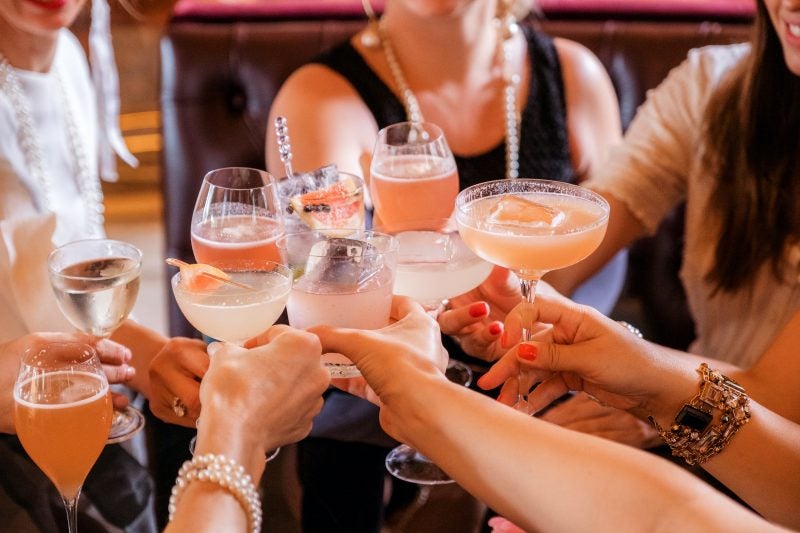 This refreshing drink is both delicious and perfect for those photo ops to show off your love and lover. With the Champagne Brut Rosé delicate blend and fresh mint leaves on top, this is the perfect refreshing drink to share. Pair with a charcuterie board with goat's cheese or at the end of a meal with a red fruit tart, and you will feel like a million bucks!
Ingredients
2 cups sugar
2 tablespoons of honey
½ cup mint leaves
4 tablespoons lime juice
1 cup dried rosebuds
2 bottles of Champagne Brut Rose
Steps
Rose Syrup:
Combine sugar with honey.

Add 1 cup of water in a saucepan.

Stir occasionally for about 30 minutes.

Remove from heat and strain.

Stir in fresh lime juice, crushed rosebuds and rose water.

Refrigerate for 30 minutes or until chilled.
Cocktail:
When ready to serve, add 2 tablespoons of rose syrup to a champagne flute or glass.

Top with Champagne Brut Rosé. 

Garnish with finely crushed rosebuds and mint leaves. 
Not only does Billionaires Row offer a delectable Champagne Brut Rosé, but an equally beautiful Cognac that will surely impress. Elaborated in France with superb methods, Billionaires Row, BR Cuvée XO serves as a complex yet perfectly balanced blend of spice and fruits. Through the incorporation of oak barrel aging, the best flavors have been extracted for the most seductive drink to offer to friends and family. While your BR Cuvée can be served "neat" or "on the rocks," below are some recipes that would pair well for any occasion, ensuring your guests will never forget such a delicious drink.
The Mint Julep 
U.S. Senator Henry Clay was first introduced to this classic in Washington, D.C. in 1850. By 1983, it became the official drink of the Kentucky Derby. It's even recognized by the 1951 group The Clovers with the song "One Mint Julep," which was later covered by Ray Charles. Like the song that depicts the protagonist struggling to only have one Mint Julep, your partner will be sure to feel the same way about this simple yet delicious cocktail.
Only taking three minutes to prepare, the iconic cocktail includes bourbon, sugar, mint, and crushed ice.
Ingredients  
4 to 5 mint leaves 
2 sugar cubes, or ½ oz simple syrup
2 ½ ounces of Billionaires Row Cuvée XO
Mint sprig to garnish
Steps
Place mint leaves and sugar or simple syrup into a julep cup or double old-fashioned glass.

Muddle the mint and sugar to release the aroma and oil from the mint leaves.

Add the BR Cuvée XO.

Fill the glass with crushed ice and remember to stir well until the glass becomes frosty.

Add mint spring for garnish. Serve with a straw and enjoy!
Sidecars
Having similarities to the Brandy Crusta, a cocktail with roots in New Orleans, known for their extravagant Mardi Gras celebrations and beautiful 18th-century buildings, the Sidecar is deemed as the father of many cocktails. Despite this, the Sidecar's origins are still unknown, speculated to have stemmed from either London or Paris around the end of World War I. Like those in Paris, embody the aura of love with this delicious yet easy three-step recipe.
Ingredients
2 oz BR Cuvée XO
¾ oz Triple Sec
¾ oz Lemon Juice 
Steps
Pour all ingredients into a cocktail shaker filled with ice.

Shake well.

Strain into a cocktail glass. 
French Cognac 75
Ever wondered where the name came from? This delicious drink is said to be named after the fast-firing 75 millimeter field gun that was utilized by the French during World War I. Originating in 1915 Paris at The New York Bar, this drink is an elegant choice with flavors of lemon that will pair perfectly with the spice of BR Cuvée XO, and will be sure to spice up your night.
Ingredients 
1 oz BR Cuvée XO
¼ oz fresh-squeezed lemon juice
¼ oz simple syrup
4 oz Champagne (BR's Champagne Brut Rosé for a twist on this classic drink)
Steps 
Shake Cognac, lemon, and simple syrup with ice.

Strain into a chilled champagne flute glass.

Top slowly with 3 to 4 oz of Champagne and garnish with a lemon twist. 
*To make a lemon twist, cut the pulp off the peel of a lemon slice so that you have one long strip of peel. From there, twist the peel into a curly-q shape to make a nice garnish for your delicious drink.