For Scottish distillers Ardbeg, every bottle of whisky tells a story. Recently, Ardbeg hosted an intimate tasting event for Toronto to experience it's newest blend, Traigh Bhan (pronounced 'Tri-Van'). And the company's global brand ambassador, Hamish Torrie, was on hand to share some of the history of the brand.
As with any good tale, location is important. The Ardbeg Distillery is located on the remote of isle of Islay, part of a cluster of islands called the Inner Hebrides in Scotland. It's a tough landscape, buffeted by stinging winds and jagged, volcanic rock. But it also has a cruel beauty. In fact, this rare 19 Year Old single malt is named after the otherworldly vista of Islay's Traigh Bhan – known locally as The Singing Sands.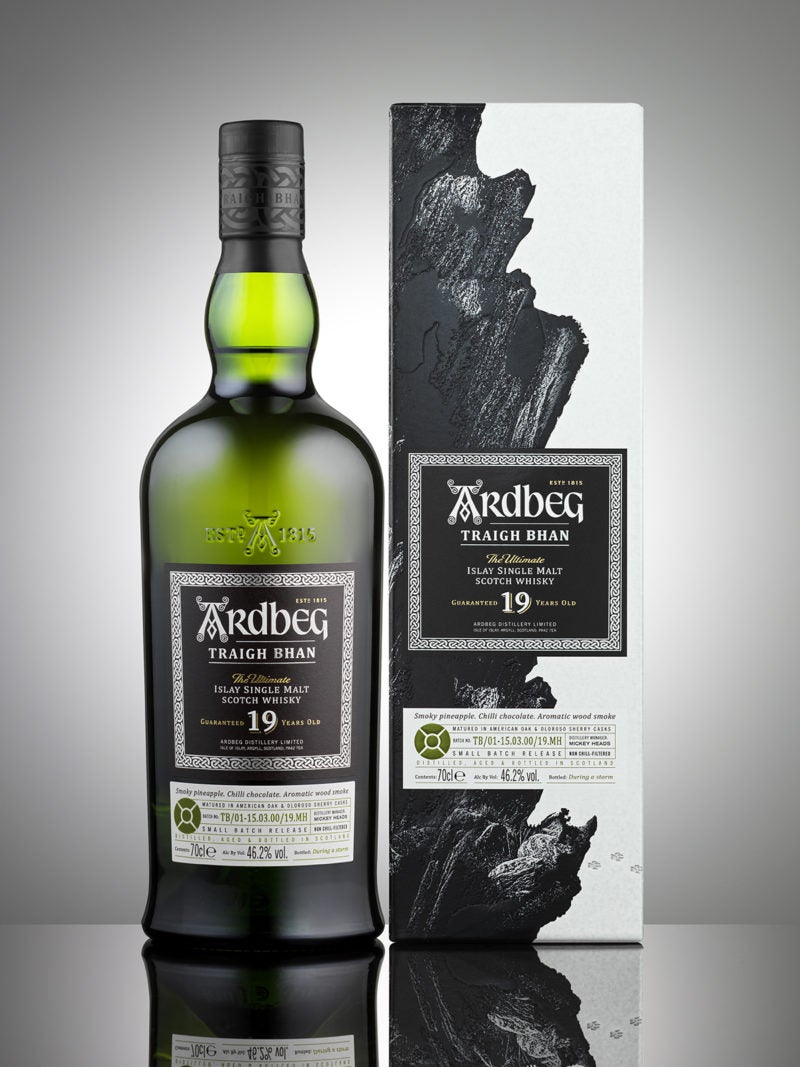 Likewise, the company has weathered its share of challenges since it was founded in 1798, including a complete shut down in the 1980s.
Low level production began again at the end of that decade. Then, in 1997 the distillery was bought and reopened by Glenmorangie (who where subsequently taken over by the French company LVMH in 2004).
Throughout these troubles, the reputation of this heavily peated whiskey continued to grow. One of the biggest reasons Ardbeg remains so popular is that each batch, while consistently of high quality, is also unique.
According to Dr Bill Lumsden, Ardbeg Director of Distilling, Whisky Creation & Whisky Stocks, "We hope that, by slightly tweaking the batch recipe year-on-year, Ardbeggians can have some fun exploring the finer details of this ever-changing dram."
"As far as taste goes, this 19 Year Old whisky plunges the palate into notes of smoky pineapple and aromatic wood smoke,
with a sweet mouthfeel of smoked chilli chocolate and paprika," he adds. "The intense notes then peter out through a long, smoky finish."
Which brings us back to the magic of Islay. The distillery has only two pot stills. Furthermore, Ardbeg is one of the few Scottish distilleries to use a purifier, which leads to a smoother spirit.
Which is why, says Drummond, this "new, permanent aged Ardbeg is a rare occurrence, and cause for celebration.
Says Torrie, another reason for Ardbeg's enduring success is a group of super fans called "The Committee."
While the Islay's population tops out at around 3,000 souls, the Ardbeg Committe has a worldwide membership of over 120,000. Their goal is to help spread the stories and dispense drams to the uninitiated.
Ardbeg, in turn offers members exclusive tastings to and first dibs on new bottles that hit the market. To mark the release of, each yearly batch will feature a unique code on the carton, bottle and foot label. That way fans can research their batch code at Ardbeg.com for more information on their whisky's story and note the subtle differences in flavour profiles each year.
Here are the tasting notes for this year's Traigh Bhan story: this guaranteed blend has an ABV of 46 percent. The batch was matured in American oak and Oloroso sherry casks. It has a rich bronze colour and a gentle aroma of smoky pineapple, soured cream and wood smoke with notes of planed oak and supple dark leather. And Ardbeg describes the flavour thusly: "sweet toffee and liquorice draw you in.
A splash of water releases a surge of unexpected notes. Struck flint, herbal pine resin and coal tar effervesce towards citrusy lime sherbet and subtle, yet sweet vanilla cheesecake."
It sounds like a lot to take in, but the peaty palate of smoky and salty chili chocolate and paprika notes unify these flavours and provide a smooth finish.
This gentle mix of smoky and sweet is also known as 'the peaty paradox'. And since Ardbeg's rebirth, its rare recipes have made it stand out in the whisky world, adding many awards and accolades to it's story. Most recently, in the International Whisky Challenge 2019, Ardbeg was named Distillery of the Year and Ardbeg took home three more awards, including best Islay malt. Meanwhile, Ardbeg Uigeadail was handed a rare platinum medal by the San Francisco World Spirits Competition 2019 (SFWSC) – an citation reserved for a handful of spirits.
Which is why you should celebrate the next milestone in your story with a dram of Ardbeg Traigh Bhan.
Please drink responsibly.