The chocolate that we know today isn't similar to the one that was consumed by Mesoamerican civilizations a long time ago – the Olmecs and Mayans. They drank it instead of eating it, and it had an intensely bitter taste – there was no added sugar. In recent years many people have started considering dark chocolate to be a healthy snack. Is it true? In a second, you'll learn more about dark chocolate. Let's go!
Is dark chocolate healthy?
For some time now, dark chocolate has often been portrayed by the media as a healthy snack that is packed with minerals. On top of that, it could potentially decrease the chances of a heart attack while also boosting cognitive performance. Is it true?
Yes and no. A 100g bar of dark chocolate indeed has an impressive amount of copper, manganese, and iron, but it still wouldn't cover the Recommended Dietary Intake. Sure, dark chocolate (hopefully) wouldn't be the only thing that you would have eaten during the entire day, which means that you could get those minerals from other foods as well.
Still, a 100g bar of dark chocolate has about 600 calories, and, depending on the percentage of cocoa, it could also have a lot of sugar. Certainly less than white or milk chocolate, but not a small amount either. If you want to avoid sugar, you could try out cacao paste that doesn't contain any sugar at all.
According to The National Center for Health Statistics, about 40% of all Americans, aged 20 and over, are obese. There are many contributing factors, such as lack of physical activity or not getting enough sleep, though many people are simply unaware of how many calories they are consuming.
Half a bar of dark chocolate in the evening certainly wouldn't hurt, right? As it turns out, it could. 50g of dark chocolate equals about 300 calories. Even if you eat it every other day, over time, you'll notice that you have started gaining weight.
Okay, but does that mean that it would be fair to consider dark chocolate to be outright harmful? Not really. If it is eaten in moderation, then dark chocolate can indeed be a healthy addition to your diet. It's just that if you eat too much of it, you will consume more minerals, but your caloric intake will also increase, and many people underestimate how many calories there are in dark chocolate.
We intuitively understand that other types of chocolate are packed with calories, but when it comes to dark chocolate, we often draw erroneous conclusions. 
It doesn't mean that there aren't things which are absolutely great about dark chocolate. Cocoa beans are excellent antioxidants – in fact, they are one of the best sources of antioxidants in the world. It means that if you want to get rid of free radicals, dark chocolate is a great choice – even superior to fruits.
Numerous studies have shown that dark chocolate noticeably decreases the risk of heart diseases. The researchers have also proven that bad chocolate can decrease blood pressure, though the effect isn't as noticeable.
Another aspect that could be slightly worrying is caffeine. It is estimated that 1 ounce of dark chocolate contains 23 milligrams of caffeine. If we assume that an average cup of coffee has around 100mg of caffeine, then eating a whole bar of dark chocolate would provide your body slightly less caffeine.
It is generally true that the darker the chocolate, the more caffeine it contains. Why would that be worrying? Not enough people are aware that if they eat dark chocolate before their bedtime, they will have a harder time falling asleep, and when they eventually do, their quality of sleep will be decreased.
Caffeine is the most popular psychoactive drug in the world, and the great majority of us benefit from it greatly. Still, because of genetics, some people metabolize caffeine significantly slower, which means that eating dark chocolate in the evening could affect their quality of sleep.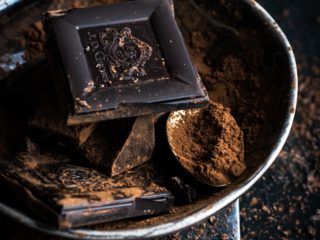 Even though dark chocolate is undoubtedly more nutritious, the lighter the chocolate, the less caffeine it contains. It means that if you would like to feel chocolate melting on your tongue, but it's 7 PM already, then it's better to choose milk chocolate instead.
The verdict?
Although dark chocolate is not as healthy as it is often portrayed, it could have a positive impact on your body if you eat it in moderation. It contains quite a lot of minerals, especially iron, copper, and manganese, but if you are trying to lose weight, then it's best to limit yourself to only a few pieces of chocolate.
Yes, it is considerably healthier than milk or white chocolate, but it still contains a lot of calories. If you remember that it should be only an addition to your diet, then you shouldn't worry about it too much.