The word marble originates from the ancient Greek word mármaros, which means "shining stone". And shine you will, with this unique and luxurious iPhone case – handmade from pure, solid marble.
A Luxurious Accessory: 100% Real Marble iPhone Case
Just like the metamorphism that turns limestone into marble takes either immense heat or intense pressure to be activated, the process of creating the Golden Concept marble cases is no small ordeal. 
First, the larger chunks of marble are handpicked by our designer. Then, it is sliced in thin layers and polished to perfection. After that, the stone is mounted on an epoxy plate for stability and endurance. Epoxy is the sturdy material that, for example, boats are made from. 
In the finished result, the marble is one millimetre thick; perfectly calibrated to maintain a sleek and slim design, while still keeping the pleasant weight that comes with an item being made from real stone. 
This is a design that will appeal to those who appreciate the authenticity and luxury of a raw, natural material – refined into the most exquisite accessory. 
Personalize Your Marble Phone Case With Your Initials or Logo
The Golden Concept marble cases are available in a range of four colours; black, white, brown and green. But the options don't end there.
The iPhone cases can be made to custom, and personalized with the owner's name or logotype engraved into the stone. Either you are welcome to submit your own artwork, or you can choose to let our inhouse design team develop the engraving for you. Once approved, it is then engraved in the stone with lazer. 
The Metallic Marble range is truly a perfect gift for the connoisseur who already seems to have it all. Here the classic marble edition is embellished with either a gold or silver plated logotype, that can become even more extravagant if you opt for the version with small brilliants.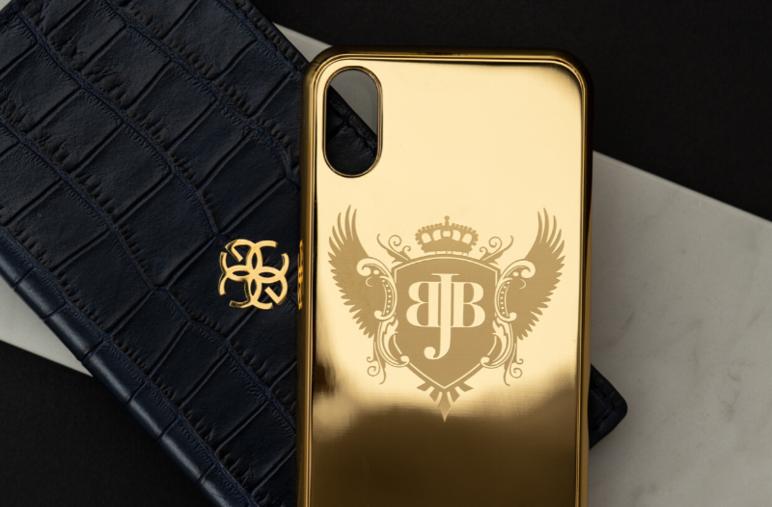 A Natural Material That Ages With Grace
Being made from solid stone, the marble iPhone Cases are all unique and different. The characteristic lines and patterns of the material will give your iPhone a personal expression. And just like a much-loved leather bag or a great bottle of wine, it may change with time, but it will always remain exquisite. 
So, are you ready to shine? Explore the collection.