When we hear the name Palm, most of us are brought back to 1996 when the Palm PDA was introduced and made popular. Well, now the Palm name has been resurrected by two Silicon Valley designers, Howard Nuk and Dennis Miloseski.
Backed by NBA's own MVP, Stephen Curry, Nuk and Miloseski have brought the brand back in the form of a small, minimalist smartphone, aptly named Palm. The duo met while working at Samsung and while there, brought many of Samsung's consumer products to life and to market. During this time, the two had been observing how people were interacting and behaving with technology. That started Howard and Dennis down a path to rethink mobile. While watching the movie "Her," the idea for Palm was born. A device that is small but packed with features, allowing you to be truly "mobile." How can we build a phone to have people stay connected but not consumed by their device, they asked? The answer to that question drove them to create what Palm is today.
The Palm smartphone is small, durable and sleek. How small you may ask? Well, it comes in at 2 inches wide and 3.8 inches tall, and weighs just a bit over 2 ounces, or for those who speak in more visual terms, it's about the size of a business or credit card. With most mobile phones growing in size, some even the size of tablets, Palm can fit where other phones dream too, for instance, right inside the coin pocket of your jeans, or yoga pants, and even some wallets. Going for a bike ride? Palm fits inside the jersey-pocket, without weighing you down, making it ideal for cyclists. But don't let Palm's size fool you. Palm was built to be mobile, and with an IP68 rating, Palm is both water-resistant and can survive dusty runs and hiking trails, ready for whatever adventure you may bring its way.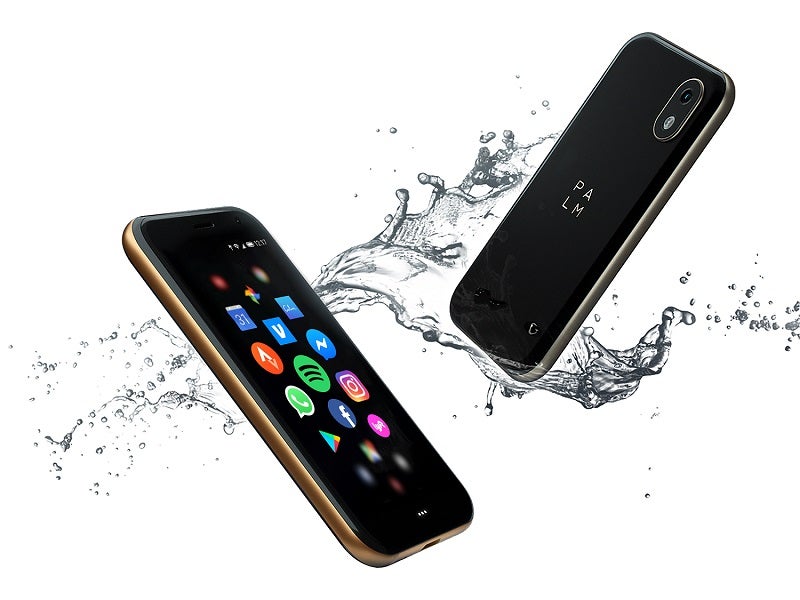 Available in two colors, titanium and gold, Palm is full of style and with the many accessories that were made exclusively for Palm, your new phone can become a "bona fide fashion" piece and conversation starter. Additionally, with so many consumers wanting to go off the grid lately, Palm has a software feature called Life Mode that enables you to block and silence all notifications when the screen is off, giving you the freedom to focus on the things that matter, so even when you're working from home, Life Mode allows you time to disconnect. Life Mode is also great for when you are out for a run, walk, or just want to jam out to some tunes and clear your head, as it will silence everything except for your music app.
This is also the ethos of the brand. The company promotes a life outside of the screen. A world where you spend less time looking down and more looking up, being present for those moments that matter.
GETTING MORE POWER
With its small form factor, Palm does have a small battery. This may work for minimalists and those looking to minimize their digital life, but for others looking for more juice to help get them get through the workday, workout, or bike ride, Palm has recently introduced some amazing battery accessories and bundles, offering you more power to survive without the worry.
Stay connected wherever you go with the Palm Battery Boost Bundle that comes with an unlocked Palm, and a keychain battery charger, and Palm's signature leather case with a neck and wrist lanyard, allowing you to be as mobile as you'd like, bringing the extra power with you.
Need more battery power to get through that workday, hike, or bike ride? The Power Bundle was made with you in mind. It comes with an unlocked Palm, screen protector and a mophie juice pack, just pop in your Palm when you're ready and get an extra 13 hours of battery power, without having to stop to recharge.
Palm Can Double as a Bike Computer
Palm is the perfect device for any type of ride! Whether heading out for your usual ride to get some fresh air, going on an adventure through the forest, or training to make a cycling team, Palm makes a great addition to any ride! With the K-Edge bike mount (that pairs well with Garmin, too!) and adhesive adapter, you can clip your Palm in and hit those winding roads and trails without a care in the world.
So, whether you're shopping for the techie who loves all the latest gadgets, a mom or dad who needs to upgrade their flip-phones, or looking to give your child their first phone, Palm is the perfect gift for anyone on your list; even yourself. This holiday, give the present that will continue to give back all year: the gift of being present. Join our #PalmCrew today!
Holiday sales happening now through the end of the year at www.Palm.com!
Palm is also available for purchase on Amazon and B&H.com, both ship internationally. Check the bands in your area to make sure Palm will work on your networks.