A smart and stylish timepiece can really tie together an outfit. Whether you're attending a formal occasion or are going for a more casual look, there is a whole host of luxurious watch brands out there that will enhance your elegance and impress your friends. 
With Christmas on the horizon, why not treat yourself to a luxurious watch that will help end your 2020 on a high. We've put together a list of the best watches for men.
 Tag Heuer
Over 150 years may have passed since the first chronograph but Tag Heuer remains a great choice for the contemporary gent. 2020 has been an exciting year for the brand with the appointment of their new CEO Frédéric Arnault in July.
Taking over from his father was no mean feat but he's already demonstrated his commitment to Tag Heuer's elegant history by promising to maintain a key focus on the watchmaker's standout collections such as the Carrera, Formula 1 and Monaco. 
With a long held association with motorsport, many of tag heuer's watches hark back to high-profile events of the past.
While it's very much still running, the Tag Heuer Monaco range was inspired by the glitz and glamour of the Monaco Grand Prix and was made famous by actor Steve McQueen. The Calibre 12 Final Edition is one watch from that range that is truly one of a kind. Only 1,000 were ever made and each piece comes complete with a unique reference number carved into its back.
Longines
Reliability is essential when choosing a timepiece and with Longines that is exactly what you'll get. The Swiss watchmakers offer a variety of luxurious pieces to suit every customer and the Longines Hydroconquest 43mm is sure to be a festive hit with its navy blue dial and smart stainless steel strap. 
This eclectic model also comes in a range of different colours and styles but each piece maintains that lovingly crafted feel that has kept the brand popular for decades. 
Omega
Designed with performance in mind the Omega has been a favourite for years but really made its mark when it was donned by 007 himself in the 1990s Bond flick, Tomorrow Never Dies. 
Here, Pierce Brosnan wore the iconic Omega Seamaster Diver 300m upon his wrist, a great choice for any man who wants to be shaken but not stirred while channelling his inner spy. There have been a number of variations on this classic piece over the years with customers able to choose between a blue or black dial as well as a number of other customisations. 
Garmin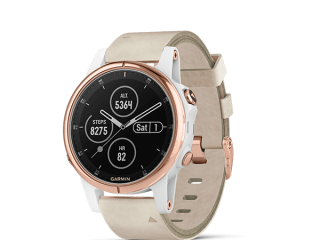 For years Garmin has been the go-to brand for athletes and adventurers everywhere. No matter your passion the brand originally specialised in GPS systems before branching out into wristwatches which provide its wearer with all kinds of information. 
From heart rate to maps, the Garmin Marq is a great place to start incorporating wearable tech with a bold yet stylish design. 
Tudor
Originally created as a sister brand of Rolex, Tudor has gone on to become an icon in its own right. 
With a passion for innovation, each Tudor piece includes a range of great features including jeweled dials, water-resistant casing and automatic movement. The Tudor 1926 range is a great example of this and the piece is also a telling nod to Tudor models of the past.
Nomos Glashutte

 
With a design inspired by its native Bauhaus movement, this German brand has a range of pieces ideal for any occasions. 
The Nomos Orion epitomises this perfectly. Its simplistic yet elegant look coupled with a deep, leather strap has seen the Nomos become the ideal accessory.    
Breitling
For over a century, Breitling has been associated with pilots due to the precision and accuracy it brings making it the perfect flying companion. But you don't need to be an aviation expert to own one of these classic pieces.
The modern Breitling offers all of the functionality of its predecessors while aesthetically remaining relevant for the 21st century. For instance, the Breitling Endurance can be personalised with a number of fun coloured rubber straps.  
Jaeger-LeCoultre

Creativity lies at the heart of this iconic brand. In its factory, which is tucked away in glorious Swiss hillsides, over 180 individual crafts are brought together to produce masterpiece after masterpiece.
Perhaps more so than any other brand on this list, beauty is truly redefined with Jaeger-LeCoultre with each and every tiny component given the same level of love and care.  
Citizen
What better way to honour your heritage than with a true British icon upon your wrist. 
While the Citizen brand may be based in Japan, the watchmakers have become synonymous with Great Britain. This can be seen with the Citizen Eco-Drive Red Arrows which proudly celebrates the work of the RAF's most famous division.
If you're looking for something more sporty, then the Citizen Eco-Drive Mens Sport Green is for you. Whether your arena is the football pitch, the fairway or the tennis court, the fresh green dial screams peak performance. 
IWC Schaffhausen

Whether you want a piece for everyday wear or to show off to your friends at the sport's club, IWC Schaffhausen prides itself on the robustness and resilience of its products.
Despite this, it doesn't compromise on technology either as the IWC Portugieser proves. It comprises a vintage look with three handy subdials displaying the date, month and day. It also offers an indicator for the phases of the moon and leap year.  
If you'd prefer something more modern then check out the IWC Aquatimer. It is more sporty in design and is great for those who spend time in water whether swimming, diving or just caught out by the great British weather.