Time Concepts is an interesting watch firm we've discovered, with several unique brands of watches, that are made to a very high quality standard. 
The company management includes watch industry veterans, with more than 60 years of experience in the trade, that have worked for global Swiss watch brands, and the Founder and Managing Partner was the founder, former owner and CEO of Luminox Watch as well.  While they market smaller niche (micro) brands, they are very different from the hundreds of micro brand purveyors that decided to jump into the watch game with the advent of funding support apparatus like Kickstarter.  This is a real watch company with watch industry veterans that know what they are doing at the helm.    
Time Concepts (TC) was established after the Luminox owner received numerous requests to design and develop watches for other brands or retailers, so the company was founded as a platform to develop watches for other brands or retail stores, and while they still develop watches for others, they eventually decided to develop their own brands, and today run several under the TC umbrella.   
Time Concepts has worked with numerous factories in Switzerland and Asia, but today has narrowed this down to a few that are most dependable and for whom their primary focus is on delivering the utmost in quality.
The Szanto, Szanto ICONs and HLA brands are manufactured in a dust-fee temperature and humidity controlled clean-room environment, which would more typically be seen for watches costing many thousands of dollars and quite unusual for watches in the price ranges of Time Concepts brands that run from about $150 to $400.   Working with this factory, the company reports that the net result has been a defect rate well below 1% and almost zero water issues over the past five years!   TC's other brands are made in another excellent facility that has delivered similar quality.  TC reports they have run well below a 1% defect level and almost never have a water issue with watches coming from both manufacturing facilities.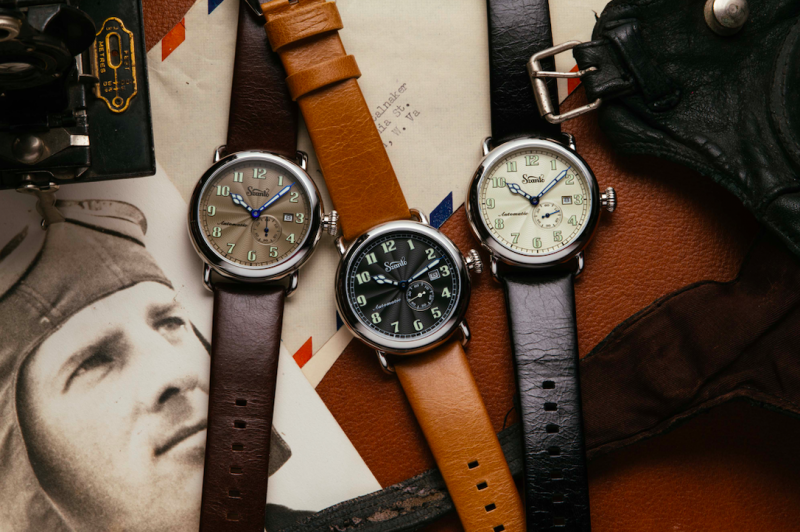 Noticing a trend toward all things vintage, the Szanto brand was established to develop and sell vintage inspired design watches for today, in today's sizes and with today's movements and technology.  The brand has gained a nice following of discerning consumers that appreciate stellar design and superb Craftsmanship, with top flight fit and finish, but relish finding unique esoteric brands that might not be famous but understand quality and Craftsmanship.  All Szanto models use 316L Stainless steel cases, case backs, and bezels as well when applicable.  The cases are available in plain steel tone or PVD plated in antique gold to impart the flavor of yesteryear, or black or Gunmetal, depending on the model.  Most watches are 100 meters water resistant but dive models are 200 meters, and a new vintage dive series coming in 2021 will be 300 meters.  All have screw case backs and some have screw crowns as well to ensure their water resistance.  Szanto watches employ both quartz and automatic movements from Miyota, a division of Citizen, and maker of outstanding movements that are as dependable as they get.  Many models have highly scratch resistant K1 crystals and feature gorgeous Italian leather straps, most of which have easy on/off fingernail pull spring pins to allow for fast strap changes in seconds, without a tool.    www.szantotime.com
Szanto ICONs is an adjunct of the Szanto brand, a sub brand if you will, in which the company identifies and works with accomplished individuals that have achieved success in their respective fields, and then works with the individual to create "their" timepiece.  Their watch series is jointly designed with them so the company can rightly say the finished products are indeed "their" watches since they were integrally involved in designing their collection.  Programs have included Danny Sullivan (Indy Series Champion and Indy 500 winner), Shane Dorian (one of the top big wave surfers in the world from Hawaii), and the newest collaboration with Roland Sands (former 250 Series Racing Champion and world known customizer), a true ICON of the motorcycle business with a global cult following.  Before the pandemic shut most things down, he had been chosen to be the Honoree at the prestigious Quail event in Monterey this past May, but that honor will now need to hold until the 2021 event resumes.  Future programs will include Huey Lewis (rock star) and Frank Stephenson (former Design Director at both Ferrari and McLaren), both due in 2021.  www.szantotime.com
Next up in the TC stable are the Official Watches of the Hawaiian Lifeguard Association (HLA).  A few years ago, Barry Cohen, Time Concepts Managing Partner was approached by the director of the HLA and a couple of the legends of the group to create the Official Watch of the HLA.  Working with this team, TC created a durable, dependable, rugged dive watch series that could stand up to the massive pounding surf of the Hawaiian Islands.  There are only a few places on earth that are known for these enormous waves and Hawaii is chief among them, hosting several big wave surfing contests that lure surfers from around the world to compete.  This type of giant surf condition can take its toll on most watches because it is not just about being water resistant, but being able to take a pounding and the enormous pressure such large waves produce too.  As noted earlier, the company reports having had very few water failures over the past 5 years, so the watches have indeed performed brilliantly in such difficult conditions.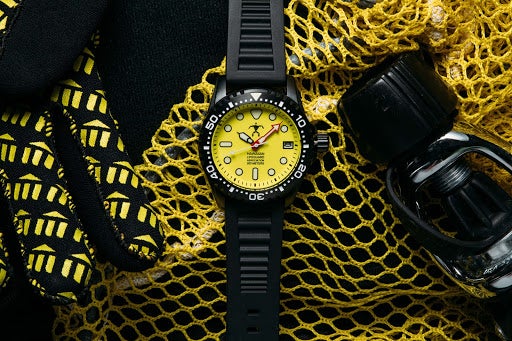 The lifeguards of the HLA are known as ocean safety and rescue experts, and regularly train US Special Forces (including Navy SEALs) on ocean rescue techniques.  The rescue methods employed by the HLA are the template of ocean lifeguarding worldwide.  They were the first to use the jetskis to expedite rescues and they invented the rescue sled towed behind the jetskis to pull people up onto them to get them out of harm's way.  
The Official Watches of the Hawaiian Lifeguard Association are rugged and durable, with 42mm 316L stainless steel cases, case backs and tight 120-click bezels that won't turn from inadvertent contact.  They have screw case backs and screw crowns to ensure 200 meters of water resistance, a highly scratch resistance K1 mineral glass crystal and a genuine rubber dive strap with easy on/off fingernail pull spring pics to allow for strap changes in just seconds without a tool, and the dials and case backs sport the HLA petroglyph logo proudly.   The varied collection includes black, blue, white and yellow dials, with straps in black, yellow or red, which are the brand colors of the HLA with black as a basic and yellow and red representing the difference between caution and danger.  The watch is powered by a highly dependable Miyota (division of Citizen) quartz movement.  Since the watch must function in difficult conditions, all watches are tested in both air pressure and water to guarantee they're sealed tight before leaving the factory.  A percentage of all sales proceeds goes to the HLA to help fund the Junior Lifeguard program and buy the gear used by the HLA for life saving.    www.hawaiianlifeguardwatch.com 
TC's Managing Director recently decided it was time to "give back" to support societal movements and causes it believes in, so it developed two new "cause" brands that were conceived for the sole purpose of donating funds to support these causes with every watch sold. 
The 420Waldos brand was launched this year in an effort to support a push for cannabis legalization for medicinal purposes.  No matter what one might think of recreational cannabis, it is widely known today that medical cannabis seems to provide a great deal of relief for a wide array of ailments, and for a large number of people.  Interestingly, one of the larger groups is veterans, a most worthy group to get the relief they need from cannabis.  TC donates up to 20% of the proceeds of each sale to organizations like the Drug Policy Alliance and NORML that are working to push for legalization.   420Waldos watches feature 316L stainless steel cases with screw case backs and push crowns, a scratch resistant mineral glass crystal, 50 meters of water resistance, and use MIyota quartz movements to power the watches.  Cases are available in steel tone, gun metal, black, or gold plated.  The collection consists of the Bud series (12 models) at 41mm case diameter and the Mary Jane series (17 models) at 34 mm.  All watches feature Visible247 lume technology dials for night viewing.  If the watch is exposed to any light source for just 10 minutes, it will glow for at least 10 hours which is a significant breakthrough in lume performance.  Hence the brand's tag line …. Get Lit! 
The other cause brand is the Bia brand for women that was also launched this year in an effort to support empowerment of women.  After witnessing the emergence of the TimesUp and MeToo movements, it started to become more and more clear that women have not been given fair treatment in our society, so the Bia brand was conceived, developed and launched to raise money to donate to organizations working to foster and support empowerment of women.  This of course includes TimesUp and MeToo, but will go beyond this as well, as the company left donation recipients open to be able to add others.  
Bia watches feature 316L stainless steel cases with screw case backs.  Its Suffragette series has a push crown and 100 meters water resistance while the Rosie dive series has a screw crown to achieve 200 meters of water resistance, and a 120-click tight unidirectional rotating bezel.  The Suffragette series (20 models) comes on soft leather straps or mesh bracelets with easy on/off fingernail pull spring pins for fast changes, and there is also a solid link bracelet available as well. The Rosie series (14 models) comes on soft silicone straps with the same easy pins to allow for fast changes, or on a solid link bracelet.  All watches use Miyota quartz movements.  Cases are available in steel tone, gun metal, black, or gold plated.  All watches feature Visible247 lume technology dials for night viewing, so they glow all night long if exposed to any light source for just 10 minutes.  
As noted at the beginning of this article, Time Concepts is an interesting watch company that features unique and varied brands of watches made to a very high standard, owned and operated by watch industry veterans with extensive experience and knowledge in the trade.  
The company prides itself on its design acumen, paying tremendous attention to the nuances of design features, while living up to its self-imposed mandate to produce superb quality in affordable and reasonably priced watches, that are made to ensure years of problem free timekeeping, along with distinctive styling, for the wearer.   The company has extended a generous discount offer to all Swagger readers to be able to obtain watches for themselves or as gifts, given the time of year as we approach the Holidays. 
Use the code "SWAGGER" to receive a 25% discount on any of the watches from Time Concepts at any of the websites shown in this article.