In today's world, we rely heavily on technology to keep us connected – for work, entertainment…even for our social lives. While the new normal can make you feel disconnected, you don't have to be. With the right gear in hand that is as flexible as you are, you can power your life. The Samsung Galaxy Note20 5G and Note20 Ultra 5G are powerhouses that can help you not only tackle endless Microsoft Teams meetings, but also play your favourite video games during down time. Technology allows us to connect and to play – and we are going to show you how you can power your life like never before.
Powering Your Work
Working remotely and being apart from your colleagues doesn't mean that you can't still be connected. Remember, your phone isn't just for taking calls and sending emails, even though that may be part of your everyday work experience. With powerful processors and large displays that make multi-tasking a dream, the Galaxy Note20 5G and Note20 Ultra 5G are like powerful PCs you can put in your pocket, giving you the flexibility to work where you want and how you want.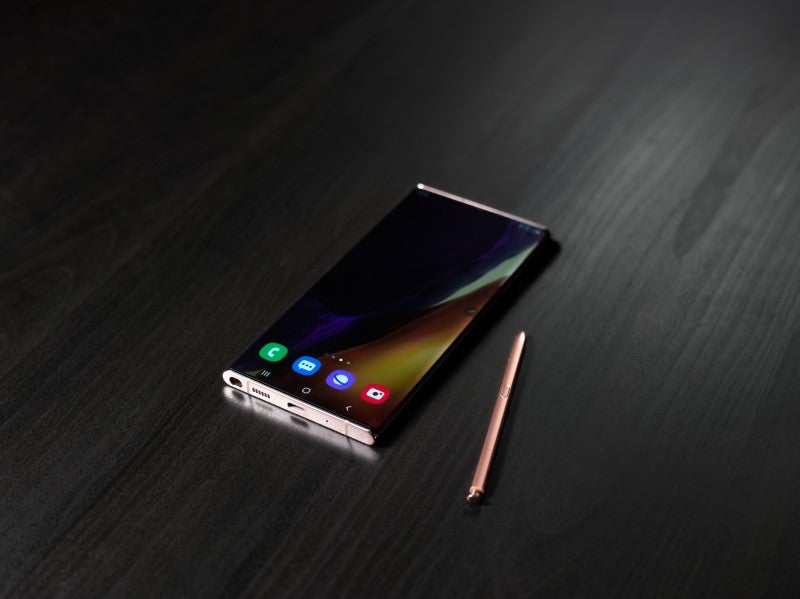 Add the S Pen and the Samsung Notes app and you have everything you need for your home office. The S Pen has more lifelike precision than ever to give you true pen-to-paper accuracy and responsiveness[1] that allows you to jot down your ideas with ease whenever (or wherever) inspiration hits. It even converts your handwritten notes into text so you can drop them into your latest PowerPoint presentation, or into a Word document thanks to the intelligent Samsung Notes app. If you are a note-taker, you can also save the notes and sync them across your Galaxy smartphone and tablet for easy access.
Lasting Power
With the Galaxy Note20 Series 5G, you'll have peace of mind knowing that your device has a long-lasting battery that can help you power through everything life throws at you. You can binge your favourite show and game on-the-go without being tied to an outlet or worry about your phone running out of juice.
Another bonus? The Galaxy Note 20 5G and Note20 Ultra 5G have an all-day intelligent battery[2] that uses adaptive power, learning your usage habits to optimize your battery life and intuitively managing your app usage to conserve energy so you can concentrate on what is important. So if you have a standing video call with your mom at exactly 6:02 p.m. every day, your device will help you reserve power and so you've got the juice to make Mom's day.
PLUS, in an emergency  — and a dying battery can feel like one — the Galaxy Note20 Series 5G offers Super Fast Charging. You can get hours of power from minutes of charge[3]. Everyone hates waiting for your phone to charge when you are already running late, and this is an easy solution.
The Power of Speed
We all have the need for speed, especially when it comes to our phones. Here's a simple rule of thumb: the faster your processor, the faster your phone. The Galaxy Note20 Series 5G is built with the fastest processor[4]  in a Galaxy Note yet, giving you more multitasking power and faster graphic rendering – it's like having a supercomputer in the palm of your hand. The hyper-fast processor lets you keep up, whether you're downloading files for your next meeting, editing documents on the fly or going head to head with your buddy on the latest racing game.
Powering Play
Gaming isn't just about high scores. There's a social element to it and it gives you a break from the mundane – but of course, getting that high score is a plus, too. Whether you're playing against friends in Canada or with others around the world, you need a device that elevates your gaming experience. You already know about the all-day intelligent battery, but the Galaxy Note20 Series 5G also features a breathtaking 120Hz screen refresh rate[5] and a near-endless screen. Add in 5G[6] support, Wi-Fi optimization and the advanced processor and what you get is a smooth gaming experience with virtually no lag. You can even turn your TV into a second screen –  wirelessly –  with Samsung DeX[7]. This means you can watch movies on your TV while checking texts or keep up with your teammates on the big screen while dominating the field on your phone.
Next Level Power

The Galaxy Note 20 5G and Note20 Ultra 5G are next level, and they form the heart of a powerful Samsung ecosystem.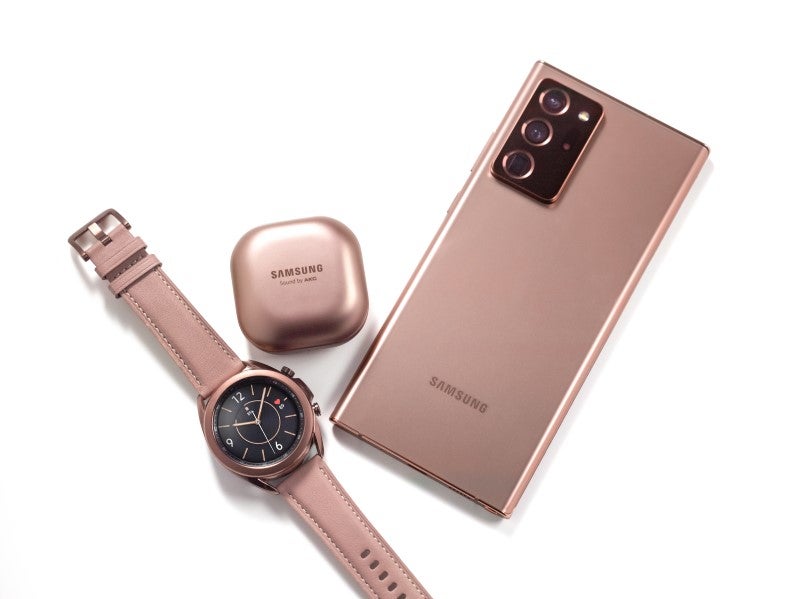 When everything around us is changing on the daily, we need to be creative when it comes to our health and workouts to keep up with our fitness goals. The Galaxy Watch3 (from $549.99 CAD) connects seamlessly with the Galaxy Note20 Series 5G. And while we love the sophisticated design of the watch, it's also packed with powerful technology that lets you track everything from your heart rate to the steps you take. It's like having an accountability coach on your wrist. With more than 120 home workouts, you'll have a virtual personal trainer at the ready too. And yes – with Galaxy Watch3, you will also see your texts, emails and calendar alerts.
For conference calls, workouts or just drowning out your surroundings with your favourite tunes, we highly recommend the Galaxy Buds Live (from $249.99 CAD). These fashion-forward earbuds will complete your look while still providing an amazing fit that complements the natural shape of your ear, delivering vibrant sound without compromising comfort. And with the long-lasting battery life that you expect from Samsung, you'll enjoy up to 6 hours of non-stop listening and up to 21 hours of battery life with the charging case[8].
Your devices need to keep up with your life, whether you are at home or on the go. The Galaxy Note20 5G (from $1,399.00 CAD) and Galaxy Note20 Ultra 5G (from $1,819.99 CAD) are available at Samsung Experience Stores, through Samsung.ca and across major Canadian retail partners.
In Partnership With: 

Disclaimers:
[1] Galaxy Note20 5G has 40% latency improvement over Note10;Galaxy Note20 Ultra has 80% latency improvement (down to 9ms) over Note10.
[2] Based on average battery life under typical usage conditions. Average expected performance based on typical use. Actual battery life depends on factors such as network, features selected, frequency of calls and voice, data, and other application usage patterns. Results may vary.
[3] When using the included charger and cable.
[4] Compared to Galaxy Note10 and Galaxy Note10+.
[5] Refresh rate on the Galaxy Note20 5G is 60Hz and on the Galaxy Note20 Ultra 5G is 120Hz.
[6] Requires optimal 5G network connection, available in select markets. Check with your carrier for availability and details. Download and streaming speeds may vary based on content provider, server connection and other factors.
[7] Samsung DeX wireless connection is available on smart TVs that support Phone Screen mirroring only. (For the optimal experience, use on Samsung Smart TVs launched 2019 or later.)
[8] Earbuds and case provide up to 21 hours of battery life the charged to 100%