FATHER. HUSBAND. HERO.
Give the rock of your family a gift that will make him feel like the man of the hour.
Do your dad and hubby a favor – get them what they really want and need this Father's Day. The fellas have spoken and we've found the awesome gifts, gadgets, and goodies that'll put a smile on his face – and just maybe a tear in his eye.
Jacob Bromwell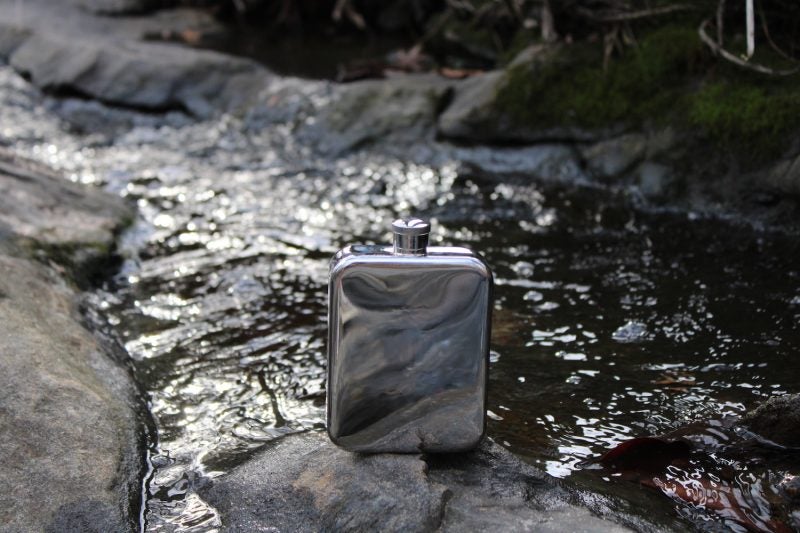 You gave dad the top shelf spirit he deserves; now give him something to drink it from. For 200 years, Jacob Bromwell has provided fathers, grandfathers, and even great-grandfathers with a flask that they keep as close to the hearts as they do to their hips. The Explorer is a solid pewter flask overflowing with classic refinement yet made with a precision machined pewter screw top to guarantee 100% leak-free performance. Johnny, Jim, Jack – nine ounces of dad's long-time friends will always be by his side. The Explore wasn't made for lightweights; its smooth, rounded edges and knurled cap give it a heavyweight shape that'll last a lifetime. Jacob Bromwell's proprietary SuperPolish finish gives it a sleek shine that will catch the eye of any flask admirer. Made by the hands of five red-blooded artisans, this flask is a give your dad will cherish more than his favorite single malt.

Snailax Shiatsu Kneading Back Massager
If you are looking for a useful and cool gift for your dad, this Snailax Shiatsu Kneading Back Massager is a perfect choice. The neck and back massager can not only help relax the muscles and reduce pain, but also a useful way to improve circulation, helping people reduce stress and promote relaxation.
It can be compared to a massage chair, equipped with a spot massage function which allows concentrated kneading on one area for pinpoint relaxation. The detachable intensity control flap allows you to choose a softer or more intense massage. Vibration on the seat with adjustable levels of intensity, provides a comfortable massage for hips and thighs. The integrated strapping system secures it in place which can be used on a sofa, recliner, office chair, or dining chair. Helping dads to make a comfortable seat and enjoy a full shiatsu massage in any place.
Snailax aims to design and provide high-quality health and personal care products embedded with the most innovative and relaxing features to help people slow down and enjoy a healthy lifestyle in these fast-paced days. Discover more gift ideas on snailax.com and use the code SwagDad30 to enjoy a 30% discount at checkout.
Creek Water American Whiskey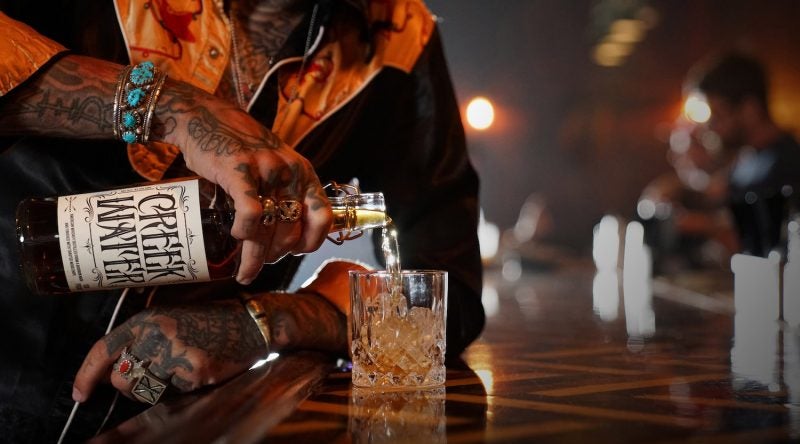 From the mind of Slumerican founder and global recording artist Yelawolf, Creek Water is a whiskey company breaking through traditional barriers. With grit and with style Creek Water is the brand that gives no apologies…Just great whiskey!
Similar to Canadian and Irish whiskey, Creek Water 100 Proof American Whiskey is carefully crafted using a bourbon mash of 21% rye, 4% malt, 75% corn. Aromas of tobacco and maple syrup fill the air while the deep copper color draws you in. Featuring a slightly charred front-end with spicy hints of cinnamon and traditional oak followed by a short, smooth finish.
At 70 proof, Creek Water Cinnamon takes away some heat and adds a spicy cinnamon kick to the profile that has notes of baking spice and vanilla on the nose. Brown sugar, honey, and cinnamon enter on the palate and give way to a finish with a lingering heat, toasted oak, and dark chocolate notes
For recipes and to learn more, visit www.creekwaterwhiskey.com 
ATM Slub Jersey Crewneck tee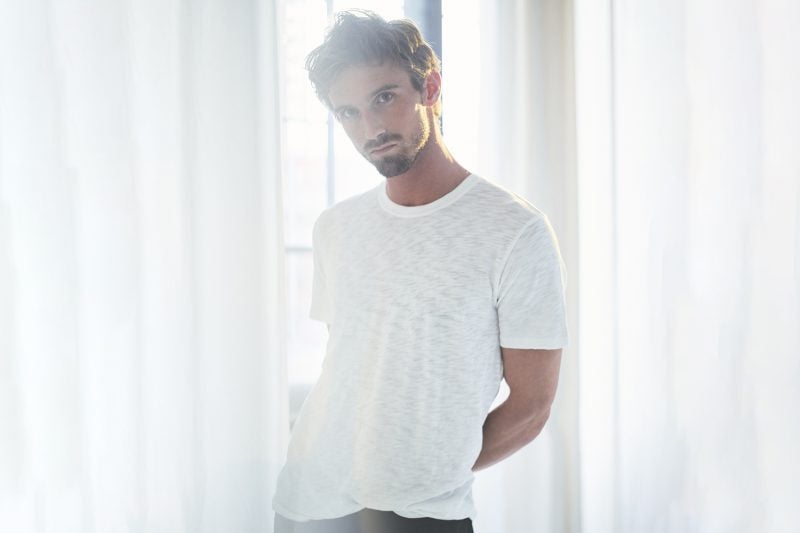 Make getting dressed easy with the ATM Slub Jersey Crewneck tee. Available in essential colors such as, black, white and gray, as well as specialty colors and treatments, like tie-dye! This tee makes an ideal Father's Day gift as the perfect addition to any wardrobe. Made with 100% cotton from Peru, the distinctive distressed texture and perfect drape make this the go-to t-shirt for all day everyday. Get one of each color or share with the whole family and be sure to take advantage of the Pick a Pack Promo to get 15% off when you buy 3 or more tees. Also available in other silhouettes: v-neck, long sleeve, or henley.
Bear Fight American Single Malt Whiskey 
Experience in every bottle the convergence of traditional Scotch making techniques and a new-world approach to whiskey creation. Bear Fight is a 90 Proof American Single Malt Whiskey aged in first fill bourbon barrels and finished in peated-smoked oak and sherry casks. Every glass has the aroma and flavor of candied pecans, ripe red apples, sweet sherry, and a faint whiff of Islay-style peat smoke.
This approachable and versatile American Single Malt Whiskey is perfect for traditional scotch and bourbon drinkers and those looking to try something new. The award-winning liquid can be enjoyed neat, on the rocks, or in a classic cocktail.
Bear Fight is a new take on a category draped in tradition. Bear Fight is not your boring, run-of-the-mill whiskey, and we're not afraid to prove it to you.
For cocktail recipes and to learn more, visit www.bearfightwhiskey.com 
The Zona Plus – The Blood Pressure Biohack 
The Zona Plus continues to be the biohacker's choice for full-body cardiovascular conditioning.  The Zona Plus uses the proven science of isometric therapy to lower blood pressure and  increase nitric oxide throughout the body – naturally.
Using the science of isometrics, the Zona Plus combines hand grip exercise with a series of  algorithms to trigger the body's parasympathetic response, responsible for such functions as  heart rate and blood pressure.
It is the ultimate biohack with a systemic benefit.
Try Zona Plus Risk-Free For 90 Days. Use code – FATHERSDAY for $75 OFF 
"To help with cardiovascular issues, try the Zona Plus, a digitally controlled handheld device that  uses the science behind isometric exercise to increase both vascular flexibility (thus decreasing  blood pressure) and the production and flow of nitric oxide throughout the body, which is linked  to treating various cardiovascular conditions, erectile dysfunction, and muscle fatigue. It's a cool  biohack for anyone who wants to improve their cardiovascular health." – Dave Asprey, New York Times Bestseller, Super Human
Back Pain Relief Exercises Made Easy: 
BodyAline
Are you slouching right now? Do you get back pain? Then poor posture is most likely causing your back  pain.
And that's a good thing. Why? 
Because anyone, at any age, can have good posture; and I've discovered a quick, easy, natural BIO-hack  that permanently realigns posture muscles, without requiring you to hang upside down, wear a brace, or  sweat through a bunch of exercises. It's called BodyAline.
BodyAline is the world's first back and posture exercise machine, specifically designed to strengthen  your back and align your spine in just minutes a day… with one easy motion. Its guided exercise movement retrains postural muscles to go in the exact OPPOSITE direction of your  slouch, which draws your spine back into proper alignment.
Go to www.bodyaline.com and enter promo code FATHERSDAY to save $100. 
Because if you have chronic back pain… your posture should be the FIRST THING you address, and  BodyAline is the most sensible way to do it.
13th Street Winery Burger Kit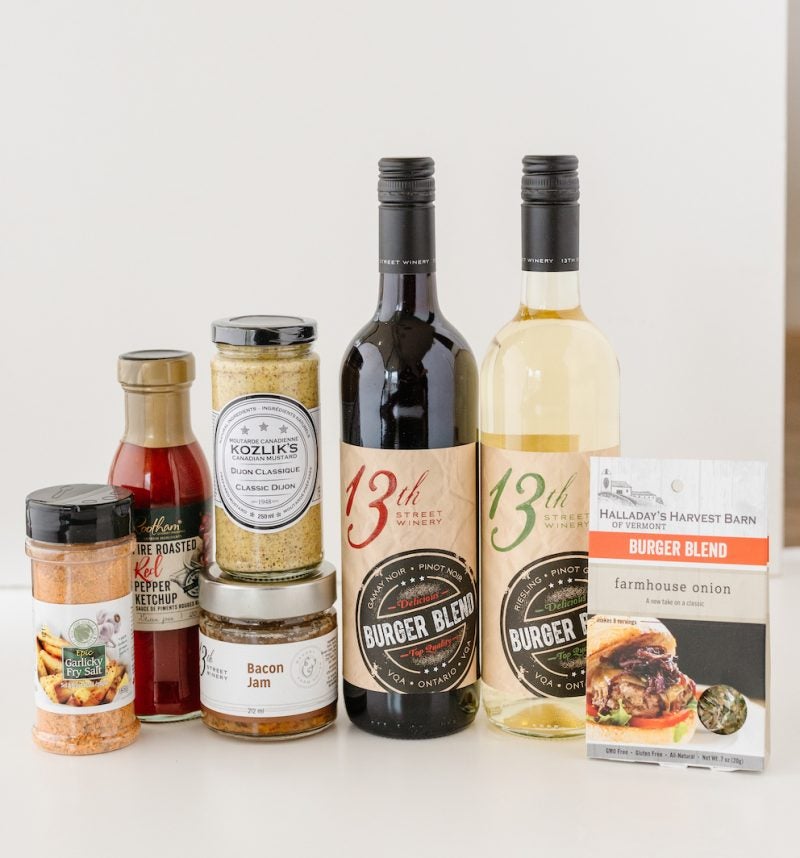 This year, give Dad all the fixings for a delicious Burger Night! The 13th Street Winery Burger Kit includes a bottle of Burger Blend Riesling Pinot Grigio and a bottle of Burger Blend Gamay Pinot Noir, Burger Blend seasoning, 13th Street Bacon Jam, Rootham's Fire Roasted Red Pepper Ketchup, Kozlik's Classic Dij Mustard and The Garlic Box Epic Garlicky Fry Salt; all packed in an attractive Enjoy gift box and ready to ship. $85 Cdn includes free shipping in Ontario.
Visit 13thStreetWinery.com for their extensive collection of curated wine and culinary gifts, wine-themed gift packs and wine selections.
Nestled in the heart of Niagara's Wine Country,13th Street Winery has been producing award-winning wines made with 100% Ontario-grown VQA grapes for close to 25 years and is proud to be Sustainable Winegrowing Ontario certified. Shop their website for convenient delivery or visit the winery to discover its unique blend of Wine, Food and Art. You can also find 13th Street wines at the LCBO and select grocery stores.
Trafalgar Birds of Prosperity Silk Button End Braces
Elevate Dad's wardrobe this Father's Day with the elegant Birds of Prosperity Silk Button End Braces from Trafalgar. These beautiful suspenders are handcrafted in the United States from 100% silk with full-grain leather finishes for the best in quality, longevity, comfort, and style. The Y-back design features an elastic back strap that moves with you and provides all-day comfort.
The unique pattern is said to bring good luck to the wearer and will provide Dad with confidence in his meetings, presentations, interviews, weddings, and more! Available in two versatile colors of black and navy so Dad can easily mix and match with any tuxedo, suit, or even a nice pair of khakis or jeans. The rich colors and distinguished details make these suspenders a must-have for any business professional to elevate both his casual and formal attire. Wish Dad nothing but success with the thoughtful and memorable gift of the Birds of Prosperity Braces!
Explore TrafalgarStore.com for a variety of Father's Day gifts including belts, suspenders, wallets, fine jewelry, and other small accessories. Trafalgar is proud to offer free shipping over $75 and free returns on U.S. orders!
This Father's Day Bring Steakhouse Quality Home With Schwank Grills
This Father's Day bring steakhouse quality home and grill to perfection with Schwank Grills. The all-new Infrared Grill, is a revolutionary portable gas infrared grill made for steak-lovers to achieve premium steakhouse quality taste at home. The secret lies in the innovative infrared heating technology, used by the world's best steakhouses, that heats from above at extreme temperatures up to 1500°F to sear the steak in as little as 60 seconds per side, producing a delicious and flavorful crust.
Dad can now enjoy premium steakhouse quality in any outdoor setting by grilling with the same infrared heating technology used by famous steakhouses such as Morton's Steakhouse, Peter Luger (Brooklyn, NY), CUT (Beverly Hills, CA), and Gibson's (Chicago, IL). Each Schwank Grill is Made in the USA and constructed with high grade stainless steel materials. Don't feel like steak? No problem! Schwank Grills can be used for Chicken Wings, Hamburgers, Seafood, and Vegetables.
Just in time for Father's Day Schwank Grills is offering a Free Pizza Stone, Pizza Peel, and Grill Cover with the purchase of a Schwank Grill. Use promo code: FATHERSDAYSWAG to receive your gift with purchase!
All items must be added to the cart for the promo code to work.
Buy now
Essential Elements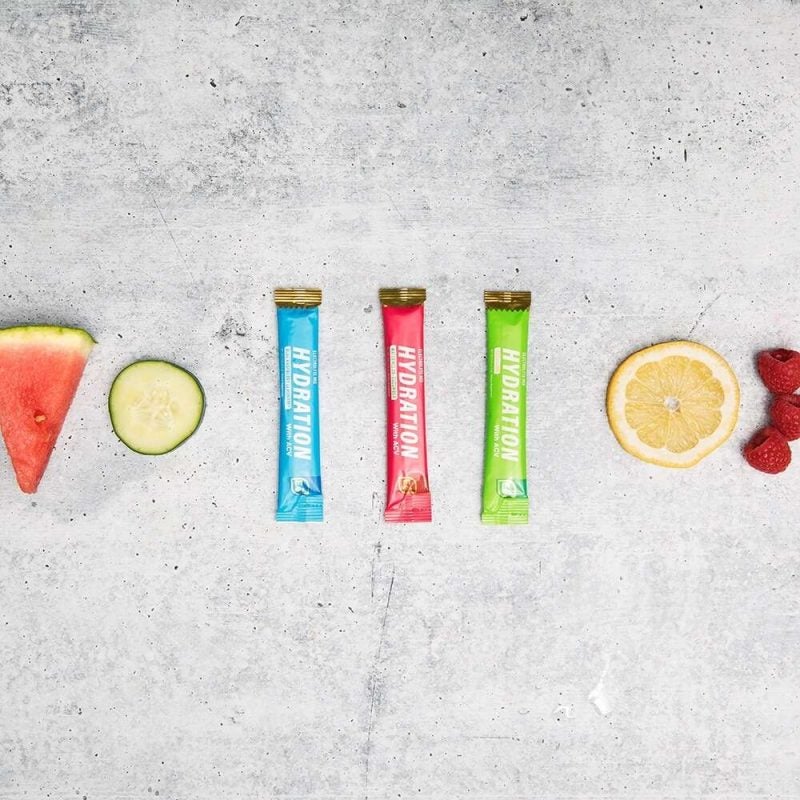 This Father's Day, give him the gift of Essential Elements! It's time to make hydrating fun and easy with Essential Elements hydration sticks that are the perfect fuel to recharge for fitness lovers, athletes, and anyone looking for a little extra hydration! Featuring a combination of apple cider vinegar, sodium, potassium, and buffered vitamin C to ease digestion, you'll keep hydrated and ready to roll. When you exert yourself, you sweat, and that means a loss of both water and electrolytes. The apple cider vinegar in Essential Elements Hydration provides you with powerful replenishment. Just like Dad, Hydration goes the extra mile for the extra oomph you need to keep working out, finish your shift strong, stay energized throughout the day making it the perfect tool to better your workout.
Impress Dad With The Dyson Supersonic™ Hair Dryer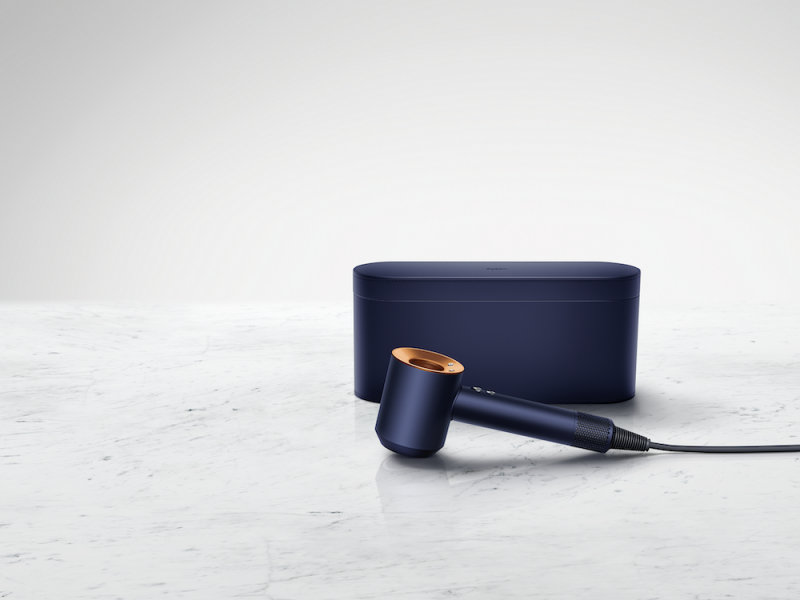 Upgrade Dad's grooming routine this Father's Day with the Dyson Supersonic™ hair dryer. This luxurious and sleek hair dryer combines powerful heat, advanced engineering, and pure innovation to dry hair faster. With a powerful digital motor for fast drying and intelligent heat control to help protect your shine, the Dyson Supersonic™ hair dryer also features styling attachments to style different types of hair. 
Not to mention, the Supersonic™ is packed full of innovative technology:
Powered by the Dyson digital Motor V9

Air Multiplier Technology

Intelligent Heat Control

Gentle Air Attachment

Negative Ions that help you to Reduce Static on your hair
The Supersonic™ also comes with a new flyaway attachment inspired by experienced stylists, which uses the Coanda effect to lift longer hairs and cover flyaways for a smooth, salon-like finish. Engineered for different hair types with a lightweight design and quiet motor. 
Apple Watch Series 7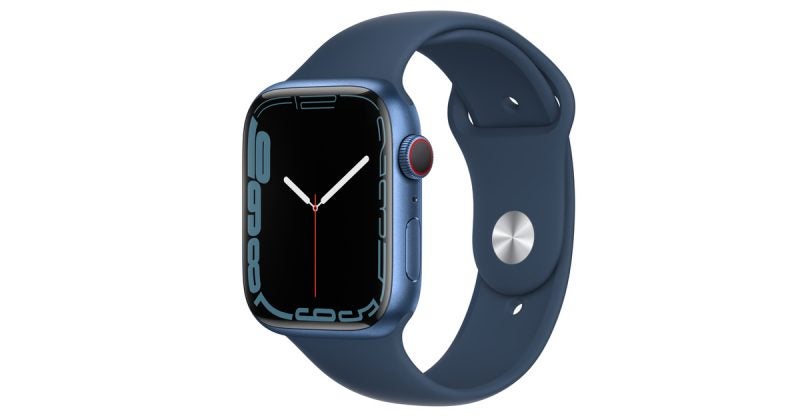 This Father's Day wow dad with the new APPLE WATCH SERIES 7. The newest and most durable Apple Smartwatch features the largest and most advanced Retina display, improved durability and faster charging. Now available in multiple colours or band options, just in time for Father's Day.
Buy now
For The Tech Obsessed Dad: CURAPROX's Hydrosonic Pro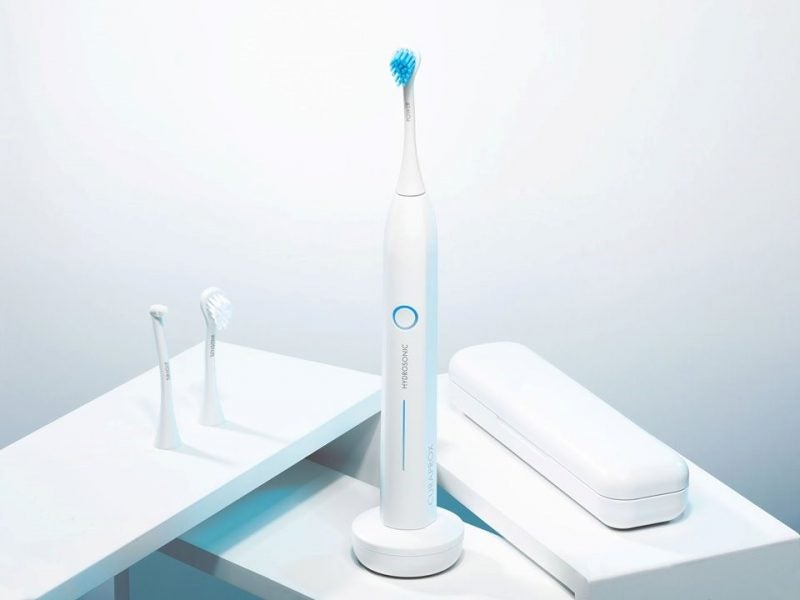 Make Father's Day memorable and let Dad know you care about his health with the CURAPROX Hydrosonic Pro. This multifunctional electric toothbrush is an all-in-one solution for optimal oral hygiene. The Hydrosonic Pro has its own way of delivering seven different professional cleaning experiences regardless of the health status of your gums. Whether you have sensitive gum, have a dental implant, or even have braces, the Hydrosonic Pro can easily reach sensitive parts of the mouth thanks to the CURACURVE® bend, which offers brush movements of up to 84.000 per minute.
The CUREN® bristles are engineered to deliver the best possible results, with the Hydrosonic Pro's ultrasound technology cleaning on two levels: mechanically and hydrodynamically. Thanks to its three different innovative brush heads that can be used interchangeably, Dad can enjoy that "professionally cleaned" feeling every time he brushes. It also comes with a travel case, which is ideal for the modern Dad on the go.
The Perfect Gift For Dad – YETI TUNDRA® 45 HARD COOLER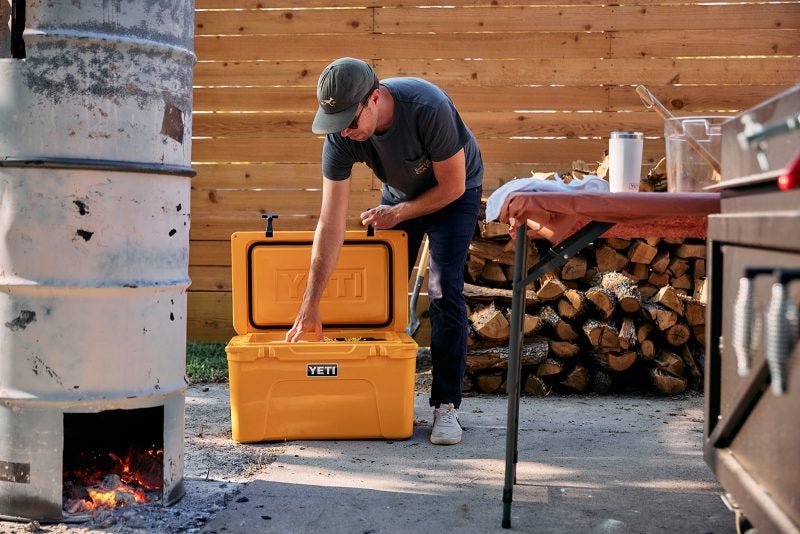 Is your father a true outdoor enthusiast? Is he fond of spending time outdoors, whether camping, fishing, or simply lounging by the pool? This Father's Day treat Dad to the Yeti Tundra 45. No matter what the weather outside, this top-of-the-line cooler will keep his food and drinks cold. It has the capacity to hold 15kjs of ice and weighs around 23 pounds empty. The Yeti Tundra 45 is also supremely insulated with an Extra-thick FatWall™ and PermaFrost™ for premium ice retention and keeping drinks or food cold. Not to mention dad will love that the Yeti Tundra 45 can hold up to 28 cans of beer, making it ideal for a day at the lake or a weekend camping trip, particularly in the summer. Thank him this Father's Day with the gift of the Yeti Tundra 45.
SWAGGER Tip: Just in time for summer, use the Yeti Tundra 45 to keep your drinks ice cold at your next family BBQ!
Buy now
VOSKER V150 – Solar Powered 4G-LTE Cellular Outdoor Security Camera 
VOSKER knows dad can't be two places at the same time. This Father's Day help dad stay on top of property and home safety with the VOSKER V150 Solar Powered 4G-LTE Cellular Outdoor Security Camera. The V150 is a solar-powered, 4G-LTE security camera system that features HD 1080p camera resolution, indoor/outdoor construction, and an utterly wire-free design. This camera is built to withstand the elements, even subzero temperatures. The included solar panel and battery deliver a "wire free" portable security camera equipped with VOSKER built-in solar panel technology and a long-lasting 10 000 mAh rechargeable lithium battery.
The stylish, solar-powered camera features infrared night vision. Forget dealing with wires—the V150 runs solely on solar power, so that you can install it virtually anywhere in your home or yard within cellular range. Receive motion alerts on your phone for a large coverage area thanks to our wide-angle lens and backup battery that lasts up to several months for optimal performance day or night. Skim through the day's activities on your cellphone while away from home with this gadget. The high-definition camera offers clear images day and night and sends you an alert when it detects suspicious activity. Motion-activated push notifications to your phone allow you to check online and are optionally available via push. Have the ultimate peace of mind with a two-year limited warranty.
Just in time for Father's Day shopping, Vosker will be offering offering $50 off on the V150 from June 9-19th (US and Canada).
The Valencia Theater Seating Ultimate Luxury Edition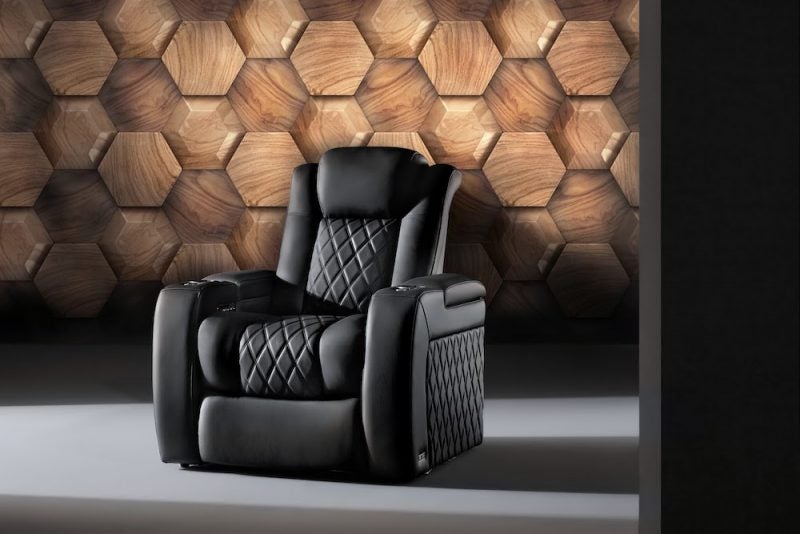 The Valencia Theater Seating Ultimate Luxury Edition exceeds the status quo with the mixture of premium Semi-Aniline Italian Nappa Leather 20000 and advanced technology. 100% ultra-smooth & supple matte leather coverage and innovative materials have resulted in unparalleled design and opulence. Equipped with LED RGB lighting, memory control panel, perforated French diamond stitching, Parisian velour-lined armrest hidden storage compartments, USB & USB-C ports, and black chrome hardware. This is Valencia's most luxurious model yet! The high-end leather is akin to the likes of Rolls Royce and other luxury cars. Access your freedom of choice with a selection of multiple configurations. Fulfill your desires and create a set customized to your ultimate luxury.
Gift Dad Style With Mavi Jeans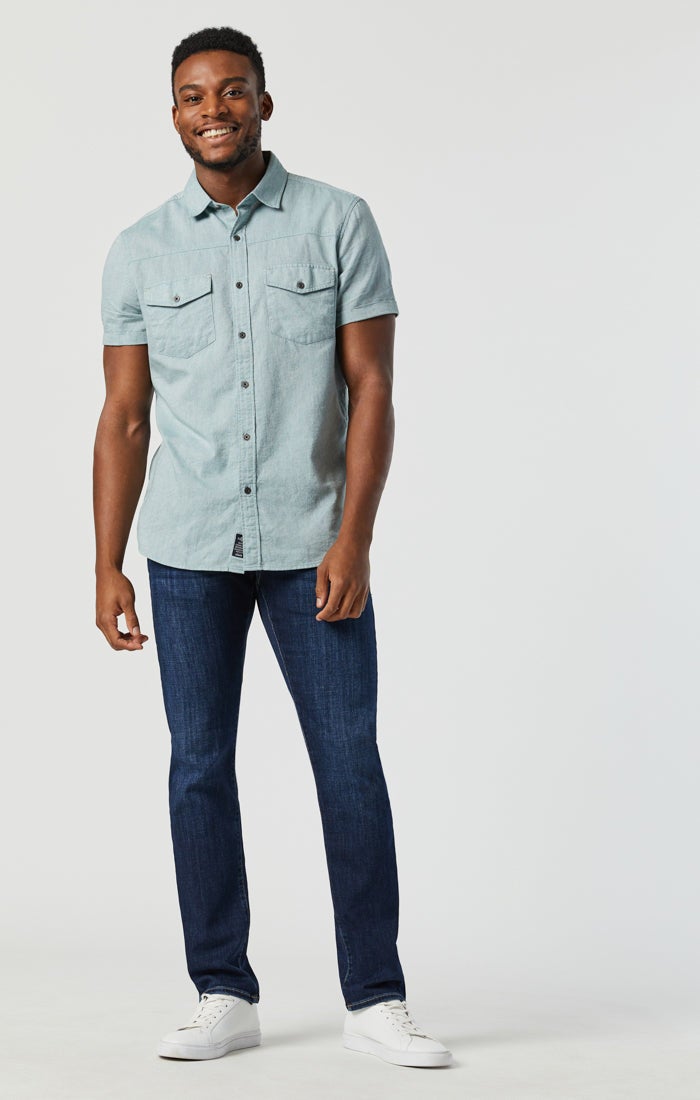 Help Dad look his best this Father's Day with a new pair of Mavi Jeans. The Marcus Slim Straight Leg Jeans in Deep Feather Blue are the perfect option for dads who want a sleek, dark wash jean that is comfortable and stylish. Made from Tencel™, recycled cotton, and sustainable materials, these jeans are a closet staple. Why not give dad the gift of style this Father's Day with Mavi Jeans? You will be surprised how he will proudly shows off his new jeans to everyone. Order dad a pair of Mavi Jeans today and make this Father's Day one to remember!
Buy now
Clayton Shagal Ultimate Self-Care Gift Set
Give Dad an infusion of TLC with this Indispensable gift set from skin treatment leader Clayton Shagal. Filled with seven luxurious gender-neutral skin care products — Collagen Gel in-depth moisturizer, Hydra One Cream nourishing cream, Gel Lotion Cleanser and shaving gel, and two samples of each Elastin Gel and Bamboo and Honey Exfoliantskin rejuvenators — this set is designed to reverse the effects of stress, fatigue and a long winter indoors, and bring a glow to Dad's face!
$90.00* special offer from June 9-19, 2022 at claytonshagal.com
*Reduced from $130
Buy now
EcoFlow DELTA Pro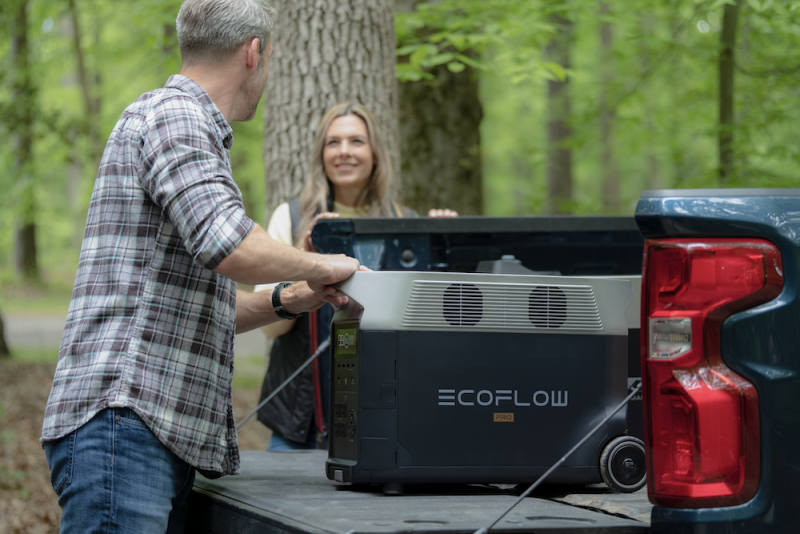 This Father's Day give dad power for any situation with the EcoFlow DELTA Pro Portable Power Station. Known as the world's first expandable portable home battery for home backup, smart energy management and decreased energy bills. The EcoFlow DELTA Pro is the latest generation of portable power which provides the power of security and independence no matter where you are.
EcoFlow Delta Pro offers a huge battery capacity of 3.6kWh, with expansion up to 25kWh. This allows for direct integration through the Smart Home Panel which is the perfect home backup. The portable generator has 3600W that can power heavy-duty equipment like dryers, air conditioners, and more. Do you require even more strength? Combine two units for a tremendous 7200W output. DELTA Pro isn't just a portable power source. Extra Batteries, Smart Generators, and even the Smart Home Panel can be added. Dad will love that the DELTA Pro can power up to 10 home circuits with the Smart Home Panel (sold separately). For extra control, Dad can manage his DELTA Pro using the EcoFlow app. This Father's Day, give Dad the gift of power with EcoFlow.
Buy now
La Piazza Grills – La Potente 36″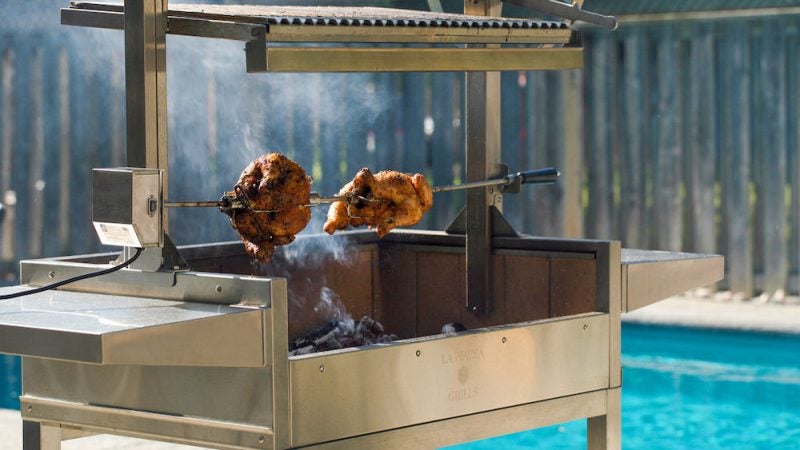 If there's one thing we know, Dad's love good food. This Father's Day give dad the gift of the La Piazza Grill – La Potente 36'. This "Santa Maria" style grill offers a fully adjustable grill height, and is fueled by charcoal and/or solid hardwood, adding to the authenticity of the cooking experience. What makes the La Potente 36' distinguishable is the adjustable cooking grate which ensures slow and low-temperature cooking as the cooking surface is a few inches above the fire. This feature ensures that searing is intense and flavors are retained which will leave Dad mouth-watered and ready to eat again. 
SWAGGER Tip:  Just in time for summer, use the La Potente 36' at your next family BBQ!
Buy now