The team at Swagger Magazine rounded up 20 great gift ideas that will be sure to cover everyone on your nice list this Holiday Season. These gifts are amazing for every person and every budget.
Happy Shopping!
Gifts for the Family
Coors Light x TEAMLTD
In 2020, we've seen our homes transform into our office, gym and the place we spend most of our days, it's never been more important to make sure we're comfortable in our space. That's why Coors Light Canada and TEAMLTD have teamed up to launch the Made To Chill loungewear collection. The best part? Coors Light will donate 100% of all proceeds from the collection to select Canadian charitable organizations of the purchaser's choice. Now you can level up your chill, kick back and give back through the #ChillForChange program.
Prices: From $25.00 – $50.00 CAD

Buy now
Apprentice Workplace Leather Apron
Makers themselves, the husband-and-wife duo behind Leather By Dragonfly understand what goes into a good gift for a craftsman with swagger: exceptional quality, design and function.
Patrick and Michelle Melchior spend time choosing the perfect materials for the premium leather goods they handcraft in Ohio, including custom leather aprons. Based on years of client feedback, they created the Apprentice Workplace Leather Apron to include the most-requested pockets and other features from their custom line.
The Apprentice Workplace is an attractive solution that provides, right out of the box, superior protection and comfort for woodworkers, baristas, BBQ enthusiasts and other craftsmen and makers.
The Apprentice Workplace is 32" long and comes in sizes small-3XL. It is made from a hand-selected 2- to 3-oz. full-grain leather hide. Edges are hemmed with extra-strength, polyester thread along with riveted anchor points for durability, structure and protection.
The leather apron includes two pencil/pen pockets, a small upper square pocket and a large miscellaneous hand pocket. You choose a tape measure clip or multipurpose pocket for the left or right hand to reach. The tape measure clip is reinforced behind with a leather patch. Adjustable leather cross-body straps make sure the apron fits over anything worn for varying temperatures in the shop.
This apron is a tool that your favorite maker will use on every project. Or, treat yourself.
Szanto Desert Sands series 4550 chronographs
The Szanto Desert Sands chronograph collection was newly reintroduced with some upgraded features, now in a smaller size for today.   The series brings to mind a time when British troops were stationed in North Africa (think Lawrence of Arabia for context) from around WWI up through the end of WWII.  The PVD plated 316L stainless steel 41mm cases are available in black or antique gold that conjures up yesteryear perfectly, and one model has a new beige dial that lends a sepia tone effect to the overall look and fits the period ideally also.  The watches feature a steel screw case back to help ensure 100 meters of water resistance, has a highly scratch resistance hardened mineral crystal, and runs on a dependable Miyota (division of Citizen) 6S21Japanese quartz 2-eye chronograph and date movement that will provide accurate timekeeping for years to come.  They also feature an upgraded Italian leather straps with signature buckle that completes the vintage look and appeal of the series, and the straps have easy on/off fingernail spring pins that allow for strap changes in seconds with no tool needed, so one can change the look of the watch head easily with alternate straps.
Szanto is offering Swagger readers a special 25% discount with use of the code "Swagger" on this series (or any of their watches) on their website, just in time for gift giving, or perhaps just as a gift for yourself.   Visit www.szantotime.com today!
Buy now
The Gift of Luxury: TOTO WASHLET S550e 
Still searching for the ultimate luxurious gift of swag for this holiday season? The TOTO WASHLET S550e will knock some jolly into your swagger every time you leave the bathroom by providing an incredibly comfortable personal cleansing experience.

TOTO has spent the last four decades focusing on the performance details that place WASHLET at the top of anyone's holiday wish list. Breakthrough innovations, unique technology, automatic features, and advanced performance make the WASHLET by TOTO the newest product in a line that is the pinnacle of luxury. 

For those chilly winter nights, the WASHLET S550e provides warm air drying with five variable temperature settings, a temperature control heated seat, and the capability to adjust both water temperature and volume, ensuring the user can comfortably return to dreaming of sugar plum fairies.

The WASHLET user has been carefully considered as someone who values the priceless feeling of being refreshed, rejuvenated, and confident after a bathroom break, especially with a toilet that anticipates its user's needs. Advanced capabilities such as an auto-open/close lid and an LED night light ensure comfortable night-time trips. Dual-action spray with oscillating and pulsating water massage, remote control, and built-in air deodorizing system mean that the user is always in control.

The luxury WASHLET is simply dripping in swagger with the technologically advanced EWATER+ system, which automatically cleans the wand (before and after each use) and bowl (after each use). Now, what better gift to give than the toilet that cleans itself, limiting the need for harsh chemicals?

Besides its incredible ability to provide such a comfortable experience, the most appealing aspect of the WASHLET S550e is its sleek, elegant silhouette with a contemporary or classic lid design so that it can easily slide under the Christmas tree and straight into any modern or classic bathroom.
Buy Now: WASHLET S550e Modern Design
Buy Now: WASHLET S550e Classic Design
Olson Form: The Perfect Holiday Gift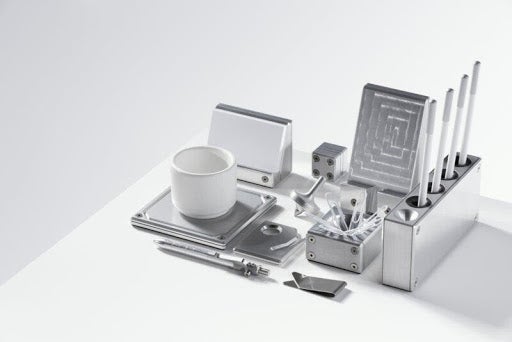 Whether you're back in an office or continuing to work from home, your desk represents the ultimate headquarters where you get work done. A modern office needs to have everything available within reach for the fast-paced life of today. The Olson Form Machine Series has everything you could think of for an office. The luxury statement pieces are all done in a sleek, silver color. These pieces fit perfectly with a modern office. All the swag that comes in this set is made of 6061 Aluminum Alloy and a Silver MIL-A-8625 Type II. The metallic look will add some swagger to your office. All the pieces have groovy ridges but are smooth to the touch.
These beautiful pieces bring sophistication and elegance to the most mundane task. Upgrade any modern workspace with a clean, new look with the machine series. All ten pieces in the collection have a chrome finish and will give all the items a sleek look. All the swag that comes in the package is needed to improve the productivity of any workspace. The pieces included in the set are a phone stand, a business card holder, a bolt action pen, a penholder, a paperclip bowl, a money clip, a spinning top, a letter opener, a cable weight and an individual coaster.
Having these items upgrade any modern workspace, but using these items will raise anyone's swagger at work. Just think about using a sleek letter opener to open envelopes or using a silver Bolt Action Pen to sign documents or business checks. Pull a business card out for a client from a silver cardholder. Place your phone on a silver phone stand, or spin a top to give your eyes a break from the screen. You can even keep your desk clean by placing your drink on a stylish silver coaster instead of the desk.
Valencia Theater Seating: The Tuscany Console
What makes movie night a luxurious experience? Is it the wine, the cozy atmosphere, the supple feeling of leather as it supports your back as you recline your chair to better enjoy the movie experience? The Tuscany Console can provide you a luxurious experience that will take movie night to the next level of comfort.
Combining design and function the Tuscany Console provides luxury featuring premium Napa leather, body contouring cushions, supportive headrest and a center console that drops down to hold your favorite glass of wine and food platter for your leisure. The center console also has reading lights, a power supply and USB charger.  Customization is possible so tailor as you see fit and enjoy the ultimate luxurious experience of Tuscany Console.
 The wall-hugging recliner mechanism allows you to fully recline while keeping the seats close to the wall. This design saves the unnecessary space behind the seat to maximize the usage of your home theater.
 Valencia Theater Seating produces beautifully crafted and designed products that deliver on form and function.  Combining the luxury interior details of exotic sports cars with cutting edge seating ergonomics, Valencia serves the ultimate home theater seating experience. 
Shop the collection at WWW.Valenciatheaterseating.com ,call us at 1-888-533-9991 or follow us on Facebook @Valenciatheaterseating.
For $100 off use the Promo Code: SWAGGERMAG
at checkout at our online*
 *on purchases over $2000 USD and $2300 CAD until Feb 2021
Gifts For Tech Lovers
The Ultimate Gamer's Gift: AUKEY Gaming Desk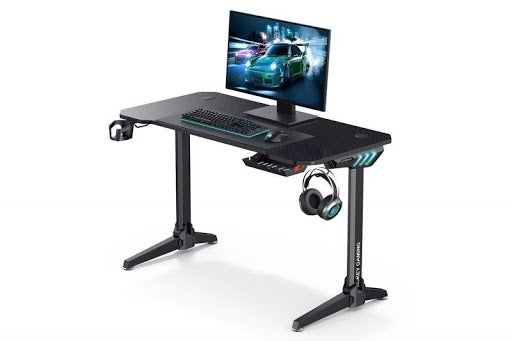 AUKEY Gaming has equipped over 100,000 gamers globally with swag. They have always combined gaming experience and technology to make the best products. Their 104-key AUKEY RGB Mechanical Keyboard is a durable design with a great range of gaming performance. Some other gaming gear that AUKEY has already made includes a keyboard keycap set with a Fortnite theme, mice, headsets and a gaming desk.
The AUKEY Ergonomic Gaming Desk is a T-shaped PC gaming desk that combines years of gaming experience with technology to create a state-of-the-art gaming desk. The desk is 45 inches long, 23.62 inches wide and 29.1 inches high. The desk is great for personal use or at the office. The desk has a textured carbon-fiber surface with an open PVC area for all your gaming needs. The desk can easily hold; your monitors, laptop, PC, keyboards and other gaming gear. The steel, T-shaped legs can help support up to 330 pounds of load-bearing capacity. The RGB lighting on the desk has 8 different modes for customization. You can easily turn off or customize the RGB lights with the side panels. This desk will give you more swagger by just sitting at it.
The AUKEY Ergonomic Gaming Desk comes with the desk, the user manual and an assembly tool kit. Most gamers gain swagger by surrounding themselves with a ton of gaming gear and gamer fuel. This desk comes with many things to help keep your space neat while still amassing gaming gear. There is a cable management rack and cable grommets on the desk surface, which allows your wires to stay tangle-free.
Skullcandy Indy Evo True Wireless Earbuds 
Skullcandy has come out with the absolute best holiday gift on the market this season – the Indy™ Evo True Wireless Earbuds. These are surely the finest in holiday swag and come at a much lower cost than the fruit themed brand's counterparts. 
Express Yourself with Color
These earbuds are, imagine that, colorful! There is no standard blank white earbud here as these earbuds are meant to dazzle and amaze. This swag is artistic in aesthetic to say the least. You can choose from three delicious hues – True Black, Pure Mint, Deep Red, 92 Blue and Chill Grey. Their nifty carrying case matches the buds themselves as they are virtually undetectable within the ear – besides their completely amazing color.
Go Wireless
Skullcandy Indy™ Evo buds are so free of wire entanglements. You no longer have to worry about tangled cords or breaks in sound due to knotted wires. This swagger is one hundred percent wireless and delivers your favorite tunes only through invisible waves. 
Charging Capabilities 
These earbuds are meant to last. The battery life totals thirty hours, with twenty-four hours of charge when in the case and six hours of charge when in the ear. You can charge your buds for two hours of play time within only ten minutes. Activate this charge with only a USC-C type charging cable plugged into the wall or device.

Besides lasting long on battery life, these buds will last you years in wear. This is some of the most durable Holiday swagger. They are titanium coated to resist cracking or breakage. They come with a Fearless Use Promise, as well as a long-lasting warranty. After purchase of your Indy™ Evo Skullcandy earbuds, you can guarantee to be completely sound satisfied for up to two years total.  
C1C – Indoor WIFI Smart Security Camera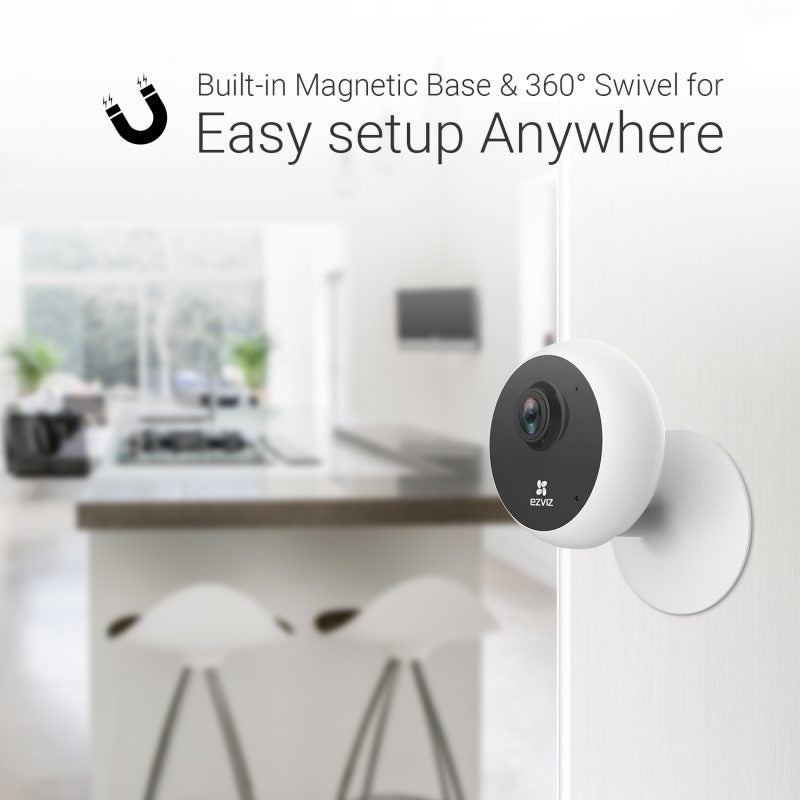 The C1C Indoor WIFI Smart Security Camera is the perfect gift for the most loved man in your family. This security unit is the ultimate in Holiday Swag. This EZVIZ brand device offers the owner full time surveillance security within their home. This by far the best gift this Holiday season for your husband, brother, or grown nephew. 

The device comes with many exciting features like high image quality. The images are viewed at 1080p image quality, but the price point is far below competitor brands at the same image quality. The piece costs only $24.99 and with the Holiday season promotion the price is knocked down to only $19.99. This is a must have! It is super easy to set up and this Swagger can actually even be fully installed in a matter of only three minutes. You can literally watch the streaming video for this camera from any mobile device that has internet connection. 

The camera system has night vision that extends up to forty feet from the lens and has two infrared lights, as well. It's easy to install and can be viewed from anywhere with an internet connection. You can even set it up to alert you on your mobile phone whenever there is motion detected near the camera. The base is magnetic and, on a swivel, Swagger alert, so it can be set up virtually anywhere in the home. The audio on the system is two way so you can speak to whoever is being observed on camera for them to hear. 

The system can be upgraded by purchasing a MicroSD card to store video in case of burglary. This card can store up to 256GB. Most models have a limit of only 32 GB. This camera is an absolute steal Swag, no pun intended!
Buy now
iRobot Roomba i3+

The perfect gift for a loved one looking for a break from cleaning.
Just in time for the busy holiday season, the new Roomba i3+ is the perfect gift for those in need of extra help at home. iRobot's Roomba i3+ is a stylish robot vacuum packed with advanced features like systematic navigation and self-emptying capability with Clean Base Automatic Dirt Disposal. Take cleaning floors off your giftee's to-do list and head to iRobot.ca.
iRobot's Roomba i3+ is a stylish new Roomba vacuum packed with advanced features like systematic navigation and self-emptying capability with Clean Base Automatic Dirt Disposal – emptying its own bin, so you don't have to think about vacuuming for months at a time.The Roomba i3+ cleans your floors by vacuuming dirt, dust and pet hair in hard to reach areas, and can even be controlled with the sound of your voice by pairing with smart home voice assistants like Alexa or Google Assistant.
Price – $749.99 CAD
Stocking Stuffers
Lola's Fine Hot Sauce
In the Philippines, Lola means grandmother. In this family, Lola is mom.
Growing up Taufeek Shah had a very unique childhood. His dad was deployed on active duty serving in the US Army, and his mom was starting her own medical clinic in the heartland of Iowa. His mom was always helping take care of local farmers and was looked up to as a beacon of light in their community.
Every night for dinner Taufeek's mom made sure he and his sisters had a home cooked meal and each meal was accompanied by her delicious, signature hot sauce which had been in her family for generations.
In 2016, Taufeek brought her hot sauce in for a food day at work and people loved it! They said it was the best hot sauce they had ever had. After that, Taufeek knew he had a new calling and needed to leave the corporate world of finance to bring Lola's hot sauce to tables all around the world. 
 Lola's is unlike any other hot sauce in the market because we use fresh real ingredients with umami flavors that enhance any cuisine and adds depths of flavor while complementing any dish.
Lola's is a generational family recipe finely created using the freshest all-natural ingredients to provide a truly unique fine hot sauce for everyone. All of our flavors use the world's hottest peppers for delicious flavor and not intense burning heat. Our products are vegan, all natural, non-gmo project verified, & gluten free.
Lola inspires us daily and we are proud to be able to share this seasonal recipe with you. We hope that her sauces inspire you as much as she inspires us.  We got together with Lola herself and used our Ghost Pepper hot sauce to create this delicious, timeless appetizer that will grace our tables this Christmas and for years to come. we hope it's on yours as well!  
Find Lola's online at www.lolasfinehotsauce.com or in over 10k retailers and restaurants across the United States and Canada including Farm Boy, Costco, BJ's, Stop & Shop, Giant, Fairway Market, Whole Foods, Walmart, and Kroger! For great culinary ideas and general foodie-isms follow Lola's on Facebook, Instagram and Twitter @Lolasfinehotsauce.
The Gift of Greene's Gourmet Hot Sauce
Greene's Gourmet hot sauce is the perfect gift for anyone seeking amazing flavor balanced with heat. Each hot sauce is all natural, gluten free, non-gmo and handcrafted in small batches in Vermont with flavor as the top priority. Greene's Gourmet Hot Sauces are sure to please any palate this holiday season.
Great as stocking stuffers and gifts, or just as a personal indulgence.
Make your gift shopping this year simple, easy and unique with Greene's Gourmet "The Firehouse Five"!
The Firehouse Five includes the rich and mellow Smokey Red, the delicious tang of the Very Verde, the sultry simmer of smoked chilies in the Texas Chipotle, the exotic ginger and habanero in the Dragon's Fire, and the full-flavored heat of the Atomic Habanero.
You will use food as an excuse to eat these awesome hot sauces! Gift your loved ones the gift of flavor this holiday season with the Firehouse Five by Greene's Gourmet Hot Sauce.
Get the Firehouse Five gift pack for $25 and save $5.
Individual bottles are $6.
Spice up your Gift Giving with Men Pa'w Hot Sauce! 
 We all have that person in our lives. They have swagger for days! They're the life of the party! When it comes to bringing the spice to an event, you can count on them to spread it on thick! The issue comes with finding some swag to give them to show that you can't imagine life without them. What gift could you provide them that will make them feel appreciated? For that wild card on your gift list, try Men Pa'w's Hot Sauce!
Men Pa'w's Hot Sauce offers a gift set where you can choose three of four amazing Haitian hot sauces. Choose any combo of Red Sauce, Green Sauce, Umami, and La Bomba or let random chance choose which sauces will be given. Each sauce has its own unique flavor and swagger to match the gift recipient. These sauces contain a variety of peppers including Chocolate Habanero, Red Habanero, and Fatalii. Olive oil and several Haitian spices round out the flavor profile for each sauce. This gift set is perfect for those who enjoy the finer things in life or need to spice things up on the regular!
Created by Ms. Carline Phanor, Men Pa'w's Hot Sauce is a labor of love. She gained experience in Caribbean spices and dishes while working at a popular restaurant in Haiti. While owning her own restaurant in Champ De Mars, Port Au Prince, she created her own hot sauce. This hot sauce has gone on to win the Hot Pepper Awards of 2013 and the 3rd Place Hot Pepper Award in the Scotch Bonnet category.
If you're in need of some special swag for that unique person in your life, try gifting them Men Pa'w's Hot Sauce! Let the bold flavors of these specialty sauces show how much you appreciate that someone who spices up your life.
Straight Away Cocktails: Spritz & Spirit Sampler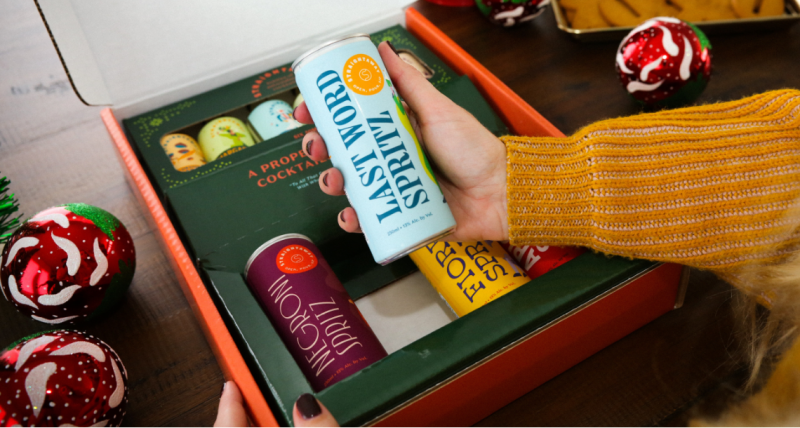 A new season of longer nights, brisk clean air, sweaters, and even your jauntiest of beanies are just a few flips of the calendar away. Like a cocktailing Nostradamus, Straightaway has been anticipating your gifting needs. Our cocktails are the life of the party and here for the warming of cold toes and brightening up the incoming winter eves. 
Thinking already about what you should get for your family, clients, colleagues and friends? As easily as you open, pour, and sip our cocktails, you can check out our gift packages to ensure you find the drink for every cocktail fan on your list.
The Straightaway Spritz & Spirit sampler box is for the person in your life who is the life of the party:
For the butterflies who prefer to chill with all the flowers, behold the Spritz and Spirit Sampler Box. Take flight and flutter from drink to drink to find your new faves. Our 250ml canned spritzers feature sparkling Willamette Valley wine paired with our house made amaro. Also includes one each of all six of our single serve cocktails. Life of the Party: six single serve cocktails, plus 2 servings per can. 
Gray Jay Whisky Flies Into The Marketplace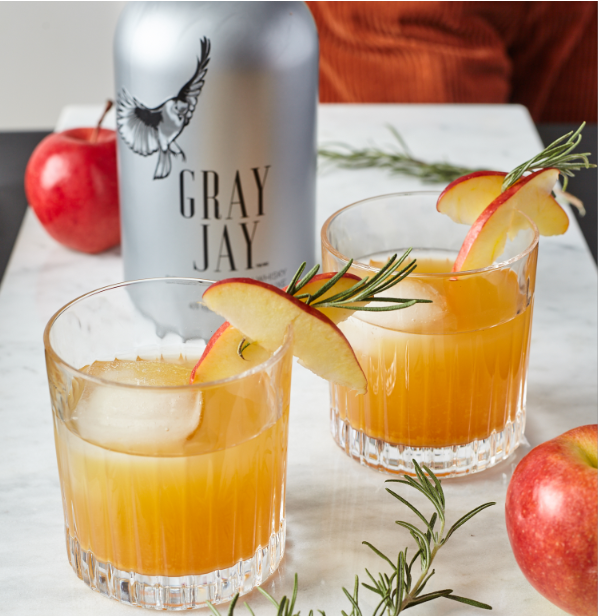 There's a new whisky player in town, Gray Jay, offering an exciting twist on an old traditional beverage. 
It's a drink as fearless as Canada's national bird, for which it is named after, and as welcoming as the Great White North, where this drink is made.
With its smooth, sweet taste, and notes of vanilla and caramel, Gray Jay was designed to welcome newcomers to whisky. Meanwhile, its well-rounded complexity, and no added coloring, will embrace connoisseurs just the same. 
As such, Gray Jay is flying in the face of convention, as it's a drink that can be enjoyed in any form – not just neat, or with ice, but in cocktails, mixes or punches. It was created specifically for that kind of versatility, and an "any time" way of celebrating life. The company that produces Gray Jay, Fluid Assets, has put much thought into creating something that is as much for a brunch-time Caesar, a festive meal, a holiday toast, or a party (big or small).   
You'll be able to easily spot the gray glass bottle, unmistakably easy to find, featuring an embossing of this beautiful majestic bird. 
Given its new niche, this could be the next 'it' whisky brand, and perhaps, just like the Gray Jay soaring in the skies, the beverage version might soon be flying off the shelves.
Woodford Reserve Is the Taste of Luxury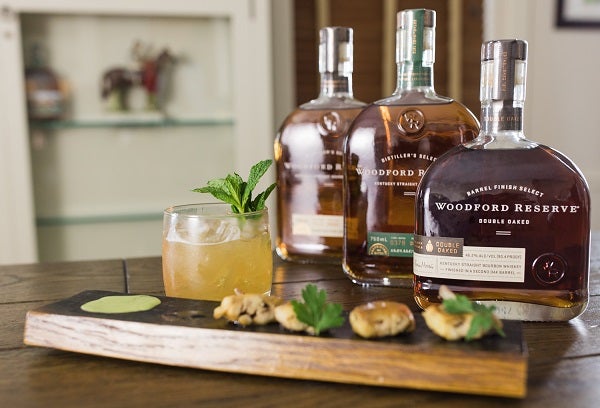 Bourbon should be a staple in every man's bar. It's classic and sophisticated. So, this holiday season, gift the man, brother, father, granddad or buddy on your list with the world's finest bourbon, Woodford Reserve.
A bourbon for gentlemen, Woodford Reserve is crafted from a secret recipe of corn, rye and malted barley since 1812. With more than 200 flavour nuances in every sip, this bourbon is truly a spectacle for the senses.
Even top chefs choose Woodford for its vast flavours, adding it to a glaze, or sauce to enhance any dish or cocktail. So, whether you sip it neat or on the rocks, in a Manhattan, or an Old Fashioned, take your time, and savor the taste of refinement this holiday season.
Woodford Reserve is usually available for under $50 coast to coast in three varieties: Bourbon Select, Double Oak and Rye. You can never go wrong sharing, gifting, or celebrating with Woodford Reserve.
Buy now
Enjoy a High Holiday with FUME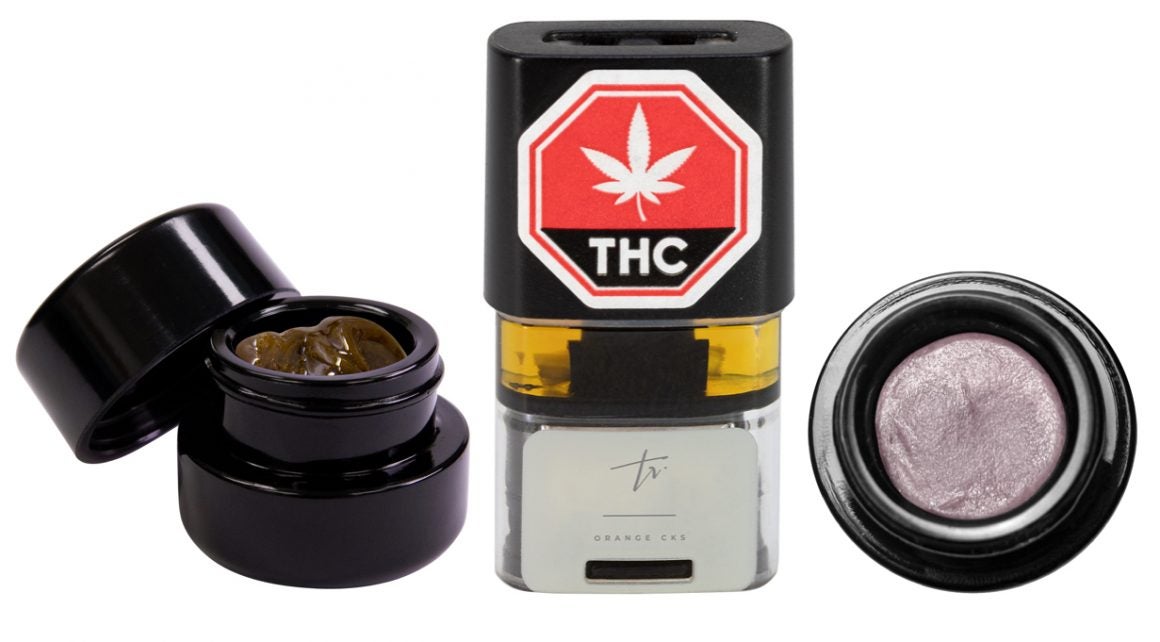 What do you get the cannabis connoisseur on your gift list? If you're thinking anything in the dried flower family, you're so last Christmas! This year, you can finally get them what they want!
That high-potency, pure flavour experience that until now, was only available from their 'their guy.' Not anymore! Thanks to FUME, you can now pick-up a new collection of full-spectrum cannabis extracts, created for the most-discerning user. You won't want to (puff-puff) pass on these. Now you can legally buy them exactly what they want.
TR Signature Dark Helmet Flower Rosin is a limited-edition, single harvest, full-spectrum extract with deep earthy notes, balanced with a fresh citrussy sweetness
Orange CKS Full Spectrum Oil boasts a sweet citrus aroma and robust cannabinoid profile. Full-on flavour with a solid entourage effect.
Black Cherry Punch Hash Rosin is a first-press water bubble hash, made with an uncompromising level of care to create an authentic, aromatic, and fresh extract.
Easy and precise dosing and a clean refined flavour. The cannabis connoisseur on your list will thank you. A high holiday, indeed. For more details click here: https://www.fumeextracts.com/signature
Buy now
Gifts for Her
Dyson Airwrap: Holiday Edition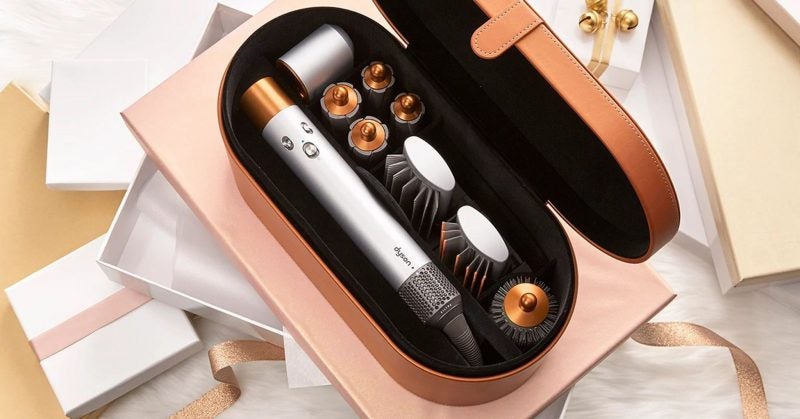 Looking for the holiday gift swag for that favorite woman in your life? Consider a Dyson Airwrap. This Airwrap is an excellent gift for the woman who wants to maintain their hair's health and shine while still being able to style it. Having the perfect hair allows the woman in your life to have swagger and confidence as they go out into the world.

The Dyson Airwrap only uses air to attract style. It attracts hair by creating a spinning vortex around the barrel of the Airwrap. Once the hair begins spinning, the curling effect starts. There is no extreme heat used on the hair. This helps to ensure that the hair is not damaged, and the natural shine of the hair is not removed. The Dyson Airwrap will dry and style at the same time. This will allow for the girl in your life to be able to get their hair done quickly. In addition to curling, a range of attachments for this Airwrap allows for smoothing, drying, and waving.

It will help your girl's hair and add to her swagger, it looks great as well. It is available in a great copper color that will look great wherever your loved one uses it. Gone are the ugly styling wands of the past. 
Add this item to your holiday shopping list for that woman in your life that is all about her hair. She will thank you for this awesome gift swag as her hair will be healthier and more comfortable to style thanks to the Dyson Airwrap.
Gifts for Foodies
Castello Is the Cheeseboard Choice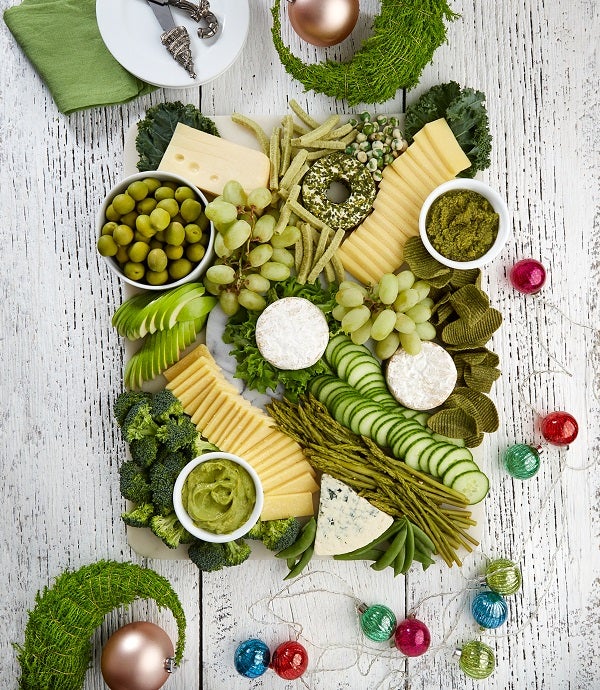 Cheeseboards are now the number one item served at holiday get-togethers, which means, it's time to raise your cheeseboard game if you hope to leave a lasting impression.
The first step, is to choose a cheese brand that's a step above the rest. Castello is that cheese. Not only is it the fastest growing cheese brand in Canada, it offers an unforgettable taste sensation and a mouthwatering social media page filled with endless ideas on how to elevate your cheeseboard creations!
How about a Grinch themed cheeseboard for the holidays? Castello recommends taking inspiration from classic holiday films and even offers a how-to video for those who need the extra help. The options are endless! Leg lamp from the Christmas Story cheeseboard anyone?
From indulgently creamy brie, to crumbly cheddar, tangy tickler, buttery Havarti and smooth blue, Castello offers something for everyone. There's a reason they're Canada's favourite cheese – time to find out why!
Visit their Instagram page @CastelloCheeseCanada
Tre Stelle Has The Perfect Holiday Cookbook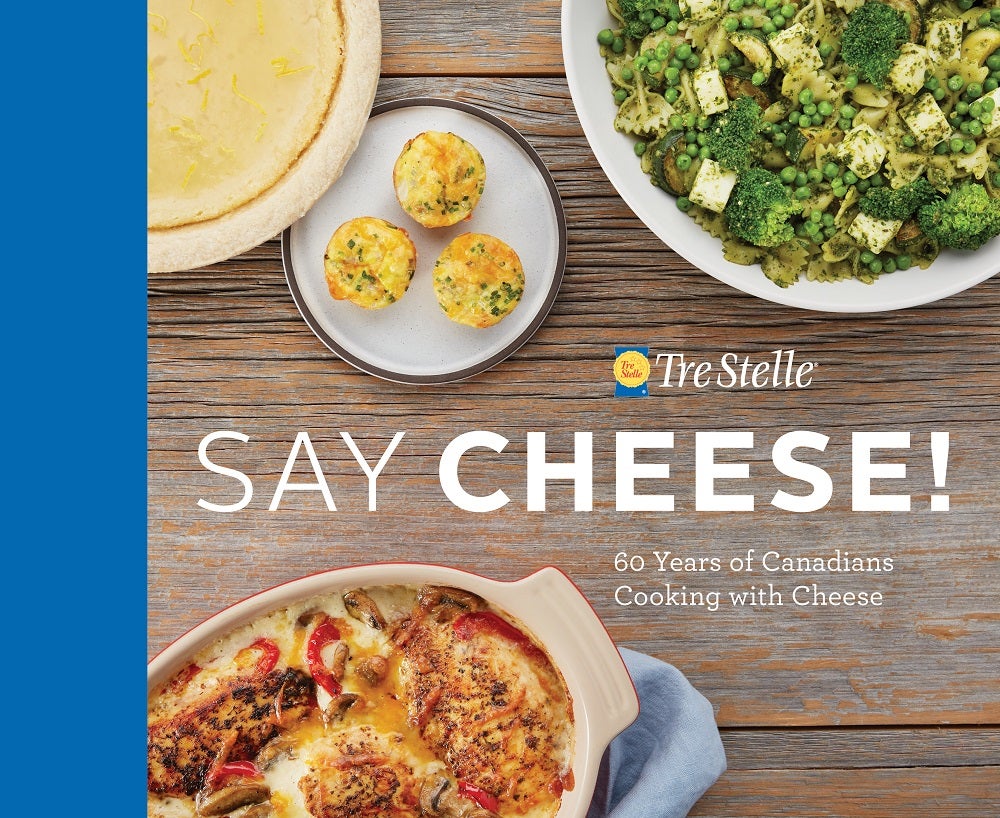 2020 forced us to get reacquainted with our kitchens, and now that the holidays are coming, it's time to apply those finely tuned kitchen skills towards some serious festive feasting, using the most versatile ingredient – cheese!
Cue the brand new, all-cheese cookbook, courtesy of Tre Stelle. Say Cheese! is a stunning 144-page book loaded, filled, stuffed, and smothered with cheese recipes that pay homage to fromage.
And did we mention that it's free?
The cookbook was created to celebrate Tre Stelle's 60th anniversary with a free downloadable eBook to support Canadians cooking from home more than ever. For those who prefer the hard copy though, there's a limited-edition print version which makes a gouda gift for cheese lovers, and home cooks alike. And Swagger readers get a delicious discount, so you can save some cheddar, which is always a good thing this time of year.
Say Cheese! is packed with treasured family recipes from home cooks and notable Canadian chefs, including some perfect-for-the-holiday dishes like Cheesy Crispy Brussels Sprouts, Roasted Carrots with Feta, and Sugarplum Mascarpone Turnovers.
You can download your free copy of the book here or order a copy for $39.95 (plus tax and shipping) with all profits donated to Canada's front-line workers in the fight against COVID-19 – and use promo code SWAGGERMAG20 for 20% off your order.
Buy now