Most men aren't into jewelry and accessories, and so when it's time to pick their wedding band, they're not as enthusiastic as their soon-to-be brides. However, you should try and look at wedding band shopping from a different perspective. If you think about it, it's one accessory you'd most probably wear for years or decades.
So, it's only essential and logical to give it a lot of thought. Wedding bands can also be a great way to flaunt your personal style in a subtle manner.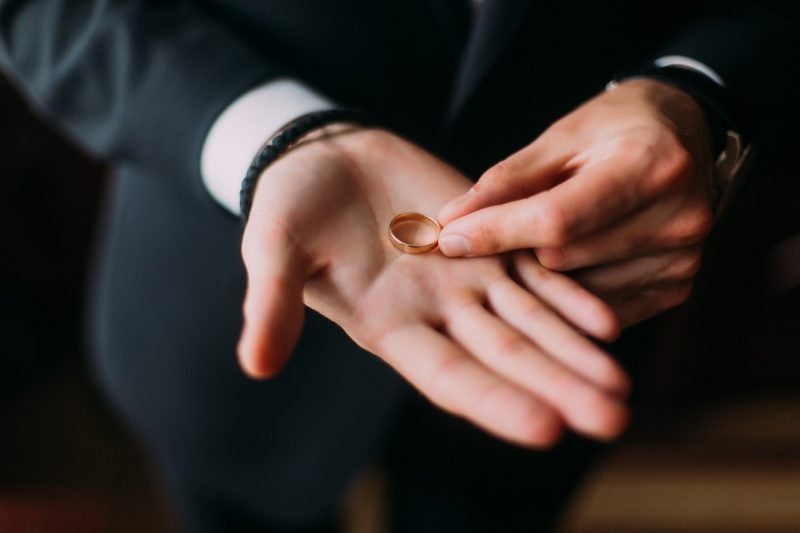 Here Comes The Groom 
Out of all the preparations and things you'll have for your special day, it's your wedding bands that'll stay with you for as long as you're married. If only you look at it that way, you'll be more eager and dedicated to finding the right ring for you.  
Aside from choosing the band depending on your personal style, you also need to consider other factors such as your lifestyle. For more tips on shopping for men's wedding bands, you may refer to the list below: 
1. Choose Your Metal 
As you already know, there are different metal types used in making wedding bands. This is usually among the first things you'll need to decide on with your bride-to-be. Some couples like to get matching metal bands, although some go for different metals as long as the finish and design resemble one another.
Gold is the most common metal type used in wedding rings. Traditionally, yellow gold is favored by most, but you can also choose to alloy it with other metals to create rose gold or white gold tones. If your work and lifestyle involve working with your hand every day, high-karat yellow gold might not be a suitable choice because that may potentially wear and tear the band.
Other options to choose from are nickel, silver, and copper, although these metal types may tarnish with time. If you want something rare, platinum is available but at a higher cost. For men who prefer to prioritize durability and resistance from scratches or tarnishing, you can opt for either titanium or tungsten.
2. Decide On A Wedding Band Style 
After you've selected the metal for your wedding band, it's time to choose a style for it. Often, men's wedding rings feature tenuous decorative features such as uneven or beveled edges. Several patterned styles give wedding bands a more contemporary look. Choices could range from patterned inlays to hammered style, textured finishes, and sculpted edges.
Suppose you have no idea of the style you'd want for your wedding band. You can look online for some inspiration that you could use as a starting point. When you meet with your jeweler, you can show the designs you want and ask them if they have anything similar or have one custom-made for you.
3. Do You Want Gemstones? 
Some grooms prefer to add gemstones to their wedding bands, especially if they want to have something that'll complement or match the design of their partner's gold engagement rings and wedding rings. Or it could also be that you just want a little touch of bling featured in your wedding ring. It's all a matter of preference, and you should be the one to decide on what you really want to have for your band. 
Gemstones can be subtle in a classy and contemporary way which will suit any groom's style and preference. One idea to consider is to add dark gemstones such as black diamonds that could dramatically and stylishly enhance the appearance of your otherwise plain-looking wedding band.
4. Be Sure To Have The Right Size 
As you shop for your wedding band, make sure you're ready with your size any time you may need it. You'll never know if the next ring you're checking out would be the one you'd want to take home with you. It's best to be prepared and have your ring size measured before you go shopping with your significant other.  
Jewelry shops are usually ready for such scenarios, and they have ring samples and equipment that you can use to get the exact measurement of your ring. Be sure to go for a size that's not too fit or too loose on your finger. You want something you can comfortably wear every day without the fear of losing it because of the loose fit.
Let Your Heart Decide 
You'd be surprised to realize that wedding rings can speak to brides and grooms in different ways. You have to pay attention to every ring you fit in and imagine yourself wearing it throughout the marriage.
Shopping for your wedding band is one of the things you need to do before the wedding. As such, take the time to really be into it and select the ring you can picture yourself wearing for the rest of your life. Your heart and mind will tell you once you've found the one. Of course, it has to be of the perfect size. The band material, style, and design should be what you really want and could distinguish your personal style.