The holiday season is in full swing, with so many people to buy things for and so little time. Thankfully, some of the best gifts are practical and geared toward comfort. This Holiday season, The Canadian Down & Feather Company has your back with the best ethically sourced sleep and living products that are perfect for even the most challenging people on your list.
Gifts Based on Sleep Preferences
Everyone has a sleep preference. It's the position you get into that helps you fall asleep fast. Did you know that there are specific products geared toward sleep style? Here are the perfect duvets and pillows for the people on your shopping list.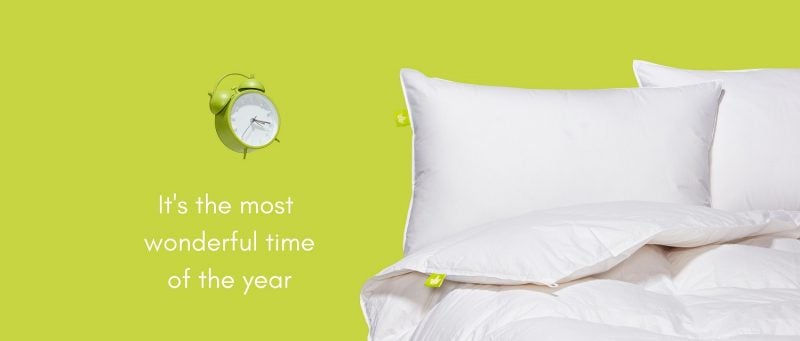 1. Side Sleepers
Those that sleep on their side need neck support to ensure they don't wake up in pain. The Hutterite Down Perfect Pillow is an excellent option because it provides much needed extra support. There are impressive outer chambers that keep the sleeper from feeling the pricks of the feathers. You should opt for the medium thickness if the person has a small or medium body type. However, the firm is best for those with a larger body frame. 
2. Always Cold 
We all know that one person who is always cold, regardless of how warm it is inside. Since the winters are so frigid, these folks are often miserable most of the season. Thankfully, there's no need to crank the heat and roast everyone else out when you can get a fantastic duvet for them to stay cozy.
Keep the "cold one" warm with the most popular ethically sourced Goose Down Duvets only from Canadian Down and Feather. The most popular available duvets are the Hutterite Goose Down Duvet, 650 Loft White Goose Down Duvet and the White Goose Feather Duvet. If you want an alternative to down, you can check out the Gel Microfiber Down Alternative Duvet, which is another option for warmth without feathers. 
3. Back Sleepers
Sleeping on the back may be the most comfortable way to rest for some, but it's important to ensure their head stays in the right position. The Down Pillow was made with your back sleeping friends in mind. Since it's malleable and can adjust to their preferences, their quality of rest increases. For more support The Down Perfect Pillow has your back, no pun intended. If you want an alternative to down, the Gel Microfiber Pillow is another great in-between option. 
4. People with a Penchant for the Finer Things
When it comes to bedding, some people like to splurge. Considering that you spend one-third of your lifetime sleeping, you should have premium comfort. The 850 Loft Hutterite Goose Down Duvet is made with those who like the finer things in mind. It has an impressive 500 thread count and uses warm goose down so sleepers can feel like they're sleeping on a cloud and resting among the stars. 
If you want a product that has high performance but a lower price tag, you'll want to check out the 800 Loft Hutterite White Down Duvet which is made with 500 thread count cotton and 800 Loft Canadian duck down. The difference between the two is so slight that you won't notice, but you'll save on your holiday shopping. No matter which of the two you select for the luxury fanatic on your list, you can't go wrong.
5. Always Hot
Lighter duvets are for those who prefer to kick the blankets off at night. Being too hot at night can disrupt sleep. The two most popular from CDFC are the White Down Duvet and the 650 Loft White Goose Down Duvet are both excellent options to help folks feel comfortable without getting overheated. 
6. Those That Toss and Turn All Night
Some people can't sleep in one position for too long, so they're tossing and turning all night long. Sprawling sleepers need a pillow with their needs in mind. The Medium Down Perfect Pillows are great as they provide proper support in whatever position being utilized. The Gel Microfiber Pillow is the best alternative for support without feathers. 
7. Stomach Sleepers
Stomach sleepers need a pillow to accommodate them. The pillow must be flatter and not have too much stuffing, as it's important to keep that neck in proper alignment. The best option is the Microfiber Pillow or a White Down Pillow. The soft to medium options work best.  
8. Best Options for Children
Children need something that can be washed repeatedly, but the pillow must also be plush and soft. Looking at the Microfiber Duvets and Pillows is the best option. Since kids are smaller, the flatter style helps to accommodate them better. 
Many kids don't like feathers, and the firm nature of these products might be uncomfortable for them. Additionally, children under 2 shouldn't sleep with anything made of down, as it's unsafe.
9. Stylish People
White linens can be too plain for the fashion forward folk. It's time to throw in some colour with decorative touches. Throw pillows are great accent pieces that can help bring life to a space. A cushion insert or decorative cover can be the perfect gift, and they can be changed with the seasons. You can also pair these decorative accents with the Hutterite Goose Down Duvet.
10. Picky People
It's not always easy to buy gifts for picky people during the holidays. For these folks, look to Canadian Feather & Down crowd-pleasers to help. The 650 Loft White Goose Down Duvet is always a good choice, as it's lightweight and feels like sleeping on a cloud. To compliment, add a quality pillow such as the Down Perfect Pillow. Not sure if they'll enjoy that? A gift card is the next best thing if you're stumped on what to buy. 
11. College Students
It's a well-known fact that college beds aren't always the most comfortable. Canadian Feather & Down has a simple fix to elevate your dorm bed with the Gel Microfiber Poly Bed. This soft, plush mattress topper attaches to the top of a mattress for added softness and comfort. The topper can also be rolled up and brought home when the school season ends.
Holiday Shopping Simplified
There's no need to spend long hours trying to find the perfect gift when Canadian Feather & Down Company has everything you need. Everyone wants a restful sleep, so having the right cover and pillow is the perfect gift to give this season.