It seems men are never satisfied with their penis size and the quality of their erections. 
So what's a man to do?
The last thing any guy may want to hear in response to that question is acupuncture. 
No, you can relax, an acupuncturist isn't going to stick needles into the penis. However, the thought process behind acupuncture for penile health is to increase blood flow to your package. 
This could possibly improve the quality of an erection via a few different processes. 
Let's take a look at how acupuncture affects penile health.
Acupuncture And Penis Enlargement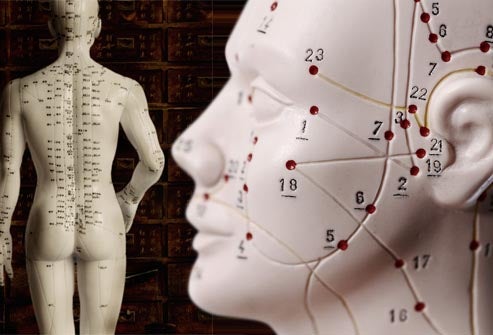 Almost everyone is familiar with what acupuncture looks like or has a general idea of what it is, but it's not just some lady haphazardly shoving needles into your body. 
An acupuncturist uses needles don't go very deep into your skin. 
Unfortunately, there's no hard data linking acupuncture's effectiveness with penis size. 
However, that doesn't mean it's something you should give up on so quickly. There are some ways acupuncture has an indirect influence over penile health. 
Before you understand how needles in the skin affect the quality of erections, you need to know how erections work in the first place. 
You have different chambers inside of your penis… 
These chambers, when given adequate blood flow, are what make the penis erect. The goal is to have healthy blood flow going into the penis, so there's more going in than there is coming out. 
This works in combination with signals that your brain sends to the penis to have it open the floodgates for your arteries to pump in blood. 
Erectile dysfunction occurs when there are issues with the blood flow into the penis, blood vessel inflammation, or a problem with the nerve pathways telling your penis to get erect. 
That's why it's essential to understand sticking needles into specific points on your body isn't going to make your penis hard, but it can take care of the issues keeping it from getting or staying erect. 
Let's look at ways acupuncture can help blood flow… 
Acupuncture Increase Blood Flow 
An erection is a complicated beast that takes many different processes to work at once. 
However, there's no denying that inadequate blood flow plays a massive part in the erection as the blood is the only thing that fills the spongy tissue inside the penis. 
Fortunately, acupuncture increases blood flow by stimulating a vasodilator, nitric oxide, in your body. 
This helps the blood vessels to widen, which allows more blood flow. Those who have blood circulation issues take nitric oxide supplements to help get blood flow to vessels and tissues lacking nutrient-rich blood. 
When tissues that haven't been getting adequate blood flow start getting nutrient-rich blood back, then they can start repairing themselves. 
This process of stimulating blood flow works hand in hand with acupuncture's antihistamine-effect, which also opens up the blood vessels to give tissues that were previously deprived of oxygenated blood more nutrient-rich blood.
Acupuncture Reduces Inflammation
Inflammation affects your quality of life that also, unfortunately, includes your penile health. 
Inflammation doesn't just affect the penis itself, but it can completely get in the way of your routines in your daily life. It can cause pain, depression, and other issues that lead to erectile dysfunction.
One cause of inflammation is pro-inflammatory cytokines that come about as part of your body's immune system response. 
Unfortunately, your body can go a little overboard with its cytokine response to diseases. 
Fortunately, acupuncture has been shown to reduce the pro-inflammatory cytokines that worsen inflammation. 
Not only does acupuncture reduce pro-inflammatory cytokines, but it also helps increase the much healthier anti-inflammatory cytokines. 
While the regulation of cytokines makes acupuncture a safe, yet effective, alternative to treating inflammation, it can also help release endorphins into the body. 
These endorphins are natural pain relievers, and if you're suffering from pain that affects your mental or emotional well-being, it can help increase your mood and sex drive. 
If inflammation or blood flow aren't the culprits behind your erectile dysfunction, then it's time to take a look at the central nervous system. 
Acupuncture Stimulates the Central Nervous System
Sometimes erectile dysfunction is caused by a dysfunction in the central nervous system. The brain reacting to visual or audio stimuli can make men erect. 
However, when there's a disconnect somewhere along the nerves, then it can make it hard to get an erection or maintain one. 
One of the interruptions between the penis and the brain is stress. 
Stress affects how your brain sends signals to the rest of your body during arousal from penile reaction to increased heart rate. 
In fact, the hormones released during the body's stress response affect your penile function. 
Fortunately, acupuncture doesn't just promote the tissue's ability to heal itself with increased blood flow, but it can also help the nervous system's ability to regenerate. 
The strategic placement of the needles releases chemicals into your nerves, brain, and spinal cord that help activate the parasympathetic nervous system. 
With acupuncture having the ability to take care of all these different causes of erectile dysfunction, it only makes sense that acupuncture improves the erection quality.
Acupuncture Improves Erection Quality
It's no secret that exercise affects the size of the penis but not in the way you expect. 
Unfortunately, exercises, the activity meant to boost your health in many ways, temporarily causes shrinkage. 
It's nothing to worry about because your body doesn't need blood flowing to the penis during exercise, as it needs it for other parts of your body like your  muscles. 
Fortunately, acupuncture can help get the blood flowing back in the right direction. 
Acupuncture stimulates both the flow of energy and blood to areas of your body it needs. 
Regenerating the nerves and tissues in the area to achieve balance. This doesn't just improve the quality of your erection, but it also helps you maintain the erection during sexual intercourse. 
Acupuncture helps increase the quality of the erection, but it can boost testosterone and sperm count in the penis. 
Men who suffer from low testosterone will experience everything from low-libido to reduced penile function. 
Boosting testosterone and balancing blood flow is a good recipe for better erection quality. 
Acupuncture And Penis Enlargement – Conclusion
Erectile dysfunction is caused by a myriad of psychological or physical conditions, from stress to hormonal imbalances. 
While acupuncture won't necessarily make your penis bigger than it is, it definitely has an effect on your penile health. 
With acupuncture, you'll handle the physiological issues that get in the way of healthy sex drive and strong erections
And in my opinion, it's may be worth dealing with a few needles to make that happen.
References
https://www.ncbi.nlm.nih.gov/pmc/articles/PMC2932548/
https://www.hindawi.com/journals/ecam/2013/591796/
https://pubmed.ncbi.nlm.nih.gov/11964139/
https://www.hindawi.com/journals/ecam/2013/591796/
https://www.ncbi.nlm.nih.gov/pmc/articles/PMC4896824/
https://www.sciencedaily.com/releases/2019/07/190711141256.htm
https://www.sciencedirect.com/science/article/abs/pii/S0165183899000909
https://www.ncbi.nlm.nih.gov/pmc/articles/PMC4551211/
https://pubmed.ncbi.nlm.nih.gov/30157368/