In 2017, the idea for Arcwave – a new male pleasure brand – was born out of a SexTech Lab in Berlin, Germany. The mission was to elevate masturbation for the male anatomy, delivering a more varied, more exciting, more roller-coaster ride to climax.
Arcwave introduces Ion, the world's first Pleasure Air stroker for men.
After more than two years of research and regular input from the company's own international MasturbaTEAM tester panel, Arcwave engineers and designers succeeded in developing Ion. According to the company, approximately 100 men have tested the device so far and nearly 79% of them describe the orgasm as unique, explosive, more intense and longer than their previous masturbation orgasms.
"I could continue to stimulate my penis after orgasm and have a second orgasm right away." – quote from an anonymous MasturbaTEAM participant in the testing for Arcwave Ion.
In 2014, Pleasure Air change the sex toy industry forever. Womanizer, Arcwave's sister brand under the WOW Tech house of premium brands, introduced the first product for the clitoris that, instead of direct vibrations on the skin, utilized waves in air pressure to deliver powerful "contactless" orgasms.
During fetal development, the penis and clitoris originate from the same tissue. Pacinian receptors are highly sensitive pleasure receptors located in the clitoris, responsible for creating intense, longer lasting orgasms. In the male anatomy, these same Pacinian pleasure receptors can be found in the frenulum, on the underside of the penis where the tip meets the shaft.
While both the penis and clitoris have the same Pacnician pleasure receptors, traditional techniques such as stroking, oral and penetrative sex don't typically stimulate this specific pleasure area in the penis.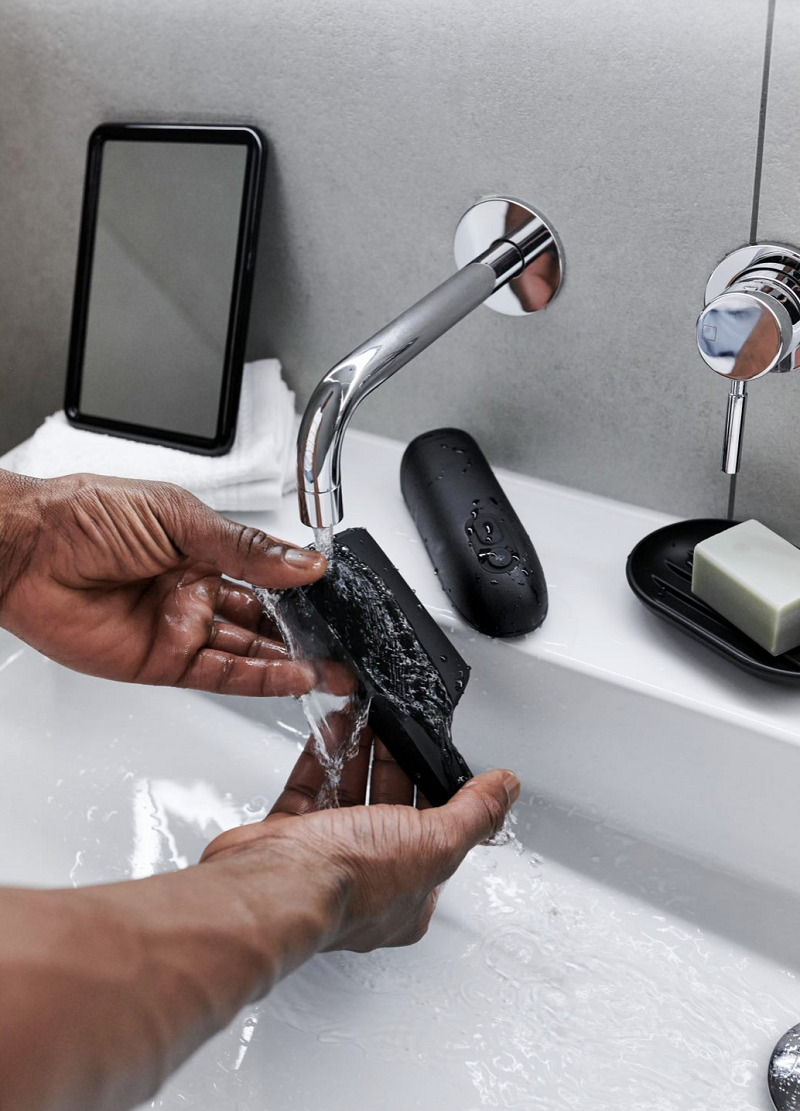 Arcwave technicians took on the challenge of re-engineering Pleasure Air for the frenulum. By generating more powerful pressure waves and enabling a wider surface spread, something special happened.
Testers reported their orgasms as being more intense, varied, and accompanied by a build-up they had never experienced before. What the tester panel described was so similar to accounts of clitoral orgasms that a wider, independent research study was commissioned to compare the two directly.
In this research study, it was proven that Ion increases the intensity of the male orgasm, making it longer and more powerful.
"While products focusing on penis pleasure exist, we felt that there hadn't been a true innovation in the market for years. Ion delivers something entirely different from the standard stroker or penis ring, and we're thrilled to be able to help men and people with penises discover a new dimension of pleasure." – Mark Tobias Zegenhagen, Chief Technology Officer at WOW Tech.
In the development of Ion, the Arcwave team of engineers integrated key solutions to commonplace issues that users of male sex toys were experiencing. One of the first priorities was to ensure privacy and quiet usage for an ultra-powerful product. Arcwave delivered on this promise by adding Smart Silence, a new technology that starts and stops stimulation automatically as the Pleasure Air sensor identifies skin contact with the device. Smart Silence mode is designed to help alleviate noise, preserve battery life and allow you to practice edging or other masturbation techniques.
Ion uses an innovative CleanTech silicone that is unique to the Arcwave brand for the adult industry, and is more hygienic, durable and easier to clean than typical materials used for strokers on the market. CleanTech silicone is resistant to growth of bacteria and material breakdowns as a result of UV light, meaning it is body safe and hygienic. The easy to clean material is simple to wash with soap and water or a silicone friendly toy cleaner (such as the Arcwave Toy Cleaner 100ml).
Ion features 8 Pleasure Air intensity levels, so there is room for everyone to seek what works best for them. Simply enter into Ion, turn the device on, and control using an intuitive 3-button control panel. For after use, Ion has a simple Twist-to-Open mechanism allowing the device to split in half, offering easy access to clean inside of the device. Clean Ion by running it through water and place it into the included storage base to help dry and re-charge.
Ion's storage base connects to a power source such as a wall or computer through an included micro-USB cable. The base features 3 LED indicator lights to keep you in the loop on your Ion's battery level. Inside the storage base, an included DryTech stick and DryTech pack help maintain the shape of Ion while using silica to wick away remaining moisture.
Ion Is the first flagship product in the Arcwave range.
Arcwave Ion has officially launched globally on December 10th, 2020. Ion will be available for sale in both USA and Canada through their online webstore and participating retail partners for $199 USD / $229 CAD.
BE ONE OF THE FIRST TO BUY ION: arcwave.com