Peloton cycling classes are a lot of fun but if you have difficulty climbing on a spin bike or have back or knee pain, they are inaccessible.  Recumbent bikes, however, are the ideal alternative. They are easy to ride because the user just steps into the bike and sits down plus they offer back support and are gentler on the knees. This makes them perfect for seniors or anybody else needing an easy-to-access low impact workout.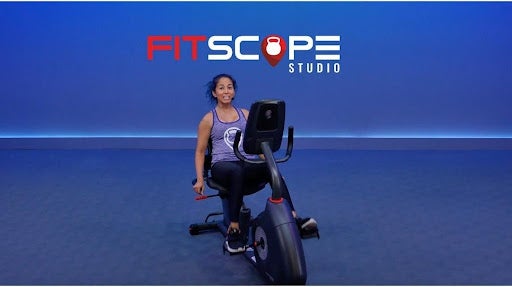 FITSCOPE just made recumbent bike workouts far more interesting and motivating. With its new studio classes for recumbent bikes, Fitscope brings Peloton-style instruction and production quality to a whole new genre of cardio equipment. And these classes work with ANY brand of recumbent bike. The Fitscope app is available on iOS and Android phones, tables, TVs and even Roku.
Up until now, high-quality trainer-led classes for recumbent bikes were almost nonexistent. With Fitscope's new on-demand recumbent class series, users can get a studio cycling experience with motivating instructors and awesome music while using a recumbent bike.
These first-ever premium recumbent bike classes feature motivating instructors and high production value as well as compelling music that people usually only experience at indoor cycling studios. Fitscope's recumbent bike series offers different class formats including rhythm rides, HIIT and even cross training that pair cardio workouts on the recumbent bike with strength workouts using light dumbbells, resistance bands or just bodyweight. The workouts come in three class lengths; 20 minutes, 30 minutes, and 45 minutes. There are three levels to ensure that anyone can participate, starting with beginner level, then intermediate and advanced. These classes are designed to work with all brands of recumbent bikes.
"I was a big fan of Peloton, but their cycling classes are geared towards users who own Peloton bikes.  I could not afford a Peloton bike, but still wanted Peloton-style classes that worked with my cheaper bike. I also like to use other cardio machines like elliptical & rowing machines, and there were not any Peloton options whatsoever! This is how I came up with FitScope Studio", says Ed Stansfield, Founder of Fitscope Studio.
Recumbent bike classes are great low impact workouts, especially suited for:
  Senior exercise




•   Pre and post-natal exercise




•   Rehabilitation




•   Beginners just starting cardio routines




•   Anyone with mobility issues who has difficulty climbing on any other type of bike
Fitscope's unique studio classes are designed to help people get the most out of their home fitness equipment, without having to spend more money on new equipment. Fitscope is the exclusive home of CHOREO™ indoor cycling, RHYTHM ELLIPTICAL™, RHYTHM ROW™ and RHYTHM RECUMBENT™ workouts.

Fitscope helps people every day burn more calories and build greater strength in less time than working out alone on their equipment. Other classes that Fitscope offers include yoga, pilates, Tai Chi and strength workouts.
Fitscope classes are designed to work with ALL brands of cardio fitness equipment. All the other competitors are geared towards their own equipment. FitScope's  instructors teach using industry-wide metrics and we put graphic overlays on the classes to help overcome differences in equipment brands such as resistance settings.
To learn more about Fitscope's all-new trainer-led classes for recumbent bikes or to take advantage of their 7-day free trial, visit their official website at www.fitscope.com.