With all things being relatively equal, the few guarantees I can count on as a parent, ignoring death or taxes as two standouts, is a kid-created mess accumulating in my house.
It's actually insane. I don't know where it comes from half the time – or the culprit (half the time I blame the dog, but that's a different story entirely) – but the floors are rarely clean no matter how often someone sweeps.
That is until we were introduced to the Dyson V15, the "not all heroes wear capes" of home appliances.
What's the difference between the V15 and any other Dyson (or another portable upright vacuum)? Other than being lighter and stronger (battery is incredible: as Dyson's most powerful and intelligent vacuum, it also offers up to 60 minutes of runtime), and ill dive into both a bit later.
The most interesting feature to be included is *insert Dr. Evil Voice* a freakin' laser beam. That's right, this machine of the gods has laser dust detection built into one of the heads, so you can see what you're doing and not miss anything as you vacuum the same spot for the 15th time that day.
Dyson proves, again, that ingenuity is alive and well in its engineering labs.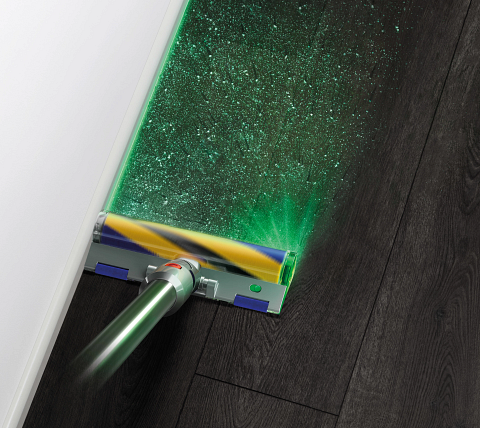 The laser dust detection feature does more than just look really cool on flooring, it illuminates dust particles invisible to the eye, with a precisely-angled green laser integrated into a fluffy cleaner head – so you don't miss a thing. This laser is safe for humans and pets – but will 100% annoy the latter. Trust me, my nine-month-old Bernadoodle was *not* impressed with the laser on the floor.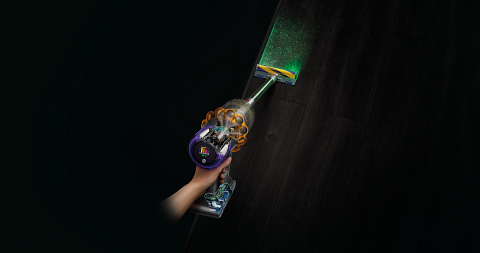 The downside is that added use of the laser causes significant drain on the battery, but that feels kinda par for the course when you're mixing technology with, well, anything.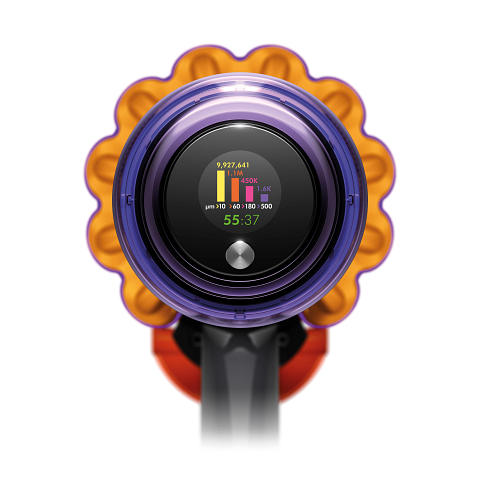 Another cool feature to coincide with the laser addition, is the new Acoustic Dust Sensing technology, which measures and reacts to microscopic dust particles and displays the size and number on the built-in LCD screen. The piezo sensor is then able to automatically increase suction power across different floors and dust amounts.
Now we talk usability: comfort of use and battery, both of which are the bane of my existence with *most* vacuums, but thankfully, not this one. The V15 offered a full 60-minutes of run time on a full charge, like, full; not partial, not actually 35/40. I was shocked to see how much the V15 had the capacity to keep up with, between my house and car, while still ticking and rarely missing a beat on the powerside of things.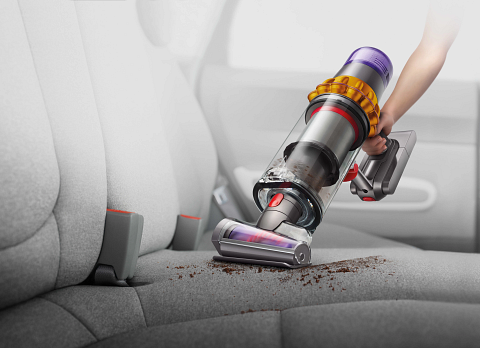 Best of all, while being put to work, it's actually really convenient to use, which can be challenging with vacuums in the sense that it's not cumbersome or heavy to maneuver. I really liked it and my wrist really liked it, which is awesome, because navigating work-related carpal tunnel is already an uncomfortable situation, when talking wrists.
Overall, I am really impressed with where Dyson has gone with the V15 and implore you to learn more about it via Dysoncanada.ca.
Guest Review: Corey Herscu