It's getting a bit ridiculous now. Once again, Italy are staring down the barrel of the Six Nations wooden spoon, an imaginary title they have earned in each of the last six editions of the competition prior to this one. With no signs of any kind of late revival in the tournament, and their standing in the

Six Nations odds

at rock bottom, it looks as though it's set to be a magnificent seven of unwanted accolades for the
Azzurri
.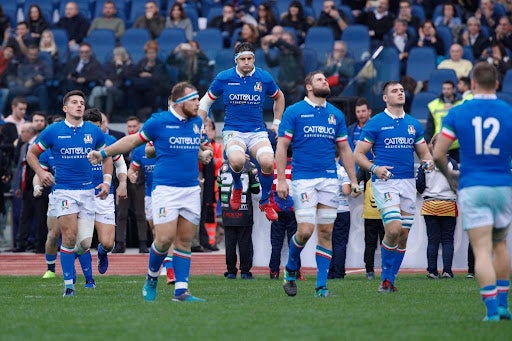 Of course, Italy will be well aware of their inferior status amongst the sides that compete in the Six Nations. They have finished bottom of the pile on 16 occasions since their arrival formed the tournament as we know it today in 2000. For fans of Italian rugby, they know what to expect every time the Six Nations rolls around, and yet they still cling to the hope that the next year will bring something different — maybe a solitary win, perhaps even the giddy heights of two victories, or even that the rugby gods will smile upon them and an inexplicable Grand Slam triumph will fall their way.
Alas, it never seems to work out like that. Italy's recent 57-6 mauling at the hands of Ireland in Dublin was a stark reminder of the chasm between Italy and the rest of the field. It used to be that they could compete on a relatively even keel with Scotland at least, but even the Scots have improved of late and pulled clear of Italy's desperate clutches.
There have, of course, been memorable moments for Italy in the Six Nations through the years. Their dual wins at both the 2007 and 2013 championships represented the best results Italy have enjoyed since joining the competition, and victories over European rivals France in 2011 and 2013 will have been especially sweet.
Indeed, after that 2013 edition of the tournament, there was a sense that Italy were on the cusp of gaining more of a competitive edge in international rugby. They had a talented group of players at their disposal, but unfortunately it all spiralled out of control. They managed to avoid the wooden spoon in 2015 thanks to a victory over Scotland at Murrayfield, but since then Italy's Six Nations story has been a tale of woe.
There are some who would like to see them removed from the competition, to return to the 'Five Nations' setup that we saw for so many years from 1940 to 1999. Many will argue that Italy's introduction has only hampered the competitive nature of the tournament, citing that a win over the Italians is basically a given now for every other team.
Another solution could be to have some sort of qualification process to be the sixth team at the Six Nations. Other European rugby nations, such as Romania and Georgia, have improved markedly of late, and they will argue that they could put up just as much of a fight as Italy. There have even been suggestions that nations from outside of Europe, such as Japan or the USA, could compete.
Whatever happens in the future, Italy will have to make do with their whipping-boy status for now. With every match comes the chance to make memories by causing an upset, but in recent years those upsets have been few and far between.