The lightweight golf bag or "Sunday bag" category has been around for years, but recently more and more golf companies have moved into this space. Golf bags that are extremely light and designed to hold less than a full set of clubs. The idea is to simplify the game for players looking to practice, play a par 3 course, and/or walk a quick 9.
Today we're going to review the Loma bag by Sunday Golf. Sunday Golf is a relatively new golf brand, but has already made a splash with cool and casual products that can be enjoyed by all golfers. The Loma bag does not disappoint and is one of our favorite lightweight golf bags on the market.
Below our my full review, designed to help you decide if the Loma Sunday Golf bag is right for you.
Using The Loma Bag
Before we dive into specifics about this bag, let's quickly discuss how these lightweight golf bags are intended to be used. They're designed to hold between 6-8 clubs and all of your golf essentials (balls, tees, gloves, etc.). They are perfect for a trip to the driving range or playing a par 3 course. You might quickly realize that you don't really need 14 clubs to play a round of golf.
Now that we have covered the category, let's talk about what the Loma Bag brings to the table. The first thing we noticed is the look – it's a beautifully designed golf bag that will turn heads. It is crazy lightweight – weighing less than 2 pounds. In other words, if you are capable of walking 9 holes, you can walk while carrying this bag.
I was surprised with the amount of storage for such a lightweight golf stand bag. I was easily able to fit everything I needed in the bag to enjoy a quick round (ball, golf tees, glove, rangefinder, etc). We think you might enjoy this more minimalist style of golf more than loading up a cart bag with 14 clubs and being forced to rent a cart.
Sunday Bag Performance – Pros and Cons
The Loma bag is sturdy and we love the stand – many lightweight bags in this category have to be laid on the ground while you hit your shot. Sunday Golf does offer a lifetime warranty as well, so you know it is a high-quality product.
Regardless if you are heading to the driving range or playing on the course, we found the Loma bag to be more than sufficient. Many golfers will purchase a lightweight golf bag as a secondary bag, but we could honestly see using it all the time.
PROS:
Ease of Use -at less than 2 pounds, anyone can carry this bag. Perfect for golfers of all ages.
Plenty of Storage- this surprised us a bit. We expected the storage to be "a con" for such a lightweight golf bag, but you have space for everything you need.
Saves Money- the Loma bag helps you save money in a couple different ways. First, it costs much less than other carry bags on the market. Second, because anyone can carry it, you don't have to spend $25 per round to rent a cart.
Cool Features- very thoughtfully designed – cool features include a handle on the front that you can use instead of the shoulder strap, tee holder, and a "frosty" pocket to keep your favorite beverage cold.

Great Color Options- 10+ colors to choose from – black camo, flamingo, seafoam, olive, burgundy, and sandstone are examples. You will be able to find a color you love.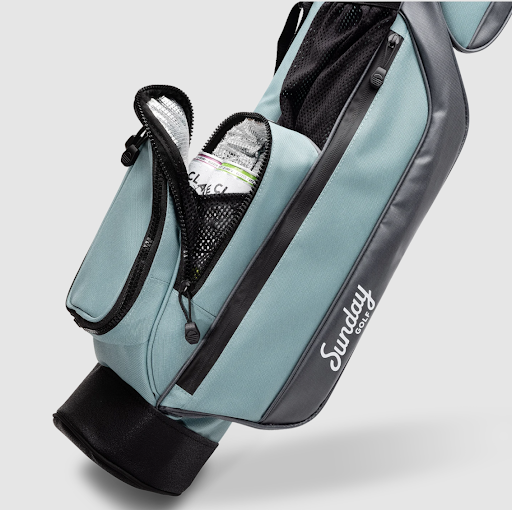 CONS:
You Want All 14 -if you can't even consider playing without all 14 clubs, a lightweight bag is not for you.

Bag Hoarder?- do you love to hoard golf gear in your bag? A dozen golf balls, 4 gloves, a rain jacket, 4 golf towels, a windbreaker, etc….you can't store every piece of golf gear in your Loma bag at once.
Who They're For
What type of player would enjoy using a Loma bag? Who would see the most benefit from using a lightweight golf bag?
We have identified 3 types of players that would love a Loma bag.
Casual Golfer (Weekend Warrior)
The Loma bag is perfect for the casual player. A golfer that enjoys being outside, getting some exercise, and hanging out with friends. You want to shoot a good score, but the final number isn't how you judge your day. It is more about the experience than what you shot.
Does this sound like you? If so, consider the Loma bag.
Competitive Player (secondary bag)
If you are a competitive player that enjoys playing in tournaments, then you are going to need a full-size bag that holds plenty of gear and all 14 clubs. That being said, you may enjoy having a lightweight golf bag as your secondary bag.
As a competitive player, you spend time on the driving range working on your swing, but it isn't always convenient to lug your entire bag. The Loma bag is perfect for a quick practice session. Throw the 6-8 clubs you want to work on in your secondary bag and head to the range.
The Work Traveler (who likes to sneak in some golf)
Do you travel for work and sometimes have time to play a quick 9? Do you avoid bringing your clubs because it is such a pain? A lightweight bag removes the hassle. Bring a few clubs in your Loma bag and if you get a couple hours of free time between meetings, head to the local course.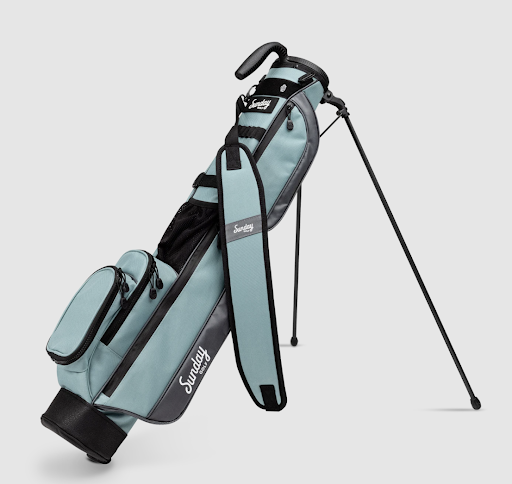 Final Words On The Loma Bag by Sunday Golf
Sometimes less is more. Are you open to the idea of playing golf with less than 14 clubs? Do you enjoy visiting the driving range or playing a par 3 course? If you answered "yes" to any of these questions, a lightweight golf bag needs to be your next golf gear purchase.
There are plenty of options out there, but we list the Loma bag at the top. The combination of functionality, style, features, and price is rare. Try a more minimalist approach to the game of golf. You may just find you prefer it.